Don Lemon, CNN Star Anchor, to Leave the Network
Mr. Lemon, one of the network's most recognizable stars, had been under scrutiny since an uproar over on-air remarks he made about women and aging in February.
Don Lemon is out at CNN.
CNN said on Monday that it was parting ways with Mr. Lemon, a star anchor who was a fixture of the network's prime-time lineup before enduring a short but controversial tenure as a morning show co-host.
"CNN and Don have parted ways," the network said in a statement on Monday. "Don will forever be a part of the CNN family, and we thank him for his contributions over the past 17 years. We wish him well and will be cheering him on in his future endeavors."
The network said Mr. Lemon's morning show, which he hosted with Poppy Harlow and Kaitlan Collins, would continue. "'CNN This Morning' has been on the air for nearly six months, and we are committed to its success," CNN said.
Mr. Lemon, 57, appeared on air on Monday morning as normal. Three hours after he signed off, he issued a scathing statement on Twitter aimed at his employer.
"I was informed this morning by my agent that I have been terminated by CNN," Mr. Lemon wrote. "I am stunned. After 17 years at CNN I would have thought that someone in management would have had the decency to tell me directly. At no time was I ever given any indication that I would not be able to continue to do the work I have loved at the network."
One of CNN's most recognizable stars, Mr. Lemon had a reputation as a fiery political commentator during his eight years as a prime-time anchor. But inside the network, he began to lose support after he made remarks in February about women and aging that were widely perceived to be sexist. The incident generated a national uproar and a rare public rebuke from CNN's chairman, Chris Licht.
Mr. Lemon had asserted on-air that Nikki Haley, the 51-year-old Republican presidential candidate, "isn't in her prime, sorry," adding, "A woman is considered to be in her prime in her 20s and 30s and maybe 40s." He dismissed the objections of his female co-hosts by responding, "I'm just saying what the facts are — Google it." He later apologized to the CNN newsroom and agreed to a corporate training program to address his on-air behavior.
Allies of Mr. Lemon had hoped he would turn the page from the incident. But executives at CNN gradually concluded that his future at CNN had become untenable, according to two people who spoke on condition of anonymity because the internal discussions were sensitive.
In recent weeks, CNN's bookers had discovered that some guests did not want to appear on-air with Mr. Lemon, and research on the morning show reviewed by CNN executives found that his popularity with audiences had fallen, one of the people said.
Monday's announcement capped a dramatic fall for Mr. Lemon, who just seven months ago was happily ensconced in a prime-time anchor chair. His long-running 10 p.m. program, "Don Lemon Tonight," drew fans for his spiky exchanges and pull-no-punches commentary on politics and the Trump White House.
Mr. Lemon imported that persona to "CNN This Morning," but it was an awkward fit for an hour when many viewers — making breakfast and getting children off to school — want easygoing patter, not thundering monologues.
Tensions also emerged between Mr. Lemon and one of his co-anchors, Ms. Collins. In December, "CNN This Morning" crew members were rattled after a backstage incident where Mr. Lemon accused Ms. Collins of interrupting him too often.
Mr. Lemon has a long history at CNN, and his outsize public profile meant that executives were willing, for a time, to be patient with him.
He joined the network in 2006 from a local NBC station in Chicago. In 2011, he made waves when he acknowledged in a memoir what many of his colleagues already knew: he is gay. At the time, few national television newscasters were out in public. Mr. Lemon was upfront about what he described as the risks of coming out as a Black man, sharing his concerns "that people might shun me."
In recent weeks, CNN leaders were hopeful that Mr. Lemon would adjust to his new morning-show role and that higher ratings would follow.
Last Wednesday, Mr. Lemon made headlines again after a highly contentious on-air exchange with Vivek Ramaswamy, a Republican presidential candidate. The segment deteriorated as the men fiercely debated questions of Black history and the Second Amendment; Mr. Lemon's co-anchor, Ms. Harlow, could be seen sitting silently beside him, at times casting her gaze elsewhere and scrolling through her smartphone.
The incident left several CNN leaders exasperated, the people said.
Mr. Lemon's exit introduces the possibility of an entire overhaul of "CNN This Morning," which started in November. Ms. Collins, a former White House correspondent, recently drew solid ratings during a weeklong run as a substitute host at 9 p.m., fueling speculation within the network that she might be considered for a permanent position in the time slot.
"CNN This Morning" was a marquee initiative of Mr. Licht, a former morning-show producer who succeeded Jeff Zucker as CNN's leader in May 2022. The show has gotten off to a very slow start in the ratings, and struggled to keep pace with its predecessor, "New Day."
At an appearance last week at the Paley Center for Media, Mr. Licht said that mornings were "the most competitive" hours in television.
"It's the last bastion of passive television viewing, really, where you're getting your kids ready, or you're brushing your teeth," Mr. Licht said. "To launch a new show takes time. And so it absolutely has had growing pains, and it will absolutely continue to evolve."
In September, shortly after Mr. Lemon's new morning role was announced, the anchor issued a statement praising Mr. Licht.
"I was honestly floored when Chris Licht asked me to do this, and I'm honored by his belief in me," Mr. Lemon wrote at the time, adding, "Set your alarms folks, because we're going to have a lot of fun."
How to Grow Your Business With Social Media – Entrepreneur
Opinions expressed by Entrepreneur contributors are their own.
Personal trainer Miriam Fried built her business, MF Strong, primarily by posting how-to videos on her social media channels, like Instagram, TikTok, and Facebook. But when it was time to expand from a virtual presence to a brick-and-mortar location, she realized there was more heavy lifting to do. She needed a way to advertise her business locally and attract in-person clients.
As a one- or two-person company working in the virtual space until this year, Miriam wasn't sure she was a big enough business to justify creating a Yelp Page. Once she sat down with Yelp's Small Business Expert Emily Washcovick, however, Miriam saw the benefits immediately.
"I'd love to have a Yelp Page. I just had never sat down to do it," she said. "[Emily] gave me that accountability of yeah, this is a good thing. We should have this, especially since we opened our own brick-and-mortar studio this year. A lot of people in the neighborhood don't know we exist. If anybody lives in the area and they're searching for personal trainers, I always want to be the first one that shows up for people, and Yelp is a really good way to do that."
As Miriam discovered, setting up and claiming her Yelp Business Page was easy since she already had all the information she needed on hand. In addition to adding basic business information, like contact details and location, she was able to add high-quality photos and a business description that tells potential customers who she is, what she believes in, and what she offers—something Miriam learned is more important than telling people what she doesn't do.
"Sometimes when I talk about my business, I'll say we don't do diet culture. We don't do the shame and the blame and the guilt," she said. "So it was very important for me to edit and say what we do offer versus what we don't offer. If someone's searching, I want the stuff we offer to pop up."
Within a short period of time, Miriam started to notice an uptick in search results and new clients. By changing the way she thought about her messaging, she could better convey MF Strong's unique stance on fitness, focusing on health and happiness rather than weight loss.
Miriam also asks each new client how they heard about MF Strong when they sign up so she has an accurate picture of how, and if, her marketing efforts (and dollars) are working. Because it's free to be on Yelp, Miriam didn't have to spend anything to get set up and going.
Before setting up her Yelp Page, she said, "Most of our clientele come through social media. That's our biggest funnel of clients. So I definitely take note when I see them coming from elsewhere.."
Now that the business has taken off, Miriam has handed MF Strong's social media channels to a social media manager, an important delegation strategy that shows how robust the business has become.
"It's so important to be able to delegate and be able to say, 'I could do this, but it's just a thing I don't need to do.'" she said. "As a business owner, making those distinctions is so vital for the business but also for your own mental health to say, 'Where am I needed and where is it non-essential for me to be controlling the situation?'"
There are more lessons from Miriam and Emily that could help your small business on this episode of Behind the Review, including:
List your business categories and specific services on your Yelp Page. There are more than 1,500 categories on Yelp to choose from, and you can choose up to three. Displaying your niche is key to helping potential customers find you, so be sure to select your specific services and describe the outstanding ones in your Specialties section.
Be yourself. On social media and your Yelp Page, showing up with an authentic voice goes a long way with potential and current customers.
Get ahead with artificial intelligence (AI). AI can help you draft content like polite and professional communications to customers or social media captions. The key is using it sparingly and always maintaining a personal touch in every correspondence.
Listen to the episode below to hear directly from Miriam and Emily, and subscribe to Behind the Review for more from new business owners and reviewers every Thursday.
Available on: Spotify, Apple Podcasts, Google Podcasts, Stitcher, and Soundcloud.
Russia to Build State Media Ecosystem in Occupied Ukraine – The Moscow Times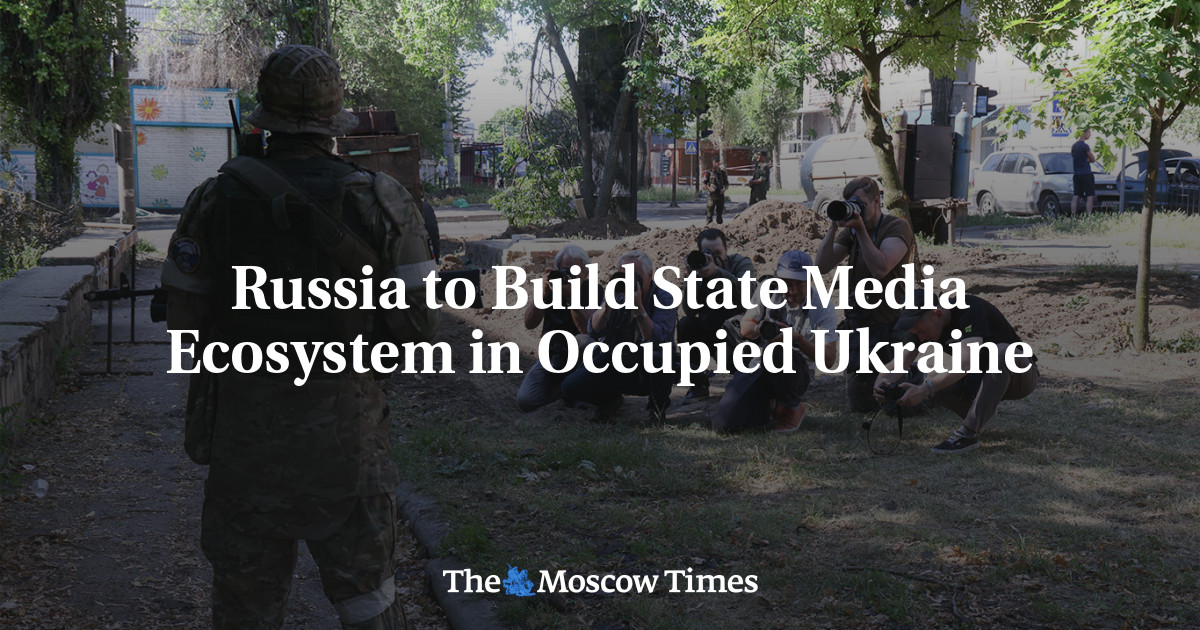 Russian-installed authorities in occupied Ukraine are developing a centralized "information space" for pro-Russian mass media and outreach, the Vedomosti business daily reported Friday.
Russia claims to have annexed four regions of Ukraine — Donetsk, Luhansk, Zaporizhzhia and Kherson — in September 2022 following widely disputed referendums, despite failing to fully control any of them.
Moscow-installed authorities in these regions now seek "to create a channel of verified information in each region," Vedomosti said, citing sources in the regions' Russian administrations.
These channels' main focus should be on news about the "socio-economic agenda" and the "agenda of creation" — in other words, positive news.
Like the rest of Russia, the occupied regions have faced censorship of information that contradicts the Kremlin's narrative of the war since its invasion began in February 2022.
Currently, the only local pro-Russian media sources in the Zaporizhzhia and Kherson regions are the social media pages of Kremlin-appointed officials and military bloggers.
The Donetsk and Luhansk regions' "news agencies" were first created in 2014 — when pro-Moscow separatists went to war with Kyiv — with the support of Russian state agencies.
The creation of similar agencies in the Zaporizhzhia and Kherson regions was announced earlier this month, with Russian officials and state journalists again playing an advisory role.
According to Vedomosti, one of these consultants will be Lana Samarina, the former first deputy editor-in-chief of the state-run TASS news agency.
Russia launched efforts to "Russify" the Ukrainian territories under its control shortly after invading Ukraine, implementing the Russian currency, issuing passports and installing Kremlin-appointed "governors."
The occupied regions have also faced censorship of information that contradicts the Kremlin's narrative of the war.
Russia last month announced plans to hold local parliamentary elections in the occupied Ukrainian regions in September.
Judge in FTX bankruptcy rejects media challenge, says customer names can remain secret – Yahoo Canada Finance
DOVER, Del. (AP) — The names of individual customers of collapsed cryptocurrency exchange FTX Trading can be permanently shielded from public disclosure, a Delaware bankruptcy judge ruled Friday.
Following a two-day hearing, Judge John Dorsey rejected arguments from lawyers for several media outlets and for the U.S. bankruptcy trustee, which serves as a government watchdog in Chapter 11 reorganization cases, challenging FTX's request to keep the names of customers and creditors secret.
Dorsey ruled that customer identities constitute a trade secret. He also said FTX customers need to be protected from bad actors who might target them by scouring the internet and the "dark web" for their personal information.
"It's the customers that are the most important issue here," he said. "I want to make sure that they are protected and they don't fall victim to any types of scams that might be happening out there."
Katie Townsend, an attorney for the media outlets, had argued that the press and the public have a "compelling and legitimate interest" in knowing the names of those affected by the stunning collapse of FTX.
"That collapse sent shock waves not just through the cryptocurrency industry, but the entire financial industry," Townsend said. "And at this point, we don't even know where the shock waves, both individually and institutionally, have hit the hardest, and what institutions may have the largest, or no, exposure as a result."
But lawyers for FTX and its official committee of unsecured creditors argued that its customer list is both a valuable asset and confidential commercial information. They contend that secrecy is needed to protect FTX customers from theft and potential scams, and to ensure that potential competitors do not "poach" FTX customers. FTX believes its customer list could prove valuable as part of any sale of assets, or as part of a reorganization.
"The debtors are in a position to realize value from these customer lists," said FTX attorney Brian Glueckstein.
FTX entered bankruptcy in November when the global exchange ran out of money after the equivalent of a bank run. Founder Sam Bankman-Fried has pleaded not guilty to charges that he cheated investors and looted customer deposits to make lavish real estate purchases, campaign contributions to politicians, and risky trades at Alameda Research, his cryptocurrency hedge fund trading firm. Three former FTX executives have pleaded guilty to fraud charges and are cooperating with investigators.
In January, Dorsey ruled that FTX could redact the names of all customers, and the addresses and email addresses of non-individual customers, from court filings for 90 days. He also authorized FTX to permanently keep secret the addresses and email addresses of individual creditors and equity holders.
On Friday, the judge approved the permanent sealing of individual customer names and extended the secrecy regarding the names of institutional customers for another 90 days.
Dorsey refused, however, to continue to allow FTX to shield the names of individual creditors or equity holders who are citizens of the United Kingdom or European Union nations and covered under a consumer protection program known as the General Data Protection Regulation, or GDPR. FTX sought similar treatment for individuals covered under Japanese data privacy laws.
Dorsey said that, in response to an objection from the U.S. trustee, FTX had presented no evidence to show that those foreign individuals might be harmed, or that FTX might be sanctioned, if their names are disclosed.
Dorsey also rejected a request by attorneys for an ad hoc committee of non-U.S. customers to keep the names of its members secret. If the committee wants to participate in the case, then the names of its members must be disclosed, he said.
According to redacted court filings, the ad hoc committee currently has 35 members, with estimated economic interests in FTX ranging from $64,434 to $1.5 billion. Dorsey noted that some members may decide to drop out based on his ruling.
Randall Chase, The Associated Press