Donald Trump is at his weakest political position in years
Former President Donald Trump is giving it another go. He announced last week that he's trying to become only the second man (after Grover Cleveland) to be elected to non-consecutive terms as US president.
Trump's move comes at a time when his political brand is at its weakest point since his first presidential bid in 2015-2016. He does remain a force to be reckoned with in GOP circles, and the news that the Justice Department has appointed a special counsel to oversee investigations related to the former president could elicit a rally-around-Trump effect among Republicans. Nevertheless, it's clear his power within the party has diminished following the 2022 midterm elections.
The easiest way to tell that Trump's standing isn't what it once was is to look at the reaction to his 2024 presidential announcement. Many Republican elected officials and conservative media personalities gave it a big yawn.
Trump's announcement earned him the support of very few elected officials on Capitol Hill. It was much more reminiscent of his first bid in 2015-2016, when Trump initially drew little support from lawmakers in Congress. The difference this time, of course, is that Trump is the former leader of the party whom most Republican members of Congress had endorsed in 2020 instead of a political neophyte like he was seven years ago.
Instead, there seems to be about as many senators (one) already backing Florida Gov. Ron DeSantis as there are for Trump. This is important because endorsements from party officials have historically been correlated with presidential primary success.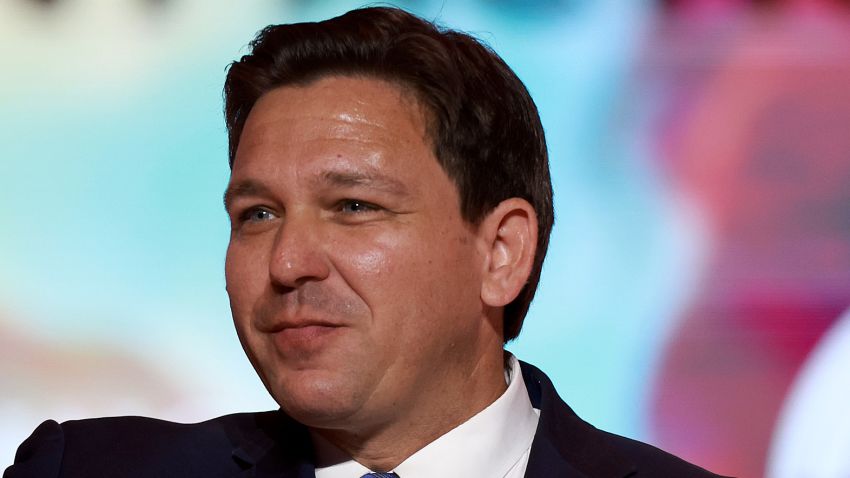 Will DeSantis run in 2024? Politico reporter goes over some factors
I should note that the lack of endorsements didn't stop Trump in 2016, and it may not this time either.
Trump's first bid may have been an aberration, though. He was facing off against more than a dozen competitors who split support among the conservative political class. This is especially a problem in Republican primaries, which tend to be winner-take-all (or most) affairs, unlike Democratic primaries, which award delegates proportionally. Trump needed well less than half of the GOP vote to accumulate a lot of delegates quickly in 2016.
He may not get the same divided opposition in the 2024 cycle. The only obvious competitor to Trump at this point is DeSantis.
The Florida governor's rise is perhaps the most important development in the 2024 Republican field. Trump is still ahead in a number of national primary polls, but DeSantis is polling better in early national polls than any non-Trump candidate did for much of the 2016 primary cycle.
In his home state of Florida, DeSantis is outright beating Trump in almost every poll. In CNN's exit poll of 2022 midterm voters in Florida, more Republicans wanted DeSantis to run in 2024 than they did Trump.
DeSantis' Florida advantage is notable for a number of reasons, besides the fact that the state contains a boatload of Republican delegates, who will likely be allocated winner-take-all.
First, Florida is Trump's home state too, and it's the only place where the two men are on equal footing in terms of name recognition. DeSantis' lead is a sign that as Republicans nationwide get to know him better, they could move toward him. (DeSantis tends to have a higher favorable rating than Trump nationally among Republicans who are familiar with both men.)
Second, Trump won Florida in the 2016 primaries against home-state Sen. Marco Rubio. The fact that DeSantis is now besting him there in the polls is arguably an indication that Trump is in a weaker position than he had been in 2016.
But Trump's problems go beyond just party officials and polls. Trump was able to defy conventional wisdom in 2016 because he received an outsize amount of media attention. He basically crowded out the competition.
This time, it won't be so easy. I've pointed out previously that DeSantis has shown a knack for generating a lot of media attention on Fox News. Trump's name wasn't mentioned until page 26 of the Rupert Murdoch-run New York Post (whose editorial page leans to the right) on the day after his 2024 announcement. Murdoch leads the company that owns Fox News as well.
And if Trump wins the primary, he'll still have to win a general election. That won't be easy, as the 2022 midterms showed.
I noted last week that Trump's presence was one of the major reasons that Democrats did surprisingly well in the midterm elections. By being in the headlines so much and acting like a quasi-incumbent, Trump helped to nullify what is normally a major advantage for the opposition party in midterm elections with an unpopular incumbent in the White House.
Now, you could have envisioned a universe in which Trump's larger-than-life personality may have been helpful if he were popular.
Instead, Trump's favorable rating is at one of its lowest points in the last five years: 39%, according to the 2022 exit poll. That compares with a 46% favorable rating in the 2020 exit poll and a 45% job approval rating in the 2018 exit poll.
In a presidential election in which Trump's name is actually on the ballot, you could imagine his unpopularity being even more of a factor.
We already know from history that it won't be easy for Trump. While incumbent presidents (like Joe Biden) are at a disadvantage in midterms, they benefit from their incumbency in presidential elections. Elected incumbents win more than 60% of the time when they run for another term.
The bottom line is that Trump's got an uphill climb ahead of him for 2024 – both in a GOP primary and in a general election. He can certainly win a second term, but the odds are currently against him.
Macron shows his politics on Russia are bush league
What's wrong with French President Emmanuel Macron? First, he needlessly tells Russian dictator Vladimir Putin that there are two conditions under which France might cease supplying weapons to Ukraine: "We will never compromise the ability of our army to defend our own territory and our citizens. We will also never supply such weapons that would make us a party to the conflict as a result of their use for attacks on Russian territory."
One doesn't have to be a Metternich to appreciate that it's unwise to tell your enemies what you will or will not do before you enter into negotiations with them. The smart thing is to keep the adversary in the dark, guessing about your intentions. What Macron did was simply bush league, evidence of either arrogance or ignorance or both. Then, a little later, he outdid himself when he proclaimed: "We need to prepare what we are ready to do, how we protect our allies and member states, and how to give guarantees to Russia the day it returns to the negotiating table. … One of the essential points we must address — as President Putin has always said — is the fear that NATO comes right up to its doors, and the deployment of weapons that could threaten Russia."
This statement is inane. For starters, let's remind the French president that, with Finland's admission into NATO, the alliance has come right up to Russia's door and that the strategic nuclear weapons that could threaten Putin's realm are primarily based, and will continue to be based, in the United States, the United Kingdom and — oh, yes — France. Deploying nukes on the Finnish border may send a signal of NATO's toughness, but it effectively does nothing to enhance Russia's insecurity or the West's security. And everybody knew, and knows, that the West would have to be completely daft to base nuclear weapons in, of all places, Ukraine, which isn't a NATO member.
Moreover, both Putin and Macron know full well that the armies that come under the NATO umbrella are, with the exception of those of the United States, United Kingdom and Poland, in miserable shape, having been severely neglected since the fall of the Berlin wall. America may pose a threat to Russia, but NATO does not. That Russians insist that it does is either self-serving propaganda meant to justify Putin's militarism, imperialism and fascism or delusional paranoia rooted in Putin's worldview that pits Russia against the world. Either way, the West needs to counter collective Russia's mendacity or fantasies, not with mollycoddling but with straightforward explanations of reality.
But what really takes the cake in Macron's statement about security guarantees for Russia is its silence about security guarantees for Ukraine — an issue on which France thus far has been notably silent. Surely, one can't provide guarantees to a self-styled great power with a huge nuclear arsenal without at the same time providing guarantees to the country that it has invaded and subjected to a genocidal war. Now, Macron has also expressed his unwavering commitment to Ukraine, so it's highly unlikely that he intends to sell Ukraine down the river while providing guarantees to Russia. No, it's the incoherence of his thinking that is most striking — and alarming. He's the president of a powerful and influential country. He should know that guaranteeing Russia's security is infinitely harder than guaranteeing Ukraine's, and since Europe isn't all too keen on the latter, how can he reasonably expect it to be keen on the former?
Besides, just how does one guarantee the security of an imperialistic, warmongering, fascist state ruled by a leader who seems delusional? The comparison with Nazi Germany or Stalinist Russia is unavoidable. Imagine Adolf Hitler's insistence in 1939, just before his attack on Poland, on security guarantees. Or Joseph Stalin's insistence in 1948, after the Communist takeover of Eastern Europe, of similar guarantees. Just what could such guarantees possibly have entailed? And wouldn't the priority be to guarantee the security of the countries being threatened?
Hélas, Monsieur le Président needs to go back to his books and do a bit of thinking. Otherwise, he risks becoming risible, hardly the quality that would guarantee his security as president or his ability to deal with the Putin threat.
Alexander J. Motyl is a professor of political science at Rutgers University-Newark. A specialist on Ukraine, Russia and the USSR, and on nationalism, revolutions, empires and theory, he is the author of 10 books of nonfiction, as well as "Imperial Ends: The Decay, Collapse, and Revival of Empires" and "Why Empires Reemerge: Imperial Collapse and Imperial Revival in Comparative Perspective."
Eric Melillo MP – Week in National Politics Dec 5 2022
Kenora – Politics – It was great to be back in Red Lake this weekend to walk in the Santa Claus parade, thank you to all the volunteers who helped organize it.  
Canada Summer Jobs Applications Open 
The Canada Summer Jobs application for employers has opened and will be accepting applications until January 12, 2023.  I encourage all applicable businesses in the region to consider applying.
Bill C-21 Amendment 
This week I attended the Public Safety committee and expressed my opposition to the proposed Liberal amendment to ban many firearms traditionally used for hunting.   
My message to the Liberal and NDP Members of Parliament was clear: taking away firearms from hunters, trappers, and sport shooters in northwestern Ontario will do nothing to make urban cities safer.   
For many in our region, hunting is a way of life, an important tradition, and a way to put food on the table. But the Liberals don't understand that.  
I have appreciated so many people from our region reaching out to my office, expressing their opposition to this amendment, and sharing the role hunting, trapping, and sport shooting play in their lives.  I've been able to share some of your stories, vocal opposition, and concerns with the government. I hope they'll recognize how out of touch and problematic this proposal is and immediately withdraw it.  
My Conservative colleagues and I will continue to advocate against this amendment.  I encourage those who oppose this amendment to share your opposition with the Minister of Public Safety, Marco Mendicino.  You can email him at: marco.mendicino@parl.gc.ca
National Council for Reconciliation 
For the past few weeks at Indigenous and Northern Affairs committee I've been working on Bill C-29, which will create a National Council for Reconciliation.  This Council will hold the government responsible on the path to reconciliation and provide updates on the progress made on the Truth and Reconciliation Commission's 94 Calls to Action.  
I was pleased to see Bill C-29 passed in the House of Commons and look forward to working with my colleagues to advance reconciliation. 
Working for You
If you're planning to be in Ottawa and are interested in attending Question Period or taking a tour of Parliament, please let me know, and my office can help reserve Question Period and tour tickets.
As always, if there is anything my office can assist you with, please call me at 807-223-2182 (Dryden) or 807-468-2170 (Kenora) or email me at eric.melillo@parl.gc.ca.  
How Harlem Shaped Warnock's Faith and Politics
Senator Raphael Warnock's time in New York City as a seminary student and pastor helped set him on a path to politics, forging how he operates in the Senate and on the campaign trail.
Four days before the November midterm elections, Senator Raphael Warnock slipped away from the campaign trail in Georgia to deliver a eulogy in Harlem.
His mentor — the Rev. Dr. Calvin O. Butts III, a powerful and politically astute preacher who led Harlem's storied Abyssinian Baptist Church — had died at the age of 73. At the memorial service, Mr. Warnock told the crowd of mourners about the intersections of faith and public life that had shaped Mr. Butts's work, and his own.
"Calvin Butts taught me how to take my ministry to the streets," Mr. Warnock said at a service that drew former President Bill Clinton, Gov. Kathy Hochul of New York and Senate Majority Leader Chuck Schumer. "He understood that the church's work doesn't end at the church door. That's where it starts."
Mr. Warnock now finds himself locked in one of the last and most closely watched elections of the 2022 midterms — a Georgia runoff on Tuesday against a Trump-backed Republican rival, Herschel Walker.
The hallmark of Mr. Warnock's political persona has been firmly rooted in the present, through his position as senior pastor of Atlanta's Ebenezer Baptist Church, where the Rev. Dr. Martin Luther King Jr. had preached. But a lesser-known chapter from Mr. Warnock's past — his time spent in New York City starting in the 1990s, as a student at the Union Theological Seminary and as a pastor at Mr. Butts's church — in many ways set him on a path to politics, shaping how he operates in the Senate and on the campaign trail as he runs for re-election.
According to nearly a dozen seminary classmates and elected officials who knew him at the time, Mr. Warnock's New York experience helped cement his instincts to channel the teachings of his faith into social justice activism. It's an approach that propelled him to Washington, where he was one of seven ordained ministers when he arrived in Congress last year.
"In the beginning it was really watching him straddling the church and the academy," said the Rev. Cathlin Baker, a friend who attended Union Theological Seminary with Mr. Warnock. "Expressing his faith in the public square emerged through his time in New York."
One of the young men Mr. Warnock worked with as a youth pastor at Abyssinian went on to become the Manhattan district attorney, Alvin L. Bragg.
Mr. Bragg got to know Mr. Warnock during visits home from college and described a "remarkable consistency" in his dual emphasis on pastoral duties and "what that means for greater Harlem, and the social issues, and the things we see him advocating for in Congress now."
"There's an indelible imprint of the church and Rev. Butts on him," Mr. Bragg said, "and certainly of him on the church."
Mr. Warnock was 22 when he arrived in New York in the fall of 1991, and he stayed for about a decade. The city was in the throes of a social and civic upheaval that would mold the next generation of Black political power, locally and nationally, serving as a proving ground for activists, pastors and elected officials.
There was Mayor David N. Dinkins, New York's first Black mayor who confronted the Crown Heights riots the year Mr. Warnock came to town. And there was Eric Adams, a police officer who challenged police brutality and would become the city's second Black mayor. The Rev. Al Sharpton made waves with his civil rights activism, while against that backdrop Hakeem Jeffries, a Brooklynite and future Democratic House leader, was beginning his career.
Mr. Warnock found work at Abyssinian, the spiritual home of the late Representative Adam Clayton Powell Jr. that has long been associated with Black civic engagement. It was during that time, as he absorbed the influences of Mr. Powell and Mr. Butts, that he believes running for Congress first crossed his mind, he wrote in his 2022 memoir, "A Way Out of No Way."
He was living in New York when his brother was sentenced to life in prison in a nonviolent drug-related offense involving an F.B.I. informant, a seismic event in Mr. Warnock's life that profoundly shaped his views of the criminal justice system. (His brother was released from a federal prison in Georgia in 2020.) And as episodes of police violence convulsed the city, Mr. Warnock came to believe that "it didn't make much sense for us to be talking about justice in the classroom and singing about it in church if we weren't willing to get in the struggle in the streets."
He was arrested at a protest against police brutality as he honed his activism, the first of a few civil disobedience arrests in later years.
Mr. Warnock, who declined an interview request, grew up in Savannah, Ga., giving his first sermon at age 11, and headed to New York soon after graduating from Morehouse College. He struck his peers at the progressive Union Theological Seminary, in Manhattan's Morningside Heights, as notably driven.
"He had a kind of seriousness of purpose and kind of like a clarity of career path that at that age I almost couldn't imagine," said Beth Stroud, a classmate who is now a lecturer at Princeton.
She and other classmates also described Mr. Warnock's sense of humor. One night, she recalled, a group tried on each other's eyeglasses — and one participant noticed no discernible difference upon trying on Mr. Warnock's.
"After saying he wore them so he wouldn't look so young and people would take him more seriously," she added in an email, Mr. Warnock humorously demonstrated how the glasses could punch up a reading. "He said something like, 'Our Scripture reading this morning is …' and put them on with a flourish, as if to see the Bible more clearly."
Asked about that anecdote, Michael J. Brewer, a spokesman for Mr. Warnock, replied, "Reverend Warnock wears prescription eyeglasses."
Dr. Stroud and Mr. Warnock studied under the Rev. Dr. James H. Cone, a founder of Black liberation theology, which emphasizes the experiences of the oppressed. "We were all thinking about politics all the time, not necessarily in the sense of electoral politics," she said, but, "if we believe in liberation, if we believe in God's love for all people, how do we realize that in our work?"
At Union — and through his friendships with Dr. Stroud, who is a lesbian, and with other gay people — Mr. Warnock reconsidered church teachings opposing homosexuality, he wrote in his memoir. And at Abyssinian, Mr. Warnock plunged more directly into the world of New York politics and activism as he rose from intern minister and youth pastor to assistant pastor.
Abyssinian has long occupied a prominent place on the New York political landscape, propelled by leaders like Mr. Powell and Mr. Butts, the preacher who was deeply involved in civic issues and navigated relationships with a diverse array of politicians.
As an assistant pastor, Mr. Warnock publicly criticized the Giuliani administration's implementation of a workfare program — which required welfare recipients to work for benefits — and made an impression on a number of elected officials himself, as well as on Mr. Butts.
"He could laugh easily, he could smile," Mr. Butts told NY1 in 2021. "That made it possible for him to impress upon people the importance of an issue."
C. Virginia Fields, the former Manhattan borough president and a member of Abyssinian, said that Mr. Warnock was regarded as part of a "bench" of future leaders.
"I don't think he ever expressed it that way — that 'I'm interested in running for office,'" she said. But "those of us in the political arena certainly saw him as someone one day running."
This year, the Walker campaign has also slammed him over the housing allowance he receives from Ebenezer and over alleged conditions and eviction threats at an apartment complex with ties to that church. Mr. Warnock has called the allegations a "desperate" effort to attack Ebenezer. A representative for the complex told The New York Times that no evictions had been carried out since 2020.
His previous Republican opponent, then-Senator Kelly Loeffler, noted that Abyssinian had hosted Fidel Castro in 1995, and claimed that Mr. Warnock had "celebrated" and "welcomed" Castro to the church.
Mr. Warnock's team did not respond directly when asked whether he attended the Castro event but pointed to fact-checks disputing Ms. Loeffler's statement. A spokesman previously told PolitiFact that Mr. Warnock "doesn't agree with the dictator's beliefs and actions" and that Mr. Warnock was not making decisions at the time about who spoke at the church. The fact-checking outlet determined there was no evidence to Ms. Loeffler's claims.
Stephen Lawson, who served as a top Loeffler campaign aide and advises a pro-Walker super PAC, said that Mr. Warnock's time at Abyssinian was "part of a larger life story for him that helps kind of illustrate his beliefs." Mr. Lawson cast those beliefs as left-wing and relevant to independent voters. "Part of me wishes that Herschel's campaign would try to tell that story a little bit more," Mr. Lawson said.
David A. Paterson, who was New York's first Black governor and who met Mr. Warnock while representing Harlem in the State Senate, noted that Republicans have struggled before to define Mr. Warnock as outside the mainstream.
He is not "demanding that we turn the whole system upside down," Mr. Paterson said. "I think he really seeks equality."
A series of stunning incidents of police brutality galvanized him to protest injustice more forcefully. In 1999, Amadou Diallo, an unarmed Guinean immigrant, was killed by officers who fired 41 shots, less than two years after another Black man, a Haitian immigrant named Abner Louima, was brutalized at a Brooklyn police precinct.
"Those real awful examples of police brutality that were happening in the city at the time kind of called a group of us into the public square," Ms. Baker said.
After the Diallo shooting, Mr. Warnock went to a protest where, he wrote, he was arrested for the first time, shared a police van with then-Representative Eliot Engel and was quickly released. In his memoir, he described a scene in which groups of protesters "crossed the line of demarcation" and were arrested.
"He was not a activist that would do it every day like I would, but he would take a moral stand," said Mr. Sharpton, who was heavily involved in organizing major protests after the Diallo shooting.
Mr. Sharpton described Mr. Warnock as "the guy that wanted to be a bridge between those of us that were active" and those who did not engage in civil disobedience. "He understood both worlds," Mr. Sharpton added.
Just over two decades after that arrest, Mr. Warnock returned to Abyssinian for the eulogy.
"So much of who I am, and what I've become and what I've managed to do — and, as we say in Georgia, what I'm fixing to do again" — he owed to working with Mr. Butts, he said.
"I got a few things happening down in Georgia," he told the New York audience. But, he added, "I had to be here."
Sheelagh McNeill contributed research.