Douglas Todd: 'Get real' estate! Five reasons to doubt Trudeau's housing promises – Vancouver Sun
Opinion: In light of the prime minister showing no previous intent to protect the young from soaring prices, it is stunning to see him now act like a white knight taking on an unjust real-estate system
Reopening of borders may fuel a fresh round of Canadian real estate madness – Calgary Herald
New arrivals may further stress Canada's already tight housing markets
Article content
Just when you thought you could catch a break from pandemic-fuelled housing madness, experts are predicting the reopening of the U.S.-Canada border, and Canada's commitment to boost immigration, could fuel even higher levels of demand. All those new arrivals, students and family members rejoining loved ones will need places to live. And Canada's housing supply is tight.
Article content
"If you think it's expensive now, just wait," says Tom Storey, a real estate agent with Royal LePage in Toronto. "The numbers tell us that prices should go up because there's a lot of people coming here and we're not building enough new properties."
Canadian government raising immigration targets
Exactly when new arrivals will impact housing markets is vague. Border entry is limited to those who can show they're fully vaccinated.
Article content
But, once the pandemic's threat has largely passed, the U.S. and Canadian governments have both expressed hopes that border traffic will return to normal.
Likewise, while Canada's immigration goals call for 401,000 new permanent residents this year (reaching 1.2 million by 2023), dates aren't specific and COVID-19 will continue to delay things in the short term.
Article content
Canada's borders have been closed to most immigrants for much of the pandemic. But as the country's population ages, economic immigration from workers and employers who ultimately become permanent residents has become more important.
"The key to both short-term economic recovery and long-term prosperity is immigration," Marco Mendicino, Canada's Minister of Immigration, Refugees and Citizenship, said at a news conference where he revealed the country's goals through 2023.
Article content
The newcomers will put pressure on housing — either as homebuyers or renters.
In addition to new permanent residents, the number of international students in Canada is also rebounding. Those numbers were rising sharply before the pandemic, growing to 402,500 in 2019 — a 15 per cent increase from 2018, according government data.
Article content
Those with temporary work permits will also grow the population. Almost 70,000 more people were issued work permits in 2019 (a total of 404,000) and 63,020 people with temporary work permits were granted permanent residency.
Newcomers will need housing
Home prices were rising pre-COVID-19, due to a lack of housing supply combined with low mortgage rates and strong consumer demand.
Amid the new immigration policies, a growing student population and a proposed childcare system that's expected to give families room to save more of their income, demand for housing will only grow, according to a recent report from Scotiabank.
Yet, home construction hasn't kept up with demand for several years.
This year, as fewer newcomers have entered the country, the ratio of home completions to population has improved slightly. That's likely to worsen as the government meets its immigration targets, the report says.
Article content
To avoid a continued rapid acceleration in home prices, experts argue immigration targets should align with housing policies that help meet the demand.
"Our federal government's decision to raise immigration targets today without making the corresponding supply-side housing policy changes needed to increase supply is a decision to inflate home prices out of reach of most Canadians tomorrow — including many of our newest fellow citizens," John Pasalis, the president of Toronto-based Realosophy Realty, says in a recent market report.
Immigration to impact the resale and rental markets
While Canada's major cities have seen double-digit home price growth in recent years, the market overall appears to be calming.
Article content
July sales slipped 3.5 per cent on a month-over-month basis, according to the Canadian Real Estate Association, and sales are down a cumulative 28 per cent from a March 2021 peak.
Home sales in Canada fell a significant 14 per cent year over year in August, the Canadian Real Estate Association (CREA) said Sept. 15. Still, the association says, home sales in this country remain historically strong. And a lack of supply of homes for sale is pushing prices to record levels in Canada's most populous cities.
The rental market, too, has been down from its high — in part due to restrictions on Airbnb units, which released bundles of short-term rentals into the traditional leasing market.
"When the borders open and [people] go back to university, you're going to see an increase in the rental market," Storey says. "Then it will flood into the sale market."
Article content
But analysts say the property market is facing headwinds — namely inflation and the specter of rising interest rates.
And many of the Canadians who wanted to buy a home in order to get more space amid the pandemic, or even downsize, have already done so, says Adil Dinani of the Dinani Group for Royal LePage West in Vancouver. That may help cool off prices in the months to come.
Building more housing also will help.
"Supply is the common denominator in most of these major markets," Dinani says. "There's a shortage of quality inventory."
This article provides information only and should not be construed as advice. It is provided without warranty of any kind.
Skyline to sell Deerhurst, Horseshoe, Blue Mountain land – Real Estate News EXchange
Freed Corp. will pay $210 million to acquire Ontario's Deerhurst Resort, Horseshoe Valley Resort and development lands at Blue Mountain Resort from Skyline Investments Inc., the firms announced Monday morning.
The transaction involves the creation of a new subsidiary by Toronto-based Freed, to be called Resort Communities LP. Skyline will take a 29 per cent equity stake in Resort LP, which represents about $33 million of the purchase price.
The transaction is expected to close on or about Oct. 31.
"This is a milestone for Skyline that provides significant new liquidity to capitalize on our stated strategy to redeploy our investment and operational focus from resorts and development lands into hotels," Skyline CEO Blake Lyon said in the announcement.
"This transaction represents one of the largest resort sales in Canada in the last 15 years, according to Beechwood Real Estate Advisors who advised Skyline on the transaction, and we are excited to be a 29 per cent partner in Resort LP along with Freed, who will now own an expanded portfolio of premier, drive-to resorts in Ontario, Canada."
Well-known Ontario resorts
The properties are among the best-known resorts in Ontario, all located in prime vacation regions; Blue Mountain is at Collingwood; Deerhurst in Huntsville; and Horseshoe Valley is just outside Barrie.
"This transaction allows us to realize the full net asset value of our Canadian resorts, while still participating in the value creation that Freed's proven development team can produce," Lyon said in the release.
"Skyline's investment partner in Blue Mountain, Serruya Private Equity, also expressed their satisfaction and support for this transaction."
As part of the transaction, Freed will roll its existing interest in Muskoka Bay resort into Resort LP, at a $90 million valuation.
Muskoka Bay is an 869-acre four-season luxury resort community in Gravenhurst, between Horseshoe and Deerhurst. Muskoka Bay has 65 hotel rooms and villas owned or managed by Freed and one of Canada's top-10 golf courses, as ranked by ScoreGolf.
"The acquisition of these iconic resort properties will allow us to execute our strategy of modernizing the traditional resort community market to the highest and best use through design-driven development and benefits of world-class amenities with all season access," said Freed's founder and CEO, Peter Freed, in the release.
"In addition, the acquisition of these resorts further stimulates the growth in the hotel and resort sectors for Freed."
Financial details of the transaction
Other financial details of the transaction involve several components in addition to the equity stake in Resort Communities LP.
Upon closing, Skyline will receive a cash payment of approximately $109 million, and after debt and bond repayments, taxes and minority interest payouts, is expected to have approximately $30-$35 million.
A further $80 million in payments (including approximately $12 million in interest) is expected to follow over the ensuing 24 to 48 months. Net income before tax relating to the transaction on closing is expected to be $35-$45 million.
After tax, net income is expected to be $25-$35 million and the net impact on the company's equity is expected to be $15-$25 million.
The deal also includes options for Resort LP to acquire Skyline's 29 per cent interest in December 2022, and put and call options for Skyline and Freed at the end of years four and five following the transaction.
Skyline will host an investor call to discuss the transaction on Sept. 30 at 9:30 a.m. (Israel time).
About Skyline, Freed and Serruya
Skyline is a Canadian company that specializes in hospitality real estate investments in the U.S. and Canada. It owns 18 income-producing assets with 3,266 hotel rooms and 85,238 square feet of commercial space and development lands with rights for approximately 2,315 residential units located in three main areas north of Toronto.
The company is traded on the Tel Aviv Stock Exchange (SKLN) and is a reporting issuer in Canada.
Freed Developments was founded over 25 years ago and has grown to become one of the largest private developers operating in the City of Toronto.
Freed has completed over 30 projects and has expanded to include vertical operating divisions in construction management, real estate and Freed Hospitality, a lifestyle-experience hotel, resort, restaurant and nightlife portfolio.
Serruya Private Equity is a global private equity firm in a broad range of asset classes with an emphasis on retail and consumer packaged goods.
SPE's principals have developed brands including Weight Watchers, Tropicana, Godiva Ice Cream, Cold Stone Creamery, Round Table Pizza, Great American Cookies, Marble Slab Creamery, Hot Dog on a Stick, Taco Time, Blimpie Subs, and Pretzelmaker.
SPE's platform currently includes global brands Yogen Früz, Pinkberry and Swensens with over 1,300 stores across 40 countries.
Vancouver Island real estate searches see major uptick – Pique Newsmagazine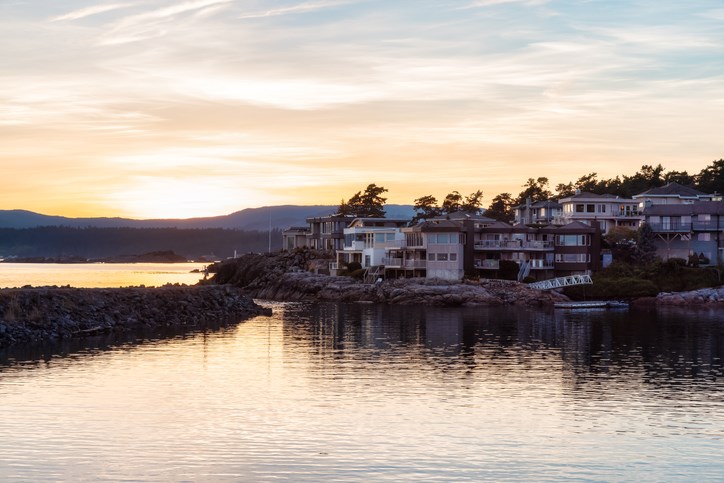 In what was one of the less pleasant summers we've had here in British Columbia — full of heat waves, moths and forest fires like we've never seen before — one part of the province fuelled plenty of interest from home seekers.
From top to bottom, Vancouver Island saw a major uptick in real estate searches on REW.ca this summer, as month-over-month queries continue to rise quickly.
Interest in property on Vancouver Island isn't contained to home seekers on the island itself. Many Greater Vancouver residents are showing interest in cities like Nanaimo and Victoria as well.
After a summer full of fires in the Interior, Vancouver Island is looking more attractive than ever for Lower Mainland residents looking for vacation properties and second homes.
Decreased supply
While interest and prices may be rising, one of the most notable trends taking place on Vancouver Island is the limited supply of housing.
There were 51% fewer homes on the market in August 2021 on Vancouver Island than in the year prior, with major cities like Victoria having 57.8% less inventory.
According to the British Columbia Real Estate Association, sales are returning to normal, while supply is hitting record lows. This is a trend taking shape right across Canada, with all of the major political parties running for office promising to take on the lack of supply.
To those who already live on Vancouver Island, the recent uptick in search activity should come as no surprise. Vancouver Island is less busy, less densely populated, and arguably every bit as stunning as Vancouver.
Residential home prices also continue to be more affordable on Vancouver Island compared to Greater Vancouver. Last month, the average residential price of a home in Greater Vancouver was $1,174,176, compared to $695,085 on Vancouver Island in general and $875,711 in Victoria.
Rising prices
Though the average residential price of a home on Vancouver Island in general and Victoria specifically are both under the provincial average in British Columbia, prices are still rising steadily.
Over the last 12 months, no region in B.C. has seen a larger percentage increase in home prices than Vancouver Island, with prices on residential homes jumping 29.5% year over year. Outside of Vancouver Island, Kamloops and Chilliwack are the only other areas that have seen price growth of over 20%.
What might be most surprising to investors and home seekers is the increase in interest for Vancouver Island's less populated cities. One might expect to see Nanaimo and Victoria draw more queries on REW, but there's an equal amount of search growth in smaller markets like Parksville, Ladysmith and Sooke. Of the top 10 largest cities on Vancouver Island, all 10 have seen an increase in search queries on REW this summer.
An unprecedented start to 2021 still has B.C. on track to set all kinds of records this year, and though sales have slowed, an increased interest in areas like Vancouver Island could be an indication that demand is still trending upward. With limited supply and interest rates remaining depressed, we could see prices continue to rise on Vancouver Island in the months to come.
In a recent interview with the Vancouver Real Estate Podcast, REW president Simon Bray highlighted three markets other than Vancouver Island that have been standouts on the home search platform, garnering significant interest from home seekers across the province.