Earth's Inner Core May Have Started Spinning Other Way, Study Says
Paris, France — 
Far below our feet, a giant may have started moving against us.
Earth's inner core, a hot iron ball the size of Pluto, has stopped spinning in the same direction as the rest of the planet and might even be rotating the other way, research suggested on Monday.
Roughly 5,000 kilometers (3,100 miles) below the surface we live on, this "planet within the planet" can spin independently because it floats in the liquid metal outer core.
Exactly how the inner core rotates has been a matter of debate between scientists — and the latest research is expected to prove controversial.
What little we know about the inner core comes from measuring the tiny differences in seismic waves — created by earthquakes or sometimes nuclear explosions — as they pass through the middle of the Earth.
Seeking to track the inner core's movements, new research published in the journal Nature Geoscience analysed seismic waves from repeating earthquakes over the last six decades.
The study's authors, Xiaodong Song and Yi Yang of China's Peking University, said they found that the inner core's rotation "came to near halt around 2009 and then turned in an opposite direction."
"We believe the inner core rotates, relative to the Earth's surface, back and forth, like a swing," they told AFP.
"One cycle of the swing is about seven decades," meaning it changes direction roughly every 35 years, they added.
They said it previously changed direction in the early 1970s and predicted the next about-face would be in the mid-2040s.
The researchers said this rotation roughly lines up with changes in what is called the "length of day" — small variations in the exact time it takes Earth to rotate on its axis.
Stuck in the middle
So far there is little to indicate that what the inner core does has much effect on we surface dwellers.
But the researchers said they believed there are physical links between all Earth's layers, from the inner core to the surface.
"We hope our study can motivate some researchers to build and test models which treat the whole Earth as an integrated dynamic system," they said.
Experts not involved in the study expressed caution about its findings, pointing to several other theories and warning that many mysteries remain about the center of the Earth.
"This is a very careful study by excellent scientists putting in a lot of data," said John Vidale, a seismologist at the University of Southern California.
"[But] none of the models explain all the data very well in my opinion," he added.
Vidale published research last year suggesting the inner core oscillates far more quickly, changing direction every six years or so. His work was based on seismic waves from two nuclear explosions in the late 1960s and early 1970s.
That timeframe is around the point when Monday's research says the inner core last changed direction — which Vidale called "kind of a coincidence."
Geophysicists 'divided'
Another theory — which Vidale said has some good evidence supporting it — is that the inner core only significantly moved between 2001 to 2013 and has stayed put since.
Hrvoje Tkalcic, a geophysicist at the Australian National University, has published research suggesting that the inner core's cycle is every 20 to 30 years, rather than the 70 proposed in the latest study.
"These mathematical models are most likely all incorrect because they explain the observed data but are not required by the data," Tkalcic said.
"Therefore, the geophysical community will be divided about this finding and the topic will remain controversial."
He compared seismologists to doctors "who study the internal organs of patients' bodies using imperfect or limited equipment."
Lacking something like a CT scan, "our image of the inner Earth is still blurry," he said, predicting more surprises ahead.
That could include more about a theory that the inner core might have yet another iron ball inside it — like a Russian doll.
"Something's happening and I think we're going to figure it out," Vidale said. "But it may take a decade."
Green comet zooming our way, last visited 50,000 years ago
A comet is streaking back our way after 50,000 years.
The dirty snowball last visited during Neanderthal times, according to NASA. It will come within 26 million miles (42 million kilometers) of Earth Wednesday before speeding away again, unlikely to return for millions of years.
So do look up, contrary to the title of the killer-comet movie "Don't Look Up."
Discovered less than a year ago, this harmless green comet already is visible in the northern night sky with binoculars and small telescopes, and possibly the naked eye in the darkest corners of the Northern Hemisphere. It's expected to brighten as it draws closer and rises higher over the horizon through the end of January, best seen in the predawn hours. By Feb. 10, it will be near Mars, a good landmark.
Skygazers in the Southern Hemisphere will have to wait until next month for a glimpse.
While plenty of comets have graced the sky over the past year, "this one seems probably a little bit bigger and therefore a little bit brighter and it's coming a little bit closer to the Earth's orbit," said NASA's comet and asteroid-tracking guru, Paul Chodas.
Green from all the carbon in the gas cloud, or coma, surrounding the nucleus, this long-period comet was discovered last March by astronomers using the Zwicky Transient Facility, a wide field camera at Caltech's Palomar Observatory. That explains its official, cumbersome name: comet C/2022 E3 (ZTF).
On Wednesday, it will hurtle between the orbits of Earth and Mars at a relative speed of 128,500 mph (207,000 kilometers). Its nucleus is thought to be about a mile (1.6 kilometers) across, with its tails extending millions of miles (kilometers).
The comet isn't expected to be nearly as bright as Neowise in 2020, or Hale-Bopp and Hyakutake in the mid to late 1990s.
But "it will be bright by virtue of its close Earth passage … which allows scientists to do more experiments and the public to be able to see a beautiful comet," University of Hawaii astronomer Karen Meech said in an email.
Scientists are confident in their orbital calculations putting the comet's last swing through the solar system's planetary neighborhood at 50,000 years ago. But they don't know how close it came to Earth or whether it was even visible to the Neanderthals, said Chodas, director of the Center for Near Earth Object Studies at NASA's Jet Propulsion Laboratory in California.
When it returns, though, is tougher to judge.
Every time the comet skirts the sun and planets, their gravitational tugs alter the iceball's path ever so slightly, leading to major course changes over time. Another wild card: jets of dust and gas streaming off the comet as it heats up near the sun.
"We don't really know exactly how much they are pushing this comet around," Chodas said.
The comet—a time capsule from the emerging solar system 4.5 billion years ago—came from what's known as the Oort Cloud well beyond Pluto. This deep-freeze haven for comets is believed to stretch more than one-quarter of the way to the next star.
While comet ZTF originated in our solar system, we can't be sure it will stay there, Chodas said. If it gets booted out of the solar system, it will never return, he added.
Don't fret if you miss it.
"In the comet business, you just wait for the next one because there are dozens of these," Chodas said. "And the next one might be bigger, might be brighter, might be closer."
© 2023 The Associated Press. All rights reserved. This material may not be published, broadcast, rewritten or redistributed without permission.
Citation:
Green comet zooming our way, last visited 50,000 years ago (2023, January 27)
retrieved 27 January 2023
from https://phys.org/news/2023-01-green-comet-years.html
This document is subject to copyright. Apart from any fair dealing for the purpose of private study or research, no
part may be reproduced without the written permission. The content is provided for information purposes only.
University of Guelph students are in the race to grow food in space
Growing food in space is a complex challenge, but students at the University of Guelph have a pretty good idea of how to go about it.
The team, Canada GOOSE — which stands for Growth Options for Outer Space Environments — is among five teams across Canada, including the University of Waterloo, competing in the multi-year competition from the Canadian Space Agency (CSA) known as the Deep Space Food Challenge.
The team is currently on the second phase of the competition and hosted representatives from CSA on Thursday to showcase their idea.
The teams have been instructed to develop new technologies that would be able to produce food in space, but that could also be used for production here on Earth.
The Canada GOOSE team uses a hydroponic-like, high-density system to produce several kinds of fruits, vegetables and mushrooms.
"We have a multi-tier system growing a variety of plants, but the whole environment is being controlled so, air circulation, temperature, CO2 level, also light levels with the LEDs. So basically giving the best conditions for the plants to grow," explained Serge Levesque, a second-year PhD student.
Rosemary Brockett, a second year masters student, explained the crops were developed and grown to produce as little waste as possible.
"We can't have any kind of waste in space or in remote areas so we're growing them all using fabric wicks," she said.
"The fabric pulls up the water to the plants and then we have 3D-printed holders that support the plants and the fabric."
Brockett said they can grow root vegetables like turnips and carrots; dwarf tomatoes and peppers; leafy greens like cabbage, lettuce and bok choy; smaller trays have herbs, radish microgreens and sprouts.
Levesque said they also grow mushrooms because they play a key role in the unit's ecosystem.
"Plants photosynthesize and release oxygen and mushrooms need oxygen to release CO2, so it allows us to use CO2 more efficiently," he said, adding the inedible parts of other vegetables can be used to help grow the mushrooms; a way to re-use and eliminate waste.
Tech can help feed, educate Earthlings
The Canadian grand prize won't be announced until Spring 2024, but no matter the results, the students see applications for their technology closer to home.
First-year PhD student Ajwal Dsouza says it could be a useful education tool for youth, for example.
"Imagine putting this system up in a school or a university and educate people about the technological advancements happening but also [encourage] younger generations to study this," and can also imagine applications in addressing food insecurity in other more remote parts of the world, like Canada's northern communities.
"A system like this can be economically feasible. You can use it in remote areas where there is food insecurity using limited resources," he said.
"We can grow food in places where the weather is not good, like Canada's north or in a desert, where there's limited resources. This can help people grow food in tough conditions," said Dsouza.
The Canada GOOSE team will find out if they enter the third stage of the competition in March.
Asteroid 2023 BU: Space rock passes closer than some satellites – bbc.com
Now it's over, we can say it: a biggish asteroid passed by Earth a short while ago.
About the size of a minibus, the space rock, known as 2023 BU, whipped over the southern tip of South America just before 00:30am GMT.
And it illustrates how there are still asteroids of significant size lurking near Earth that remain to be detected.
This one was only picked up last weekend by amateur astronomer Gennadiy Borisov, who operates from Nauchnyi in Crimea, the peninsula that Russia seized from Ukraine in 2014.
Follow-up observations have refined what we know about 2023 BU's size and, crucially, its orbit.
That's how astronomers could be so confident it would miss the planet, even though it came inside the arc occupied by the world's telecommunications satellites, which sit 36,000km (22,000 miles) above us.
The chances of hitting a satellite are very, very small.
The time of lowest altitude was accurately calculated to be 19:27 EST on Thursday, or 00:27 GMT on Friday.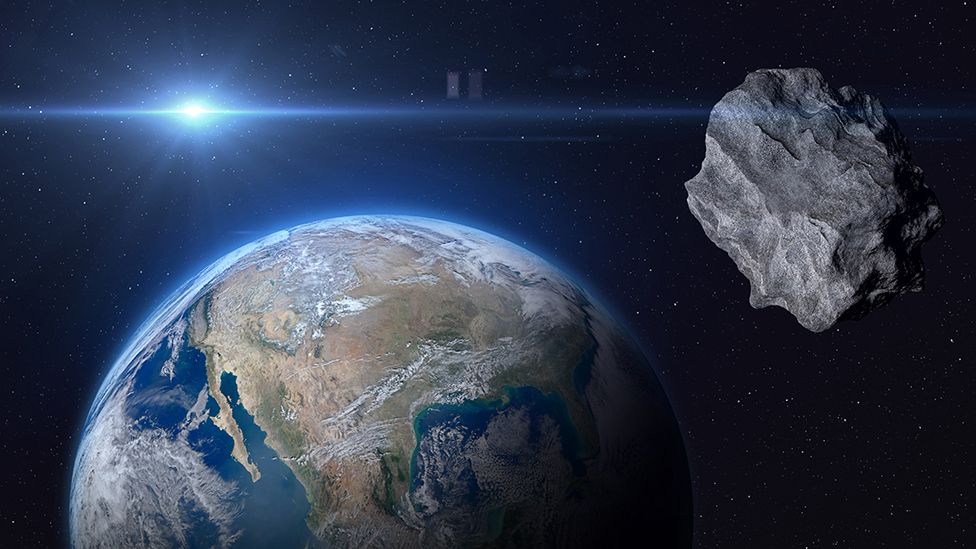 Even if 2023 BU had been on a direct collision course, it would have struggled to do much damage.
With an estimated size of 3.5m to 8.5m across (11.5ft to 28ft), the rock would likely have disintegrated high in the atmosphere. It would have produced a spectacular fireball, however.
For comparison, the famous Chelyabinsk meteor that entered Earth's atmosphere over southern Russia in 2013 was an object near 20m (66ft) across. It produced a shockwave that shattered windows on the ground.
Scientists at the US space agency Nasa say 2023 BU's orbit around the Sun has been modified by its encounter with Earth.
Our planet's gravity pulled on it and adjusted its path through space.
"Before encountering Earth, the asteroid's orbit around the Sun was roughly circular, approximating Earth's orbit, taking 359 days to complete its orbit about the Sun," the agency said in a statement.
"After its encounter, the asteroid's orbit will be more elongated, moving it out to about halfway between Earth's and Mars' orbits at its furthest point from the Sun. The asteroid will then complete one orbit every 425 days."
There is a great effort under way to find the much larger asteroids that really could do damage if they were to strike the Earth.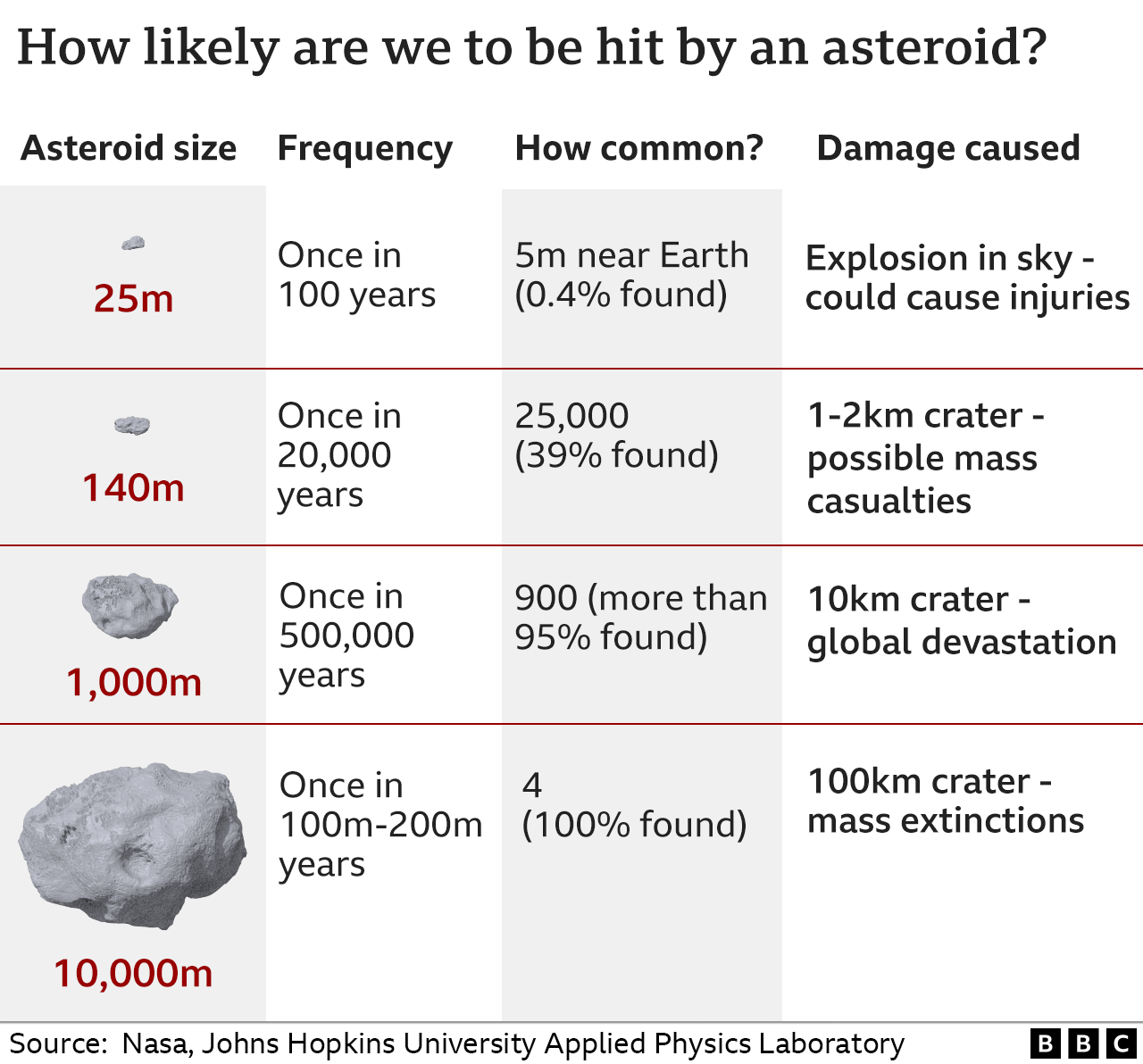 The true monsters out there, like the 12km-wide rock that wiped out the dinosaurs, have likely all been detected and are not a cause for worry. But come down in size to something that is, say, 150m across and our inventory has gaps.
Statistics indicate perhaps only about 40% of these asteroids have been seen and assessed to determine the level of threat they might pose.
Such objects would inflict devastation on the city scale if they were to impact the ground.
Prof Don Pollacco from the University of Warwick, UK, told BBC News: "There are still asteroids that cross the Earth's orbit waiting to be discovered.
"2023 BU is a recently discovered object supposedly the size of a small bus which must have passed by the Earth thousands of times before. This time it passes by only 2,200 miles from the Earth – just 1% of the distance to the moon – a celestial near miss.
"Depending on what 2023 BU is composed of it is unlikely to ever reach the Earth's surface but instead burn up in the atmosphere as a brilliant fireball – brighter than a full moon.
"However, there are likely many asteroids out there that remain undiscovered that could penetrate the atmosphere and hit the surface to cause significant damage – indeed many scientists think we could be due such an event."