Economic outlook: 'They say it's not, but it's hot!' – Export Development Canada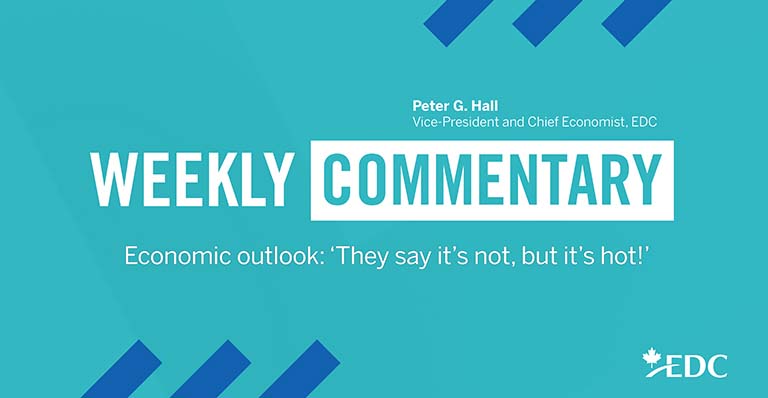 Prices are rising at a faster rate than we've seen in almost 40 years. Waved off at first as a temporary problem, central banks are tackling this head-on with tighter monetary policy. Expectations are now aligned around the fast tapering of quantitative easing programs, earlier and more rapid interest rate increases, and possible balance sheet reductions. This has financial markets and consumers braced for imminently tighter access to financing. A risk to the outlook is that current demand-led price growth moves into wage and other contract settlements, which will be harder for central banks to neutralize or reverse without more stringent monetary action.
Fiscal policy is also likely to become more stringent. This won't be just in Canada; almost every Organisation for Economic Co-operation and Development (OECD) nation will be in the same fix. Pandemic stimulus has caused debt to balloon well beyond previously acceptable limits and governments everywhere will be under pressure to roll back stimulus and get their finances on a more sustainable trajectory before higher interest costs exacerbate the problem. Thankfully, they'll be able to do this at a moment of economic strength, which will at least help on the revenue side.
International trade is generally benefiting from a strong world economy and consequently, Canada experienced surging growth in the dying months of 2021. Pent-up demand will power trade activity through 2022 and 2023, especially as supply chain constraints begin to diminish toward mid-year. Protectionism, in its many overt and more subtle forms, is expected to gradually give way to strong demand conditions. There's definitely enough activity for everyone for at least the next two to three years.
This all adds up to impressive forecast numbers. Developed markets are projected to grow well above their long-term trend, collectively rising by 4.1% this year and by 3% in 2023. Likewise, emerging markets will see impressive growth in the wake of last year's rebound, together expanding by 5.3% in 2022 and a further 5% next year. This puts 2022 global growth at a robust 4.8%, which will then moderate to a still-high 4.3% for 2023.
Demand conditions will keep commodity prices higher than initially expected and definitely higher than sustainable levels in the long term. The price of West Texas Intermediate crude oil is projected to average US$71 this year and US$65 in 2023. Gas prices will follow the same pattern, coming off current highs as Western European supplies are replenished. Copper prices will face continued upward pressure owing to immediate supply constraints, and increased structural demand as a result of higher global resolve to shift from fossil fuels to cleaner, copper-intensive forms of energy generation and transportation. Copper prices are projected to average US$8,997 this year, edging down slightly to US$8,287 in 2023.
Higher commodity prices are putting upward pressure on the Canadian dollar, although that's being offset somewhat by shifts in expectations for monetary policy movements here and elsewhere. The Bank of Canada was initially more hawkish in its policy actions, boosting the loonie's value against the U.S. dollar and the euro. But with the Federal Reserve and the European Central Bank now messaging tighter monetary actions, the Canadian dollar has eased back and is now expected to average US$0.79 this year and US$0.80 in 2023.
The bottom line?
Pandemic-fuelled uncertainty created broad expectations of a sluggish recovery. In contrast, growth is booming. Caught by surprise, global business is scrambling to ramp up production to meet demand. Supply chains, normally fine-tuned to perfection, are a mess, but will soon pull themselves back together. Inflation, perhaps the clearest signal of the economy's strength, will moderate as central banks swing into action. At the same time, the effects of the Omicron variant threaten to delay the economy's progress—and perhaps create space to better prepare for the inevitable upswing in activity. It's all a bit chaotic, but the core story is a good one: There are clear rewards for those who are more prepared to deliver the goods over the next two years. Check out EDC Economics' latest Global Economic Outlook and discover more valuable insights.
German economy dodges recession as war, pandemic weigh – Financial Post
Article content
BERLIN — The German economy grew slightly in the first quarter from the previous one, data showed, with higher investments offset by the twin impacts of war in Ukraine and COVID-19 that experts predicted would weigh more heavily in the three months to June.
Europe's largest economy grew an adjusted 0.2% quarter on quarter and 3.8% on the year, the Federal Statistics Office said on Wednesday. A Reuters poll had forecast 0.2% and 3.7%, respectively.
The reading meant that Germany skirted a recession, often defined as two quarters in a row of quarter-on-quarter contraction, after gross domestic product (GDP) fell by 0.3% at the end of 2021.
Article content
While household and government spending remained mostly at the same level as in the previous quarter and exports were down at the start of the year, investments grew.
Construction investments, boosted by mild weather, were up 4.6% from the previous quarter, despite price increases, and machinery and equipment investments rose 2.5%.
German business morale rose unexpectedly in May as its economy showed resilience, according to an Ifo institute survey published this week that found no observable signs of a recession.
However, there is no upswing in sight either, and Sebastian Dullien, director of the Macroeconomic Policy Institute (IMK), predicted the effect of the war and pandemic-linked restrictions in China – Germany's biggest trading partner last year, according to official data – would be much greater in the second quarter.
Article content
ING economist Carsten Brzeski said he was sticking with his baseline scenario of a slight GDP contraction in the second quarter after Wednesday's reading.
"The build-up of inventories and weak consumption in the first quarter, as well as very weak consumer confidence, clearly dampen the optimism that traditional leading indicators are currently conveying," he said.
A consumer sentiment index by the GfK institute inched up slightly heading into June from an all-time low in May, with household spending burdened by inflation.
The government forecasts economic growth of 2.2% in 2022. (Reporting by Miranda Murray and Rene Wagner; Editing by Paul Carrel and John Stonestreet)
5 reasons why the G20 needs a sustainable blue economy – World Economic Forum
Ocean-based climate solutions should be a critical part of the G20's COVID-19 recovery plans.
"The blue economy" can create jobs, spur economic growth, mitigate the impacts of climate change and help meet the food needs of a growing global population.
From sustainable fisheries to maritime renewable energies, there are five crucial areas where the G20 would benefit from investing in the ocean.
The G20 has vowed to rebuild the global economy in the aftermath of the COVID-19 pandemic and to fight climate change by investing in sustainable development. Yet one of the most powerful tools available to achieve these goals is largely missing from national economic recovery plans: ocean-based climate solutions.
The ocean has tremendous potential to spur economic growth, create jobs and mitigate some of the most severe climate impacts if we protect it and use its resources sustainably. This is often referred to as "the blue economy".
A similar story is playing out on the ocean's coral reefs and in our global fisheries. So-called "blue" food (food from the ocean and other aquatic sources) offers immense potential to help meet the food needs of a growing population in a way that is nutritious, sustainable, equitable and affordable. To do so successfully requires a concerted effort from the global community to ensure that fishing is sustainable.
Creating a blue economy

There are five crucial areas where the G20 would benefit from investments in ocean-based climate action to create a blue economy:
1. Maritime renewable energy sources, such as offshore wind, floating solar arrays and wave and tidal power, hold enormous promise to build energy independence and help countries meet their emissions reduction commitments under the Paris Climate Change Agreement.
2. We must decarbonize global shipping. If this industrial sector were a country, it would be the world's eighth-largest in terms of carbon emissions. The good news is that emerging technologies can vastly reduce emissions from vessels and port facilities. The international community needs to set new standards to ensure best practices are implemented evenly around the world.
Our ocean covers 70% of the world's surface and accounts for 80% of the planet's biodiversity. We can't have a healthy future without a healthy ocean – but it's more vulnerable than ever because of climate change and pollution.
Tackling the grave threats to our ocean means working with leaders across sectors, from business to government to academia.
The World Economic Forum, in collaboration with the World Resources Institute, convenes the Friends of Ocean Action, a coalition of leaders working together to protect the seas. From a programme with the Indonesian government to cut plastic waste entering the sea to a global plan to track illegal fishing, the Friends are pushing for new solutions.
Climate change is an inextricable part of the threat to our oceans, with rising temperatures and acidification disrupting fragile ecosystems. The Forum runs a number of initiatives to support the shift to a low-carbon economy, including hosting the Alliance of CEO Climate Leaders, who have cut emissions in their companies by 9%.
Is your organization interested in working with the World Economic Forum? Find out more here.
3. Coastal wetlands and ecosystems – such as salt marshes, seagrass meadows, coral reefs and mangrove forests – need urgent protection in order to maintain their critical environmental services. It is estimated that these ecosystems sequester as much as five times the amount of carbon as terrestrial forests per unit area while shielding coastal populations from increasingly powerful storms and sea-level rise.
4. Investing in sustainable fisheries and, in particular, aquaculture will create well-paid jobs and help promote food security and economic fairness, especially in developing countries.
5. Sustainable and regenerative tourism can form a critical building block in ensuring a lasting economic recovery for coastal nations in a way that supports the ocean and nature – and the countless people who depend on them.
Even modest investments in these solutions to create a sustainable blue economy would go a long way toward achieving UN Sustainable Development Goal 14 (life below water), including gender equity and fair access to the economic benefits of the world's marine resources.
As this year's G20 president and host of the group's next leaders' summit in November, Indonesia must lead by example, making major investments in marine and coastal ecosystem governance, promoting equal economic access, reducing marine debris, and working to restore and conserve mangrove and other wetlands.
Indonesia, Australia and all other G20 countries must expand these efforts and increase collaboration, to further strengthen and implement a robust and sustainable global blue economy that benefits everyone.
General (Ret.) Luhut Binsar Pandjaitan is Coordinating Minister for Maritime Affairs and Investment for Indonesia, which is this year's G20 President and host of the group's 17th Heads of State and Government Summit in November.
Dr Andrew Forrest AO is Founder and Chair of the Minderoo Foundation, Australia, and a Member of Friends of Ocean Action at the World Economic Forum.
Mexico's Economy Rebounded in First Quarter on US Demand – BNN
(Bloomberg) — Mexico's economic growth was in line with expectations for the first three months of 2022, a positive sign for a country that narrowly avoided falling into recession late last year.
Gross domestic product grew 1% in the first quarter from the previous three-month period, above the 0.9% preliminary reading released in April, according to final data published by Mexico's statistics institute Wednesday. Analysts in a Bloomberg survey had estimated 1% quarter-on-quarter growth.
On an annual basis, GDP expanded 1.8% in the January-March period, compared to the 1.6% flash reading reported last month. The manufacturing and services sectors led the recovery, as exports to the US, Mexico's largest trading partner, continued to be a boon for Latin America's second-largest economy, especially once past the late January peak of the highly infectious omicron variant.
"It would be desirable for us to grow more, but it's not bad growth," said Janneth Quiroz Zamora, vice president of economic research at Monex Casa de Bolsa. "There was an impact of Omicron, but it wasn't as strong or as pronounced as was expected."
While doling out aid to farmers, dropping tariffs and kicking in for subsides against rising fuel and energy prices, President Andres Manuel Lopez Obrador has been hesitant to emulate Latin America's other big economies by taking steps to spur the economy. His government's attempts to woo companies from abroad with the appeal that they'll have shorter supply chains and be closer to US consumers has seen limited results so far.
Looking ahead, gathering headwinds to growth abound. Russia's invasion of Ukraine has already had an alarming impact on food and energy prices in Mexico and exacerbated snarls in disrupted global supply-chains, which impact the country disproportionately as it's one of the world's largest exporters. Economic factors in the US also stand to impact Mexico's performance.
"There was some forward momentum heading into Q2," said Nikhil Sanghani, a Latin America economist at Capital Economics. "Growth will be sluggish though as activity cools in the US and high inflation and tighter monetary policy weigh on domestic demand."
Forecasts
Assessing the mounting challenges, the International Monetary Fund in April lowered its 2022 GDP forecast for Mexico to 2%, down from 2.8% in January, and half its forecast of 4% made in October 2021. Economists polled by Citibanamex earlier this month were even less upbeat still, with a 2022 GDP forecast of 1.8%, only marginally better than the 1.73% estimate in the central bank's most recent survey of economists.
Since the IMF's last forecast, however, the US Federal Reserve raised its key rate for a second meeting and vowed to keep hiking until officials see "clear and convincing" cooling in inflation, raising the specter of recession in the world's largest economy and a fall-off in demand for Mexico's exports.
At the same time, persistent inflation at home has Mexico's central bank engaged in an aggressive tightening cycle that's taken the key rate up to 7% from 4% last June, with a possible terminal rate of 10%, by the reckoning of Deputy Governor Jonathan Heath.
Read More: Banxico's Heath Sees Additional 200-300 Basis Point Rate Hikes
(Updates with analyst comments starting in seventh paragraph.)
©2022 Bloomberg L.P.