Epic Games continues fight against Apple, urges iPhone-maker to restore Fortnite on App Store – Economic Times
SAN FRANCISCO: Epic Games will strive anew Monday to convince a judge that its hit title Fortnite should be restored to Apple's App Store, despite sidestepping the tech titan's standard commission on transactions.
Apple does not allow users of its popular devices to download apps from anywhere but its App Store, and Epic is challenging its practice of taking a 30 percent cut of money spent on the apps by users.
The clash comes as Apple puts priority on selling digital content and subscription services to the one billion-plus people around the world using devices powered by its iOS mobile operating software.
The commission dispute has also become a rallying cry for app makers who believe Apple's App Store policies are monopolistic.
Major app developers including Epic and streaming music giant Spotify recently formed a coalition to press for new terms with the major online marketplaces operated by Apple and Google.
Google runs a Play Store for apps tailored for devices powered by its Android software and also takes a commission, but people are free to get apps from other online venues.

The new Coalition for App Fairness advocacy group said it will seek legal and regulatory changes for the app stores which serve as gatekeepers for much of the mobile software distributed to smartphone users.
The move comes amid rising criticism of the fees and terms imposed by the app stores, and legal challenges by both Epic and Spotify to Apple's commission for online subscriptions.
A hearing slated for Monday before a federal judge in California will focus on whether Apple should be compelled to put Fortnite back in the App Store while an overarching lawsuit plays out.
Apple pulled Fortnite from its online mobile apps marketplace on August 13 after Epic released an update that dodges revenue sharing with the iPhone maker.
The judge in the case previously rejected an emergency injunction request by Epic, saying Fortnite's eviction by Apple was a "self-inflicted wound."
But Epic did not back down from its fight against Apple, accusing the tech giant of being "a monopolist."
Due to the legal row, Fortnite fans using iPhones or other Apple devices no longer have access to the latest game updates, including the new season released at the end of August.
Stay Fit! Apple Watch Series 6 Wins Over Health Freaks With Oxygen Monitor, ECG & Fitness T…
All Health Metrics At One Place
At its much-awaited September event, Apple unveiled the Apple Watch Series 6, sequel to Watch Series 5, which keeps a track of all your fitness parameters at one place. It comes with various features such as ECG, fitness tracker and can also monitor the blood oxygen levels of the users.
What's more? Given the Covid outbreak, the company has also partnered with various health organisations to see how blood oxygen level and heart rate can help users stay healthy.
The ability of the Apple Watch to monitor blood oxygen seeks to beat a similar feature already available on watches from rival Fitbit Inc, which Alphabet Inc's Google is buying for $2.1 billion.
With all the health metrics available at one place, here's why Apple Watch Series 6 can give a tough competition to Fitbit and emerge as the go-to gadget for all fitness enthusiasts.
Cyberpunk 2077 release delayed to December 10th – MobileSyrup
Cyberpunk 2077 has once again been delayed, this time by 21 days to December 10th, 2020.
CD Projekt Red, the game's developer, made the announcement in a recent tweet, stating that the delay relates to the challenges of releasing a title of this scale across nine video game platforms, including the next-gen PlayStation 5 and Xbox Series X.
Cyberpunk 2077 is coming to the Xbox One, Xbox One X, Xbox Series X, Xbox Series X, PlayStation 4, PlayStation 4 Pro, PlayStation 5, PC and Stadia.
"We're aware it might seem unrealistic when someone says that 21 days can make any difference in such a massive and complex game, but they really do," writes CD Projekt Red co-founders Adam Badowski and Marcin Iwinski in the tweeted statement.
We have important news to share with you pic.twitter.com/qZUaD6IwmM

— Cyberpunk 2077 (@CyberpunkGame) October 27, 2020
What's unusual about this situation is Cyberpunk 2077 went "gold" a few weeks ago, indicating that it had reached the end of its development cycle. In the statement, Badowski and Iwinski say this often isn't the end of modern video game development.
"On the contrary, this is the time where many improvements are being made which will then be distributed via a Day 0 patch. This is the time period we undercalculated," said Badowski and Iwinski.
It's likely that after going gold, CD Projekt Red ran into more development issues than it initially expected regarding Cyberpunk's day one patch.
Cyberpunk 2077 was originally set to release on April 16th before being moved to September 17th and then November 19th. The game will now release on December 10th following this latest delay.
It's worth noting that December 10th is the same day of The Game Awards, Canadian producer Geoff Keighley's annual video game show honouring the industry while revealing new trailers for upcoming games. By releasing on that date, Cyberpunk 2077 is missing the deadline to eligible to win any awards at this year's show, so it will instead get the chance to be recognized in 2021.
CD Projekt Red is best known for developing The Witcher series, including 2015's critically acclaimed open-world RPG, The Witcher 3: Wild Hunt. Cyberpunk 2077 is the next massive RPG from the Polish developer.
Source: @CyberpunkGame
Cyberpunk 2077 delayed again to December – Polygon
Cyberpunk 2077, the highly anticipated new role-playing game from the team behind The Witcher 3: Wild Hunt, has been delayed again. It will now be released on Dec. 10, three weeks later than anticipated. The announcement was made Tuesday in a message from CD Projekt Red's Adam Badowski and Marcin Iwinski on Twitter.
"Most likely, there are many emotions and questions in your heads," they said in the announcement, "so, first and foremost, please accept our humble apologies."
The team cited the complexity of creating and testing what amounts to nine different versions of the game ahead of its launch. The game will be compatible with current-generation consoles as well as the next generation PlayStation 5 and Xbox Series X. It is also coming to Google's Stadia cloud gaming platform.
"The biggest challenge for us right now is shipping the game on current-gen, next-gen, and PC at the same time, which requires us to prepare and test 9 versions of it […] while working from home," Badowski and Iwinski said. "Since Cyberpunk 2077 evolved towards almost being a next-gen title somewhere along the way, we need to make sure everything works well and every version runs smoothly. We're aware it might seem unrealistic when someone says that 21 days can make any difference in such a massive and complex game, but they really do."
"Some of you might also be wondering what these words mean in light of us saying we achieved gold master some time ago," the pair continued. "Passing certification, or 'going gold', means the game is ready, can be completed, and has all content in it. But it doesn't mean we stop working on it and raising the quality bar. On the contrary, this is the time where many improvements are being made which will then be distributed via a Day 0 patch. This is the time period we undercalculated."
Cyberpunk 2077 was initially scheduled to release on April 16, 2020. In fact, the original release date was baked into an early trailer for the game as an Easter egg along with copies of The Witcher 3: Wild Hunt. In January, the game saw its first delay which pushed the release out until Sept. 17. Around the same time, executives announced to the company's investors that it would require a lengthy period of crunch — requiring employees to work long hours — in order to be completed on time. Later, in June, it was delayed once more until Nov. 19.
Apple Researching Stronger Displays for Foldable Devices to Resist Cracking – MacRumors
A newly-published patent filing has revealed that Apple is developing a protective layer to resist cracking on foldable displays, as well as improve scratch resistance and durability (via Patently Apple).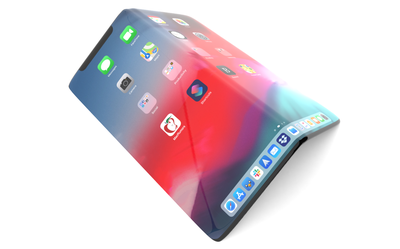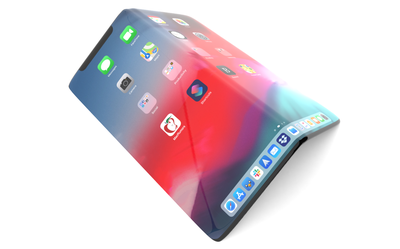 The U.S. Patent and Trademark Office filing, titled "Hybrid coverlay/window structure for flexible display applications," outlines how curved, flexible, or foldable display modules could use a protective hardcoat layer to circumvent cracking. Apple appears to be seeking to remedy display cracking issues that have afflicted some Samsung devices.
The patent notes that "typically, glass fracture initiates from the presence of micro-cracks." Apple's hardcoat layer would fill pre-existing micro-cracks and therefore make it harder for a serious crack to develop.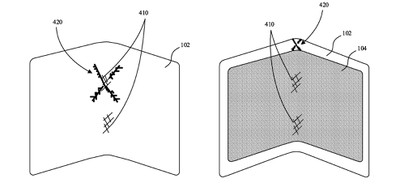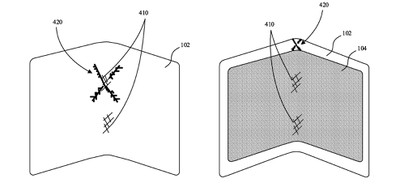 The additional protective layer would be placed directly on top of the display. It would be "engineered to have a sufficiently high hardness and tensile strength to function as an exterior protective coating for the electronic device… Thus, the hardcoat layer is sufficiently durable for high puncture and scratch resistance."
Images attached to the patent included simple illustrations of foldable devices, with both inwardly and outwardly-foldable displays.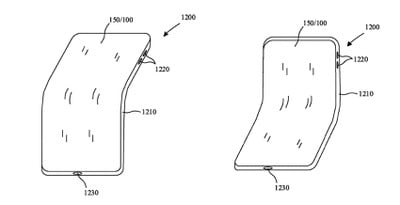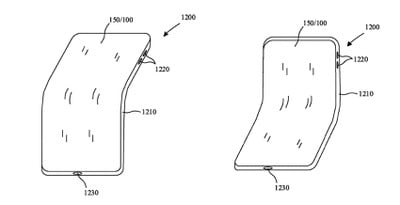 Although a foldable device from Apple does not seem to be on the horizon any time soon, the company has been heavily researching and developing the technology. In September, Apple reportedly ordered a "large number" of Samsung foldable display samples.
In 2019, Apple strengthened the glass on iPhone 11 and ‌iPhone 11‌ Pro, and this year with the iPhone 12 and iPhone 12 Pro, the company introduced Ceramic Shield. Ceramic Shield is a strengthened glass that reportedly improves drop performance by up to four times.
The patent therefore seems to show the intersection between Apple's separate research on glass durability and foldable displays.