Ethical questions abound in politics – Winnipeg Free Press
For the third time since he became prime minister in 2015, the behaviour of Justin Trudeau is being investigated by the Conflict of Interest and Ethics Commissioner. The investigation involves a proposed non-tendered contract worth $19 million to the WE Charity, which was supposed to operate a new student-volunteer program. Trudeau had participated in the cabinet meeting that approved the contract.
Because both the prime minister and his wife had a close relationship with the charity, the opposition complained to the ethics commissioner that Trudeau was guilty of violating the conflict of interest law. Days later it was revealed that Trudeau's mother and brother had been paid nearly $300,000 for multiple speaking engagements at WE Charity events. This seems to be a classic case of confusing or intermingling private interests with the public interest, which is the essential nature of a conflict of interest.
The case caused me to reflect on why politicians appear to have such difficulty reasoning and acting ethically. Here are some random thoughts:
There is illegal and unethical behaviour in all occupations, but politics seems to involve greater temptations and risks that legal rules and ethical standards will be violated.
Politics involves contention over competing ideas and interests, together with competition to gain power, and these fundamental facts can override respect for ethical norms. Politicians and their advisers take the pragmatic view that if they do not break or bend the rules, they will lose ground to their opponents. They tell themselves that after they win, they will behave in an exemplary ethical manner, but then re-election becomes a strong motivation.
Most politicians enter public life for altruistic reasons of public service. A minority, however, become corrupted by the political process. They develop the view that politics is a game and to the winner go the spoils. Individuals from a famous political family, or long-serving politicians, may develop the view that they are, as a former Liberal cabinet minister declared, "entitled to their entitlements." Rewarding family and "political friends" is seen as a perk of the job.
Politicians face three broad types of ethical problems:
There are the ethics of their policy choices, which reflect their value systems and often have distributional impacts on who within society loses and wins as a result of those choices. These are matters for public debate and election contests.
To promote honesty and to deter favouritism, the process for deciding policy and allocating resources has been the target of ever-expanding regulation and other accountability mechanisms. The result is that politics today is "cleaner" in terms of legality and ethics than in the past.
The relatively new ethics regimes cover only actions connected to the performance of public duties. They do not cover the private behaviour of politicians. In the case of ethically problematic behaviour, such as having an affair, the penalties may come at the next election if enough voters are offended.
Often, politicians defend their transgressions by claiming their behaviour could be seen as unethical, but it was not illegal. The distinction is simplistic and false; fundamental ethical values provide the foundation for law. Over time, many behaviours deemed ethically questionable have become prohibited or regulated by laws. This contributes to the incorrect public impression that contemporary politicians are more corrupt than their predecessors of bygone generations.
With the adoption of conflict of interest, access to information and whistleblowing laws, there are more disclosures of alleged wrongdoing by politicians. In the negative and theatrical cultures of legislatures, the opposition parties tend to exaggerate the seriousness of the misdeeds involved. Opposition accusations are then amplified and sensationalized in the traditional and the new social media. The result is the emergence of a political culture that is increasingly driven by scandals rather than by reasoned policy debates.
The public believes all politicians should know the difference between right and wrong and act accordingly. In political life it is not that simple, because there are numerous competing values and ethical dilemmas. Not every individual who enters political life is capable of ethical understanding, reasoning and judgment. The pressures and demands of the job mean there will always be ethical lapses.
We have probably reached the limits of using stricter laws, supported by tougher enforcement, to curb illegal and unethical political behaviour. Rather than focus mainly on preventing and punishing wrongdoing, more effort needs to be placed on promoting "right-doing." A code of ethical conduct for political parties, candidates, elected representatives, paid staff and volunteers would help, but only if it was backed up with meaningful educational and enforcement activities.
The code would be particularly useful in encouraging ethical awareness in those "grey zones" where values clash and the difference between right and wrong is blurred.
Paul G. Thomas is professor emeritus of political studies at the University of Manitoba. In 2014 he wrote a report for Elections Canada on a code of ethics for political parties.
Blanchet will push for election if Trudeau, Morneau, Telford won't resign – CBC.ca
Bloc Québécois Leader Yves-François Blanchet says he will try to trigger a fall election if the prime minister, his chief of staff and his finance minister don't resign.
Blanchet said the government is not "worthy" of the public's trust in the wake of the WE Charity controversy, which was sparked by Prime Minister Justin Trudeau and Finance Minister Bill Morneau failing to recuse themselves from cabinet talks involving the organization despite family ties to it.
While his preference is to see the trio step down, Blanchet said he's prepared to table a motion of non-confidence in the government if they remain in their jobs.
If that motion passed with the support of other parties, it would lead to an election campaign in the midst of a pandemic.
"Which is more dangerous — the mismanagement of a crisis, or taking the time to change the people who are managing the crisis?" Blanchet said during a news conference in Ottawa on Wednesday.
The BQ leader said he has not had any formal discussions with the NDP or the Conservatives on his plan. He said Elections Canada is preparing to hold a safe election in the event it is held during the pandemic.
Elections Canada preparing
Elections Canada has created an internal working group to do "readiness planning" in the event of an election during the pandemic. The group is looking at issues such as:
Possible physical distancing measures for polling stations and Elections Canada offices.
The capacity of the existing vote-by-mail system.
How to recruit, train and keep election workers safe.
Identifying alternative options for polling station locations that may become unavailable due to COVID-19.
"The working group will consider potential legal, administrative and operational changes in order to deliver an accessible and safe election," according to Elections Canada's website.
Normally, a fixed election date means an election is held every four years, but with a minority government, an election could occur at any time the House loses confidence in the government.
Put government 'out of its misery': O'Toole
Conservative MP and leadership candidate Erin O'Toole on Wednesday called the Liberal government "tired, scandal-plagued and ethically challenged" and said it needs "to be put out of its misery."
"Once I'm leader I'll be working with all the parties to see what we can do to get Canada back on track, and to show a lack of confidence. But I'm going to wait until the end of my race and take time to consult with my caucus before I do anything," he said during media scrums on Parliament Hill.
Foreign Affairs Minister François-Philippe Champagne said the Liberals will always be ready for an election when the time comes, but said health and safety is the top concern for Canadians right now.
"I'm not concerned about threats," he said.
NDP MP Charlie Angus accused Blanchet of throwing a "hissy fit" and said Canadians want the opposition parties to press the government to do what's best for Canadians.
"I want to get accountability from these guys. That's our focus right now," he said.
Blanchet's remarks come as the House of Commons holds a rare summer sitting to debate the government's response to COVID-19.
The finance committee on Wednesday continued its probe into the government's selection of WE Charity to manage a $900-million student volunteer grant program. Trudeau and others have maintained the public service had deemed the organization the only one qualified to run the large-scale initiative.
Employment Minister Carla Qualtrough and Small Business Minister Mary Ng both appeared at the committee on Wednesday, and said they were not clear on the details of the parties named in the WE contract.
That agreement was with a separate charitable entity within the WE organization, the WE Charity Foundation, which has no assets. The WE organization said this was done "to protect the pre-existing charitable assets of WE Charity from liabilities."
Qualtrough and Ng both said they were unaware of this fact when cabinet approved the contract.
"I, for example, know the contribution agreement was signed, I think it was June 23, did not know at that time who the actual legal entity that we were entering into an agreement for," Qualtrough said. "But I wouldn't. It wasn't my file."
Ng offered a similar answer.
"We had approved the recommendation put forward to cabinet and by my colleague-minister, and understood it would be WE Charity that would deliver this program," she said.
On Tuesday, Qualtrough testified at the House ethics committee, which is also studying the WE Charity issue, and conceded the government had "dropped the ball." She said she offered "no excuse or justification" for Trudeau and Morneau's roles in the resulting controversy.
Trudeau on Tuesday issued a statement saying he has full confidence in Morneau, saying any reports to the contrary are false. The statement was released amid speculation that the finance minister could depart the post.
Science and politics tied up in global race for a vaccine – CKPGToday.ca
"To be the first one out of the block with a coronavirus vaccine would be a real — pardon the pun — shot in the arm for the Kremlin," said Timothy Frye, a political science professor at Columbia University who specializes in post-Soviet politics.
Russia is not alone in viewing a vaccine in this light. China, where the virus first emerged, has also raced to make progress on a vaccine. A state-owned Chinese company is boasting that its employees, including top executives, received experimental shots even before the government approved testing in people.
President Donald Trump, whose handling of the coronavirus pandemic has put his political fate in grave jeopardy, is hoping to get credit for his administration's aggressive push for a vaccine, ideally one that arrives before Election Day in November.
It's far from clear at this point whether Putin has beaten Trump to this medical milestone.
Putin said the Health Ministry gave its approval after the vaccine, named "Sputnik V," underwent the necessary tests. He said one of his two adult daughters had been inoculated. "We should be grateful to those who have taken this first step, which is very important for our country and the whole world," he said.
No proof was offered and scientists in Russia warned that more testing would be necessary to establish it is safe and effective. Nonetheless, officials said vaccination of doctors could start as early as this month and mass vaccination may begin as early as October.
Scientists around the world have been cautioning that even if vaccine candidates are proven to work, it will take even more time to tell how long the protection will last.
"It's a too early stage to truly assess whether it's going to be effective, whether it's going to work or not," said Dr. Michael Head, senior research fellow in global health at the University of Southampton.
It was also too soon to dismiss the Russian claim out of hand.
The country, though economically dependent on the export of natural resources, does have a history of achievement in science, medicine and aerospace — including becoming the first to put a person into space, in 1961.
"It is possible that they concentrated and could do this," said Daniel Fried, a retired senior U.S. diplomat. "I'm not scoffing at it, but it doesn't mean that the Russian economy is advanced."
A vaccine would be the kind of significant achievement that would elevate Putin at home and in the international community.
"They would love to be able to claim credit because the first country to develop the vaccine will gain enormous prestige," said Fried, a former assistant secretary of state for European and Eurasian affairs who is now a distinguished fellow at the Atlantic Council.
It's also possible Russia had help. The U.S., Britain and Canada l ast month accused hackers working for Russian intelligence of trying to steal information about a coronavirus vaccine from academic and pharmaceutical research institutions.
In any case, the public is eager for a vaccine as global deaths from the virus surpass 730,000. Some say they would even welcome one from Russia, provided it passes muster with the Food and Drug Administration, which approves vaccines used in the U.S., and the Centers for Disease Control and Prevention, which recommends who should receive them.
"I can't take it anymore. I'm getting crazy," said Fernanda Henderson, as she strapped her infant into a car seat at a park in the Maryland suburbs of Washington for a break from quarantining at home. "I don't think the CDC or the FDA would approve something that is not going to work."
But to Vesna Jezic, a 79-year-old native of Croatia and immunologist who was taking her grandchildren to the same park, the suspiciously fast progress on the vaccine announced by Putin was reason to be doubtful. "You can imagine we don't trust anything that comes from Russia," she said.
The Russian president may face similar doubts at home. Frye noted a 2018 Gallup Poll that showed the former Soviet countries have some of the highest rates of anti-vaccination sentiment in the world.
"If it turns out not to work, it would be a real black eye," he said.
___
Associated Press writers Michael Kunzelman in Wheaton, Maryland, and Maria Cheng in London contributed to this report.
Ben Fox, The Associated Press
Canada is not immune to the politics of coronavirus masks – The Conversation Canada
The Canadian response to the COVID-19 pandemic is widely seen as standing in sharp contrast to the situation in the United States.
We would be remiss, however, to overlook the resemblance between the recent protest in Montréal against mandatory mask usage and anti-mask protests taking place across the United States.
The similarities may indicate that the ideological chasm that has defined the American COVID-19 experience is making its way north of the border.
The use of masks as a preventive measure against COVID-19 has divided Americans along partisan lines since the Centers for Disease Control and Prevention (CDC) first issued its recommendation to wear cloth masks on April 3. President Donald Trump immediately rebuffed any suggestion he should wear one and set the stage for masks as a subject of political polarization.
In Canada, the choice to wear a mask ostensibly does not carry the same political connotations that it does in the U.S.
Recent findings from my organization, Vox Pop Labs, and our COVID-19 Monitor, indicate that 83 per cent of Canadians currently wear masks as part of their normal routine, compared to 67 per cent of Americans. The COVID-19 Monitor is one of the largest ongoing studies of public opinion on the coronavirus in Canada.
Canadians trust public health officials
In Canada, measures to contain COVID-19 have generally been less contested by politicians, and trust in the guidance offered by public health officials has remained consistently high.
A study I co-authored as Canadian provinces began declaring states of emergency in response to the COVID-19 pandemic found that most Canadians, regardless of their politics, exhibited similar levels of compliance with emergency orders.
The study also found, however, that perceptions both of the threat of COVID-19 and the effectiveness of the government response were tinged by partisanship.
In the months since that study was published, we have witnessed a dramatic rise in the rate of mask usage among Canadians, but we've also observed signs of partisan splintering.
Data from the COVID-19 Monitor show that early adopters of masks spanned the partisan gamut — the only notable exception being Bloc Québecois supporters, who lagged behind other Canadians in their uptake of masks but now sit on par with Liberal, NDP and Green voters.
The trend among Bloc Québecois voters speaks to their nationalist inclinations more than it does to conventional left-right ideology. The Québec government was initially quite reticent to accept revised guidance on masks from federal public health officials. But it ultimately endorsed the recommendation on masks after several weeks, and later became the first province to make them mandatory.
The pattern among Bloc Québecois voters reflects their deference to the Québec government and how they follow its guidance quite closely.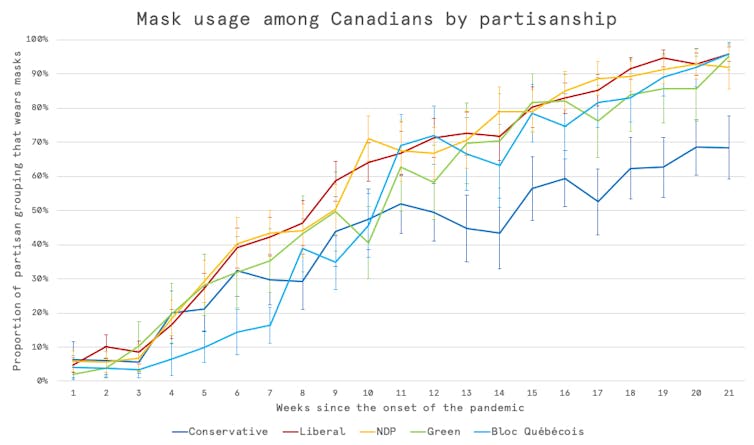 The more interesting standout in this analysis has to do with conservatives. During the first several months of the pandemic, supporters of the Conservative Party of Canada were relatively indistinguishable from other Canadians in terms of their mask usage, suggesting a cross-partisan consensus on masks early on in the pandemic.
Clear divide emerges
But by early June we observe a clear divide between Conservative voters and other Canadians in relation to mask usage — a divide that appears to be widening over time.
We see the divide in mask-wearing habits even more clearly when we segment Canadians by ideology. Again, at the outset of the pandemic in mid-March, there was no correlation between mask usage and ideology. As the pandemic draws on, however, we see clear differences between left- and right-wing Canadians in terms of mask usage, with 94 per cent of left-wing Canadians reporting that they have adopted masks as part of their normal routine compared with only 68 per cent of Canadians who identify as right wing.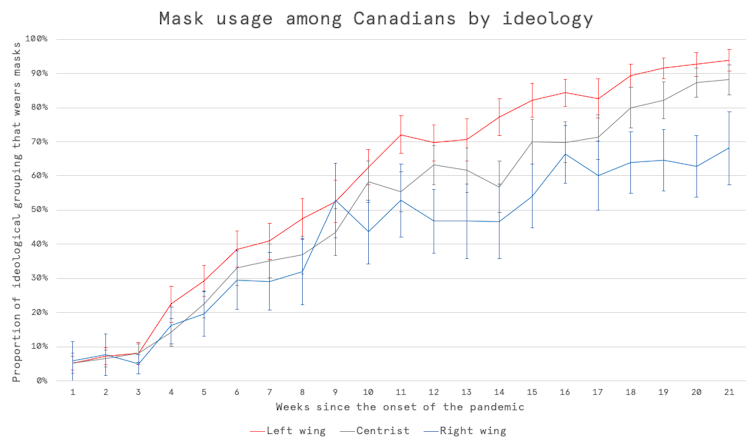 It's important to note that the vast majority of right-wing Canadians are still wearing masks, but what's concerning is that the divide between the two groups has increased over time.
It's also important to note that these findings do not necessarily indicate that partisanship or ideology are the primary determinants of mask adoption among Canadians.
For example, Canadians tend to draw on different information sources depending on their political views. Previous research from the COVID-19 Monitor has demonstrated that Conservative supporters are more likely to endorse conspiracy theories about COVID-19, which may reflect a reliance on different news media.
It seems unlikely that the varied uptake of masks between Canadians on either end of the ideological spectrum is an exclusive reaction to partisan cues given the relative solidarity among Canada's political leaders.
Even Trump wears a mask sometimes
Even if right-wing Canadians are taking their lead from their counterparts south of the border, they are not necessarily parroting the behaviour of Trump. The U.S. president has recently done an ostensible about-face on masks, donning one himself in late July and endorsing them as "patriotic."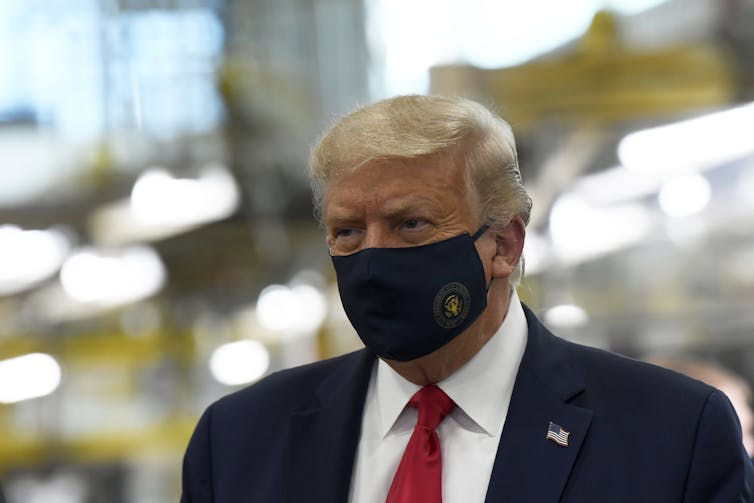 Perhaps it's too early to tell if this will have a mitigating effect on the partisan splits in mask-wearing habits among Americans, or if right-leaning Canadians will follow suit.
But for the time being, there is no indication that the difference in mask usage among Conservatives relative to other Canadians is dissipating — if anything, it continues to increase.