Even at 43, there's no surprise Zdeno Chara has more to give – Sportsnet.ca
Out of the grey winter's sky fell a bomb.
"Zdeno Chara has signed with the Washington Capitals."
For real?
So unique are the man's talents, so indistinguishable was he from the bedrock of the Boston Bruins, that even in this age of salary caps and free-flowing player movement it seemed slightly implausible.
That's not logical thinking, of course, not at the precipice of a season where Joe Thornton is a Maple Leaf, Mikko Koivu is a Blue Jacket and Alex Pietrangelo is a Golden Knight. Not in a time where Henrik Lundqvist would have been standing in the Capitals crease absent the shocking discovery of an ailment that requires open-heart surgery.
But how you felt when you first heard Wednesday afternoon's Chara news says something about the towering defenceman and his immense standing in Boston.
Incredibly, he played parts of eight NHL seasons in Long Island and Ottawa before even arriving in Boston as a free agent in July 2006. The Senators chose to keep Wade Redden over Chara that summer and almost immediately came to regret it.
There has never been a player quite like 'Big Z' in the history of the league.
So large at six-foot-nine, 250 pounds, that he has special dispensation to carry a stick a few inches longer than the NHL-mandated maximum and so unmatched in the ways he can use it.
In his peak years, Chara was as feared as any of his peers and rarely ever had to throw a punch. He produced points, killed penalties and was a matchup nightmare for anyone trying to come down the left side of the ice. He gained a reputation as being a fierce competitor in opposing dressing rooms and played a massive role in changing the culture inside the home one at TD Garden.
Chara was the consummate Bruin for 14 seasons, wearing the captain's 'C' for each of the 1,173 regular-season and playoff games he appeared in for the organization. That included the Stanley Cup victory in 2011 and two other trips to the final, the most recent of which in 2019 featured a spine-tingling standing ovation before Game 5 when Chara played despite suffering a broken jaw.
No wonder his Instagram sendoff was so heartfelt and included the line "I will always be a Bruin. I will always love Boston."
No wonder so many former teammates rushed to fill their own feeds with tributes. Tom Brady, who left New England for Tampa this season, even commented on Chara's post by saying "Best of luck to you Zee" and tagged it with a couple '100' and 'heart' emojis.
Fourteen years is a long time in life. It's an eternity in pro sports.
As for why business ultimately forced a separation that few saw coming, well, that's a story we've seen play out time and again. The summer's return-to-play was not particularly kind to Chara's game and the organization felt it was time for him to step aside and make way for others behind him. But even at age 43, Chara did not share that view.
There doesn't seem to be any bad feelings about the way things went down — Chara said he respected the Bruins' decision — but it's worth noting that he's ended up with a rival in the realigned East Division and the teams are scheduled to meet eight times in the next four months.
Chara's arrival in Washington set off a wave of excitement. The Capitals have a new coach in Peter Laviolette, plus all the familiar offensive weapons, and are trying to win another championship before their window of contention slams shut. It's the ideal destination for someone in Chara's skates.
Big Zee, welcome to D.C.! My guest bedroom is available#ALLCAPS https://t.co/ypN2TLyJ9d

— Peter Bondra (@PeterBondra12) December 30, 2020
And it's telling that more than half of the teams in the league inquired about his services while he remained unsigned deep into December. Chara is joining the Capitals on a contract paying him $795,000 and even if there are questions about his foot speed and doubts about how many minutes he can handle it's difficult to imagine him not delivering excess value.
We're talking about a fitness fanatic famous for biking Tour de France stages and climbing Mount Kilimanjaro during the off-season. A player who has been dragging teammates into the battle for more than two decades and skated with a broken jaw 18 months ago.
A guy who very easily could have done the safe thing and retired when he found out the Bruins were moving in another direction and instead chose to play on.
Viewed in totality, the surprise wasn't so much that Chara is coming back for another NHL season. It's that the Bruins are choosing to let him finish a Hall of Fame career somewhere else.
How the Maple Leafs spread the wealth of Hyman-Tavares-Marner line – Sportsnet.ca
TORONTO – Way back in the summer of 2018, when free agents got paid and backyard barbecues didn't require headcounts, the Toronto Maple Leafs quietly filmed a secret video to help lure John Tavares home.
A 21-year-old Mitchell Marner was asked to buzz around a near-empty barn, flashing his stickwork and spin moves for the cameras. A custom-made sizzle reel of skill served as the cherry on top of the 77 million other reasons for Tavares to take the Leafs seriously. This is the calibre of winger we'll provide you with, John. Just imagine the possibilities.
It wasn't so long after Tavares posted his infamous boyhood bedsheets pic that he, Marner and Zach Hyman were tearing up the league, turning that teaser video into a full-length feature that rocked the box office in 2018-19.
Tavares erupted for a career-best 47 goals and 88 points. Marner a career-best 26 and 94. Hyman a career-best 21 and 41. Not only did they compose the Maple Leafs' best offensive line at the time, but Hyman-Tavares-Marner was also the most — and, some nights, only — trio trusted to shut down the enemy's best forwards.
Outside of Boston's Brad Marchand-Patrice Bergeron-David Pastrnak trio, one would be hard-pressed to name a more dominant triumvirate in the East that season. A recurring debate on Toronto sports radio: Who's really driving the line, Tavares or Marner?
Then 2019-20 happened.
A combination of injuries, role experimentation and a coaching change conspired to break up the band. Everything got chucked in the blender. Nothing tasted right.
Marner and Tavares saw their production dip from elite to excellent. Hyman rehabbed a torn ACL and ping-ponged between centremen, providing a boost wherever he landed. And Toronto's other No. 1 pivot, Auston Matthews, began carving out a reputation as a two-way force.
So often we talk about the action of hockey as a series of moving parts, but what Leafs coach Sheldon Keefe has done this season, after months of poring over video, is completely dismantle that 2018-19 engine, repurpose the parts and rebuilt his top nine with the goal of achieving a more specialized and consistent performance.
Tavares, Marner and Hyman — so dangerous as one tight unit just 20 months ago — are now standout drivers on three separate lines.
And Monday's performance, a decisive 3-1 victory over the Winnipeg Jets, was a fine example of how this sucker can hum when all pistons are pumping.
Let's start with the captain.
Tavares — my pick to have a serious bounce-back campaign — woke up Tuesday to see his name atop the NHL's (extremely early) leaderboard in goals (three) and points (six).
Leading wingmen William Nylander and Jimmy Vesey, Tavares has been a silent beast through four games. In addition to working closely with Vesey behind the scenes to help the new Leaf adjust to the top six, Tavares ramped up his conditioning and has become a focal point of assistant coach Manny Malhotra's new 1B power-play unit.
"He looks quicker to me than he did at any point last season," Keefe said. "He has an extra step, whether that's on the rush, or whether that's coming out of the corners in the offensive zone and attacking the net, or whether that comes back into our zone."
For all the talk of the Leafs' influx of leadership and splashy personalities, the understated Tavares has maintained a gold standard of positioning and dependability.
"His work ethic every day has been great. He's come ready to play and being very competitive, every puck he's out there against. I mean, that's what you want out of your leaders. You want them to show and be an example for everyone else," Marner said.
Even more interesting than Monday's utter dominance of Tavares's line, which out-attempted the Jets 13-1 at even-strength, was Keefe's deployment. One hundred per cent of Tavares's even-strength draws (all eight) were in the O-zone, meaning he's being set up for offensive success.
Charged with giving Alexander Kerfoot's checking third line a boost of credibility and identity, Hyman has been the staff's Swiss Army knife, providing a jolt of energy further down the lineup while getting tapped for critical shifts in the top six when needed.
On Monday, Hyman led all skaters with 10(!) shots on net despite starting a team-low 14.3 per cent of his 5-on-5 shifts in the offensive zone. He hasn't had a poor night yet.
Keefe's fresh disbursement of responsibility means separate but (so far) successful power-play group. It also means entrusting Matthews and Marner with more defensive responsibility and ice time. They appear ready for it in their fifth season.
Each has averaged more than 23 minutes per game in the early going here, and Marner responded from Friday's dismal zero-shot performance in Ottawa with a pair of standout games.
Marner slammed the winner plus the empty-net insurance marker Monday, tallying five points over the past two games. Just as spicy was his response to Jets' defenceman Neal Pionk's attempt to run him during the final shot and Mark Scheifele's words for him after the lamp illuminated:
"Who cares. We won the game," Marner said. "That's all I care about."
Same goes for Keefe.
The aim is to win the game, and he'll rearrange the pieces and sprinkle the trust as he sees fit.
Hyman-Tavares-Marner has been remixed, fresh for 2021, and it's sounding pretty good upon first listen.
Canadiens @ Oilers recap: Young stars, newcomers shine in another win – Habs Eyes on the Prize
With a day off on Sunday, the Montreal Canadiens strolled back into Rogers Place with a massive amount of swagger following a 5-1 blowout on Saturday night. With a pair of two-goal efforts from Jeff Petry and Tomas Tatar, plus a stellar showing from Carey Price, Montreal romped through a shellshocked Oilers team.
The Oilers changed their lineup, possibly for the worse by swapping Caleb Jones and Ethan Bear for William Lagesson and Kris Russell on defence, but did add Zack Kassian back to Connor McDavid's wing.
The Canadiens turned to Jake Allen in net for his first start in a Montreal uniform, while the Oilers stuck with Mikko Koskinen despite his poor showing on Saturday.
Unlike the first contest, it was the Oilers who started the game in control, taking advantage of a poorly timed icing to start their offensive attack. The top line tried to take advantage of their matchup with the Habs' fourth line, but a strong series of saves from Allen denied them the game's opening goal.
Josh Anderson came up a bit lame after a hit deep in the Habs' zone, but his absence was immediately forgotten by what happened next. An in-zone faceoff went back to Brett Kulak at the left point. Kulak, not seeing a lane, dished it off to Alexander Romanov playing to his right. The rookie waited a second, then snapped off a quick shot that hit Koskinen, then slowly slithered through him and into the back of the net, putting Montreal up by a goal midway through the first period.
The Canadiens threatened their own lead shortly afterward, with Phillip Danault taking a two-minute stop in the penalty box for interference. Connor McDavid, bafflingly, missed a clean chance, but a second penalty on Joel Armia also gave the Oilers a short crack at a two-man advantage. An incredible solo effort from Ben Chiarot to stop a pass then maul the puck-carrier allowed Montreal to kill off Armia's holding penatly, only for Chiarot to then fire the puck out of play for a third straight penalty.
An impressive nearly seven-minute stretch of penalty-killing came to an end without a goal against, thanks to some extremely strong work across the board, but with a big nod to Jake Evans and Paul Byron during the final stretch. The heroic showing from the penalty-killers ensured Montreal took its one-goal lead into the first intermission, thanks to Romanov's first career goal.
The second period started with the Canadiens' top line nearly doubling the advantage on an ill-timed Koskinen rebound. Kulak fired a puck on net, and it dribbled to the right of the Oilers' net, but Brendan Gallagher just missed the follow-up chance with Koskinen kicking out his pad to deny the Habs winger his first goal of the season.
The rookie goal-scorer put the Canadiens short-handed early into the period, being called for a hefty crosscheck into the back of Alex Chiasson. Some impressive speed from Evans and more timely clears fended off the Oilers for a fourth time, keeping the one-goal lead intact with just over 13 minutes left to play in the second period.
Danault managed to draw a call of his own shortly after the kill, sending Adam Larsson to the penalty box and Montreal to the power play. While the Habs generated a few looks, they didn't find a breakthrough, but were given another shot late in the period after dominating possession in the Oilers zone for several minutes. The two units had plenty of chances, including Tyler Toffoli alone in the slot, and Nick Suzuki just as the penalty expired, but it was Koskinen finally coming up with a big save to keep the Habs from adding to their lead.
A badly timed late hit from Gallagher on Darnell Nurse put the Habs back on the penalty kill, however a kick save, and sprawling cover by Allen, denied Edmonton a chance to tie the game.
Then, a somewhat dubious call on Connor McDavid put the Habs back on the power play with just under two minutes left to play in the period. Devin Shore got tangled up with Jeff Petry on the ensuing attack, taking down Koskinen at the same time as Shea Weber broke in for a chance on net. He followed his own rebound, then banked the shot in off of Koskinen's head as the Oilers goalie attempted to sort himself out. It was initially called no goal on the ice, but a bold challenge by Claude Julien forced the officials to reverse their call, giving Montreal a late two-goal lead.
While Chiasson nearly scored before the clock expired, his heavy shot clanged off the post, and the Canadiens went into the second intermission with a two goal lead and a heap of momentum behind them.
Montreal started the final period slowly chipping away at the clock and keeping the Oilers' big line quiet as best they could. Another cross-checking penalty, this time on Weber put Montreal short-handed for a sixth time with 16 minutes or so left to play. Again the rolling units of the Montreal penalty kill stymied the Oilers.
The penalty parade continued between the two clubs, with Larsson drilling Evans in the numbers, taking a two-minute penalty for interference just before the halfway mark of the final period. A massive pile up in the dying moments of the man advantage looked like it gave the Habs another goal, but a last-second whistle blew the play dead just as a Montreal stick chipped it past a sprawled Koskinen.
A seventh penalty by Montreal put the inept Oilers power play back on the ice, and Montreal took that personally. Petry poked the puck away in the slot, starting a two-on-one with Artturi Lehkonen and Danault, and the Finnish winger wired his first goal of the year under Koskinen's glove to put the Habs firmly in control of the game.
A late Habs power play allowed the Oilers to get on the board, as Shore poked a puck off Jonathan Drouin's stick, breaking in on Allen and rifling one by the Habs goalie. It allowed the Oilers a chance to also pull Koskinen, but they never got closer than two goals as Montreal saw out the end of the game without issue, winning 3-1.
Montreal continues the road trip, heading to Vancouver for a three-game stint with the Canucks, with a back-to-back on Wednesday and Thursday night, and a Saturday meeting to finish the week.
Gaudreau leads Flames to win over Canucks – TSN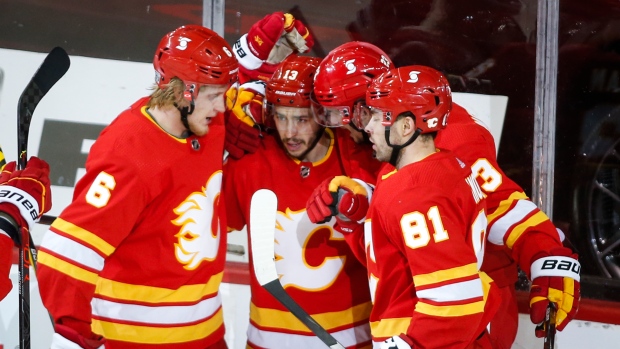 CALGARY — A first-period rescue by Jacob Markstrom and offensive wizardry from Johnny Gaudreau propelled the Calgary Flames to Monday's 5-2 win over the Vancouver Canucks.
Gaudreau scored Calgary's first goal of the game and assisted on another in the second period after Markstrom turned away 15-of-16 shots in the first.
Mikael Backlund, Elias Lindholm, Mark Giordano and Rasmus Andersson with an empty-net goal also scored for the Flames (2-0-1).
Markstrom earned a second straight win over his former team with 25 saves.
"He did everything that you want a goalie to do," Flames head coach Geoff Ward said. "He kept us in and gave us a chance to win. In the big moments when we needed a big save, he made it."
Jake Virtanen and Tyler Myers replied for the Canucks (1-3-0), who played their fourth road game in six days. Thatcher Demko stopped 27 shots in the loss.
Markstrom, a Canuck for seven seasons before signing a six-year, US$36-million contract with Calgary in October, had posted a 32-save shutout in Calgary's 3-0 win over Vancouver on Saturday.
"Right now, he deserves the contract," Lindholm said.
Demko was pulled for an extra attacker with four minutes to play, and Vancouver went to work on a two-man advantage when Calgary's Andrew Mangiapane took a tripping minor at 16:56.
The visitors didn't produce another goal, however, and Andersson scored into an empty net with 55 seconds remaining.
Vancouver's Myers scored shorthanded at 13:15 of the third period.
Giordano teed up a blast from the top of the face-off circle that Demko couldn't get his glove on for a power-play goal at 6:40 of the third period.
Outplayed in the first period, Calgary's 20-3 margin in shots in the second was bolstered by four power-play chances and winning more draws in the face-off circle.
Lindholm stretched Calgary's lead to 3-1 just two seconds before the second-period buzzer. He one-timed Gaudreau's cross-ice feed past Demko during a Calgary two-man advantage.
The hosts led 2-1 by 13:30 when Backlund scored his first goal of the season. The Swedish centre rifled a rebound over Demko.
Gaudreau pulled the Flames even at 12:05 on a give-and-go with Sean Monahan and Dominik Simon providing a screen.
"You can see when he's feeling it a little bit and those are the nights when he can take a team on his back and carry us," Ward said of Gaudreau. "Tonight he was feeling it and you could see it just building. He's such a tremendous player. He's got a special skill set."
Canucks winger J.T. Miller returned from COVID-19 protocol that kept him out of Vancouver's lineup the first three games of the regular season, but defenceman Jordie Benn has yet to play.
The visitors outshot Calgary 16-4 and dominated the face-off circle in the first period, but led just 1-0 due to Markstrom's work.
The Flames goaltender turned away five shots on a Vancouver power play starting two and a half minutes after the opening faceoff.
"Our first period was maybe our best period of the year so far and we responded in the second not very well," Myers said. "We need to get more dialed in and a little more focused on the way we have to play to win.
"We can turn things around very quickly here. It's a mindset. We've got to buy in as a group for a full 60 and not just for 20 minutes."
Virtanen's long shot from the high boards deflected off Flames defenceman Juuso Valimaki and over Markstrom's shoulder at 10:17.
The Canucks head home after three straight road losses. Vancouver hosts the Montreal Canadiens in back-to-back games starting Wednesday.
The Canucks play 11 games in their first 18 days of an NHL regular season shortened and condensed because of the COVID-19 pandemic.
"Time to get going," Demko said. "Losing three in a row is not good enough for this team. Our expectations are higher than that."
Calgary, by contrast, has a five-day break before hosting the Toronto Maple Leafs on Sunday afternoon.
Notes: The Flames signed 30-year-old defenceman Mike Stone to a one-year, two-way contract Monday . . . Canucks defenceman Nate Schmidt played his 400th career NHL game Monday.
This report by The Canadian Press was first published Jan. 18, 2021.