Even without listening, you live in Limbaugh's media world – OrilliaMatters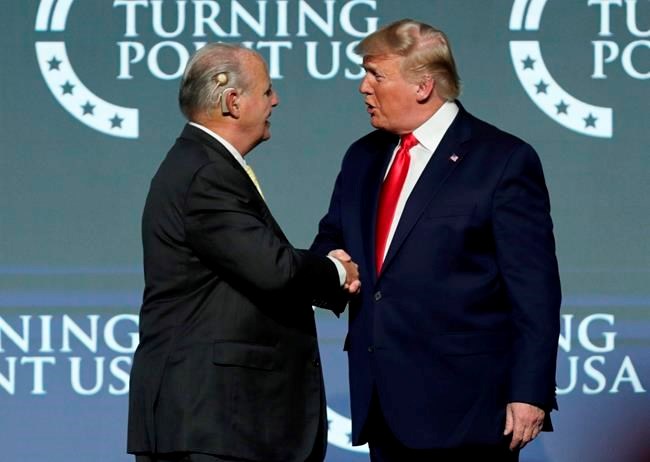 NEW YORK — You didn't have to like or even listen to Rush Limbaugh to be affected by what he did.
Conservative talk radio wasn't a genre before him. Without Limbaugh, it's hard to imagine a Fox News Channel, or a President Donald Trump, or a media landscape defined by shouters of all stripes that both reflect and influence a state of political gridlock.
To his fans, Limbaugh's death Wednesday of lung cancer at the age of 70 was an occasion for deep mourning. For his foes, it was good riddance. Somewhere, Rush could surely appreciate it.
He left a legacy.
"He was the most important individual media figure of the last four decades," said Ian Reifowitz, professor of historical studies at the State University of New York and author of "The Tribalization of Politics: How Rush Limbaugh's Race-Baiting Rhetoric on the Obama Presidency Paved the Way for Trump."
That assessment was freely offered even though Reifowitz, as the title of his book suggests, isn't a fan. He blames Limbaugh for setting a blueprint for white identity politics and the dividing of the nation into uneasy tribes.
Limbaugh's death led Trump to call in to Fox News Channel for his first television interview since leaving office — and he did it twice.
Former Vice-President Mike Pence told Fox he was inspired by Limbaugh to become a talk radio host himself, which launched his political career. Ex-White House Press Secretary Kayleigh McEnany reminisced about riding as a child in her father's pick-up truck as Limbaugh's show played on the radio.
"I am the definition of a 'Rush baby,' and it's not just me," McEnany said on Twitter. "There are tens of thousands of us all across the conservative movement."
Radio hosts talked politics before Limbaugh, men like Jerry Williams in Boston and Barry Farber in New York.
But the idea of conservative talk radio didn't take hold until Limbaugh, after bouncing through DJ jobs in Pittsburgh, Kansas City and Sacramento, went national from a perch at New York's WABC in 1988, said Michael Harrison, publisher of Talkers magazine.
Limbaugh was a sensation among people who liked to tweak liberals, outraging with political incorrectness. Before Limbaugh, only 30 or 40 stations did "talk radio," and many weren't political, Harrison said. Now there are thousands.
To the end, Limbaugh led the field. He reached an estimated 15.5 million people each week and lost in the ratings for three months only once in some three decades, to advice host Laura Schlesinger, Harrison said. Bumper stickers proclaimed, "Rush is Right."
"There is no talk radio as we know it without Rush Limbaugh. It just doesn't exist," said Sean Hannity, who has 15 million radio listeners beyond his Fox News Channel show. "And I'd even make the argument in many ways: there's no Fox News or even some of these other opinionated cable networks."
Rupert Murdoch and Roger Ailes launched Fox News in 1996. MSNBC started the same year.
Politics seemed second to entertainment in Limbaugh's early years.
"I'm trying to attract the largest audience I can and hold it for as long as I can so that I can charge advertisers confiscatory advertising rates," Limbaugh told Steve Kroft of "60 Minutes" in 1991. "This is a business."
But he soon became more than a business leader. Republicans credited Limbaugh for helping them win the House majority in 1994.
"It wasn't just that he transformed the media landscape, but he transformed the Republican Party," said Nicole Hemmer, author of "Messengers of the Right: Conservative Media and the Transformation of American Politics." "He became a power player and someone who could move voters."
Conservative radio host Mark Levin called Limbaugh "a tremendous patriot." Once a universally accepted compliment, the term "patriot" has become more complicated through its use by some of the rioters at the U.S. Capitol on Jan. 6.
"He refused to accept the attacks that came against this country from within," Levin said on Fox News. "He refused to accept the ideological changes in this country. He defended the traditions of this country. And he spoke for tens of millions of us."
To SUNY's Reifowitz, Limbaugh led the way in getting people "scared about the browning of the country."
Some of Limbaugh's language was downright ugly. He invented the term "feminazi," called Chelsea Clinton a "dog" when she was 12 years old and had to apologize for calling a young woman a "slut" for arguing that birth control be covered by health insurance. He mocked the death of AIDS victims and played the parody song "Barack the Magic Negro" when Barack Obama was elected president.
The headline on HuffPost's obituary on Wednesday said Limbaugh "saturated America's airwaves with cruel bigotries, lies and conspiracy theories." The Root called him a "spouter of racist, hate-filled garbage."
On Foxnews.com, Limbaugh's obituary's headline was "Greatest of All Time."
Limbaugh didn't embrace Trump right away, but soon fell in line. Trump's appeal mystified many in politics at first, but "if you had been listening to Rush Limbaugh for 20 years, he sounded very familiar," Hemmer said.
As Limbaugh's political strength became evident, many Republican politicians felt they couldn't cross him, or run the risk of alienating his millions of listeners, Hemmer said.
"Many of these listeners didn't care if Rush Limbaugh crossed the line (of propriety)," she said. "They cared more about loyalty to him than any kind of underlying set of principles."
The economic lessons taught by Limbaugh are clear each night on Fox, CNN and MSNBC, routinely the three most-watched cable networks. They're not really news networks in prime time; they present political talk.
"It's hard," Hemmer said, "to overstate his importance."
Harrison, who interviewed Limbaugh several times over the years, said the talk show host "began to take himself more seriously" in his later years.
Limbaugh even appeared to measure words more carefully. After receiving social media blowback in December for suggesting that the nation was "trending toward secession," he later made clear he wasn't advocating that.
To the end, however, he remained loyal to Trump, who awarded Limbaugh a Presidential Medal of Freedom at the State of the Union address last year.
Limbaugh supported Trump's false claims that the election was stolen and, on Jan. 7, compared rioters at the Capitol to people who sparked the Revolutionary War.
David Bauder, The Associated Press
Russia rebukes Facebook for blocking some media posts – Yahoo Finance
Bloomberg
(Bloomberg) — It's in the air again, on Reddit, in Congress, in the C-suite: Hedge funds that get rich off short-selling are the enemy. The odd thing is, the biggest players in the game are getting a pass.Those would be the asset managers, pension plans and sovereign wealth funds that provide the vast majority of securities used to take bearish positions. Without the likes of BlackRock Inc. and State Street Corp., the California Public Employees' Retirement System and the Kuwait Investment Authority filling such an elemental role, investors such as Gabe Plotkin, whose Melvin Capital Management became a piñata for day traders in the GameStop Corp. saga, wouldn't have shares to sell short."Anytime we short a stock, we locate a borrow," Plotkin said Feb. 18 at the House Financial Services Committee hearing on the GameStop short squeeze.There's plenty to choose from. As of mid-2020, some $24 trillion of stocks and bonds were available for such borrowing, with $1.2 trillion in shares — equal to a third of all hedge-fund assets — actually out on loan, according to the International Securities Lending Association.It's a situation that on the surface defies logic. Given the popular belief that short sellers create unjustified losses in some stocks, why would shareholders want to supply the ammunition for attacks against their investments? The explanation is fairly straight forward: By loaning out securities for a small fee plus interest, they can generate extra income that boosts returns. That's key in an industry where fund managers are paid to beat benchmarks and especially valuable in a world of low yields.The trade-off is simple: For investors with large, diversified portfolios, a single stock plummeting under the weight of a short-selling campaign has little impact over the long run. And in the nearer term, the greater the number of aggregate bets against a stock — the so-called short interest — the higher the fee a lender can charge.In the case of GameStop, short interest was unusually high and shares on loan were generating an annualized return of 25% to 30%, Ken Griffin testified at the Feb. 18 hearing. Griffin operates a market maker, Citadel Securities, as well as Citadel, one of the world's largest hedge funds."Securities lending is a way for long holders to generate additional alpha," said Nancy Allen of DataLend, which compiles data on securities financing. "Originally, it was a way to cover costs, but over the last 10 to 15 years it's become an investment function."Not everyone is comfortable with the inherent conflict. In December 2019, Japan's $1.6 trillion Government Pension Investment Fund stopped lending its international stock holdings to short sellers, calling the practice inconsistent with its responsibilities as a fiduciary. At the time, the decision cost GPIF about $100 million a year in lost revenue.The U.S. Securities and Exchange Commission has regulated short-selling since the 1930s and polices the market for abuses such as naked shorting, which involves taking a short position without borrowing shares. Proponents of legal shorting argue that its use enhances liquidity, improves pricing and serves a critical role as a bulwark against fraud and hype.Chief executives, whose pay packages often depend on share performance, routinely decry short sellers as vultures. More recently, shorting has come under fire in the emotionally charged banter on Reddit's WallStreetBets forum. Some speculators ran up the prices of GameStop, AMC Entertainment Holdings Inc. and other meme stocks in January to punish the hedge funds that bet against them, and they delighted when the rampant buying led to bruising losses at Melvin, Maplelane Capital and Citron Research.Many of the key actors in the GameStop frenzy testified at the Feb. 18 hearing. Plotkin was grilled by committee members over Melvin's short position. Citadel's Griffin and others faced broader questions about short-selling. Yet no one asked about the supply of borrowed shares and there were no witnesses called from the securities-lending industry.There's a symbiotic relationship between hedge funds and the prime-brokerage units of Wall Street firms, much of it built on securities lending. Prime brokers act as intermediaries, sourcing stocks and bonds for borrowers who want to short them and facilitate the trades. According to DataLend, securities lending generated $2.9 billion of broker-to-broker revenue in 2020, almost the same as in 2019.Demand for short positions was already expected to drop as stock prices surged to all-time highs. Now, with the threat of retribution from the Reddit crowd, it may weaken even further. Griffin said he has "no doubt" there'll be less short-selling as a consequence of the GameStop squeeze."I think the whole industry will have to adapt," Plotkin said at the hearing. "I don't think investors like myself want to be susceptible to these types of dynamics."This could not only threaten the dealers who broker stock lending but also the holders who supply the securities and share in the revenue. They reaped $7.7 billion globally in 2020, down from a record of almost $10 billion in 2018, according to DataLend. Lending fees increased by 4.2% on a year-over-year basis in February after the GameStop onslaught, DataLend says.While securities lending accounted for $652 million, or just 4%, of BlackRock's revenue in the fourth quarter of 2020, there's little cost involved and the risks are low because borrowers have to put up collateral that equals or exceeds the value of the loan. At both BlackRock and State Street Corp., the second-largest custody bank, the value of securities on loan as of Dec. 31 jumped at least 20% from a year earlier, to $352 billion and $441 billion, respectively."Every little bit counts with indexes," said John Rekenthaler, vice president of research at Morningstar. "You're scraping nickels off the street, but there's a whole lot of nickels."Others could take a hit, too. Just as Robinhood Markets is able to offer zero-commission trades by selling its order flow to Citadel and other market makers, asset managers typically pass on some of their securities-lending revenue as a type of client rebate."It's very important to remember that institutional investors earn substantial returns from participating in the securities-lending market," Citadel's Griffin said at the GameStop hearing. "That accrues to the benefit of pension plans, of ETFs, of other pools of institutional lending that participate in the securities lending market."(Adds data on lending fees after the short-interest chart.)For more articles like this, please visit us at bloomberg.comSubscribe now to stay ahead with the most trusted business news source.©2021 Bloomberg L.P.
'Self-serving': UK media tabloids hit back at Meghan and Harry's interview – CNN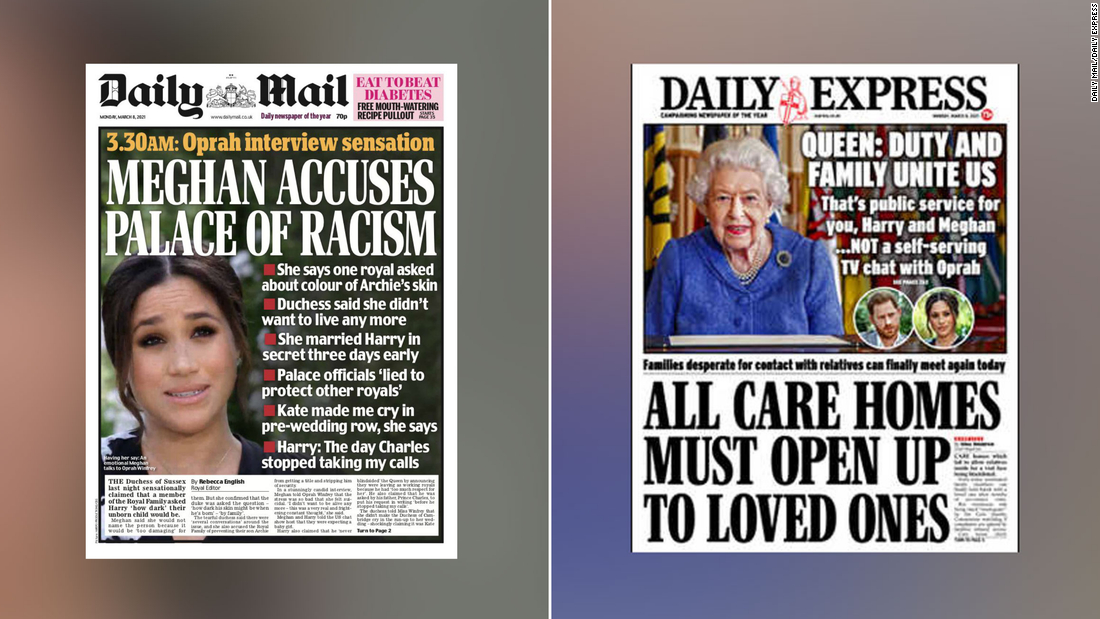 The interview aired Sunday on CBS during primetime US hours, and 1 a.m. local UK time.
GOP pushes bills to allow social media 'censorship' lawsuits – Yahoo Canada Finance
Republican state lawmakers are pushing for social media giants to face costly lawsuits for policing content on their websites , taking aim at a federal law that prevents internet companies from being sued for removing posts.
GOP politicians in roughly two dozen states have introduced bills that would allow for civil lawsuits against platforms for what they call the "censorship" of posts. Many protest the deletion of political and religious statements, according to the National Conference of State Legislatures. Democrats, who also have called for greater scrutiny of big tech, are sponsoring the same measures in at least two states.
The federal liability shield has long been a target of former President Donald Trump and other Republicans, whose complaints about Silicon Valley stifling conservative viewpoints were amplified when the companies cracked down on misleading posts about the 2020 election.
Twitter and Facebook, which are often criticized for opaque policing policies, took the additional step of silencing Trump on their platforms after the Jan. 6 insurrection at the U.S. Capitol. Twitter has banned him, while a semi-independent panel is reviewing Facebook's indefinite suspension of his account and considering whether to reinstate access.
Experts argue the legislative proposals are doomed to fail while the federal law, Section 230 of the Communications Decency Act, is in place. They said state lawmakers are wading into unconstitutional territory by trying to interfere with the editorial policies of private companies.
Len Niehoff, a professor at the University of Michigan Law School, described the idea as a " constitutional non-starter."
"If an online platform wants to have a policy that it will delete certain kinds of tweets, delete certain kinds of users, forbid certain kinds of content, that is in the exercise of their right as a information distributer," he said. "And the idea that you would create a cause of action that would allow people to sue when that happens is deeply problematic under the First Amendment."
The bills vary slightly but many allow for civil lawsuits if a social media user is censored over posts having to do with politics or religion, with some proposals allowing for damages of $75,000 for each blocked post. They would apply to companies with millions of users and carve out exemptions for posts that call for violence, entice criminal acts or other similar conduct.
The sponsor of Oklahoma's version, Republican state Sen. Rob Standridge, said social media posts are being unjustly censored and that people should have a way to challenge the platforms' actions given their powerful place in American discourse. His bill passed committee in late February on a 5-3 vote, with Democrats opposed.
"This just gives citizens recourse," he said, adding that the companies "can't abuse that immunity" given to them through federal law.
Part of a broad, 1996 federal law on telecoms, Section 230 generally exempts internet companies from being sued over what users post on their sites. The statute, which was meant to promote growth of the internet, exempts websites from being sued for removing content deemed to be "obscene, lewd, lascivious, filthy, excessively violent, harassing, or otherwise objectionable" as long as the companies are acting in "good faith."
As the power of social media has grown, so has the prospect of government regulation. Several congressional hearings have been held on content moderation, sometimes with Silicon Valley CEOs called to testify. Republicans, and some Democrats, have argued that the companies should lose their liability shield or that Section 230 should be updated to make the companies meet certain criteria before receiving the legal protection.
Twitter and Facebook also have been hounded over what critics have described as sluggish, after-the-fact account suspensions or post takedowns, with liberals complaining they have given too much latitude to conservatives and hate groups.
Trump railed against Section 230 throughout his term in office, well before Twitter and Facebook blocked his access to their platforms after the assault on the Capitol. Last May, he signed a largely symbolic executive order that directed the executive branch to ask independent rule-making agencies whether new regulations could be placed on the companies.
"All of these tech monopolies are going to abuse their power and interfere in our elections, and it has to be stopped," he told supporters at the Capitol hours before the riot.
Antigone Davis, global head of safety for Facebook, said these kinds of proposals would make it harder for the site to remove posts involving hate speech, sexualized photos of minors and other harmful content.
"We will continue advocating for updated rules for the internet, including reforms to federal law that protect free expression while allowing platforms like ours to remove content that threatens the safety and security of people across the United States," she said.
In a statement, Twitter said: "We enforce the Twitter rules judiciously and impartially for everyone on our service – regardless of ideology or political affiliation – and our policies help us to protect the diversity and health of the public conversation."
Researchers have not found widespread evidence that social media companies are biased against conservative news, posts or materials.
In a February report, New York University's Stern Center for Business and Human Rights called the accusations political disinformation spread by Republicans. The report recommended that social media sites give clear reasoning when they take action against material on their platforms.
"Greater transparency — such as that which Twitter and Facebook offered when they took action against President Trump in January — would help to defuse claims of political bias, while clarifying the boundaries of acceptable user conduct," the report read.
While the federal law is in place, the state proposals mostly amount to political posturing, said Darrell West, vice-president of governance studies at the Brookings Institution, a public policy group.
"This is red meat for the base. It's a way to show conservatives they don't like being pushed around," he said. "They've seen Trump get kicked off Facebook and Twitter, and so this is a way to tell Republican voters this is unfair and Republicans are fighting for them."
___
Izaguirre reported from Lindenhurst, New York
___
Associated Press coverage of voting rights receives support in part from Carnegie Corporation of New York. The AP is solely responsible for this content.
Anthony Izaguirre, The Associated Press