Facebook Pulls Down 'Interested in Pseudoscience' Ad Category With Over 78 Million Users – Gizmodo
Facebook has removed an ad targeting category for users it has identified as interested in "pseudoscience" after a report in the Markup highlighting how it was being used to market to conspiracy theorists.
The company removed the category after the Markup found the Facebook ad portal listed 78 million users in the category, per Reuters. The pseudoscience category is an especially bad look for Facebook, which has long failed in its efforts to prevent its platform from becoming a vehicle for conspiracy theories and has claimed to be cracking down on advertisers seeking to profit off of misinformation during the coronavirus pandemic. A report earlier this month by Consumer Reports found it was trivial to get Facebook to approve fake ads with coronavirus-related misinformation, including one advising viewers to drink "SMALL daily doses" of bleach.
According to the Markup, it's not clear how many ads were placed under the "pseudoscience" category, but reporter Aaron Sankin found that he was flagged as "interested in 'pseudoscience'" after he was shown an ad promoting a "radiation-blocking" beanie.
Sankin told Gizmodo via Twitter DM that while it was obvious why the ad for the supposedly radiation-blocking hat showed up in his feed after Facebook proclaimed him a fan of pseudoscience, what's less clear is how the company made that determination in the first place.
"It may be because, earlier this month, I had gotten interested in understanding how COVID-19 conspiracy theories were being spread on Facebook and joined a handful of groups dedicated very explicitly to spreading conspiracy COVID-19 theories," Sankin told Gizmodo. "Or it could be a holdover from a few years ago when I spent a couple months researching the PizzaGate conspiracy theory for a story I did at the Center for Investigative Reporting. Or maybe it was because I had gone to some pseudoscientific website at some point in the past where Facebook had a tracker active and that slipped 'pseudoscience' into my profile."
"Honestly, I have no idea because Facebook doesn't make the information public about why a user is attached to an interest or at what point in time that linkage occurred," Sankin added.
One meritless but widespread conspiracy theory making the rounds during the coronavirus pandemic is that the disease is not the result of a virus, but radiation from cell towers built as part of 5G rollouts. Police in the UK have tied dozens of arsons at cell phone towers across the country to the conspiracy theory, saying it was the likeliest motivation for the perpetrators. Photos and videos of the attacks circulating online were often accompanied by text claiming the towers are making people around them sick.
Art Menard de Calenge, the CEO of the beanie's manufacturer, Lambs, told the Markup his company's official position is that 5G is not the cause of the pandemic and they have never claimed such. But the pseudoscience category is vague enough to loop in anything that might be of potential interest to conspiracy theorists—including radiation-blocking hats. And Facebook determined that the hat was pseudoscientific and added the tag itself, the CEO told the Markup: "This is Facebook thinking that this particular ad set would be interesting for this demographic, not our doing."
The mainstream scientific opinion, backed by the International Commission on Non‐Ionizing Radiation Protection (ICNIRP), is cell phone towers and smartphones do not emit levels of 5G radiation deemed hazardous to human health. A large body of research has found little evidence to be concerned, and any theory associating 5G and the coronavirus is patently false.
"There have been people worrying about 5G for years," Sankin told Gizmodo. "So it makes sense that people who are scared and confused and just trying to make sense of the pandemic-ravaged world they've been suddenly forced to inhabit would be grasping around frantically for an explanation."
"In some cases, that explanation is 5G," he added. "In other cases, it's 'Bill Gates did it'… The other explanation, the mainstream one with scientific backing, is just that a fatal virus evolved so that it does a really good job of spreading around the world. For a lot of people, that last explanation is probably a lot scarier and harder to accept than a secretive cabal operating somewhere in the shadows because a secretive cabal can theoretically be stopped."
ProPublica discovered a number of similar categories in late 2016, including ones for users Facebook had identified as interested in "New World Order (conspiracy theory)," "Chemtrail conspiracy theory," and "Vaccine controversies." While those have since been removed, the pseudoscience category remained the whole time. Additionally, the Markup identified at least 67 user groups whose names "directly indicate they are specifically devoted to propagating coronavirus conspiracy theories."
University of Washington conspiracy theory expert Kate Starbird told the Markup that people who believe in one conspiracy theory are particularly prone to believing in others. (That phenomenon is sometimes known by the pejorative term "crank magnetism.") Starbird told the site that Facebook's marketing to conspiracy theorists takes "advantage of this sort of vulnerability that a person has once they're going down these rabbit holes, both to pull them further down and to monetize that."
Xiaomi Mi 10 Ultra in white poses for the camera, alleged pricing leaks – GSMArena.com news – GSMArena.com
A few days ago it was made clear that Xiaomi is going with the Mi 10 Ultra moniker instead of the previously rumored Mi 10 Pro Plus. A couple of leaked promo posters revealed the back design of the phone but a more recent live image is here to give us a closer look at how the handset will look in person.
The white back panel isn't just plain white. It has a subtle pearl-like gradient while the close-up shot of the camera module confirms the 120x zoom, the quad-camera array and the overall design of the camera stack.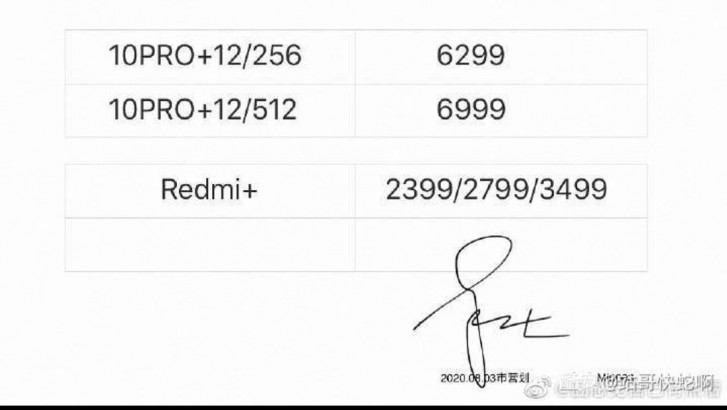 The pricing of the Mi 10 Pro Ultra has leaked as well from the same source. The report claims that the Mi 10 Ultra will start at CNY 6,299 (~$900) for the 12GB/256GB version and will ask additional CNY 700 (~$100) for the beefed-up 12GB/512GB configuration. The same screenshot reveals the Redmi K30 Ultra pricing, which is believed to be CNY 2,399, CNY 2,799 or CNY 3,499 depending on the storage configuration.
Huawei may no longer be able to produce its own chips after Sept. 15 – IT World Canada
As Huawei copes with its 5G network gear being banned in key global markets, the production of its Kirin system-on-chip (SoC) used for its smartphones has all but stalled.
According to the Associated Press, Huawei will stop producing its Kirin SoCs after Sept. 15. Richard Yu, Huawei's president of its consumer group, described the news as a "very big loss" during the China Info 100 conference.
"Unfortunately, in the second round of U.S. sanctions, our chip producers only accepted orders until May 15. Production will close on Sept. 15," Yu elaborated. "This year may be the last generation of Huawei Kirin high-end chips."
In May 2019, the U.S. government placed Huawei onto an Entity list over concerns that the company may use its telecom equipment to spy for the Chinese government. The blacklist also barred Huawei's gear from being installed in the U.S.' 5G networks.
Under the new restrictions, U.S. technology companies could no longer conduct businesses with Huawei. This caused Google to sever ties with the company, cutting Huawei off from the official release of the Android operating system and the Google Play Store. Google's Android operating system is the most prevalent mobile operating system in the world. Losing access to it meant Huawei must find an alternative to recapture markets outside of China.
Today, Huawei smartphones run a custom version of EMUI based on the Android Open Software Project (AOSP), an open-sourced variant of Android. While AOSP doesn't need special licensing from Google and can still get security updates, it doesn't have access to Google's Play Store. Additionally, compatibility and upgrading need extra work from the operator.
Huawei developed Huawei AppGallery to fill in the hole void behind by the Google Play Store. Moreover, it prepared its Hong Meng multi-platform operating system in case it loses Android completely.
In May 2020, the U.S. government further announced that semiconductor manufacturers using U.S. equipment would need to be granted a licence to sell chips for Huawei. Two months after the announcement, Taiwan Semiconductor Manufacturing Company (TSMC), which produces a lion's share of Huawei's Kirin smartphone SoCs, said it would stop supplying chips to Huawei after Sept. 14.
It's unclear whether the U.S. would grant a license to TSMC to sell chips to Huawei, or if TSMC has even applied for one.
In the meantime, Huawei is looking within China for options. According to the Hong Kong publication Asia Times, one promising candidate is Semiconductor Manufacturing International Corporation (SMIC), China's largest foundry. Although it lacks the capacity to fulfill Huawei's massive demands, Huawei can offload extra orders to smaller fabs, such as Shanghai Microelectronics, who has recently announced that it's willing to capture any excess orders.
But, as highlighted by Yu, Huawei's current predicament remains dire: Huawei's smartphone production has "no chips and no supply," he said.
---
Related Download

Sponsor: LG


LG Business Solutions
New technologies can ease the burden on IT departments while enhancing productivity and satisfaction for the end users they serve.
Learn More
Public Research Findings: Threat to live music extended as more Canadians to avoid public events for longer – Canada NewsWire
TORONTO, Aug. 10, 2020 /CNW/ – Music Canada commissioned Abacus Data to conduct public opinion research to determine how the music industry is being impacted by Canadians' changing feelings around music, during the pandemic. The second round of the national public opinion survey found that an increasing number of Canadians are concerned about COVID-19, and a growing number of them plan to avoid public events even after restrictions are lifted, resulting in a longer threat to live music.
"The ongoing triple threat facing the live music industry, and all mass gathering industries, requires government action," said Patrick Rogers, Interim co-Chief Executive Officer. "This threat includes the medical concerns that Canadians have about the virus, that government restrictions on large gatherings will remain well into recovery, and that even after government restrictions are lifted, confidence in returning to live events will continue to be low."
"Live music was one of the first sectors impacted by the pandemic, and it will continue to feel the impacts long after restrictions are lifted," continued Rogers. "Artists, venues and support staff will require further support long after other elements of the economy have reopened."
Concern among Canadians about the pandemic remains elevated, with more believing that "the worst is yet to come" than did in April. The research shows that even as economies begin to slowly re-open, more Canadians expect to stay away from live music events long after physical distancing restrictions are lifted. Even those who regularly attended live music events before the pandemic, 55% said that they will wait at least 6 months or longer to attend a music festival after physical restrictions end – and for large concert venues, it was 60%. Perceptions of risk for attending these types of events are rising over time – instead of declining. The findings ultimately point to the prolonged threat faced by the live music industry.
"This research confirms that Canadians continue to worry about the health impacts of COVID-19. While both artists and fans dearly miss the live music experience, it is clear that ongoing concerns about the virus will continue to significantly impact live events well into 2021," said Jackie Dean, Music Canada's Interim co-Chief Executive Officer. "The results show that certain safety measures will help attract some live music lovers back to live events – but many will remain hesitant."
Many Canadians want to get back to enjoying live music when it's safe to do so. As the pandemic continues, the research found that self-identified "live music lovers" now miss live music even more than they did in April. 90% of respondents in this group now say "I really miss going to concerts" – and 89% of this group agree that digital content will never replace the feeling of seeing live music (an increase of 5% from polling conducted at the end of April).
This research builds upon Abacus Data's findings from earlier in the pandemic. In May, Abacus' national public opinion survey identified the triple threat the music industry faces in its recovery from the impacts of COVID-19.
Music Canada also commissioned Abacus Data to conduct national research that explores the impact of the COVID-19 pandemic through the experience of Canada's artists. That research found that professional musicians are feeling increasing pressure as a result of the pandemic, due to a reduction in income and their ability to produce music that threatens their ability to survive.
"The pandemic has had a devastating impact on artists' ability to perform, to create, and to earn a living from their music," said Miranda Mulholland, artist and Chair of the Music Canada Advisory Council. "While the findings are bleak, this series of research is providing valuable insights for artists, industry, and government as we look for safe ways to return to work. It is clear that artists and those who work closely with them in the live performance space will need further support as the economy begins to reopen."
For more information on the findings released from Abacus Data, please visit: https://abacusdata.ca/live-music-threat-pandemic-music-canada/.
About Music Canada
Music Canada is a non-profit trade organization that represents the major record companies in Canada: Sony Music Entertainment Canada, Universal Music Canada and Warner Music Canada. Music Canada also works with some of the leading independent record labels and distributors, recording studios, live music venues, concert promoters, managers and artists in the promotion and development of the music cluster.
SOURCE Music Canada
For further information: Erica Meekes, Music Canada, [email protected], (416) 462-1485
Related Links