Foods prices going up, Canada attends democracy summit : In The News for Dec. 9 – Alaska Highway News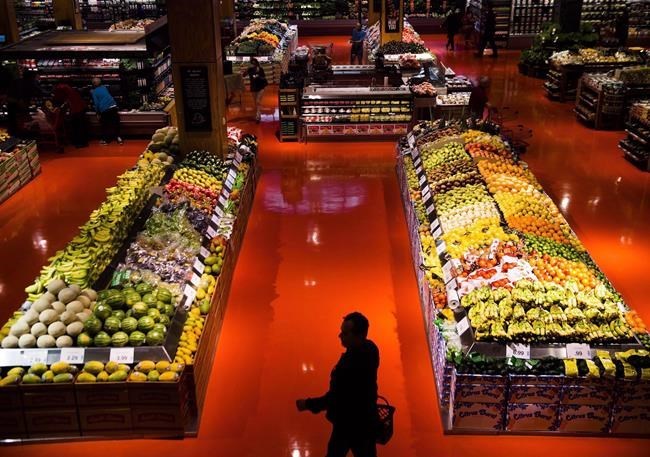 In The News is a roundup of stories from The Canadian Press designed to kickstart your day. Here is what's on the radar of our editors for the morning of Dec. 9 …
What we are watching in Canada …
A new report says food prices in Canada are expected to rise to record highs next year.
Canada's Food Price Report predicts the average family of four will pay an extra $966 for food in 2022, for a total annual grocery bill of nearly 15-thousand dollars.
That's a seven per cent rise compared to this year, the biggest jump ever predicted by the report.
Sylvain Charlebois, lead author and Dalhousie University professor, says the era of cheap food has ended.
He says prices have been rising steadily since 2010 but the pandemic accelerated that trend.
The report says key drivers pushing up food prices next year include supply chain disruptions, labour market issues and adverse weather events.
It says soaring food prices will contribute to rising food insecurity in Canada, which could leave food banks struggling with higher costs just as demand for their services increases.
The report says the biggest price hikes will be in the dairy aisle and on restaurant menus, which are both expected to see price increases of six to eight per cent.
—
Also this …
It's hard to imagine a more dramatic backdrop as President Joe Biden's virtual Summit for Democracy gets underway today: authoritarianism looming large over Ukraine, Taiwan — and the United States itself.
Biden and U.S. Secretary of State Antony Blinken will kick off the proceedings this morning, hosting government officials, civil society advocates and business leaders from more than 110 countries, including Canada.
It comes with the world nervously watching two of the summit's most glaring absences — Russia and China — flex their military muscles at two woefully undermatched neighbours.
Biden has threatened economic sanctions should Russia invade Ukraine, while Blinken has called a Chinese incursion into Taiwan a "potentially disastrous decision."
Then, of course, there's that other elephant in the Zoom room: what happened on Capitol Hill on Jan. 6.
For Americans, democracy is under siege at home, with former president Donald Trump widely expected to seek the job again in 2024 — regardless of whether he actually wins the election.
—
What we are watching in the U.S. …
NEW YORK _ A former boyfriend of a woman who says she was paid to give sexual favours to Jeffrey Epstein, starting at age 14, corroborated parts of her account Wednesday at the sex trafficking trial of the millionaire's longtime companion, Ghislaine Maxwell.
The man, identified only as Shawn to protect the identity of his ex-girlfriend, said on multiple occasions in the early 2000s he drove three girls he knew to Epstein's estate in Palm Beach, Florida.
He would wait in the car for an hour until the teenagers would emerge with $100 bills.
The girls included a woman who testified on Tuesday only as Carolyn to protect her privacy. She had told the jury she made hundreds of dollars giving sexualized massages to Epstein, and that Maxwell had fondled her and told her she "had a great body."
Shawn said he and Carolyn used some of the cash to support their drug habit.
The testimony came as the government neared the end of its case against Maxwell, who has denied charges she instructed teenagers to give Epstein sexual messages at the millionaire's residences in Florida, New York and elsewhere.
Maxwell's lawyers have said she's being made a scapegoat for sex crimes committed by Epstein, who briefly went to jail in a child prostitution case in 2008, and then killed himself after he was hit with new charged in 2019.
The last of four key accusers was expected to testify Thursday, before the government rests its case. The defence is set to start its case next week.
—
What we are watching in the rest of the world …
HONG KONG _ Hong Kong tycoon and prominent pro-democracy activist Jimmy Lai and two others were convicted Thursday for their roles in last year's banned Tiananmen candlelight vigil, amid a crackdown on dissent in the city and Beijing's tightening political control.
Lai, together with Chow Hang-tung, a vice chairperson of the now-defunct vigil organizer the Hong Kong Alliance in Support of Patriotic Democratic Movements of China, and activist and former reporter Gwyneth Ho were convicted for either taking part in or inciting others to join the candlelight vigil in 2020.
They are among 24 activists who were charged over their roles in the unauthorized assembly in Victoria Park on June 4 last year, during which thousands of people gathered to light candles and sing songs in the park despite police warnings that they may be breaking the law.
The Hong Kong Alliance previously organized a candlelight vigil in the city's Victoria Park on June 4 each year to mark the bloody crackdown on protesters campaigning for more democracy in Beijing's Tiananmen Square in 1989.
Last year, authorities banned the protest for the first time in three decades, citing social distancing restrictions and public health risks due to the coronavirus. The protest was also banned this year.
Prior to the ban, massive crowds attended the annual candlelight vigil and it was the only large-scale public commemoration on Chinese soil of the 1989 crackdown in Beijing.
Lai was found guilty of inciting others to take part, while Ho was convicted for knowingly participating in the assembly. Chow, a barrister, was convicted for both inciting and participating in the vigil. The trio had previously pleaded not guilty to the charges, and will be sentenced at a later date.
Most of the activists who had been charged over the banned vigil had previously pleaded guilty, including outspoken activist Joshua Wong, who was given 10 months in jail for his participation in the vigil. He was already in jail serving time after previously being found guilty of other charges related to his activism.
—
On this day in 1755 …
The first post office in Canada opened in Halifax. A city stationer had begun an informal service the previous year, but in 1755 the British post office, in an attempt to improve military communication between Britain and North America, started a monthly packet run to New York. From there, any available vessel carried mail to Halifax, until 1788, when regular packets called in the port.
—
In entertainment …
LOS ANGELES _ Mayim Bialik and Ken Jennings will continue as tag-team hosts of "Jeopardy!" through the rest of this season
"We're so pleased to have such an excellent and experienced team in front of and behind the camera as we head into 2022!" producer Sony Pictures Television said Wednesday. Michael Davies will remain the show's executive producer, Sony said.
Last September, Bialik and Jennings were announced as interim hosts after Sony's efforts to replace the late Alex Trebek ran aground. Mike Richards, who'd been the show's executive producer, got the host job and then lost it _ and soon after, his producing role _ when his past questionable podcast comments resurfaced.
Jennings, the record-holder for longest "Jeopardy!" winning streak, is a consulting producer on the show. Bialik has already been chosen to host "Jeopardy!" prime-time and spinoff series, including a new college championship.
"Jeopardy!" used a series of guest hosts, including Richards, for shows filmed after Trebek's death. The beloved host died in November 2020 of cancer.
The show is in its 38th season, with new episodes scheduled to air until July 29, 2022.
—
ICYMI …
IOC President Thomas Bach can't escape repeated questions about Peng Shuai and issues raised by two video calls the IOC has had with her.
The calls were aimed at conveying a message that Peng was safe despite being absent from public view after the three-time Olympic tennis player accused a top Chinese politician of sexual assault almost six weeks ago.
The questions keep coming, even overshadowing a diplomatic boycott of the Beijing Winter Olympics called by Canada, the United States, Britain, Australia, and Lithuania.
Bach has acknowledged that Peng's situation is "fragile." He is in the midst of three days of executive board meetings in Switzerland focused on the opening of the Games in Beijing on Feb. 4. But many of the questions at the daily press briefings are about Peng.
"You have to respect this human being," Bach said Wednesday. "And in such a fragile situation (that) Peng Shuai is in, you have to make all the efforts to build trust. To engage in a human relationship. And this, as you can appreciate, is not easy in a video call."
Bach said the IOC initiated both calls with Chinese sports officials. He said the IOC was open to more calls and did not rule out an "independent" party being involved. Tennis legend Martina Navratilova was suggested to Bach.
Bach said Peng's wishes had to be respected, and he said she has asked for privacy.
No transcript of the calls was provided by the IOC, and Bach has never mentioned her sexual assault allegations against former Politburo Standing Committee member Zhang Gaoli.
—
This report by The Canadian Press was first published Dec. 9, 2021.
The Canadian Press
Sask. RCMP issue Canada-wide warrant for anti-vaccine dad charged with abducting daughter, 7 – CBC.ca
Saskatchewan RCMP have charged and issued a Canada-wide arrest warrant for a Carievale, Sask., man accused of abducting his daughter to prevent her getting vaccinated against COVID-19.
Michael Gordon Jackson, 52, is charged with one count of abduction in contravention of a custody or parenting order, RCMP said in a news release Friday evening.
It comes after CBC News reported earlier this month that the father fled with his seven-year-old daughter, Sarah, in mid-November to keep her from getting immunized against the coronavirus. Jackson's ex-wife, Mariecar Jackson, had wanted to get their daughter vaccinated, but Jackson did not.
The girl had been visiting her father when she was allegedly abducted.
Since an enforceable court order was issued earlier this month, investigators say they have followed up on several tips and reported sightings of the father and daughter — including by reviewing surveillance footage at several businesses. However, no tips have led to locating them.
At this point, RCMP say, the criteria for an Amber Alert has not been met, which is why Mounties are continuing to ask the public for help in tracking the pair down.
"Sarah: we want you to know that you are not in any trouble," Chief Supt. Tyler Bates, the officer in charge of the Saskatchewan RCMP south district, said in a message to the girl contained in the news release.
"Your mom misses you very much, and we have police officers doing what they can so you can see her again soon."
Sarah is described as four feet two inches tall, 76 pounds, with waist-length brown hair that's all one length. She has brown/hazel-coloured eyes and last wore teal-coloured eyeglasses.
Michael Jackson is described as weighing about 250 pounds with blue eyes and dark brown hair. He also typically wears glasses, RCMP said.
While Jackson resides in the Carievale area — located in Saskatchewan's southeast corner — Mounties said he may have connections to the communities of Dilke, Oxbow, Alameda and Regina, along with Lamont, Alta. RCMP said he may also be in Manitoba.
"Locating Michael Gordon Jackson and Sarah is a top priority for Saskatchewan RCMP officers," Bates said. "Our investigators are diligently following up on all tips and reported sightings. We are committed to locating Michael Gordon Jackson and reuniting Sarah with her mom."
WATCH | Sask. woman says she'll never stop looking for her child:
A Saskatchewan mother is pleading for the public's help to locate her seven-year-old daughter taken in mid-November by the girl's father to prevent her from receiving a COVID-19 vaccine. 1:55
RCMP noted that investigators believe Michael Jackson may be getting help in evading police and reminded people that this activity may result in criminal charges.

Anyone with information about the whereabouts of Michael or Sarah Jackson is asked to call the Saskatchewan RCMP at 306-310-7267 or 306-780-5563. Tips can also be anonymously submitted to Crime Stoppers at at 1‐800‐222‐8477 or www.saskcrimestoppers.com.
China's Investment into Foreign Media
Over the last few decades, China's power and influence have grown remarkably quickly. The largest country in Asia is now one of the world's biggest superpowers, and its influence has extended across the continent and into new territories as the Chinese government looks to cement its power for the future. According to a recent report released by Reporters Without Borders, China has started investing in foreign media to deter criticism and spread propaganda.
According to the research, "China's Pursuit of a New World Media Order", Beijing is spreading its worldview through several techniques, including increased international broadcasting, huge advertising campaigns, and infiltration of foreign media outlets.
China has recently opened laws across the country to give its people more freedom. However, there are still many restrictions in place, including against online gambling. Despite this, Chinese citizens can get online and place sports bets and wagers at online casinos, using trusted online gambling portals such as Asiabet. Interested players can access a wide range of leading casinos and sportsbooks through the site as well as information regarding the legality of the recommended operators, safety, and strategy before joining up, making it easier for players to understand what they're getting into.
Why Is Chine Looking to Control Foreign Media?
The Chinese government is spending up to $1.3 billion a year to boost Chinese media's global reach. Chinese state-run television and radio shows have been able to dramatically expand their foreign reach in recent years because of this financing. China Radio International is now transmitted in 65 languages, while China Global Television Network is distributed across 140 countries.
Considering the current global geopolitical climate, this looks to be a smart move, as it allows China to present itself how it wants to be seen to a global audience. In recent years, China has gained media attention across the West for its influence on North Korea, its expansion into the South China Sea, and its treatment of the minority Uighurs within its own country.
How Is China Influencing Foreign Media?
The Chinese government has recently increased spending on advertisements in Western newspapers and publishing sites to promote Chinese viewpoints. Advertising dollars have enticed media outlets, which has had a particularly large impact considering news media is currently struggling with profitability. China Daily, a mouthpiece for the Chinese regime, has paid American newspapers 19 million dollars in advertising and printing in the last four years alone, according to US Justice Department records.
China is also aiming to influence and control foreign media outlets by purchasing interests in them, according to the research. The report found that, in many cases, Chinese ownership typically leads to self-censorship, and journalists have lost their jobs in the past for publishing negative articles about the country.
For example, Reporters Without Borders claim that a journalist for South Africa's Independent Online, which has a 20% investment in Chinese investors, had his column stopped in September 2018. This came just hours after a column about China's mistreatment of ethnic minorities was published.
Reporters Without Borders has also claimed that, in addition to buying shares in media firms, Beijing has impacted foreign media by inviting journalists from developing nations to China for training. According to the report, China invited several Zambian journalists to a specially designed event named the 2018 Zambia Media Think Tank Seminar.
What Does This Mean for the Future of Western Media?
China has long had a lack of press freedom, with the country ranked 177 out of 180 countries on the World Press Freedom Index in 2021. It looks like the country is using domestic tactics used to control media narratives and bring them to the wider world, allowing it to control what people say about the country and regime in other countries too. By silencing and pressing foreign journalists and news stories, the Chinese government is damaging the trust that people place in the media.
Some people feel that this report is likely to be the tip of the iceberg. It could be that the influence from the Chinese government is even greater than previously expected. While a lot of foreign governments will often have an impact on media in other countries to control a narrative, this is on a scale never seen before.
Despite this, there are many journalists around the world who refuse to be influenced and still work hard to preserve the integrity of journalism. Reporters Without Borders will continue to document and report on the extent of China's influence on foreign media.
Emmy-winning actor Louie Anderson dead at age 68
Louie Anderson, a three-time Emmy Award winner, comedian and game show host, died on Friday morning after a battle with cancer, his publicist told Deadline. He was 68.
The star of the comedy series "Baskets" died in Las Vegas, where he was admitted into a hospital earlier this week for treatment of diffuse large B cell lymphoma, publicist Glenn Schwartz told the entertainment publication.
Anderson was nominated for three Primetime Emmy Awards for outstanding supporting actor in a comedy Series, winning one in 2016 for his role as Christine Baskets on the FX series.
He also won two Daytime Emmys for outstanding performer in an animated program for "Life with Louie," a program that aired on Fox in 1997 and 1998.
The Saint Paul, Minnesota, native was a counselor to troubled children before he got his start in comedy when he won first place in the Midwest Comedy Competition in 1981, according to Deadline.
Anderson was in Eddie Murphy's 1988 hit movie "Coming to America." He also hosted "Family Feud" from 1999 to 2002 and starred in several situation comedies over the last two decades.
Anderson wrote several books, including "Good­bye Jumbo … Hello Cruel World," a self-help book for people struggling with self-esteem issues.
(Reporting by Brendan O'Brien; editing by Jonathan Oatis)