The Wounds Their Art Grew From: David Storey and David Lan – American Theatre
When George Devine founded the English Stage Company at the Royal Court Theatre in 1956, he demanded "hard-hitting, uncompromising" plays about "the problems and possibilities of our time." He would stage new plays as if they were classics, and classics like new plays; welcome international work; and make theatre "part of the intellectual life of the country."
Ten years later, Devine died feeling he'd failed at his ultimate goal. That's debatable; the National Theatre and RSC were founded in response to Devine's project. Now two new memoirs by important Royal Court figures offer a chance to consider how Devine's values live on, and where they might be regained.
Dominic Dromgoole once called English playwright David Storey "the true inheritor of Chekhov's gift." Indeed, like Chekhov, Storey wrote four masterpieces for the theatre (In Celebration, The Contractor, Home, The Changing Room), and they are obsessed with work, grief, identity, responsibility, and class betrayal.
They're political plays, but not in the way we've come to define them. There's no argument, no debate, no one with their hand on their heart, no defined enemy. They follow ordinary people enduring their days; the politics are in how they relate to each other, the words they choose, what they do for a living, what's in their pockets, the radical choice to tell these stories at all. Workmen build a marquee for a party, then tear it down. Rugby footballers dress for the game, return, clean up, and go home. Middle-aged men and women lie, joke, and flirt the time away in what is slowly revealed to be a mental hospital. Nothing much happens, and there are jokes, but the dark is always close: isolation, poverty, mental illness, death. The characters duck it by finishing their jobs, playing society's roles. But they can never outrun it.
The language is spare, rhythmic, and poetic, the metaphors Pinteresque in their oblique, controlled clarity. Storey's prose is equally vivid. A Booker-winning novelist, he was also a screenwriter and painter, as well as a bus conductor, laborer, postman, schoolteacher, and professional rugby player. He managed all this in the face of an unsmiling ghost: his brother Neville, who died, aged 6, just half a year before Storey's birth.
Storey's mother was suicidal during pregnancy; he was born with death in his blood. His newly published memoir A Stinging Delight (Faber, Aug. 2021), reads as a long appeal for Neville's understanding: "I 'became' death at the moment I entered life, one registering as the other," Storey writes. "I came into being the moment your death took place. Looking out from, not into, the grave, as the starting point of my existence gave me, I conjectured, a unique advantage: to see the world as it really was."
Storey saw his future at grammar school, when, during a dull recitation of a dull poem, his classmates aged before his eyes, transforming into teachers, clerks, and salesmen, another generation who looked, thought, and spoke the same way. But he never changed. He would paint and write. It was the only use for Neville's "gift," an escape from the "terror" of daily life.
It was everywhere. Storey's coal miner father, Frank, once snapped his ankle in the pit, then walked on it for days before being forced to go to hospital. Returning, he found his job taken by a man who had reported him dead. The foreman settled the matter by ordering them to duke it out. Frank wanted a better future for his son, but Storey's pursuit of art in a punishing world—Frank exhorted him to "get out there"—made him feel a coward. And Frank hated cowards. When Storey told his father he wanted to forgo university for art school, Frank shouted, "Do you think I've been working all these years for you to end up in a garret?"
This only deepened Storey's resolve that his work would have "no purpose…the quintessence of grace." Chekhov would recognize this as art's highest ambition. It's also a good description of A Stinging Delight. But like Chekhov's people, Storey couldn't escape his class—"where the wallet and brain took over…what put you where you were." Idleness was immoral, and so was art.
His parents never gave in. A sympathetic aunt posed as his mother for his application to the Slade School of Fine Art, and he funded his education with rugby league, which he hated. Years later, his father vomited at the homosexual subtext in his novel Radcliffe. His mother, Lily, proudly displayed her son's books, yet never looked at them.
Wrestling with a ghost defined his life. Each day, Storey writes, he woke feeling "'someone' had died; I was about to be taken into the street and shot; I was falling off a cliff—and all I could do, if silently, was scream." This was the case throughout his legendary collaboration with Lindsay Anderson at the Royal Court, beginning in 1968. Storey was an accidental playwright; though bored by Hamlet as a boy, he found the distillation he craved was only possible in the theatre. It gave his pictures life. And he often wrote maniacally, up to 10,000 words a day. Or he sometimes lay paralyzed, dissociated, weeping, a stranger to his devoted wife and children.
Yet he worked with the best. Of his colleagues—he memorably sketches Anderson, Ralph Richardson, John Gielgud, and David Mercer—only Jocelyn Herbert dared ask, "Why are you so sad, David? Why are you so sad?"
He couldn't answer. Art didn't save Storey; the last third of his life was marked by a crack-up so severe as to make work almost impossible. But perhaps there was something to Neville's "gift": Storey's psychiatrist watched, amazed, as Storey was the only person in the mental hospital who was able to calm a psychotic.
This is a lacerating book. Storey wrote it in the 1980s and 1990s, submitted it for publication, then immediately withdrew it. He asked his children to hold it until after his death. It pulls no punches, whether on his cold mother; on his jealous, paranoid surviving older brother; on why his work fell from favor; but most of all on himself. He avoids score-settling: He notes that his mother was grief-stricken, exhausted by life; his brother had his own ghost to deal with; and perhaps, Storey says, his work wasn't much good at all. As with Chekhov, Storey's cold eye fights his heart to a draw, but he stops short of forgiveness. He exorcises ghosts by staring them in the face.
In a loving afterword, Storey's daughter Kate writes that her father purposely excluded her mother from the latter parts of the book. David and Barbara Storey were married until her death in 2015, and she cared for him as dementia and Parkinson's disease set in. Given the darkness of the final chapters, this omission is surely an act of respect.
A Stinging Delight has significant historical value as a record of Northern youth during the early/mid-20th century, and of the period when the Royal Court brought new plays to the forefront. Some of its ideas—about how plays are designed and directed, what a play is—feel like going back to the future. It warns that during an artist's lifetime, art is never bigger than the wound it grows from. And finally, it is proof that Storey survived. Which is all he wished.
It isn't a monument but a signpost for beautiful plays that deserve reassessment and resurrection.
David Lan specializes in reassessment and resurrection. He's a magician; the magic spell sim-salabim appears occasionally throughout As If By Chance (Faber, April 2020), as it flashes between memoir, manifesto, and mediation on the theatre's strange power. As artistic director of the Young Vic (2000-18), Lan transformed it from a decrepit building in the Waterloo Road to a worldwide center for director-driven theatre.
Like all great tricks, it had layers. Lan welcomed some of the world's best directors (Peter Brook, Patrice Chéreau, Luc Bondy, Simon Stone) while preserving British reverence for playwrights. He produced Beckett and Brecht, Ivo van Hove's Olivier- and Tony-winning production of A View From the Bridge, surprising adaptations, devised work, deep dives, revelatory revivals, the occasional new play, musical, or opera—the list defies summary. Lan succeeded where so many artistic directors fail; he illuminated dark corners and changed audiences' relationship with classics. He ran "a neighbourhood theatre plugged into the world."
When Mark Dornford-May staged Mozart's The Magic Flute at the Young Vic with Black singers and musicians from South African townships, it was a bold statement that Mozart is for everybody; according to conductor Sir Simon Rattle, the late composer "would have been surprised, then delighted." The African rhythms and phrasing unlocked the original's humor and joy. Lan recalls the production as a deliberate choice to raise the game of his fellow professionals, a crucible for making theatre in and for the most diverse city on earth.
Lan, himself a white South African, directed Joe Turner's Come and Gone with almost nothing onstage. (August Wilson would never have allowed it, of course, but his estate has an eye for outsiders.) Freed from naturalism, the characters acquired new mythic weight, and Wilson's jazz heartbeat was louder than ever.
Before Lan oversaw the Young Vic's reconstruction from 2004 to 2006, it was a flimsy shack behind a disused butcher shop. He set the theatre firmly in its neighborhood, making tickets cheap or free for local people, and putting them onstage when possible. The theatre reopened with John Fulljames' production of Tobias and the Angel, an opera with libretto by Lan and music by Jonathan Dove, featuring more than 100 South London residents of all ages.
Lan keeps moving. From 1995 to '97 he was the Royal Court's resident dramatist—really a sort of roving associate director. He also produced a television documentary on the battle to restore the building. Before that he wrote A Mouthful of Birds, a haunting riff on The Bacchae, with his friend Caryl Churchill; Peter Brook engaged him to write a film; and he got a Ph.D. in social anthropology through his study of spirit mediums and guerrilla war in Zimbabwe.
As If By Chance puts us inside a restlessly curious mind. It has too many worlds, questions, and perspectives to be contained by chronology, so we zig-zag through Lan's life. First his childhood in apartheid Cape Town: Bookish, political, rebellious, Jewish, unapologetically gay, he was the son of a charming philanderer and his long-suffering wife. His parents love him, but their relationship cements his natural dislocation: "Overhearing grown-ups quarreling in the next room is how theatre begins."
Then to the Young Vic in 2011; London in 1969, where he meets his partner, the playwright Nicholas Wright; the Namibian bush in the 1980s; back to Cape Town; arguing Chekhov with the drunken Russian culture secretary, and so on. This is a kaleidoscope worked by a good director, a story told in juxtapositions and symmetries. Colors brighten as others recede. The image is dazzling while it lasts, then is replaced. Nothing overstays its welcome.
Lan doesn't say why he studied anthropology, but I'd guess it springs from an understanding the truth is elusive, and most often glimpsed in shadow: in places you've never looked before, or better still, the spaces between them. Such is this book; it's also what makes a great theatre artist.
We don't see much of Lan's soul. We can't pin his taste, and his relationship with Wright remains mostly in the background. Everything relates to "the growth of an aesthetic, or perhaps better, an approach to aesthetics." He credits Andrei Serban, who directed two of his plays, with leading him toward maturity. Under Serban's influence, Lan's goal became not just to work across the theatre or lead a rich parallel life, but to transcend himself and his training.
To Lan the playwright and social scientist, "Thinking was everything. You analyse, you discuss, you try to get to the bottom of things, you believe there is a bottom to things." He was shocked when, while working with Serban, the director didn't want to read his other plays, and seemed utterly uninterested in his background or politics. Lan worried whether Serban had read the script at all. He had—just not much. But in rehearsal,
…day by day scene by scene, the actors became enchanted by [Serban's] openness to suggestion, his spontaneity, his sense of fun, the freedom he offered. He was creating with them, for them, on their bodies, as the choreographers say. It was only in the room that he did his thinking.
We are the poorest of the poor and the richest of the rich. Precision is our only value: of feeling, of understanding, of expression, here, now, in this air that we all breathe together on this instant of this day, on this spit of the earth, in this bare room with everything to lose, everything to win.
Perhaps that's what George Devine meant when he called for "hard-hitting" plays—not journalism, spectacle, or exploitation, but the shock of human risk. The difficulty of recognition and connection, of listening, of life as it's lived. Or the ghost of a better world, where we're closer together.
The search takes many lifetimes of thought. Devine didn't survive it; Storey barely did. Lan never claims to work at that level, but it's clear he can. He's glimpsed the secret that drives the best of us: the spell to set others free.
Justin Sherin (he/him) is a playwright whose work has been developed or produced at the Royal Court Theatre, the Old Vic, the Royal Shakespeare Company, 59E59, Yale Cabaret, and elsewhere. He trained at Fordham University and Yale School of Drama.
Support American Theatre: a just and thriving theatre ecology begins with information for all. Please join us in this mission by making a donation to our publisher, Theatre Communications Group. When you support American Theatre magazine and TCG, you support a long legacy of quality nonprofit arts journalism. Click here to make your fully tax-deductible donation today!
Art heist at Kelowna gallery takes four minutes – Vancouver Sun
The stolen sculptures included bronze, stone, and glass pieces. Altogether, the pieces weighed more than 300 pounds.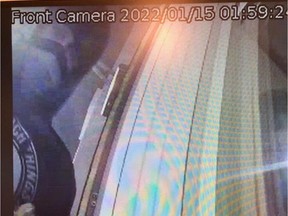 Article content
KELOWNA — Art thieves were in and out of a Kelowna gallery in four minutes early Saturday morning, stealing 11 sculptures worth almost $70,000.
Article content
Two masked men broke into Gallery 421 in the South Pandosy business district, triggering an alarm at 1:58 a.m. They fled at 2:02 a.m., according to a surveillance camera.
"It was most definitely targeted. They knew exactly what pieces they wanted to steal," gallery co-owner Kelly Hanna said Monday. "They were fast, but their movements were deliberate. It wasn't helter-skelter."
The stolen sculptures included bronze, stone, and glass pieces. Altogether, the pieces weighed more than 135 kilograms.
"We're going to put the word out to other galleries, pawnshops, and art houses about what was stolen," Hanna said. It's most likely the thieves will try to sell the pieces outside of Kelowna, either in Vancouver or the U.S., she said.
Article content
One thief was 5-foot-10, medium build, and wore a grey hoodie. The other was 5-foot-6, also of medium build, and was wearing blue pants with white runners.
The stolen pieces included works by artists Vilem Zach, Michael Hermesh, Vance Theoreet, and Jeff Holmwood.
Hanna and co-owner Ken Moen are offering a $1,000 reward to anyone providing information with police that leads to an arrest.
Hanna and Moen bought the gallery, which opened in 2001, two years ago. Hanna said there have been smash-and-grabs of items such as computer equipment before, but never thefts of works of art.
---
More news, fewer ads, faster load time: Get unlimited, ad-lite access to The Vancouver Sun, the Province, National Post and 13 other Canadian news sites for just $14/month or $140/year. Subscribe now through The Vancouver Sun or The Province.
Can New Technology Bring Authentic And Transparent Trust To The Art World? Like VIN Numbers For Art-Works. – Forbes
In 1987, I was lucky enough to attend the auction of Vincent Van Gogh's Vase With Fifteen Sunflowers at Christie's in London. At the time, the sale price of $39.7 million was staggering. Inflation- adjusted, that's $127 million today. Two years later, in 1989, the Dallas Cowboys were sold for $140 million. In November 2017, Leonardo Da Vinci's, Salvator Mundi, was sold for over $450 million. The prestige associated with rare assets (Forbes estimates that the Dallas Cowboys are now valued at over $5.7 billion) has a lot to do with the market value of uncommonly traded assets. Still, authenticating the origin and history of a sports team is easy. But to do the same thing for expensive artworks has always been incredibly difficult.
The art market has seen extraordinary growth in its size and the value of its assets over the past 25 years and longer. Living artists are now able to sell their artworks at significant values at market entry – what are called primary market sales – during their lifetime and to see significant rises in the value of their art including in the secondary market. This is a relatively new experience for the market. History's old masters and more modern artists never got to experience these trends during their lifetimes. Art market auction sales tipped $50 billion in 2021, and the unofficial private sector of the market is probably another $50 billion. Think about a $100 billion annual sales industry, that is based on trillions of dollars of assets, that all need to be authenticated, secured and monitored for many different purposes ranging from insurance to sales values and other market opportunities.
Our guest for today's podcast is Lawrence Shindell, he is the Chairman, President and CEO of LMI Group International, Inc., headquartered in New York. LMI Group is a strategic investment bank-like firm that represents artwork owners and investors in the authentication underwriting and market release of major orphaned artworks – artworks that the data strongly indicate are by blue-chip artists and have expected market values between $15,000,000 and $200,000,000. A trial lawyer by background, Mr. Shindell holds licenses in a number of U.S. jurisdictions including admission to the Bar of the Supreme Court of the United States. Before founding LMI Group in early 2018, Mr. Shindell served as the Chief Executive Officer of a regulated U.S. title insurance company catering to the international art industry.
His insights about the art market and its needs and trends over the next decade – ranging from technologies to solve the challenges of art object identification and authenticity to NFTs – provide a glimpse into a very complex industry sector. It is often said that the world's art serves as the tree rings of society. Advances in technologies can bring efficiency to this market sector just as technology has brought efficiency to other markets, and can give us a sense of comfort about the integrity of these high value assets as we visit art museums, collect art, invest in art, or engage in and around art in many other ways.
Artwork, both old and new, and both digital and physical, make up a huge market that offers cultural engagement as well as incredible economic upsides for investors who invest in art. Improvements in four areas can change the level of comfort for investors.
Anti-money laundering – legislation that is increasingly offering transparency but also putting pressure on market actors to verify source of funds, and seller and purchaser legal status and identity, whether for purchasing or selling art or using art as collateral for loans, for example.
The advent of the blockchain and more recently NFTs are revolutionizing the ways in which we link irrefutable identifying references to physical and digital art, as these assets journey through the market via purchases, gifts, sales, exhibitions and events of condition-conservation among other events, and in the case of NFTs, especially as a medium in which to create art in the first instance, as a means to create verifiable fractional and complete ownership interests.
Different technologies will separately allow us to imprint identifications on existing, secondary market physical works that can distinguish these objects from copies and also enable a conclusive linking of the information around the object captured via the blockchain to the exact physical object.
Advances in artificial intelligence and machine learning science and technologies that can aide traditional measures to appraise and verify art in complement with these other technologies.
The idea of reliable object identification is nothing new. We use VIN numbers for automobiles and CUSIP numbers for the securities industry. And we use DNA markers to authenticate the origin and history of, for example, cloning material.
Hollywood has been using tales of the historical art world for decades, the most known example is perhaps the 1999 version of The Thomas Crown Affair, starring Pierce Brosnan and Rene Russo in the lead roles. While interests and tastes in the art world have evolved from old masters to modernists to an expansive contemporary art market today, the art market as a whole shows no signs of slowing down.
We can expect to see continued rapid growth including with the introduction of NFTs and factional ownership options. Each of the issues just highlighted are central to LMI Group and its specialization in authenticating to conclusive factual standards culturally and historically important works of art that have been lost to history but can reliably be reintroduced to the cultural sector, and in applying its expertise to cultural heritage initiatives that involve complex authentication of historical objects and information.
LMI Group is at the forefront of advances that are designed to enable objective, data-based analyses and decision-making in the art and cultural heritage sector.
Artists Invited To Enter Artwork In Florida Strawberry Festival Fine Art Show – Osprey Observer
A call to artists has been issued by the East Hillsborough Art Guild (EHAG) for the 2022 Florida Strawberry Festival Fine Art Show, which runs from Thursday, March 3 through Sunday, March 13 at the Festival Grounds in Plant City. The show will be held in the Milton E. Hull Building.
Adults are divided into professional groups (entry fee is $15) and amateur groups (entry fee is $12). Adults can enter oils, acrylics, watercolors, graphic/mixed media and sculptures. The entry fee for miniature art (2D media) and sculptures (3D art) is $12.
The youth divisions are by ages. Youth can enter oils, acrylics, watercolors, graphic/mixed media and sculptures. The entry fee is $5.
Adults can enter up to four entries, but no more than two in the same division. Youth can enter up to two entries.
Entries are eligible for substantial monetary awards. This includes $100 for the Strawberry Theme Award (an entry must include strawberries or reflect the current festival theme of '#1 for FUN!'). There is also $300 for Best of Show.
There are prizes for first ($150) and second ($100) place in all adult and youth divisions. Adult amateurs, miniature and sculpture entries receive $100 for first place and $75 for second. Adults who receive third and fourth place receive rosette ribbons.
For youth, first place receives $25 and second place receives $15. Entries who win third and fourth place receive a rosette ribbon. All youth participants receive participation ribbons.
Artists who do not win one of the above prizes are eligible for a Business Leaders Choice Award. Area residents can also become sponsors for the In Honor Award and select a winning artist who will receive a ribbon and $50.
Space is limited and entries are accepted on a first-come, first-serve basis. Early entries are accepted until Friday, February 11. Artists can mail their entry form and fee to East Hillsborough Art Guild, P.O. Box 3055, Plant City, FL 33564. Artwork must be brought to the Festival Grounds on Saturday, February 19 from 12 Noon-6 p.m.
Chairperson Karen Crumley said, "Our entry day was moved to Saturday to allow easier access to more working people or parents with school age children."
Entry forms and rules can be found at www.flstrawberryfestival.com. If you have questions, please email Crumley at kscrumley@yahoo.com or call 924-3829.