Foreign interference poses 'complex and enduring' threat to Canada, spymaster warns
Foreign interference poses a "complex and enduring threat" to Canada, the country's spymaster told MPs on Thursday amid multiple media reports detailing China's alleged attempts to influence Canadian society and elections.
David Vigneault, director of the Canadian Security Intelligence Service (CSIS), testified in front of the House of Commons' procedure and House affairs committee Thursday about the methods "threat actors" may use.
The committee recently voted to expand its probe of foreign interference as reports from the Globe and Mail and Global News have detailed China's wide-ranging attempts to influence the outcome of the 2019 and 2021 federal election.
Vigneault said he agreed with a report from the independent panel tasked with overseeing the elections that determined foreign interference did not affect their outcome. That report had also made clear that even if the outcome wasn't impacted, there were attempts to interfere in the election that didn't meet the threshold for the panel of experts tasked with monitoring risks to the election to report those attempts to the public.
The CSIS director provided a series of examples of methods foreign adversaries use to influence Canadians.
"Threat actors may also cultivate relationships with targets to manipulate them into providing favors and valuable information, or may conduct corrupt or financing activities. It is also important to note that threat actors may use others as proxies to conduct these activities on their behalf," he said in French.
"These are just a few of the techniques that foreign state actors employ to influence public discourse, the behaviour of individual Canadians, and even our processes to their advantage. We have also observed them to deploy cyberattacks, disinformation campaigns and espionage to these ends. Foreign interference is therefore a complex and enduring threat to Canada's sovereignty."
Vigneault added that CSIS takes foreign interference seriously, and he often briefs Prime Minister Justin Trudeau and other ministers on the issue. He said it's important to withhold certain information from the public because foreign governments are learning how CSIS works, the types of powers it has and what it can do.
Meanwhile, the deputy commissioner of federal policing for the RCMP, Michael Duheme, said the Mounties did not receive any "actionable intelligence" about the last election that would lead to an investigation, and no charges have been laid into any allegations.
Earlier Thursday, the commissioner of Canada Elections told the committee her office is reviewing past complaints related to foreign interference. Caroline Simard said her office received 158 complaints related to 10 situations in the 2019 election, and 16 complaints related to 13 situations during the 2021 election.
It is not clear if any of those complaints were found to be actual cases of foreign interference.
She says two more complaints have been brought to her office since she last testified at the procedure and House affairs committee in November.
Over the last number of weeks, Global News and The Globe and Mail have revealed detailed reports showing the scope of China's alleged efforts to influence Canadian society, including allegations of attempts to interfere in the 2019 and 2021 elections.
Trudeau has said Canadians can be assured the results of the elections were not impacted — but so far has not clearly answered questions about calls for a public inquiry into the matter, despite calls from prominent officials to do so.
A motion calling for a public inquiry is expected to be presented on Thursday afternoon at committee.
— with files from The Canadian Press
Twenty-six organizations call for MSI for migrant workers in Nova Scotia
Halifax, NS (March 21, 2022) – Today, as the spring session of the Nova Scotia legislature opens, twenty-six organizations have published an open letter calling for healthcare access for Kerian Burnett and all migrant workers in Nova Scotia. Today is also the International Day for the Elimination of Racial Discrimination.
The signatories to the letter include the Antigonish Coalition to End Poverty, Central Kings Community Health Board, CUPE NS, King's Students' Union, National Farmers Union – Nova Scotia, No one is illegal – Nova Scotia, Nova Scotia Health Coalition and Western Kings Community Health Board.
In some provinces, migrant workers have access to public healthcare on arrival. In Nova Scotia, migrant workers must have a one-year work permit to be eligible for public healthcare coverage (MSI). This means that Caribbean and Mexican workers who come to Nova Scotia under the Seasonal Agricultural Workers Program (SAWP) are not eligible, because their contracts are a maximum of 8 months of each calendar year.
"Nova Scotia's MSI eligibility criteria shuts out this racialized workforce. This is a blatant example of systemic discrimination, which can and must be immediately redressed," said Stacey Gomez, Manager of the Migrant Workers Program with No one is illegal – Nova Scotia.
Migrant workers in the SAWP only have access to private health insurance, which is tied to their employment.
"Private health insurance from employers and restrictions on eligibility for MSI prevents migrant workers from accessing the care they need leaving them vulnerable and falling through the cracks of our public healthcare system. The NSHC signs onto this letter and supports the call for all migrant workers, especially seasonal agricultural workers, to be eligible for MSI immediately upon arrival in Nova Scotia. Access to free, universal, public healthcare is the right of every human being, regardless of immigration status. We must do better," said Alexandra Rose,  Coordinator of the Nova Scotia Health Coalition.
Ms. Burnett, who was diagnosed with cervical cancer after arriving in Nova Scotia as a migrant worker,  now has a Temporary Resident Permit until January 10, 2024. However, she still does not have medical coverage in Nova Scotia. She was advised by her doctor to remain in Canada to undergo life-saving treatments and for follow-up care. Ms. Burnett is currently hospitalized.
– 30  –
Media contact:
No one is illegal – Nova Scotia
Telephone: (902) 329-9595
Email: outreach@migrantjusticens.ca
Canada's inflation rate cools more than expected – Financial Post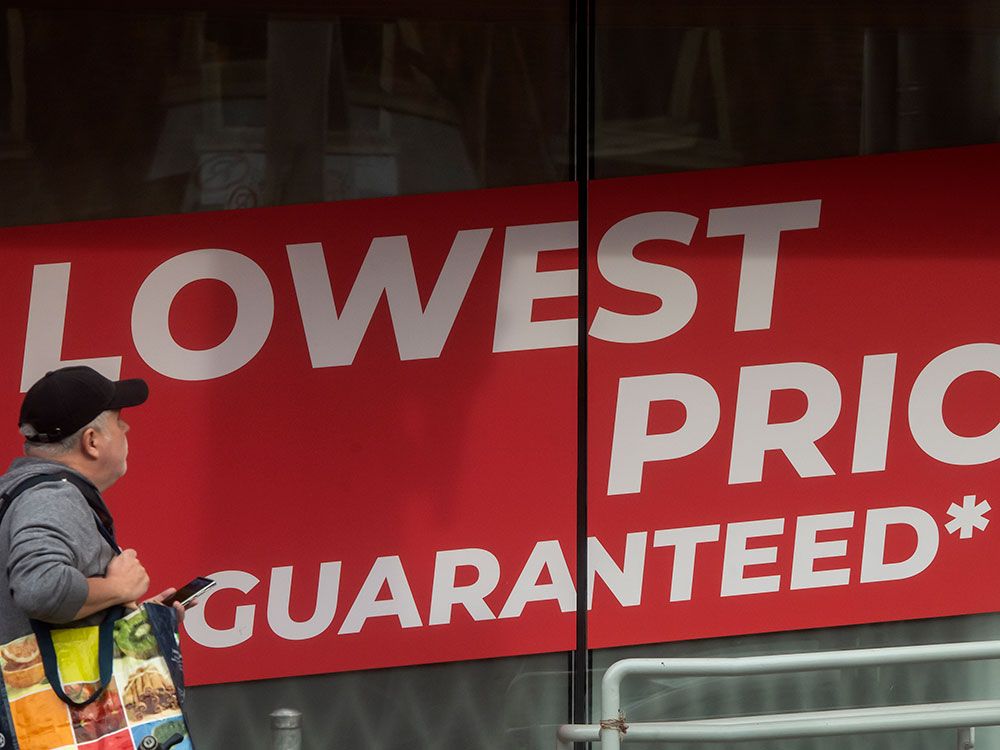 Article content
OTTAWA — The annual pace of inflation cooled in February as it posted its largest deceleration since April 2020.
Article content
Statistics Canada said Tuesday its consumer price index in February was up 5.2 per cent compared with a year earlier.
Article content
Analysts polled by Reuters had expected the annual rate to fall to 5.4 per cent.
The reading compared with an annual inflation rate of 5.9 per cent in January and was the lowest annual inflation rate since January 2022 when it was 5.1 per cent.
Article content
Statistics Canada noted that the decline was due to a steep monthly increase in prices in February 2022 when the global economy was significantly affected by the Russian invasion of Ukraine.
Despite the overall cooling, grocery prices remained elevated and outpaced overall inflation.
Prices for food purchased from stores in February were up 10.6 per cent compared with a year ago, the seventh consecutive month of double-digit increases.
Which food items went up in price in Canada – CTV News
Inflation for goods in Canada is cooling but prices for food remain high, Statistics Canada's latest report shows.
The Consumer Price Index (CPI) for February was at 5.2 per cent year-over-year, a decrease from January's 5.9 per cent year-over-year increase.
"This was the largest deceleration in the headline CPI since April 2020," the StatCan report reads.
Energy reflected the cooling as prices fell 0.6 per cent year-over-year. Gasoline prices are leading the drop, StatCan says, with a 4.7 per cent difference year-over-year — "the first yearly decline since January 2021."
"Inflation is cooling more than what was typically expected," David George-Cosh, BNN Bloomberg reporter, told CTV News Channel on Tuesday. "But when you drill down into some of the details, it's unlikely to really convince Canadians that the worst is really behind us."
Despite the overall signs inflation is decreasing, Canadians are not seeing this reflected at grocery stores, where food prices rose 10.6 per cent year-over-year in February. This is a slight decrease from January, which saw a 11.4 per cent year-over-year increase.
FOOD PRICES REMAIN HIGH
February marks the seventh consecutive month of double-digit food inflation, StatCan says.
This pressure is largely due to supply constraints from extreme weather in some regions and higher costs of animal feed, energy and packaging materials.
Pasta products continue to increase in price, with a 23.1 per cent year-over-year difference in February. This is an upward trend from January, which had a year-over-year increase of 21.1 per cent.
Fruit juice had the largest increase in price from January to February 2023, data from StatCan shows. In January, the product had a year-over-year difference of 5.2 per cent; this rose to 15.7 per cent year-over-year in February.
According to StatCan, the quick rise in the cost of fruit juice is led by the increased price of orange juice specifically.
"The supply of oranges has been impacted by citrus greening disease and climate-related events, such as Hurricane Ian," the CPI report reads.
William Huggins, lecturer of corporate finance and business economics, explained supply chains are under pressure from many areas.
"We've had, for instance, problems with avian flu…There are problems with African swine fever in China, we've had trouble getting enough employees to come back post pandemic with their steel supply chains," Huggins told CTV's Your Morning on Wednesday. "We've seen this not just in Canada, but also in the United States as well. So rather than people thinking it's very much a homegrown problem, it's much more of a North American logistic problem."
Oranges on their own have not increased quite as dramatically between January and February of this year. According to the data, in January oranges had a year-over-year increase of 14.1 per cent, which rose to 15.1 per cent year-over-year in February.
Similarly, apples rose in price year-over-year to 16.6 per cent in February, a 4.5 per cent increase from January.
Some areas did see prices slowing, StatCan said.
Meat products decreased to 6.2 per cent year-over-year, though this is a smaller decrease than in January.
But Canadians aren't seeing decreases in all types of meat.
Fresh or frozen poultry remained high, as StatCan pegged the year-over-year increase at 10.7 per cent in February, a slight increase from January.
Fish, seafood and other marine products increased by 1 per cent from January's year-over-year marker to 7.4 per cent year-over-year in February.
Fresh or frozen beef saw a reduction in February, with a year-over-year increase of 2.4 per cent compared to January's 3.7 per cent difference.
Buyers of some types of produce are seeing a cooling effect as well, including the costs of lettuce and tomatoes.
Lettuce in January rose to 32.8 per cent year-over-year, but dropped the next month to 20.2 per cent compared to February 2022.
Tomatoes in January had a 21.9 per cent year-over-year increase, which dropped to 7.1 per cent year-over-year in February.
STUDY SHOWS MISTAKES ON RECEIPTS
Many Canadians are now acutely aware of how much food items cost, so they can ensure they are not paying more, but a new study shows two-thirds (67 per cent) of people have seen a mistake on their grocery receipts in the last year.
Dalhousie University's Agri-Food Analytics Lab polled 5,525 respondents.
According to the survey, 78.5 per cent of those who noted a mistake reported the most common error was that the price at the cash register was not the same price displayed on the shelf. About one-third of respondents said the daily discount was not applied and a total of 31.4 per cent claimed the cashier scanned an item too many times.
A majority of people said they check receipts for mistakes as they exit the store, before getting home. However, the survey notes not all Canadians have the habit of checking for mistakes; only half said they always check, while 3.3 per cent never do.
"As for frequency of mistakes, 79.2 per cent of respondents claim that they find at least no mistakes on their receipts, at least 10 per cent of the time," the press release reads. "A total of 15.2 per cent will find at least one mistake on their receipt, 25 per cent of the time."
Note: data for some specific grocery items are available only nationally, and are not available by province. Can't see the interactive above? Click here.