Former Edmonton star Williams promoted to Bills' active roster for playoff game – TSN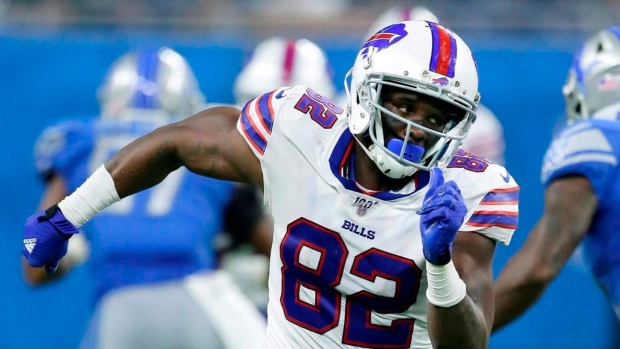 ORCHARD PARK, N.Y. — Former Edmonton Football Team star wide receiver Duke Williams has been elevated to the Buffalo Bills' active roster for only the second time this season ahead of Saturday's first-round playoff game against the visiting Indianapolis Colts.
The Bills' top two receivers, Stefon Diggs (oblique) and Cole Beasley (leg), are nursing injuries and have been listed as questionable for the team's first home playoff game in 25 years.
Williams registered no stats in one appearance in Week 7 against the New York Jets this season.
Last season, Williams made 12 catches for 166 yards with one touchdown in four games for the Bills. He had four catches for 49 yards and was targeted 10 times in Buffalo's loss to Houston in the first round of the playoffs last season.
Williams signed with the Bills in January 2019 after two strong seasons with Edmonton.
Williams led the CFL with 1,579 receiving yards in 2018.
This report by The Canadian Press was first published Jan. 8, 2021.
Canadiens vs. Jets game recap: A confidence-building win – Habs Eyes on the Prize
Carey Price was back in net for his first start since Marc Bergevin decided to axe his goalie coach earlier in the week. Could a new voice and new methods get us a rejuvenated Price? Well, honestly that is still to be decided, considering the fact that Sean Burke will be in coronavirus isolation for a fortnight before being able to join up with his new disciples. This meant that the question for Saturday's game essentially was: What changes could Laval Rocket goaltender coach Marco Marciano implement in his first few days as an interim coach? Could he, in any way, restore Price's confidence this soon?
Whether it's Burke, Marciano, or Dominique Ducharme in charge, the best thing the whole coaching staff could do at this point is try to decrease the quality of chances the opposition is allowed near the Montreal net. During the early part of the first period, the Canadiens did so in an admirable fashion, perhaps not creating much offence themselves, but efficiently preventing Winnipeg from getting their skates set in the offensive zone.
After a power play that saw some promising looks from both Jesperi Kotkaniemi and Jonathan Drouin, Montreal got a first-class opportunity to take the lead. Brendan Gallagher delivered a pass to the aforementioned Drouin, which cut like a knife through butter on a hot Sunday morning. Unfortunately, Connor Hellebuyck proved once again why he is considered a goaltender of the first degree.
There would however be one goal scored in the opening period. Josh Anderson, back from a three-game absence and effectively replacing Artturi Lehkonen in the lineup, received a pass from Kotkaniemi which bounced off the wall behind the net. Grade A smartness there from the young Finn, since his obviously deliberate pass tricked the entire Jets team, including Hellebuyck who went out to clear the puck from behind his own goal, thereby leaving the net wide open for Anderson to score from the slot. This was Anderson's 10th goal of the year.
Both teams started the second period having problems stringing together quality scoring chances. Instead, the puck went quickly from one zone to another, without there seeming to be a cohesive idea behind either team's offensive gameplay.
Thankfully, you are not as dependent on a continously working offensive gameplan if you have functional goal-scorers on your team. Seven minutes in, Tyler Toffoli went bar-down for his 15th goal of the season. This means that the two wingers who were brought in to Montreal this autumn to primarily aid the team's scoring problem have combined for 25 goals during the opening 23 games.
Another guy who has always had a knack for scoring goals is Brendan Gallagher. This night he moved even further up the Canadiens' all-time scoring list with two eerily similar goals during a three-minute span. Assisted by Phillip Danault and Tomas Tatar, commonly known as his usual partners in crime, Gally batted them home to make it 10 on the year for him as well. We have to give extra credit here for Danault's sublime dual no-look, behind-the-back passes on the latter goal. They were icing on the delicious cake which was the Habs' second period.
That was all she wrote for Hellebuyck. The normally formidable Jets goalie surrendered after letting in four goals in just 19 shots and was replaced by Laurent Brossoit. Would Brossoit then provide an immediate spark for the struggling Manitoba side? No, he did not.
Drouin lasered a pass cross-ice to his newest linemate, Joel Armia, who banged it home from a distance. Montreal went to the locker room with a five-goal lead and a fine possibility of the year's first shutout for Carey Price.
Winnipeg tried to get something going, but as they were buzzing around Price's net, a shot took a detour off Trevor Lewis's hand and ended up in Jake Evans's possession. Evans flicked it downfield, looking for either a breather through an icing call or a potentially lucky bounce off of Brossoit. In the end, he got the latter. Skating phenom Paul Byron pounced on the rebound and scored the Canadiens' sixth goal of the evening.
Why stop at six when you can get seven, thought Jeff Petry, and fired a sneaky wrister from the blue line exactly four minutes later. Lots of traffic in front of the net aided Petry and fooled the netminder.
If he wasn't already in there to replace the starting goalie, I am sure that Brossoit would have enjoyed seeing the rest of the game from the bench. Up until this point, the Jets' two goaltenders had missed seven out of the home team's 27 shots, giving them a combined save percentage of .741.
Unfortunately, there would be a small dent in the otherwise shining effort by the Montreal Canadiens. With 10 minutes left to play, Alexander Romanov took a tripping penalty. On the ensuing power play, Drummondville native Mathieu Perreault would score to implode Carey Price's possibility of a well-deserved shutout.
The final minutes of the game flew by as both teams just wanted the game to end, although for entirely different reasons. The Canadiens took their 11th win, by a score of 7-1, in a way that will instill confidence in the entire team, as they now move back out west for a 12-day, six-game streak away from home.
Furor grows over photo of champion trainer Gordon Elliott sitting on dead horse – The Globe and Mail
Until last week, Gordon Elliott had the kind of backstory the sports world loves – the son of a car mechanic who rose from nothing to become a superstar in British and Irish horse racing through sheer guts and determination.
His renown as a horse trainer is unparalleled. He's won the Grand National steeplechase three times and dominates the Cheltenham Festival on a regular basis. He's transformed a derelict dairy farm in Ireland into a racing juggernaut stacked with nearly 200 horses, including Tiger Roll, the first two-time winner of the Grand National in nearly 50 years. "There's only one thing I want to be," he once said "That's a champion trainer. I don't really care about anything else."
But now Elliott's future has been thrown into turmoil over a scandal that has shaken the sport and raised questions about how the racing industry treats horses.
It centres around a photograph of Elliott taken in 2019, which surfaced on social media this week. The picture showed him sitting on a dead horse named Morgan, flashing a "V" sign while chatting on his cellphone.
The image sparked a public outcry and led to calls for Elliott to be banned from racing. Several companies, including gambling giant Betfair, immediately cut their ties to the trainer and some owners pulled their horses from his Cullentra House stables. "It is just such an appalling image," champion jockey Peter Scudamore told the BBC this week. "It just hit the bottom of my stomach."
On Friday the Irish Horseracing Regulatory Board banned Elliott for 12 months, with the last six months suspended. In its ruling the IHRB said the photograph showed "appalling bad taste" and added; "There can be no doubt but that the production of the subject photograph has been a cause of enormous distress to all those who appreciate the enjoyment that horses brings to their lives." The British Horseracing Authority is expected to impose a similar sanction and it has already banned Elliott from racetracks in Britain.
Elliott has offered several apologies and he didn't contest the IHRB's ruling. "I am paying a heavy price for my error but I have no complaints," he said in a statement on Friday. "I was disrespectful to a dead horse, an animal that had been a loyal servant to me and was loved by my staff."
In a statement earlier this week he explained that the horse had suffered a heart attack during training. He added that he was standing over the body when he received a phone call. "Without thinking, I sat down to take it. Hearing a shout from one of my team, I gestured to wait until I was finished," he said. "I appreciate that an initial viewing of this photo suggests it is a callous and staged photo but nothing could be further from the truth."
His comments have done little to quell the uproar or the growing debate about the welfare of race horses. "The main subject of that picture is the dead horse," said Dene Stansall of Animal Aid, a non-profit group that campaigns for better treatment of race horses. "Why did he die and how many of these horses are dying?"
Few argue that horse racing is dangerous, especially steeplechase, in which horses jump over barriers that stand up to 1.5 metres tall. The Grand National covers 7.2 kilometres and horses have to clear 30 jumps made of woven spruce branches. In 2019 Up for Review fell at the first fence and television viewers briefly watched the horse convulsing on the turf before dying. Two other horses died during the three-day series of races.
According to figures complied by the BHA, 135 horses died in all races last year across Britain. That was down from 177 in 2019, although there were fewer races in 2020 because of the COVID-19 pandemic. A total of 202 horses died in 2018.
Stansall and others believe the death toll is higher because the BHA doesn't include horses that die in training, which could account for an additional 200 deaths annually. He adds that horses are being put under increasing strain through over-racing, intensive training and specialized diets that are not designed for the horse's well-being.
The Grand National and BHA insist that racing has improved and that animal care is paramount. "As a consequence of British racing's investment in safety, welfare and health, the number of horses that have died on racecourses has decreased by one third in the last 20 years, to 0.18 per cent of runners," the BHA said. The Grand National said it has changed fences to make them more forgiving and improved postrace care for horses to prevent injuries.
Many people have stood by Elliott, including Michael O'Leary, the chief executive of Ryanair, who co-owns Tiger Roll and Morgan, the horse in the photograph. "We accept Gordon's sincere, profound and unreserved apology and we will continue to support him and his team at Cullentra," O'Leary said in a statement.
But Elliott's career remains uncertain and he spoke this week about the toll the scandal has taken. "When your world starts crumbling in front of you, it's a scary place to be," he told the Racing Post. "My whole life has revolved around horses since I was a child. I know nothing else. Horses are all I have. I came from nothing and built a dream."
Maple Leafs 'have to look in the mirror' after being swept by Canucks – Sportsnet.ca
We often describe this game we love with rugged adjectives.
Hockey is gritty and requires sandpaper. It's greasy and gutsy. Hard-nosed. A series of tough battles that will be won by the side triumphing in the dirty areas. Those ugly trenches.
The game can be looked at another way, too.
Fragile.
A disappointed Sheldon Keefe used that adjective twice on Saturday in the aftermath of his Toronto Maple Leafs' 4-2 defeat by the hand of the 21st-place Vancouver Canucks, who swept this mini-series without top-line centre Elias Pettersson in their lineup.
It marked the first comeback victory of Vancouver's campaign and the first set of consecutive regulation losses the Maple Leafs have suffered all year. It's also the first time Toronto superstars Auston Matthews and Mitchell Marner have both been held off the scoresheet in back-to-back games.
Much like Game 1 of the series, Toronto ran up against a hot power-play and a razor-sharp goaltender in Thatcher Demko.
Unlike Thursday's defeat, however, the visitors controlled the run of play for the bulk of the night.
Brock Boeser converted net-front on a beautiful cross-ice J.T. Miller pass on an early rush with Matthews serving a high-sticking minor, but the Leafs responded with a pair of pretty passing plays on their own at even-strength.
John Tavares clapped a blast clean and high by Demko after a nifty one-touch area pass from winger Alexander Kerfoot. Then Jimmy Vesey converted a tic-tac-toe sequence from Jason Spezza and T.J. Brodie.
Toting a 2-1 lead into the third, Toronto fired the first nine shots of the final period and looked poised to lock up another 'W'.
Momentum spun on a dime when an unpressured William Nylander committed a puck-over-glass penalty — "Can't just give them a freebie like that," Keefe said — and Bo Horvat promptly tied the game with the man-advantage.
"We've got to get a kill. We've got to get a blocked shot. These are the kind of things that make a big difference," Keefe said. "We didn't really go through that in [sweeping] the Edmonton series. We were in full control. We built big leads for the most part."
The Canucks' power-play went a perfect 3-for-3 in the series; Toronto went 0-for-3. There's the difference.
"The power-play goal really gave them some life," Tavares said.
A pair of neutral zone giveaways by the Leafs led to odd-man rushes the other way. Bang, bang: A hungry Miller and Nils Hoglander cashed in.
In 42 seconds, a win poofed into a loss and a great road trip got downgraded to a good road trip.
Fragile.
Beat on the Miller strike, fumbling at the puck first with his hands then with his feet, Morgan Rielly pointed to sloppy details: special teams, puck management and D-zone breakouts.
"We have to take responsibility for what happened in terms of two losses," Rielly said. "I mean, we have to look in the mirror."
Marner wondered if the top line was trying to force plays that weren't there.
"Sometimes it slips away. It happened tonight," said Marner, a minus-2 for the first time all season. "Turnovers were the reason for it, so just make sure we clean that part up. Obviously starting [with] myself."
The Maple Leafs will fly home Sunday and sharpen their details on Monday in preparation for next week's three-game series versus their nearest pursuers in the North, the Winnipeg Jets.
"These are really close, very fragile games. You've got to be good every single shift and every puck," Keefe said. "Vancouver plays four lines. They play extremely hard and very competitive. They don't give you anything for free.
"It just goes to show that, first of all, anybody in our division can beat you on any given night. We've got to be good all the time and we've got to stay with the process that works for us. Go off script and get the results you get here."