Former Guelph art instructor sentenced to 90 days in prison in sexual abuse case – Global News
The victim of a former Guelph art instructor, who has been sentenced to 90 days in prison after pleading guilty to sexual exploitation, says the outcome is underwhelming.
Speaking to Pablo Suarez in court on Thursday, the teenager told him what he did will leave a scar for the rest of her life.
"While the situation will be dealt with, I'm still going to have to deal with the effects of what you did to my mental health for probably forever," she said in her victim impact statement.
Her identity is protected under a publication ban.
Suarez, the former owner of Pablo's World of Cartoons on Cardigan Street, pleaded guilty to sexual exploitation on Jan. 22. All other charges were dropped.
Court heard the 49-year-old met the teenager through his art program and talked her into modelling for him. During their first and only private session last winter, Suarez kissed her twice.
The young victim eventually told her parents and Suarez was arrested in March 2019.

2:20


Survivors express shock in wake of Gordon Stuckless release from prison



Survivors express shock in wake of Gordon Stuckless release from prison
"You had the potential to be such an amazing mentor and change people's lives in such a positive way, but instead you decided to throw your life away and try and destroy someone else's and that's something I really don't understand," the teen told court.
Suarez, who owned and operated the art program for 11 years, also faces 18 months of probation. He is prohibited from any unsupervised contact with anyone under the age of 16.
He must also attend counselling, submit a DNA sample and be registered as a sex offender for 10 years.
Speaking to Justice John Lynch and facing away from the victim and her family, Suarez said he was truly sorry.
"I apologize to the people I hurt," he said quietly.
In her own victim statement, the victim's mother said Suarez had a gift to help people see who they really are.
"We needed you, Pablo," she said to Suarez as he looked down into his hands. "We needed you to breathe encouragement into our children in a way we couldn't and because of your horrific decision, we are left with a gaping hole."
The victim's mother told reporters afterwards there has been a lot of crying and pain. She said she may forgive Suarez, but how her daughter feels is more important.
"I hope I can inspire her to free herself by forgiving him and eventually being able to move on, which will never absolve her of having to live with it," she said.
She also urged parents to always believe their kids because when they come forward, they have nothing to gain.
"Young girls, but young boys as well, anyone — they deserve to be believed."

1:11


5 signs a child may have been sexually abused



5 signs a child may have been sexually abused
© 2020 Global News, a division of Corus Entertainment Inc.
Submissions invited for provincial art collection – Government of New Brunswick
FREDERICTON (GNB) – The Department of Tourism, Heritage and Culture is inviting artists to submit work to be considered for inclusion in the New Brunswick art collection.
Established in 1968, the permanent collection celebrates the province's excellence in the contemporary visual arts.
"Our many talented artists share the New Brunswick story," said Tourism, Heritage and Culture Minister Tammy Scott-Wallace. "The collection exists to honour the best parts of our past, support current streams of creativity and look towards our shared future with compassion, confidence and enthusiasm."
The collection, now known as CollectionArtNB, acquires new artwork every two years. Artists can submit their proposals to either the general category or the Indigenous category. Guidelines and forms will be available on the CollectionArtNB website.
The department will accept submissions until Friday, Jan. 6 at 4:30 p.m.
28-11-22
Art is always close to the heart for Brianna LaPlante
Brianna LaPlante often draws upon life experiences while pursuing her passion for art.
Consider the merger of culture and creativity that led to her designing the reimagined basketball courts — known as The Yard — at Regent Park, only five blocks from where she grew up.
"And my best friend, Savannah, lived five blocks away in the other direction," LaPlante notes. "That was kind of our central meeting point when it came to hanging out.
"We have so many little memories from spending time there. I didn't realize that it meant so much to me. Doing the mural gave me closure, in a sense, because it related so much to my teenage-hood or my young-woman-hood. Now I'm just going into my adulthood."
LaPlante, 23, is in her fourth year of working toward a fine arts degree at the First Nations University of Canada.
Previously, she attended Thom Collegiate and played basketball for the high school's iconic team, the Trojans.
Although she no longer plays the sport at a competitive level, the link to basketball is in some ways stronger than ever.

That became clear in September, when The Yard was unveiled. It is part of the Buckets & Borders initiative, which is designed to improve communities and bring people together.

The scope of the program goes beyond simply restoring long-standing outdoor basketball courts. There is an accompanying emphasis on aesthetics, which leads to the involvement and celebration of artists such as LaPlante.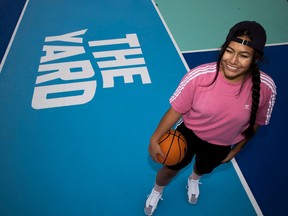 Buckets & Borders put out a call for artists earlier this year, with the submission deadline being July 22. LaPlante's application quickly impressed members of the adjudication committee.
"Brianna quickly became a part of the Buckets & Borders team," co-founder Justin Lee says. "Her passion for both art and basketball made her the perfect fit to be a part of the project as the chosen artist.
"Brianna's artistic ability coupled with her love of basketball and understanding of the game enabled her to create not only a beautiful art piece, but also a piece that is fluid with how the game is played.

"We're happy and grateful to have Brii as part of the Buckets & Borders team and proud of the incredible work she completed. The Yard would not be the same without Brianna LaPlante.

"Honestly, at the end of the day, we were just lucky to have someone who has such a deep love for art, basketball and her community."

LaPlante is equally proud of the association.

"When it came to applying to Buckets & Borders and their court restoration for my home community, I really liked the idea that people could quite literally experience my art through the curves and the lines that I chose," she says.
"The reason I positioned those certain circles and flowers where they are is because it's actually practice. It's so ingrained in me.

"In high school, a lot of people don't make very big cuts. They kind of just go straight to the basket, because that's the goal. But these lines are positioned in a way that if you were to follow them, they would be your great deep cuts or great round cuts.

"I was really considering how it would be to interact with the lines within the artwork."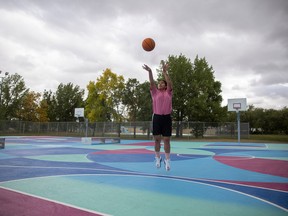 This specific artwork is different from the perspective that it is not displayed on a wall or in a gallery. It is a gigantic canvas that can be walked upon.
"I just wish I was 10 feet tall," LaPlante says with a laugh, "so I could have a better view."
So much of what she does reflects the viewpoint she has acquired to this point in her young life, with an emphasis on her Anishinaable/Nehihaw/Michif heritage.
Reflection on that journey takes her back to when she was a young girl, drawing a picture of her aunt's dog.

"I remember asking my aunt for an eraser," LaPlante says. "Auntie Jena said, 'OK, here you go,' and then I said, 'When I grow up, I'm going to fix all my mistakes.'

"That was kind of the first profound story. That's when I first started drawing."

And she hasn't stopped.

"When I'm in the middle of the process, I really like being on that roll where nothing else exists," LaPlante says.

"Life is too short to not be doing what I love, and what I love is art. I get into a trance or into a zone when it comes to making my marks on a paper. Drawing is so expressive, so that's why drawing is one of my main techniques. I feel like I'm in my element."
That is where she would like to stay.

"I really want to keep meeting people," LaPlante says. "At the same time as meeting people, I want to maintain relationships through sports, through art.

"This is a great intersectional experience for me as somebody of many hats, because it brings a lot of people together. So, in a sense, I want art to take me into those places that keep bringing my people together."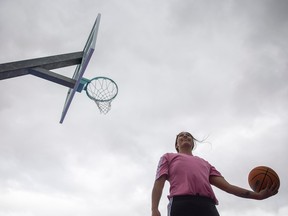 An accompanying goal is to pursue education and embrace art beyond the receipt of her first university diploma. A longer-term goal is to pursue a master's degree and eventually teach.
"I will never stop learning for the rest of my life," LaPlante says. "I guess being a life-long learner means that I will also want to be a life-long teacher."
Would it logically follow, then, that she would like to become an art teacher?

"I hope so," she responds. "I just want to pass on the things that I'm good at, because I started somewhere with people who took time with me.

"Art is so indivisible from the Indigenous culture. I kind of feel that way towards my art. I never really woke up and decided 'I want to be an artist.' I always drew. I always emulated what I saw in front of me. I emulated what I wanted to see in front of me.

"There was no 'aha!' moment. It was always part of my life."

And it always will be.
Welland task force taking lead on public art inventory
There are close to 70 pieces of public art in Welland, half of them in the downtown area.
James Takeo, a member of the city's arts and culture committee and tattoo artist by trade, is taking the lead on a recently struck task force that will collect an inventory of the city's outdoor art displays.
There were close to 30 murals created during an arts festival in the late 1980s and early 1990s, some of which have been removed or painted over for various reasons. Many are also in poor condition.
There are canoes and sculptures on municipal property, but also many other pieces Takeo is adding to his list, "regardless of ownership," he said.
They can be on private property in "fully accessible public view," he said.
Takeo has created a map of where all the public art pieces are located.
In the city's arts and culture policy, there is mention of a public art review team, but a task force is more appropriate because it's "more about action," he said.
The Festival of Arts murals have been a hot topic in Welland over the past month, a conversation ignited by the "Towpaths" mural on the side of a now-demolished former hotel on Niagara Street. The local arts community pushed for it to be saved when the building was to be razed, but a plan did not materialize after the city said it would be too costly to relocate or preserve.
An exhibit of the city's murals at Welland Museum started earlier this month and continues until the end of the year.
One example of public art that was created recently is a graffiti wall in an alley next to the former RBC building on East Main Street.
"That entire wall has been painted, and I'm not sure everyone realizes that," Takeo said.
Bell utility box murals are also making the list, as is a beaver sculpture at the downtown transit terminal.
One observation Takeo has made while compiling the list is that there has been a historical trend with public art — in that it's not done as a "one off" and that there are many projects involving "multiple versions," he said, referring to the murals, Bell boxes and canoes.
"We have a lot of public art in the city," said Takeo.
"It shows the community has a lot of passion for its own culture and heritage."
Takeo expects his report, when complete, will be brought to the committee, and make its way to municipal staff and then city council.
He said "any and all options should be considered" when considering next steps about the existing art.
Takeo also hopes his report and the work of the task force will address years to come.
"I want to ensure any future projects are properly planned for such maintenance and legacy measures," he said.