FP Answers: Is whole life insurance a good investment? If so, in what circumstances?
If you have a large or complicated estate, it pays to take a look at insurance, experts say
By Julie Cazzin and Allan Norman
Q: "My wife and I are both 50 and have two kids. Our household income is about $200,000 a year, evenly split between my wife and I. I'd like to leave a large inheritance to my two kids. Is it ever a good idea to buy a whole life insurance policy as an investment vehicle? Why or why not? And if not, what would be a better option? — Alejandro
FP Answers: Whole life insurance can be a controversial product, but its two main features, tax-sheltered growth, and a tax-free death benefit, make it worth considering when you're doing estate planning, or when looking for another tax shelter after maximizing your registered retirement savings plans (RRSPs) and tax-free savings accounts (TFSAs).
Integrating whole life insurance into a plan is unique to everyone and there are many different ways to leverage the value of a policy, but that's a topic for a different article. Your questions here are whether whole life insurance is a good investment and what are the alternatives if you want to leave a large inheritance to your children?
In the accompanying table, I've summarized the projections of a $1-million, joint last-to-die, whole life policy with a monthly premium of $1,850. With your expressed interest in inheritance, focus on the figures in the death benefit column. Notice the longer you live, the lower the projected return.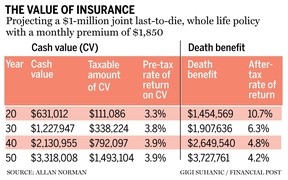 At year 40, or when both you and your wife turn age 90, the whole life policy is projected to give you an average annual after-tax return of 4.8 percent. Keep in mind this is not guaranteed. The projected values and returns will be different, but the results shown are based on current rates.
By comparison, current five-year guaranteed investment certificates (GIC) rates are sitting at five per cent. Forgetting tax for a minute, investing the $1,850 monthly premium into a GIC over 40 years will grow to $2,755,651. If you factor in a marginal tax rate of 40 per cent, the GIC investment would only grow to $1,701,891, about $1 million less than insurance. Does that make whole life insurance a good investment?
Conservative, or GIC investors, may see insurance as a good investment while aggressive equity investors may not. Equity investors have the option of trying to enhance their returns on whole life by setting up a line of credit against the policy's cash value once it reaches about $50,000, and investing the borrowed money into the stock market.

Sometimes, there isn't an alternative to whole life for inheritance purposes, or it takes time to create an alternative. What insurance, term or whole life, excels at is providing an immediate estate value — or inheritance value — for your children. I don't know of any alternatives that can do that.

You can create alternatives to whole life insurance if you have the time and the ability to save and invest money. These alternatives combine term insurance with investment and/or debt-reducing strategies. Term insurance is put in place to provide the immediate estate value and buy you time to grow your investments to the point where the insurance is no longer required.
Probably the best investment for estate planning purposes are tax-free savings accounts (TFSAs), which provide tax-free growth, avoid probate with a named beneficiary and pass to your children essentially tax free. The equity in your principal residence is another tremendous tax shelter that can be passed onto your kids minus any provincial probate fees.

There is always a risk when creating alternatives that by combining term and investing strategy you won't save enough, you'll spend your money yourselves, the markets may crash the day you die, you have a new spouse later in life and so forth. Insurance is called insurance for a reason.
Another alternative to consider is gifting money to your children before you die. You can add money to their registered retirement savings plans (RRSPs), TFSAs, registered education savings plans (RESPs), mortgages or simply take them on family vacations.

Decide what's important to you about leaving money to your children when you die. What benefits would come to you and your children if you gifted them money earlier in their lives?

Whole life insurance can also be used as an investment vehicle to create and maintain an estate's value. But I find that its tax advantages more often make it more useful once a large estate has been created through investing, multiple real estate holdings, corporate success, farming and other investments. If you have a large or complicated estate, it pays to take a look at insurance.
Allan Norman provides fee only certified financial planning services through Atlantis Financial Inc. Allan is also registered as an investment advisor with Aligned Capital Partners Inc. He can be reached at www.atlantisfinancial.ca or alnorman@atlantisfinancial.ca. This commentary is provided as a general source of information and is not intended to be personalized investment advice.
_Share this article in your social network
Record investment in MB highways in store for 2023 – DiscoverWestman.com
MLA for Turtle Mountain, Doyle Piwniuk, says he's looking forward the New Year as one full of accomplishments.
"I'm very optimistic, we have a very big year going forward provincially," he explains. "We're looking at economic development, reconstructing of more highways, like Hwy 23 in the region, and we have more highways to fix. Going forward in 2023 there will be a record investment in our highways."
"It's also going to be a good year for the Turtle Mountains area too because of the opportunities at the International Peace Garden and the economic development in the different communities. I believe we are going to have a very bright 2023," adds Piwniuk.
"On behalf of my family to your family, I want to wish you a very merry Christmas and a happy New Year," he shares. "And, any time you want to get ahold of me please contact info@dolyepiwniuk.ca or you can call our number at 204-552-0130."
Choose Your Investment Guru Wisely – Forbes
If you want to learn how to play tennis, it makes more sense to take the Masterclass from Serena Williams than to watch a random infomercial or a video from your high school coach. If you want to learn about investing you should also seek out the best.
Warren Buffett is verifiably the best investor of all time, with an audited track record going back several decades. Why, then, do so many would-be investors choose other role models, who all too often turn out to be hucksters and hacks—or just plain misguided?
I've asked the question many times. I've posed it to my NYU finance students each semester for over 20 years. Still, there's no satisfying answer. I could hardly believe it when Bloomberg reported that Caroline Ellison of Alameda, FTX, and crypto infamy (and the former girlfriend of Sam Bankman-Fried) had supposedly learned investment strategies from Edwin Lefèvre's Reminiscences of a Stock Operator, a roman à clef based on the life of Jesse Livermore, the stock trader who made a fortune shorting stocks before the 1906 San Francisco earthquake.
I've heard other young stock enthusiasts cite the book before. In 2021, Business Insider published a profile of 20 ambitious teen traders. One even mentioned Reminiscences as a favorite book. It's one thing to read this book as entertainment. It's another thing entirely to read it as an instruction manual. That's because the book was published in 1923—long before Jesse Livermore's last act.
At the age of 14, young Livermore had his first job posting stock quotes at the Boston branch of Paine Webber. His colorful life makes for great artistic inspiration and Lefèvre was probably unable to resist the allure. Livermore made and lost his fortune many times, not a sign of a good investor but rather the clear profile of a gambler and speculator. Livermore was a flamboyant character. He had a railcar, yacht and an extravagant apartment on the Upper West Side. He belonged to exclusive clubs and kept many mistresses. In the panic of 1907, Livermore made a million dollars in a single day. This was real money back then. But by 1915 he had filed for bankruptcy—and not for the first time. In the end, he lost his entire fortune and filed for bankruptcy a third time. This was in 1934, when his assets were listed at $84,000 and his debts at $2.5 million. That was his final business act. His final personal act was to shoot himself to death in the cloakroom of the Sherry-Netherland hotel in Manhattan on Thanksgiving Day, 1940.
In an era where people get their news from TikTok and Instagram, it's not surprising that they would take the same dumb approach to learning about investing. But if you ever base your investment technique on a novel, be sure you know the ending of the real story first.
Government of Canada announces investment in three Waterloo Region tech businesses – ITBusiness.ca
Today, the Federal Economic Development Agency for Southern Ontario (FedDev Ontario) announced an investment of more than $10 million in three Kitchener-Waterloo tech companies.
Miovision Technologies is a Kitchener-based company that lets cities and towns reduce traffic congestion and vehicle emissions while improving public safety through intelligent transportation solutions. With the $7.4-million repayable investment through the Jobs and Growth Fund, Miovision will develop TrafficLink and Scout, its traffic monitoring hardware and software. It also plans to increase its network by up to 100,000 intersections in North America over the next four years, and will further its transition into "Smart City" technologies, expanding its presence globally and adding 58 jobs,
Advanced Electrophoresis Solutions Ltd. is a Cambridge medical technology manufacturer specializing in the development of testing instruments for pharmaceutical companies to analyze protein structures and interactions. The repayable investment of over $1.7 million, through the Business Scale-up and Productivity stream, will allow the company to increase the production of ready-to-use customized testing instruments, and grow its sales and marketing team. Advanced Electrophoresis Solutions is looking to expand its presence in Asia and Europe while also creating 11 additional jobs within Waterloo.
Huron Digital Pathology is a St. Jacobs-based medical equipment company that develops digital imaging solutions in the pathology field for the clinical, research and education markets. With the $1-million repayable investment through the Business Scale-up and Productivity stream, the company can increase the production of its digital pathology scanners. It hopes to revolutionize disease diagnosis by being the first company to bring to market an Artificial Intelligence (AI) enabled image search engine for use in the pathology field. Huron Digital Pathology is looking to increase its productivity. with the goal of producing over 100 scanners every year and creating 11 skilled jobs.
"Tech companies, like the three highlighted today, are what builds Waterloo region's growing resumé of research and innovation. Canadian tech companies work tirelessly to bring new products and processes to markets that will benefit our regional economy and Canadians," said The Honourable Filomena Tassi, Minister responsible for the Federal Economic Development Agency for Southern Ontario. "The Government of Canada is committed to supporting businesses as they adopt new digital solutions, enhance global competitiveness and create local jobs that will contribute to a growing economy that works for everyone."