Free online 'threat blocker' launched in Canada as successful COVID-19 scams multiply – CBC.ca
As the number of successful pandemic-related scams continues to grow online, Canada's cyber spy agency is helping to launch a new — and free — threat-blocking tool for all Canadians to use.
This first-of-its-kind initiative is getting tentative applause in cyber security circles, but experts caution the initiative needs to be closely watched to make sure it doesn't cross any red lines.
The Canadian Internet Registration Authority (CIRA, the not-for-profit agency that manages the .ca internet domain) and the Communications Security Establishment, Canada's foreign signals intelligence agency, teamed up on the CIRA Canadian Shield — a protected domain name system (DNS) service that prevents Canadians from connecting to malicious websites that might infect their devices and steal their personal information.
CIRA is providing the threat blocking technology while the CSE's Canadian Centre for Cyber Security is offering its threat intelligence services — basically a who's-who list of every bad actor roaming the web.
"For any piece of malicious software to get to you, 90 per cent of it relies on knowing the address book of the internet," said Scott Jones, head of the cyber security centre.
"What we do is when we know it's malicious, CIRA makes sure that you don't get told to go to the bad address. It stops you from getting to the bad place."
The two agencies were working on the project long before the pandemic struck, said Jones, but the current global emergency makes it more relevant because large numbers of Canadians are now working from home, often on unsecured networks or devices.
"We're not just feeding in information about malicious attacks that are COVID-related. We're feeding in anything we see from any criminal activity that's targeting the government, or that we're getting made aware of. Any state-sponsored type activity as well that we can block, we're putting it in there," he said.
"Basically, anything we're using to defend the government of Canada we're now making available for all Canadians, so that they can protect themselves."
Project should be audited for censorship: researcher
Christopher Parsons, a senior research associate at the Citizen Lab through the Munk School of Global Affairs and Public Policy, said the electronic spy agency has made progress in stepping out of the shadows.
"This represents to my eye a continuation of that effort, to take what is often sort of secret or classified information, turn it into a way that could be made publicly available and then trying to make it more useful to Canadians," he said.
Parsons said that even if all those involved in the project are driven by good intentions, it should be audited and tested to make sure it's not accidentally blocking Canadians from accessing safe sites.
"It'll be important to assess and evaluate and ensure that the items that are being provided to CIRA from the government are in fact appropriate to block," he said.
"I don't think that it's likely that the cyber centre is, you know, going to secretly use this to build a censorship networking path. I truly cannot see that happening, but mistakes could happen."
Jones stressed the agency is collecting only anonymized statistics about how frequently the Canadian Shield blocked web addresses on its threat list.
"Nothing about Canadians as individual users. We get nothing about their usage patterns," he said.
While the CSE collects a wide array of foreign communications related to Canada's interests — including phone calls and emails — its mandate restricts its ability to collect data on Canadians. Given the sensitive nature of its activities, it's monitored by an independent watchdog group — which has reprimanded the agency over its metadata collection practices in the past.
As the Canadian operator of the threat-blocker, CIRA would have to comply with Canadian privacy laws, including the Personal Information Protection and Electronic Documents Act.
Wesley Wark, a University of Ottawa security and intelligence expert, said the project could do a lot of good — but attention should still be paid to the anonymized data it collects.
"The CIRA cyber shield is a new public initiative, so it certainly deserves scrutiny," he said.
"Anonymization might be the most sensitive issue. [Data] anonymization is a tricky business, as CSE itself knows. It can fail and if it did, it might have impacts on privacy.
"If the Canadian Shield system functions properly, it could make a significant contribution to internet security while at the same time protecting privacy."
CIRA spokesperson Spencer Callaghan said the authority has committed to a full annual privacy audit by a third-party auditor.
The rollout comes as the cyber agency is reporting more successful attempts at online fraud linked to the pandemic.
Jones said the agency has helped to take down more than 2,000 fraudulent sites and email addresses designed specifically for malicious cyber activity since the crisis began.
Some fraudsters have tried to fool people into clicking on malicious links promising Canada emergency response benefit (CERB) payments, while others have tried to lure Canadians with promises of personal protective equipment, treatments or cures.
"Not necessarily a rise in activity, but certainly a switch to the use of COVID-related themes as lures, which are very enticing for Canadians," said Jones.
"The same level of activity, but more successful activity because of the nature of the lure."
Canadian Dollar Price Outlook: USD/CAD Grinds Around Big Fig Support – DailyFX
Canadian Dollar, CAD, USD/CAD Price Analysis
This morning brought a Bank of Canada rate decision, this Friday's

economic calendar

brings Canadian jobs numbers to be released at the same time as US Non-Farm Payrolls.

The bank held rates, and given the change in leadership the big question is forward-looking strategy at the bank.

USD/CAD broke down from

a descending triangle formation

, and is now finding support around the 1.3500 big figure. But sellers haven't yet been able to establish any significant trends around that support, leading to the prospect of short-term pullback.
BoC Leaves Rates Flat, USD/CAD Remains Around 1.3500
Earlier this morning we heard from the Bank of Canada as the BoC left rates flat; but the prospect of change in leadership atop the BoC does highlight potential changes in the future after outgoing Bank of Canada Governor Stephen Poloz had previously stated that rates were as low as they could go. Taking over at the bank this week is Tiff Macklem, and as noted by our own Thomas Westwater earlier today, this morning's statement likely had little input from the newly-installed BoC Governor. This does, however, point to the possibility of change on the horizon given how aggressively the coronavirus slowdown has hit global economies.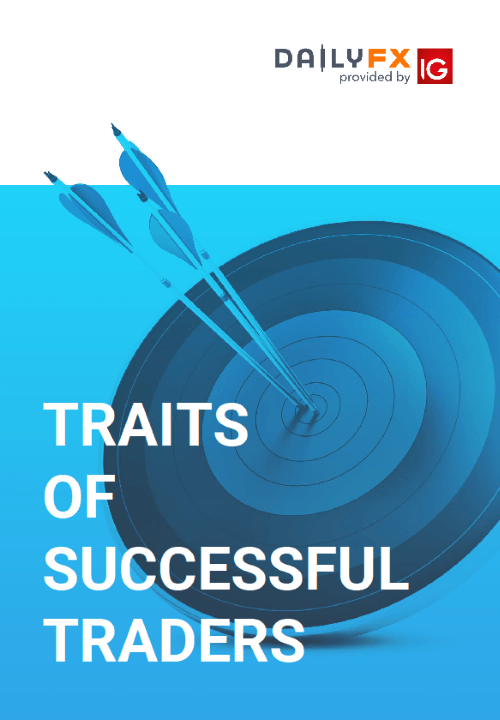 Recommended by James Stanley
Traits of Successful Traders
In USD/CAD, the pair has largely clung on to support around this rate decision, temporarily testing below the big figure of 1.3500 but, so far, failing to establish any continued bearish trends below that level. And this comes on the heels of an earlier-week breakdown, as USD/CAD had built into a descending triangle formation, with a series of lower-highs from late-March into mid-May, combined with horizontal support around the 1.3850 area on the chart.
USD/CAD Four-Hour Price Chart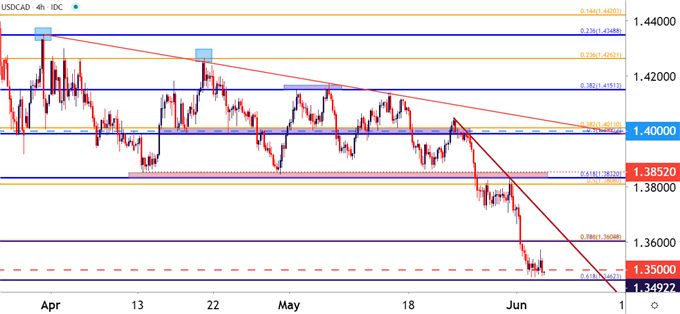 Chart prepared by James Stanley; USDCAD on Tradingview
Can USD/CAD Bears Drive Through Psychological Support?
Of recent, commodity currencies have been on a tear against the US Dollar, USD/CAD included. AUD/USD has been on a similar display of recent and the same can be said for NZD/USD.
The trouble at this point for USD/CAD bears is the fact that the short-side move is already fairly well-developed; and prices are showing continued support around the 1.3500 big figure. Can USD/CAD bring sellers in at sub-1.3500 prices to continue pushing lower? Or, will the pair need a retracement first before continuing that bearish trend?
USD/CAD
BEARISH
Data provided by



of clients are net long.


of clients are net short.
| | | | |
| --- | --- | --- | --- |
| Change in | Longs | Shorts | OI |
| Daily | -2% | -5% | -3% |
| Weekly | -9% | -13% | -10% |
On the chart is a nearby area of interest for resistance potential. As looked at in yesterday's webinar, the space around the 1.3600 area seems especially interesting, as there are two very recent Fibonacci levels within close proximity of each other. This is the 61.8% retracement of the 2020 major move, and the 78.6% retracement of the March major move. At this point, that zone hasn't yet been tested for resistance and a show of sellers here could re-open the door for bearish continuation strategies in the pair.
USD/CAD Hourly Price Chart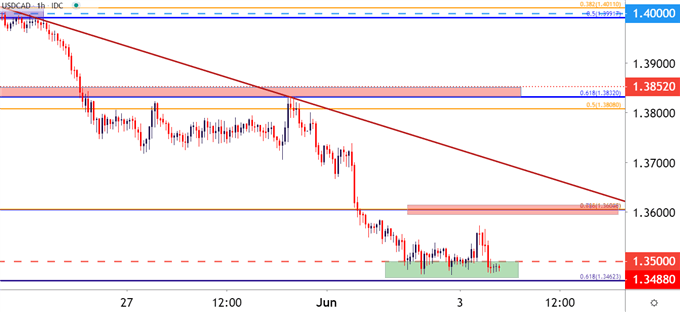 Chart prepared by James Stanley; USDCAD on Tradingview
— Written by James Stanley, Strategist for DailyFX.com
Contact and follow James on Twitter: @JStanleyFX
Canadian trade plummets amid global shutdowns – BNNBloomberg.ca
Canadian exports and imports plunged by the most ever in April amid a shutdown of global trade.
Exports plunged 30 per cent during the month, more than offsetting a 25 per cent drop in imports. The nation's trade deficit widened to $3.3 billion ($2.4 billion), from $1.5 billion in March. The median estimate of economists surveyed by Bloomberg had called for a $3 billion shortfall.
The report illustrates the extent to which global trade has collapsed amid pandemic-related lockdowns and travel restrictions. In Canada's case, the economy is facing a double whammy from the pandemic and tanking oil prices. Combined imports and exports at $68.6 billion were the lowest since 2010.
Energy exports dropped 44 per cent in April, as the value of crude oil shipments fell 55 per cent on lower prices and lower volumes due to weaker global demand.
In volume terms, total exports were down 20 per cent in April, with imports falling 25 per cent.
–-With assistance from Erik Hertzberg.
The biggest banks in Canada are seeing a surge in energy loans – BNNBloomberg.ca
Canadian banks' exposure to oil-and-gas loans has surged to a record as energy firms tapped credit lines to combat plunging oil prices.
Energy loans at the country's six largest lenders jumped 23 per cent to $71.6 billion (US$52.9 billion) in their fiscal second quarter from the prior period, disclosures show. Toronto-Dominion Bank had the largest increase at 29 per cent, while Bank of Nova Scotia remained the biggest lender with $21.6 billion in loans.
The banks' rising exposure comes as impaired energy loans almost doubled, topping $2 billion. Energy firms have been hard hit this year as global oil prices plummeted, with some grades even briefly turning negative in April as measures to combat the spread of the coronavirus hammered worldwide demand.
"We're clearly seeing the impact of price wars and supply-demand considerations, storage considerations beginning to play havoc on some producers," Toronto-Dominion Chief Financial Officer Riaz Ahmed said in a May 28 interview. "In the last few weeks we're watching prices recover with some degree of hope that things will continue to get better here."
Royal Bank of Canada
$9.4 billion
1.30%
Toronto-Dominion Bank
$12.2 billion
1.60%
Bank of Nova Scotia
$21.6 billion
3.30%
Bank of Montreal
$15.0 billion
3.00%
Canadian Imperial Bank of Commerce
$10.5 billion
2.50%
National Bank of Canada
$2.9 billion
1.80%
With the price plunge making much of their output unprofitable, Canadian oil and gas producers have taken steps to conserve cash. They've reduced production, cut operating costs, slashed at least $8.5 billion in planned capital spending and tapped credit lines to help them weather the downturn.
Those drawdowns were the main reason for the 22 per cent increase in energy lending at Royal Bank of Canada, according to CFO Rod Bolger.
"The growth was driven by higher draws on existing facilities and we did make select new lending facilities to existing investment-grade clients where the risk-return was appropriate given the low oil prices," Bolger said in a May 27 interview.
Signs of Stress
Most of Royal Bank's exposure is to exploration and production companies and loans are secured by the value of proven and producing reserves, Bolger said. Still, the Toronto-based lender had the highest gross impaired loans among the Canadian banks, at $664 million.
Bank of Montreal posted the second-highest total for impaired energy loans, at $616 million.
"In our oil and gas portfolio we do have some signs of stress just given the weaker price of oil that we've seen over the last few months — it's not totally new and we're managing through it," CFO Tom Flynn said in an interview. "We've done this before as a bank and we're confident in our ability to manage through this stress that the industry is in."
Canadian Imperial Bank of Commerce CFO Hratch Panossian said he is seeing more downgrades and impairments in the oil-and-gas sector, reflecting price weakness, but called the bank's energy portfolio "relatively stable".
"Only about half of it is in the exploration and production space and our clients do have some hedging as well that protects them in the short term," Panossian said in a May 28 interview. "We remain comfortable with the space. Our clients are strong and managing through this and we're committed to continuing to support them."
Scotiabank's Chief Risk Officer Daniel Moore said on a May 26 earnings call that exploration and production and oilfield services — which are most sensitive to weakness in oil prices — account for 1.7 per cent of total loans. More than 40 per cent of those energy loans are investment grade and the majority of non-investment grade exposure is to secure reserve-based loans or sovereign-controlled entities, he said.
While bank figures show increased borrowing, many producers are seeing the total amount of credit available reduced. That's particularly true of producers' reserve-based credit lines, which are tied to the value of their oil-and-gas reserves and are adjusted regularly to account for current prices.
This year's first adjustment period, known as redetermination, is going on now, and early results show banks have been shrinking those credit lines in response to falling prices.
At least five Canadian oil-and-gas producers have announced results of their redeterminations, and all have had their credit lines cut. Notably, oil-sands producer Athabasca Oil Corp. had its credit facility reduced by 65 per cent to $42 million, while natural gas driller NuVista Energy Ltd. saw its line cut by 14 per cent to $475 million.
At least seven producers have extended the date on their redetermination processes to June 30 because of volatile prices. Five of those have had their available credit reduced on an interim basis before the final evaluation is competed.
"The best-case scenario for our junior E&P companies this year is likely a small reduction in credit capacity, a slightly higher cost to borrow, and the ability to continue to act autonomously from the influence of its banks," Stifel FirstEnergy analyst Cody Kwong said in a note.