Gabby Petito, and the social media craze that helped police find her body – Globalnews.ca
The disappearance and almost-certain death of Gabby Petito and the police hunt for her boyfriend have generated a whirlwind online, with a multitude of armchair detectives and others sharing tips, possible sightings and theories by way of TikTok, Instagram and YouTube.
Whether the frenzy of attention and internet sleuthing has helped the investigation is not clear, but it has illuminated the intersection between social media and the public's fascination with true-crime stories.
Months before her disappearance drew more than a half-billion views on TikTok, Petito, 22, and 23-year-old boyfriend Brian Laundrie set out from Florida on a cross-country road trip over the summer in a van she decorated boho-chic style.
They documented their adventure on video and invited social media users to follow along on the journey, sharing scenes of a seemingly happy couple cartwheeling on a beach, hiking on mountain trails and camping in the Utah desert.
But they quarrelled along the way, and Laundrie returned home alone in the van in September. Over the weekend, a body believed to be Petito's was discovered at the edge of Grand Teton National Park in Wyoming. Investigators have not said how she died but have identified the now-missing Laundrie as a person of interest.
Social media users have been fascinated by the case and have been poring over the wealth of online video and photos for clues.
"A lot of it has to do with the cross-country journey they were documenting, going on social media on this grand adventure," said Joseph Scott Morgan, a Jacksonville State University professor of forensics and an authority on high-profile murder cases. And he added: "They are young, they are attractive people."

2:08


Gabby Petito investigation: FBI search family home of Brian Laundrie for evidence of disappearances



Another source of fascination: a police bodycam video, released last week, showing the couple after they were pulled over in August in Moab, Utah, where the van was seen speeding and hitting a curb. They had gotten into a fight, and Petito was in tears, with Laundrie saying tension had been building between them because they had been traveling together for months.
Theories and observations picked up steam on Reddit, Instagram, YouTube, Facebook, TikTok and Twitter.
Users have delved into Petito's Spotify music playlists, Laundrie's reading habits and the couple's digitally bookmarked trails. A TikTok user reported having picked up Laundrie hitchhiking.
And a couple who document their bus travels on YouTube said they went through some of their video footage from near Grand Teton and spotted what they said was the couple's white van. They posted an image of it with a big red arrow pointing to it and the words, "We found Gabby Petito's van." They said that was what led investigators to the area where the body was found.
The FBI has not specified what led to the discovery or said whether other tips from internet sleuths have helped.
Michael Alcazar, a retired New York City detective and professor at the John Jay College of Criminal Justice, said that Petito's Instagram account gave investigators places to start and that social media became a rich source of tips.
"Instagram is kind of like the photo on the milk carton, except it reaches so many people quickly," he said.
On the other hand, some users have spread misinformation, reporting potential sightings of Petito and Laundrie that turned out to be wrong.

0:45


Gabby Petito disappearance: Police find body "consistent with" Petito in Wyoming



Hannah Matthews, a TikTok user from Salt Lake City, admitted becoming obsessed with the case, saying she identified with Petito and felt that could have been her. She has made 14 short videos detailing theories of what could have gone wrong and providing updates on the case. One of them suggests Petito did not write one of her Instagram posts. It has gotten nearly 2 million views.
"It just seemed like an odd case from the beginning and after doing more research and (collaborating) with other people on social media, the case just kept growing and having twists and turns," she said.
As of Tuesday, the hashtag #gabbypetito had received more than 650 million views on TikTok. By way of comparison, #FreeBritney posts about pop star Britney Spears' bid to end her conservatorship had gotten 1.9 billion views.
"There's a lot of different complicated reasons that people are drawn to it, and it's not all sinister or malicious or creepy," said Kelli Boling, a professor of advertising and public relations at the University of Nebraska-Lincoln who has studied audience reception to true-crime podcasts.
She said those fascinated by such cases are sometimes domestic-violence victims who find that such material can help them deal with their own experiences.
"Some people are really drawn to it from a place of healing, or from a place of wanting to find justice for the young lady," Boling said.
While expressing sympathy for Petito, some have detected what they see as a racial double standard, complaining that the media and online sleuths are heavily invested in this case because she is young and white.
"There are a lot of women of colour, and especially immigrants, this happens to all the time, and we never hear about it," said Alex Piquero, a criminologist at the University of Miami.

2:42


Gabby Petito disappearance: Family pleads for Laundrie to speak as nationwide search continues



In the same state where Petito was found, at least 710 Native Americans were reported missing between 2011 and late 2020.
Also, an LGBT couple who lived in a van were reported missing and later found shot to death at a campsite near Moab, not long after Petito and her boyfriend were stopped by police there. The deaths of Kylen Schulte and Crystal Turner generated some media coverage but nothing like the Petito case.
The case also came at a time when interest in cross-country travel, especially in vans or recreational vehicles, is at a high, perhaps as a reaction to the isolation forced on people by the COVID-19 outbreak. The couple's plans sounded like something out of a romantic movie gone terrible awry, Piquero said.
"It has this whole air of intrigue," he said. "People have a real fantasy about being able to solve crimes."
___
Whitehurst reported from Salt Lake City. Associated Press writers Barbara Ortutay in San Francisco and Mike Schneider in Orlando, Florida, contributed to this report.
© 2021 The Canadian Press
Facebook, YouTube take down Bolsonaro video over false vaccine claim
Facebook and YouTube have removed from their platforms a video by Brazilian President Jair Bolsonaro in which the far-right leader made a false claim that COVID-19 vaccines were linked with developing AIDS.
Both Facebook and Alphabet Inc's YouTube said the video, which was recorded on Thursday, violated their policies.
"Our policies don't allow claims that COVID-19 vaccines kill or seriously harm people," a Facebook spokesperson said in a statement on Monday.
YouTube confirmed that it had taken the same step later in the day.
"We removed a video from Jair Bolsonaro's channel for violating our medical disinformation policy regarding COVID-19 for alleging that vaccines don't reduce the risk of contracting the disease and that they cause other infectious diseases," YouTube said in a statement.
According to the Joint United Nations Programme on HIV and AIDS (UNAIDS), COVID-19 vaccines approved by health regulators are safe for most people, including those living with HIV, the virus that causes acquired immunodeficiency syndrome, known as AIDS.
Bolsonaro's office did not respond immediately to a request for comment outside normal hours.
In July, YouTube removed videos from Bolsonaro's official channel in which he recommended using hydroxychloroquine and ivermectin against COVID-19, despite scientific proof that these drugs are not effective in treating the disease.
Since then, Bolsonaro has avoided naming both drugs on his live broadcasts, saying the videos could be removed and advocating "early treatment" in general for COVID-19.
Bolsonaro, who tested positive for the coronavirus in July last year, had credited his taking hydroxychloroquine, an anti-malarial drug, for his mild symptoms. While Bolsonaro himself last January said that he wouldn't take any COVID-19 vaccine, he did vow to quickly inoculate all Brazilians.
In addition to removing the video, YouTube has suspended Bolsonaro for seven days, national newspapers O Estado de S. Paulo and O Globo reported, citing a source familiar with the matter.
YouTube did not respond to a separate Reuters request for comment regarding the suspension on Monday night.
(Reporting by Pedro Fonseca in Rio de Janeiro; Additional reporting by Gram Slattery in Rio de Janeiro and Anthony Boadle in Brasilia; Writing by Gabriel Araujo; Editing by Leslie Adler)
Somali drama wins Pan-African film festival grand prize
Somalia's entry "The Gravedigger's Wife" by Finish-Somali writer-director Khadar Ayderus Ahmed won the prestigious Stallion of Yennenga grand prize for best film at the Pan-African film festival in Ouagadougou, Burkina Faso, on Sunday.
The poignant drama about a gravedigger's struggles to raise money to pay for his wife's surgery, took home the 20 million franc CFA ($35,714) prize money and the golden stallion statue.
The film, which was Somalia's first official entry for the Best International Feature Film category at the 2021 Academy Awards, premiered at the Cannes Film Festival in July.
Ahmed, who was not in Ouagadougou to collect his prize, has previously said the film was inspired by incidents that happened in his family.
Mauritanian film director Abderrahmane Sissako, who chaired the jury for the 17 feature films in the competition, told Reuters that it was a courageous movie from a country which does not make a lot of films. "So when there is a film such as this one from there, it should be encouraged."
"It is a beautiful film that tells a story with humanity. It is a love story also," Sissako said after the ceremony presided over Presidents Macky Sall of Senegal and Roch Marc Kabore of Burkina Faso.
The Pan-African Film and Television Festival of Ouagadougou, known as Fespaco, is the largest biannual meeting of African cinema which attracts international and African cinema and television professionals from the continent and the diaspora to the Burkinabe capital.
This 27th edition was postponed by nearly eight months to Oct. 16-23, 2021, due to the COVID-19 pandemic and security challenges the country is facing.
($1 = 560.0000 CFA francs)
(Reporting by Anne Mimault and Thiam Ndiaga; Writing by Bate Felix; Editing by Daniel Wallis)
Media Literacy Week – The Manitoba Teachers' Society – The Manitoba Teachers' Society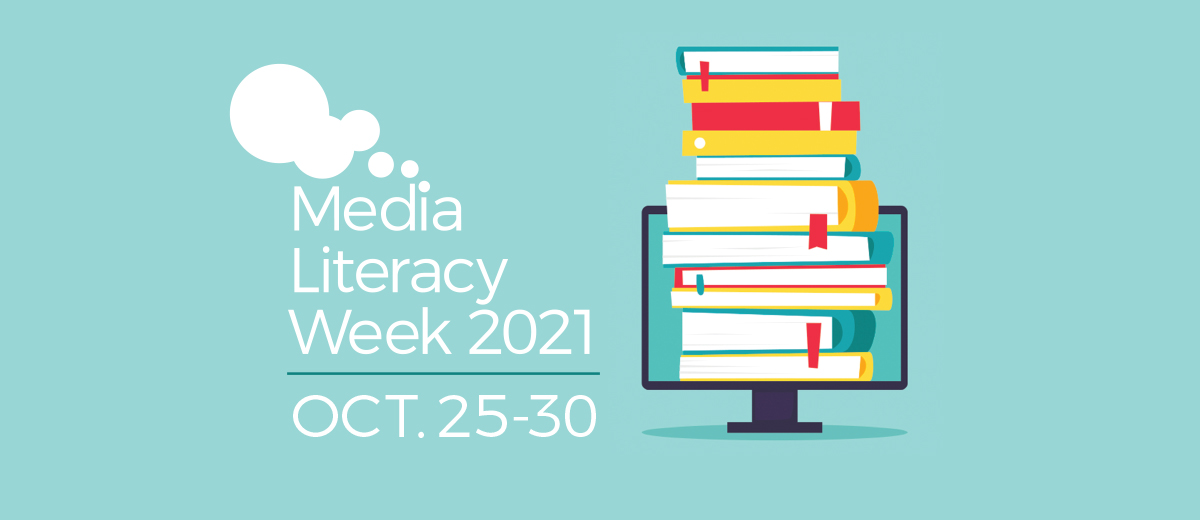 October 25, 2021
---
Be Media Smart
Media Literacy Week Oct.25 to 30
According to a Statistics Canada poll (Canadian Perspectives Survey Series, conducted from Sept. 14 to Sept. 20, 2020) four in 10 Canadians were spending more time on social media and messaging services (41 per cent) since the onset of the pandemic.
Young Canadians aged 15 to 34 (57 per cent) were most likely to have increased their use of social media and messaging services.
As a result, this year's Media Literacy Week aims to put the spotlight on the essential digital literacy skills needed by today's digital citizens.
Hosted by MediaSmarts, Canada's centre for digital and media literacy, the annual event invites all Canadians – teachers, students, seniors, community groups, libraries and museums – to celebrate by engaging in digital media literacy activities.
To celebrate the week, MediaSmarts has also created five themed days with free resources anyone can use and a Media Literacy Week Teachers' Hub with curated lessons and activities for students from kindergarten to Grade 12.
MediaSmarts is also hosting A Conversation About Researching Digital Media Literacy in Canada, which will bring together academics to discuss researching digital media literacy in Canada on Thursday, October 28 at 12:30 p.m. EST.
Media Literacy Week is run in partnership with the Canadian Teachers' Federation (CTF/FCE) and the Canadian Commission for UNESCO (CCUNESCO).
Canada's 16th annual Media Literacy Week runs from Oct. 25 to 30.