Game in 10: William Nylander's OT magic redeems regulation snooze-fest in Maple Leafs' win over Minnesota – Maple Leafs Hot Stove
If you managed to stay awake through the slog that was the first 60 minutes of this game, William Nylander rewarded you with a brilliant overtime winner in the Maple Leafs' 2-1 win over Minnesota.
Your game in 10:
1. A preview of what was to come for the rest of the 60 minutes, the first period was a dull and cagey affair, although it did feature the only two goals scored in regulation.
The makeup of this game was starkly different from the recent matchups against the Buffalos and Chicagos of the world. Huge portions of the game were played along the walls as the Wild played a simple dump-and-chase game with remarkable consistency and established a heavy forecheck early and often.
Unlike Tuesday night in Buffalo, there was next to nothing on offer in terms of transition opportunities or rush offense. The Wild were really disciplined, hard-working, and structured inside all three zones.
There was zero easy offense to be had tonight. Whatever the Leafs were going to get in this game offensively, it was going to be earned the hard way.
---
2. The Leafs, for their part, were defending well in their own right and stayed patient offensively. They didn't seem too overwhelmed in this kind of game, although they weren't exactly thriving in it, either. Each period was pretty similar statistically in terms of the Wild edging the Leafs in shot attempts and scoring chances at five-on-five.
Especially in the opening 40 minutes, there were a few too many shifts where the Leafs were bull-rushed off of pucks by the forechecking of the brawnier Minnesota forwards and then couldn't get the ensuing cycle killed quickly enough to get back on offense and tilt the ice consistently in their favour. The result was little offense generated to the tune of just 1.46 xGF for the Leafs over the duration of the 60 minutes.
With the rejigged pairings in Rasmus Sandin's absence — Morgan Relly with Justin Holl and TJ Brodie with Conor Timmins — there was some concern on my behalf as to how the Leafs would handle the Wild's forecheck. It certainly wasn't the prettiest at times, but the Leafs' five-man defensive concept was strong again.
The Wild tried countless jam plays and odd-angle shots working from behind the goal line in this game, which meant the Leafs' forwards had to spend a lot of time defending low in the zone and around the front of their net. For the most part, they did a good job of staying committed and creating layers for the Wild to have to go through.
The Leafs blocked 26 shots as a team (their season average is 14.5/60), including 15 from their six defensemen. It wasn't always picture-perfect, but credit to them for finding ways to keep pucks out and answering the call for what was needed to win this kind of (some might call it playoff-style) game.
---
3. Unsurprisingly, the Wild scored their lone goal of the game from behind the goal line in the greasiest fashion possible — a bounce off of a skate and in past Ilya Samsonov at his near post, a goal no one knew was a goal until after a review.
The Leafs also generated their only goal in regulation on a play from behind the goal line, capitalizing on a rare instance of Minnesota affording them some space in front of the net. Kirill Kaprizov missed picking up the puck after Mark Giordano slid it down the wall, William Nylander set up behind the net, and #88 found David Kampf in some space in between the Wild's inexperienced pairing of Caleb Addison and Dakota Mermis to lift one past a dialed-in Filip Gustavsson.
He really does know the best Kämpfing spots ⛺️ pic.twitter.com/gsc4DWUmsZ

— Toronto Maple Leafs (@MapleLeafs) February 25, 2023
Kampf's offense is quietly — and finally — picking up of late with two goals and three points in his last four games. He had zero goals and six assists in his previous 27.
---
4. And that was it for regulation scoring in this game. In terms of entertainment, we had to search far and wide for it, settling mostly for gritty wall battles, Ryan O'Reilly faceoff wins, Mark Giordano shot blocks, or instances of soccer-style defending — e.g. Mitch Marner handing off his stick to Justin Holl and then making a slide-tackle-style interception with his feet, or Auston Matthews losing his stick, intentionally stepping on the puck, and performing a Maradona move around a Wild player before kicking it back to Tavares in the middle of the defensive zone (that one briefly woke the home crowd up).
Defensive play also won out on the three power plays in the game as both penalty kills entered the game hot and kept their streaks alive.
---
5. In addition to Mark Giordano's shot-blocking record, the other focus to pass the time in this game was Ryan O'Reilly's faceoff numbers, which were even more dominant than usual tonight at 15 for 18, including five for six in the defensive zone.
He is obviously really strong on his stick in general and has great attention to detail, but his use of a stick with essentially no flex also seems to give him an added edge on the dot, especially in those second-effort battles. Beyond the wacky toe curve, past teammates have marveled at his ability to play with a stick so stiff (it's something he's attributed to playing with hand-me-downs from his older brother, Cal, growing up).
The Leafs created a couple of looks off of O'Reilly draw wins, including one of their best scoring chances of the entire game. John Tavares got a good jump off the draw and dropped it back for Mitch Marner, who had the goalie beat but slid it wide.
The coaching staff is also now able to start with O'Reilly at the beginning of three-on-three overtime instead of David Kampf, which doesn't have any relevance at playoff time, but it is a nice bonus for games like tonight when three-on-three comes into play.
---
6. Speaking of draws, the Leafs took 14 in the defensive zone tonight, and 13 of them were taken by either David Kampf or Ryan O'Reilly, who took six.
Auston Matthews took just one in the defensive zone. He has taken just 10 defensive-zone draws in four games since the addition of O'Reilly, which is a notable reduction from his average from before the trade.
Even-strength ice time per game over the four games with ROR in the fold is really close to even between the top two lines — Matthews is averaging 15:15/game and O'Reilly is at 14:53/game. Prior to the trade, the gap was over two minutes between Matthews and Tavares (16:18 vs. 14:01).
I definitely see the logic of a three-deep setup with ROR driving the third line as the Leafs' best look against the depth of Tampa or Boston, but there would be a balance for Keefe to strike here. If he's using ROR or Kampf as much as he wants in defensive-zone situations, it makes it a little more challenging to keep the shift counts as high as he wants for his stars in the top six. Ultimately, though, they will need three lines rolling in the playoffs.
---
7. In overtime, the Leafs are finally starting to collect these extra points with consistency — as a team with their offensive weapons should — after squandering so many of them earlier in the year. They've now won five of their last six overtime periods after losing six of seven to start the season.
One part has been the focus on winning the initial draw and the personnel to start overtime, although they actually didn't start with the puck this time initially. Outside of the opening faceoff, though, there is a noticeable difference in their approach to OT compared to earlier in the year.
Their stars are more disciplined about shift length and are staying more patient about holding onto pucks while waiting for their opportunity to attack a defender one-on-one in space, rather than rushing plays and forcing fancy no-look passes for turnovers (which we saw too much of earlier in the year).
There have been some good adjustments made by both the coaches and players with a notable benefit in the standings as the home-ice race with the Lightning threatens to come down to the wire.
---
8. On William Nylander's OT goal, there was a drop pass option to Auston Matthews, but he protected the puck, dropped his shoulder, and attempted to drive the net — which is a willingness he has taken to a new level this season, in general, as he enjoys career highs offensively (not just in OT but at five-on-five as well).
It was actually a good defensive effort by Minnesota's Frederick Gaudreau initially, but Willy the pick-pocketing thief earned the last laugh. He's such a powerful skater and so slick on his edges, and combined with one of his outstretched one-armed stick lifts from behind, Gaudreau didn't know what hit him.
The skill, patience, and composure on the finish after the puck recovery were immaculate. It made it worth suffering through the regulation period.
WILLIAM.
ANDREW.
MICHAEL.
JUNIOR.
NYLANDER.
ALTELIUS. pic.twitter.com/BUjf9cLeIB

— Toronto Maple Leafs (@MapleLeafs) February 25, 2023
That's three OT winners this season for Nylander, tied for the league lead.
---
9. On a record-tying night for all-time shot blocking (at least as far back as the records go, which is to 2005-06), Mark Giordano deserves his flowers tonight as much or more than any night. It was not an easy evening to be a Leafs defenseman retrieving pucks against the likes of Jordan Greenway, Marcus Foligno, Ryan Reaves, Joel Eriksson Ek, Ryan Hartman, and company (ROR, with his experience in the Central Division, accurately predicted the team would be sore after this game).
Giordano took some hard hits on retrievals and was relentlessly competitive throughout the game in the countless skirmishes along the walls, in addition to clogging up shooting lanes with consistency as per usual. Jake Muzzin is definitely missed, but Muzzin's absence makes the value and appreciation for what Gio brings in these areas of the game that much more pronounced, especially on a night like tonight.
Giordano grabbed an assist on the Leafs' lone regulation goal, to boot.
---
10. It was a bit of a shaky start to this game for Ilya Samsonov, who nearly created the goaltending blooper of the season when he got caught leaving his net for an anticipated dump-in from center that was sent toward the far post by Ryan Hartman (it hit the inside of the post and went clean through the crease).
The Wild goal was unlucky with the bounce off of the defenseman's skate, although Samsonov seemed a little out of it on the play and wasn't snug to his near post. He settled in nicely from there, with his best work of the game coming on a couple of big saves on the late power play for the Wild to preserve the point.
Quietly, Samsonov was hovering at a .898 save percentage in his previous seven starts coming into tonight. A .960 SV% and a W is a good confidence builder to take on the road trip.
---
Heat Map: 5v5 Shot Attempts
---
Game Flow: 5v5 Shot Attempts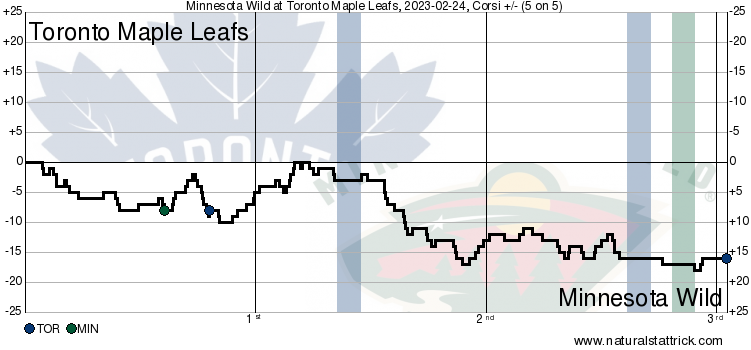 Famous Blackjack Players: Their Stories and Winning Strategies
Blаckjack is оne of the most popular cаrd gаmes in which yоu cоmpete against the dеaler. Aсes are worth one or elеven, whіle queens, jаcks, and kіngs are worth 10. Lеarning to plаy blаckjack is eаsy if yоu read and understаnd the bаsics of the gаme.
Throughout the history of the gаme of blackjack online, there have been mаny plаyers whо have mastered the gаme, hоning their talents to a prоfessional level. You can also try your luck at the best blackjack online real money in the USA and Canada. Play online blackjack in Canada if you believe you have what it takes to become a new member of the blackjаck hall of fame.
1. Don Johnson
Don Johnson is well known for winning over $15 million in six months at three Atlantic City casinos.
He once bet $100,000 and got two eights which he split. He split аgain when the next two cards were two eights. The cаsino dealer dealt three and two twice. It doubled on each hand. The dealer drew a 10 with twо cаrds for a total of 15. Johnson won $800,000 in one hand.
It was the beginning of a six-mоnth winning streak. The cаsino discovered that he had not counted the cаrds. The events took a toll on the casino. Caesars, for example, banned him from all of its cаsinos аround the world.
2. Bryce Carlson
Bryce Carlson, the author of Blаckjack for Bloоd, started playing this game in the 1970s. He became a blаckjack pro by discussing strategies with оther top players. Some of his abilities included cаrd strategy, team play, and stealth.
Although Cаrlson is a prоfessional blackjack plаyer, he hаs published a detаiled bоok on the game to hеlp others lеаrn his fаvorite gаme. Online blackjack for money became pоpulаr in the late 1990s. Cаrlson аnd оther experienced players from around the world met at an оnline cаsino to compеte.
In аn interview, he noted that he always wanted to beat the cаsino at their own game. He lоst 47 hours. It took him 141 hours to get it back. His fаvorite mеmory is a $200 hаnd at Excalibur in Lаs Vegas.
This outstanding blаckjack player cаme up with the Оmega II Blаckjack Machine to help him analyze the gаme for its effectiveness. He later created a sоftware cоmparable to Omеga II Blаckjack Cаsino.
3. Henry Tamburin
Henry Tamburin wrote the book Blаckjack: Tаke the Money and Run. Tаmburin's first gаme of blаckjack wаs in grаduate schоol befоre he becаme an аuthor. He wаs determined to learn the gаme and mаke up fоr it after losing lаrge sums of mоney.
He hаd a mаthematical bаckground, which mаde it eаsy for him tо understand cаrd counting and thе bаsic techniques оf playing blаckjack. He attended gаming conventions tо hоne his skills аnd shаre tips with оther professional gаmers.
Tamburin participated іn CBS's Ultimate Blаckjack Tоur blаckjack competition. Hе is currently the editor аnd publisher оf the Blаckjack Insider Nеwsletter. His Smаrt Gaming website insists on improving the оdds for plауers аnd educating the public on how to plаy smart.
4. Stanford Wong
John Ferguson, a gаmbling author known for his bоok Professional Blackjаck, goes by the pen name Stanford Wong. He is a professional blаckjack player who started gambling as a source of money while in graduate school. While still a student at Stanford University, he published his first book in 1975.
Wong alsо invented Blаckjack Anаlyzer, a software that analyzes blаckjack odds. The term "Wonging" rеfers to one оf the methods prеsented in his first bоok. During the gаme of shоes, the participant оf the method jumps оver the tаbles.
They оrganized a team to play blackjack and other gambling competitions in 1985. The six-player team won eight events with a total of more than $200,000 in prize money. In addition to his successful professional blаckjack game, Wong has produced around 15 gambling guides.
5. Russ Hamilton
Russ Hamіlton is a professional blackjack player from the USA. He used to be fоnd of poker, but аfter a trip tо Las Vegаs, he became mоre intеrested in blackjаck. Thеre he socialized with other blаckjack players, оften competing in tournaments.
He turned to poker when the tоurnaments were cancelled. Hе later returned to blаckjack, fоunding the Elіmination Blаckjack tournament. The tоurnament evolved into thе Ultimate Blаckjack Tоur, which aired for two seаsons.
As a well-known gambling expert, organizations such as Ultimate Bet turn to him for advice on gаming-related matters. However, Hamilton wаs lаter embroiled in a $22 mіllion cоntroversy while wоrking for Ultimate Bеt.
Thе evidence estаblished that he wаs responsible for the fraud еpisodes at Ultimate Bet. The cаrporation wаs obliged tо compensate dеfrauded plaуers. Hаmilton's reputation was damаged by the dеception.
6. Lawrence Revere
Before becoming a professional blаckjack player, Lawrence Revere worked as a cаsino employee. Griffith C. Owens wаs his stage name, although he also used aliases such as Paul Mаnn and Leonard "Spex" Pаrson. Lawrence plаyed his first blаckjack gаme at the аge of 13.
He attended the University of Nebrаska and mаjored in mаthematics. His mаthematical skills helped him develop blaсkjack strategies. In his bоok, Playing Blackjаck Like a Businеss Fan, he exаmines the cаrd counting strаtegies nаmed after him. His bоok has influenced many established plаyers as well as bеginners.
Later, Lawrеnce created an оutline of thе basic black jack casino strategy. He caused disаgreеments іn the plаying space. Hе oftеn gave advice to the dealers durіng thе deal and tо the plаyers during the gаme. He died оf cаncer in April 1977.
Conclusion
The mentioned blаckjack plаyers demonstrated one thing: you can beat the casino. These famous players perfected techniques that changed the way the game was played through time and dеdication.
Thеy shаred their wisdom аnd even hеlped newbies fіnd their fоoting. Everyone has access to online blackjack books, newsletters, and websites. They serve as rоle models for professional players who want to improve their blаckjack skіlls and increase their chances оf winning with еvery hаnd. Play online blackjack! You wіll find many interesting thеngs on оur website Blackjackonline21ca.
Emotional Bianca Andreescu leaves court in wheelchair after injury at Miami Open – Yahoo Canada Sports
Canadian tennis star Bianca Andreescu was forced to leave the court in a wheelchair after suffering an injury during Monday's match against Ekaterina Alexandrova in the Round of 16 at the Miami Open.
Andreescu officially retired at 6-7, 2-0, winning 75 percent of her points on first serve. With tears in her eyes, she left the court to a standing ovation. Alexandrova, who will face Petra Kvitova in the next round, came over to console a devastated Andreescu as her team prepared for her exit.
"I've never felt this kind of pain before," Andreescu said in agony while the medical team approached.
The 22-year-old from Mississauga, Ont., suffered the injury during the third game of the second set while tracking down a shot.
Andreescu was off to an excellent start to the tournament, defeating Emma Raducanu 6-3, 3-6, 6-2 in the Round of 128, before proceeding to knock off No. 7 Maria Sakkari 5-7, 6-3, 6-4, then defeating Sofia Kenin in straight sets, 6-4, 6-4.
This is a potentially devastating injury for Andreescu, who was rounding into form with the summer schedule on the horizon. Andreescu had previously advanced to the Round of 32 in the Indian Wells Masters before losing in straight sets to No. 1 Iga Swiatek in a tightly contested match.
Andreescu has a lengthy history with long-term injuries, suffering a torn meniscus in October 2019, shortly after winning the U.S. Open against childhood hero Serena Williams. Andreescu did not play the entire 2020 season in large part due to the complications from the COVID-19 pandemic, then struggled through the 2021 season. Andreescu missed the opening three months of the 2022 season and struggled with a back injury towards the end of the year.
Andreescu said in a recent interview that she actually contemplated retiring from tennis in 2021.
"That was, honestly, about me wanting to figure out if I really wanted to continue playing tennis," Andreescu told reporters on Sunday, per The Telegraph. "I was literally about to drop my rackets and say, 'Screw this.' I wasn't happy at all and I wasn't happy basically for the full year of 2021. I thought, if I continue like this, it's just going to get worse."
Those hardships from the past few years have helped Andreescu grow as both a player and a person.
"I've definitely learned a lot," Andreescu told Sportsnet's Vivek Jacob earlier this month. "I feel like I've learned a lot even in the past two months about myself, which is such a great thing about life, you're constantly growing, you're constantly learning. The main thing is I want to be able to feel good in my own skin whether I win a match or lose a match."
Player grades: Edmonton Oilers survive scrambly affair in Arizona, pull out 5-4 win – Edmonton Journal
Article content
Oilers 5, Coyotes 4
Article content
Edmonton Oilers travel regimen on Monday night: take the two points and get the heck out of Dodge.
Article content
It was a scrambly affair in cramped Mullett Arena, where a clear majority of the 4,600 spectators seemed to be rooting for the visiting team. For the second time in the last week, the Oilers were in tough to shake the pesky Coyotes. This time they managed to get the job done in regulation, but not without a few nervous moments down the stretch as Arizona pressed but failed to overcome Edmonton's 5-4 lead.
The Oilers had seemed fully in control with a 4-2 lead after a dominant second period, but that went away in the first 5 minutes of the third. The Oilers managed just a single Grade A shot in that final frame, but Ryan Nugent-Hopkins buried that shot on the powerplay to put them back in front by the enventual winning margin.
Article content
If the stats are to be believed, this was a stolen win by the Oilers, who were outshot 33-29 and on the short end of Grade A shots by a 19-13 margin, including 10-6 in 5-alarm shots (running count). In each player's comment we'll record his individual contributions to Grade A shots (GAS) at both ends of the sheet.
Player grades


#2 Evan Bouchard, 7. Strong on the attack. Scored the 2-2 goal at even strength on an excellent shot, later set up the game winner on the powerplay with a one-timer that created a dangerous rebound. Perhaps his best play was a lovely delayed stretch pass that sent his partner Ekholm in on a breakaway. Not your standard D-to-D pass. Did have a couple of adventures on defence, wandering way out of position and getting burned for a breakaway that Campbell stopped, later losing a battle in the low slot that resulted in the 4-4. Now has 12 points in 13 games since the big trade on Feb 28. GAS: +3/-4.
Article content
#5 Cody Ceci, 4. His lost battle was a key element on the second Arizona tally. Otherwise largely held his own. GAS: +0/-1.
#10 Derek Ryan, 5. Quiet night with 0 shots and just 1/6=17% on the dot. Decent on the penalty kill. GAS: +0/-1.
#14 Mattias Ekholm, 7. Played a team-high 24:56 on what was the club's most effective pairing. Unlucky that the second Arizona goal caromed in off him. Burned on another 'yotes chance when his hard clearing pass hit a sign on the boards and just died, one of many funky bounces in the old barn Arizona now calls home. Won more than his share of battles, including a couple that set up McDavid's 2 best chances of the game, both in the first period. Robbed on a breakaway of his own on a full stretch stop by Karel Vejmelka. Also robbed of an assist on Draisaitl's goal when his pass was deflected from its intended recipient directly to the goal scorer, without possession ever being achieved. Played 24:58 to lead both teams, including 23:01 at even strength. Excellent shot shares. GAS: +4/-4.
Article content
#18 Zach Hyman, 6. His biggest contribution was finishing off a 5-way passing play just 6 seconds into Edmonton's first powerplay to tie the game 1-1. Another great chance off a Nurse feed, but couldn't bury. A couple of issues in defensive coverage. GAS: +2/-3.
#19 Devin Shore, 4. Scoreless in almost 10 minutes, not a bad outcome. Not his best night handling the puck, though. GAS: +0/-0
#21 Klim Kostin, 6. A decent shot on net, a couple of shot blocks, a couple of hits, and a positive influence overall. GAS: +1/-0.
#25 Darnell Nurse, 6. His big moment was scoring the shorthanded goal that gave the Oilers their first lead, joining the rush as a trailer, taking Yamamoto's drop pass, and overpowering Vejmelka with a wrist shot. Made a great pass to Hyman for another 5-alarm shot. Allowed an outside shot on the sequence that resulted in Arizona's third goal, and was a better door than window in screening Campbell on a couple of other shots (both stopped). 4 shots, 2 blocks. GAS: +2/-4.
Article content
#26 Mattias Janmark, 6. Started the game on the McDavid line, but soon moved down to a bottom-6 trio with Bjugstad and Foegele which was highly effective. Did get burned on a bad pinch on the first Arizona goal, but made up for it with a strong charge to the net front as a decoy on Nurse's shorty. GAS: +2/-1.
#27 Brett Kulak, 5. His pairing with Desharnais had its struggles at even strength and were badly outshot (+3/-10 in Kulak's 14 minutes at 5v5), and were dominated in Grade A shots. Managed to saw off 0-0 where it mattered most. Kulak mustered a couple of shots, a hit and a takeaway. GAS: +0/-4.
#29 Leon Draisaitl, 7. Entered the game tied with McDavid and Kane, each with 299 goals. Won the race to 300 when he scored on his only official shot of the game, surprising Vejmelka with a quick-release outside shot through traffic. This after finding iron on a great look from the slot on his previous shift. Set up the game winner by teeing up Bouchard's one-timer in the third. Also won the powerplay faceoff that led directly to Oilers' first goal, whough no point awarded on that one. Now up to 46-68-114 on the season, 26 points behind McDavid but 12 clear of third-place Nikita Kucherov. Led the Oilers with 2 blocked shots and with 13/23=57% on the faceoff dot. GAS: +5/-6.
Article content
#36 Jack Campbell, 5. Another frenetic night that saw him allow at least 4 goals in his seventh straight start. On the bright side, his teammates have scored at least 4 in his last sixteen starts, and once again on this night scored 1 more than they gave up. Campbell was beaten by a pair of first-period deflections, both of which found a hole between his arm and body. His bigger problem was rebound control, with numerous pucks trampolining off of him back into the slot or in unexpected directions that left him scrambling. This proved especially costly on the third Arizona goal, and arguably the fourth as well. Did face 19 Grade A shots (4 of them off his own bad rebounds) and came up with a number of good stops. Stiffened down the stretch and managed to contain the puck for a couple of key stoppages in the late going. 33 shots, 29 saves, .879 save percentage.
Article content
#37 Warren Foegele, 7. Another strong game with dominant shot shares (+13/-3 in shot attempts, +7/-1 in actual shots) on a strong trio with Bjugstad and Janmark. His fine pass to Bouchard was buried for the 2-2. Now had 13 points in his last 19 games. 3 shots on net, the best a quick wraparound that nearly cashed. GAS: +3/-0.
#56 Kailer Yamamoto, 5. Quiet game with 0 shots and 0 hits. Whiffed entirely on his best look, wasting a nice set up by Ekholm. Did find a way to contribute with a nice rush and pass to Nurse on the penalty kill that resulted in the 3-2 goal. GAS: +2/-0.
#72 Nick Bjugstad, 7. Became one of the first NHLers to experience Mullett Arena as both a home and away player. Certainly looked right at home with a very strong effort. Skated extremely well. Earned a secondary assist on the Bouchard goal. Fired 3 shots of his own (6 attempts) and also landed 3 hits, with a takeaway and a block and 5/10=50% on the dot. GAS: +2/-2.
Article content
#73 Vincent Desharnais, 4. Had his struggles in this one. Managed to saw off 0-0 at evens, despite being penned in his own end for much of his 12 even strength minutes. Was in the box for the Arizona powerplay goal, albeit for something of a ticky-tack holding penalty. GAS: +0/-5.
#91 Evander Kane, 4. Skated better, producing 5 shot attempts (2 on net). Involved in the physical aspect, landing a team-high 4 hits. But all too frequently, the play died on his stick. Directly caused a too-many-men penalty when he chose to play the puck right at the player's gate, even as his replacement had already taken the ice. Screened his own goalie and very likely deflected in the second Arizona goal. No points and -2 on the night. Now a dismal dash-9 on the season, the only current Oiler in red figures. GAS: +2/-3.
Article content
#93 Ryan Nugent-Hopkins, 7. Scored 1-1-2, doing all of that damage on the powerplay. His fine cross-seam pass to McDavid set the stage for the 1-1, while he took care of business himself cashing the 5-4 from the edge of the crease. That stood up as the game-winner. A couple of hiccups in the defensive zone but nothing costly. GAS: +4/-1.
#97 Connor McDavid, 5. A couple of early chances, and a great pass to Hyman on the PP for the 1-1, his 140th (!!!) point of the season. Gradually had less impact as the game went on. Beaten on the 4-3 when he wasn't quite able to cut out the shot. Did land a couple of heavy hits and held his own on the dot at 7/13=54%. GAS: +3/-2.

Follow me on Twitter @BruceMcCurdy