'Genshin Impact' Xiao Banner: 7 items to farm before the 1.3 update – Inverse
Genshin Impact is rapidly expanding. Every six weeks Genshin Impact receives a major update. The next update, Genshin Impact version 1.3, is launching in February, bringing new characters like Xiao to the mix. Before that happens, you can farm a few items to prepare for Xiao's arrival. Using the current Closed Beta test server, we know the current plans for what Xiao will need to increase his Ascension and Talent levels.
Here are seven items that you need to farm before Xiao arrives.
What are Xiao's upgrade items in Genshin Impact?
According to a recently updated Reddit graphic, upgrading Xiao's talents requires "Prosperity" talent books, Slimed-themed items, three Crowns of Insight, and Shadow of the Warrior. Meanwhile, to ascend Xiao and unlock his level caps, you'll need a mix of Vayuda Turquoise, Juvenile Jade (or Hurricane Seeds, depending on how the update pans out), Qingxin, and again Slime-themed items.
It's time to start acquiring your resources before Xiao actually appears.
Don't forget that you can combine excess materials at alchemic Crafting Benches in Liyue Harbor and Mondstadt. The effectiveness of crafting can be increased using either Sucrose or Xingqiu, the former of which is currently available in the Albedo banner.
Where can you farm "Prosperity" talent books in Genshin Impact?
You're going to need many "Prosperity" series talent books to max out Xiao's talents.
This series consists of Teachings of "Prosperity," Guide to "Prosperity," and Philosophies of "Prosperity." All three can be obtained as drops from the Taishan Mansion domain located by Jueyun Karst in Liyue. You need to hit Adventure Rank 26 to access the domain and you need to visit the mansion on Monday or Thursday or Sunday to secure the drops.
For specific numbers, Xiao requires nine Teachings of "Prosperity," 63 Guide to "Prosperity," and 114 Philosophies of "Prosperity."
Where can you farm the Crown of Insight in Genshin Impact?
A Crown of Insight is required to max out every single late level talent in Genshin Impact. Xiao is no exception. Unlike the other things on this list, you cannot farm the Crown of Insight at a controlled pace. It's primarily acquired through events like Unreconciled Stars and Chalk Prince and the Dragon, which both rewarded one Crown of Insight. You can also obtain one by upgrading the Frostbearing Tree in Dragonspine to level 11.
Luckily, Xiao only needs one Crown per talent. It's best to focus on upgrading the talents that you think you rely on the most.
Where can you farm Shadow of the Warrior in Genshin Impact?
Xiao needs 18 Shadow of the Warrior to max out his talents. This begins being required at Talent level 6. You can acquire Shadow of the Warrior by defeating Tartaglia in the Enter the Golden House Trounce Domain when set to level 70 or higher.
The domain becomes available after completing Chapter 1, Act 3: "A New Star Approaches." You can challenge the domain once per week with the reset occurring on Monday at 4 a.m. Eastern.
How can you farm Slime in Genshin Impact?
Xiao requires Slime Condensate, Slime Secretions, and Slime Concentrate throughout leveling up his character. These are necessities in both increasing his talent level and ascending his level cap.
All three items are found by killing slimes. Slime Condensate is dropped by any slain slime; Slime Secretions are dropped by level 40 and up slimes; Slime Concentrate is dropped by slimes that are level 60 and higher.
A great place to farm Slime items of all sorts can be found directly below a cliff facing the Guyun Stone Forest in Liyue. If you drop into the watery area, you'll find a small Slime squadron.
Slimes can also be found as enemies in Daily Quests or during Leyline Outcroppings. Both have a high chance to spawn Slimes.
If you're trying to max out Xiao's talents, you'll need 18 Slime Condensates, 66 Slime Secretions, and 93 Slime Concentrates. On the other hand, if you want to push Xiao to his highest level, you'll need 18 Slime Condensates, 30 Slime Secretions, and 36 Slime Concentrates.
This means you've gotta try farming a total of 36 Slime Condensates, 96 Slime Secretions, and 123 Slime Concentrates. That's enough Slime to launch a show on Nickelodeon.
Where can you farm Qingxin in Genshin Impact?
As one of the esteemed Adepti, of course, Xiao is hankering for some Qingxin to max out his level. He needs 168 Qingxin flowers to reach his highest Ascension level. You can find these floral goodies in a few separate places. You can purchase them in sets of 10 at Bubu Pharmacy. The inventory will be restocked every three days.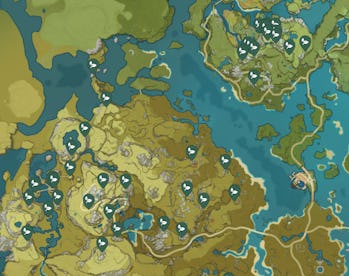 If you'd like to locate them in the wild, Huaguang Stone Forest and Jueyun Karst are particularly bountiful locations. Specifically, check mountaintops to find the flower. You can also find Qingxin in high supply atop the mountains by Qingce Village.
Where can you farm Vayuda Turquoise, Juvenile Jade (or Hurricane Seeds) in Genshin Impact?
Xiao is an Anemo character, meaning he needs a ton of Vayuda Turquoise for Ascensions. You can farm these items by defeating Anemo Hypostasises in Mondstadt. Vayuda Turquoise can also be purchased in small sums from souvenir shops in Liyue and Mondstadt. Xiao requires one sliver, nine fragments, nine chunks, and six gemstones.
Traditionally, Xiao, like other Anemo characters would require Hurricane Seeds, but miHoYo seemingly has other plans for the character. Hurricane Seeds were originally the upgrade material that he used in the closed beta. In recent updates, however, his final Ascension material has shifted to Juvenile Jade, an item that can only be acquired by defeating the new boss, the Ancient Geovishap. This boss will be added in version 1.3, making it impossible to farm right now.
This is likely a permanent change for Xiao. Luckily, if he does revert to Hurricane Seeds, you'll gain those as you defeat Anemo Hyposasises for Vayuda Turquoise.
Now read: Everything we know about Genshin Impact version 1.3
When will Corpse Husband stream on Twitch? YouTuber looks to new platform – Dexerto
Corpse Husband has found a lot of success on YouTube, but will he ever stream on Twitch? If his recent comments are anything to go by, it sounds like he's already amassed a strong following on there and is thinking about doing a surprise stream.
Corpse Husband is one of the most successful streamers on YouTube. It happened after his popularity skyrocketed in 2020. However, most fans don't realize he also has a Twitch channel.
It has no content, but he's still managed to amass more than half a million followers on there. He probably only made it to lock in his name in case he ever switched platforms. However, it raises the question: will he ever stream on it?
He has no reason to switch permanently, at least for the time being. But that could change if he was offered a lucrative contract. Still, he has pondered the idea of doing a surprise stream.
Corpse mentioned the idea to his fans when he was playing Among Us live on stream. Initially, it sounded like he was all for it. However, he quickly talked himself out of it, or rather, played it down.
"Someday, I will stream on Twitch," he said. "I checked it recently, and I had like 600,000 followers for some reason. I might go there to… I wanna have like a chilled… no, I could probably do that now."
[embedded content]
It's impossible to know whether it was anything more than a passing thought. If it ever did come to fruition, though, it would undoubtedly be a smash hit and potentially break records.
In the meantime, it's become a talking point among fans. Some are all for it, regardless of whether it's temporary or permanent. Others are less enthusiastic, and feel like YouTube is his rightful home.
Either way, we'll have to wait and see what happens. A one-off Twitch stream could be an exciting event. It might even be a good way to test the water. But at the same time, if it ain't broke, don't fix it.
List of second batch of devices getting OriginOS public beta released – gizmochina
Earlier this month, Vivo released an open beta version of OriginOS for 11 devices. It has now released the list of the second batch of devices that are eligible for the public beta.
The recruitment for the public beta will begin on January 25 according to the official OriginOS Weibo account and will run until January 27. The build will then be pushed to selected users on the 28th of January. Below is the list of devices:

The update should bring not only a new user interface but also bring Android 11 to these devices.
EDITOR'S PICK: Vivo Y20G launched in India with Helio G80, 5,000mAh battery, Android 11, and more
OriginOS is a complete design change from Vivo's other operating system, Funtouch OS. The homescreen is arranged in a Klotski Grid format and features tiny pop-up widgets called Nano Alerts that display details such as upcoming flights and package delivery status. Nano Alerts not only show up on the homescreen but also on Always-On Display.
The new operating system also has system enhancements that include memory and app optimizations, intelligent app freezing, and application preloading for a smooth and fast experience.
Vivo is yet to announce OrginOS for the international market. Its new phones for the international markets running Android 11 have Funtouch OS 11 pre-installed. If and when OriginOS gets a global realease, it will take a while before it is available as a stable update for eligible devices.
ALWAYS BE THE FIRST TO KNOW – FOLLOW US!
Streamer AverageHarry accuses Twitch of hypocrisy – TalkEsport
Streamer AverageHarry was handed a permanent ban after it was revealed that his account was created before the age of 13, following which Twitch was accused of hypocrisy as other streamers with similar accounts were treated differently.
Twitch has informed AverageHarry about the possibility of vacating his current account as he was 13 at the time of creation which is against their terms. Fast forward two years, he is 15 now which is insufficient for Twitch to let him have his way with the account, rather they asked him to recreate an account and start over which left him in tears as all the effort he put in for the past two years is about to go in vain.
The minimum criteria to make partner:
Complete the Path to Partner achievement to demonstrate large, engaged viewership/following on other services.
Broadcast content that conforms to our Community Guidelines, Terms of Service and DMCA Guidelines.
Those who complete Path to Partner should be able to maintain the criteria set forth in the achievement on a consistent basis.
However, the post did mention that these are the "minimum criteria" and that they look for more things in a streamer before they uplift them to Partner status from Affiliate. One of those things that Twitch looks for is the age that AverageHarry lacks.
After he was denied partnership, Twitch had already made him aware of this, but the controversy surfaced when it was revealed that another popular streamer in TommyInnit was given a different treatment given the fact his account was created when he was aged 11. A redditor pointed it out for us, while exposing the hypocrisy on the side of Twitch.
Now its up to Twitch to either make their platform fair for everyone or keep their reputation as tarnished as it is now. There is no doubt that Harry's case was unfairly judged. With the recent information that came to light, Twitch are getting blasted by fans for the difference in their treatment, the most reasonable outcome would be return Harry his account and restructure their bylaws.