Geoff Johnson: High real estate prices make it hard to attract leaders – Times Colonist
No successful organization would have become successful in the absence of ­effective leadership. That's axiomatic.
Leadership means creating a vision and planning how to execute it, securing resources and seeking and remediating errors of the past.
Leadership is about motivating people to work together and co-operate with others as the organization hopefully moves toward its goals.
School districts or other ­organizations looking to fill leadership positions from ­outside their immediate geographic area have always encountered numerous ­obstacles if the objective is to hire the very best person possible, no matter where they are found.
Right now, on Vancouver Island and B.C.'s Lower Mainland, that's all but out of reach.
Too often, the best people available ­simply can't afford to move here.
To begin with, at least as far as school ­districts are concerned, excellent candidates for senior leadership are well into their careers, have all but paid off a mortgage and are not interested in moving from where they can afford to live into a high-priced, extremely competitive real estate market.
A version of the same applies to other organizations looking for leadership ­expertise that may bring a fresh perspective to their business.
The problem is that for highly qualified and experienced candidates, real estate prices here make finding an affordable place to live extremely difficult or even financially perilous for anyone moving here from elsewhere in B.C., let alone the rest of Canada.
So how big is the difference between house prices elsewhere in B.C. (or other provinces) and here on the Island and in the Lower Mainland?
According to Royal LePage, during the third quarter of 2019, the median home price in Kelowna dropped 3.9 per cent year-over-year to $617,899. In Kamloops, house prices average between $550,000 to $750,000.
The average house price in Vancouver is $1,175,500, with many going for as much as $200,000 or more over the asking price.
In fact, the price of a single-family home here and in the Lower Mainland has increased by 22% since September 2020.
On Vancouver Island, especially south Vancouver Island, quite ordinary houses are going for as much as $250,000 over ­asking price — and that's with asking prices for standard houses often starting at just around $1 million.
As one Vancouver Island real estate agent explained: "We are seeing multiple offers on almost every reasonably priced detached listing. There simply isn't enough inventory to meet the demand."
According to another agent with whom I spoke, people who moved here from ­outside the province when prices were down are now cashing out in today's hot market and taking their profits back to their home provinces.
A second influence on house prices, alien to people of my generation, is that many younger folks have been willing to incur mortgages they never intend to fully pay out and are willing to go "all in" on a mortgage no matter what happens with interest rates.
Thirdly, real estate inventory here was down nearly 30% in the early months of 2021 compared to the previous year. There just weren't enough houses for sale over the year to meet buyer demand.
It's a sellers' market.
That automatically eliminates any thought for most mid-career people of ­moving to the Island or Vancouver.
Why is any of this problematic for the future of business organizations and school districts on the Island and in the Lower Mainland?
First, there is the business of picking up the pieces after COVID is eventually defeated by a combination of persistent epidemiologists and a population willing to make some sacrifices for the greater good.
The post-pandemic era will require organizations, especially school districts, to embrace new definitions of leadership —and apply new approaches to teaching and ­learning.
The COVID pandemic has also had an effect on other institutions — banks, the hospitality and tourism industries that are central to our economic system and communities are all having trouble attracting experienced leadership.
The unanswered question is about what kinds of leadership skills will be needed in order to navigate complex organizations through the post-COVID world successfully.
Sounds like time for government, the real estate industry, the affected unions and business organizations, and especially school districts, to close the meeting room door, get their heads together and address what could become a problem that redefines their mutual futures.
gfjohnson4@shaw.ca
Geoff Johnson is a former superintendent of schools.
Credit 'Zombies' on the Rise as Real Estate Firms Lead Charge – BNN
(Bloomberg) — The walking dead of the corporate world are multiplying — and the property industry sustains the most.
A new study on companies that have dodged default for years, even though they don't have enough money to pay interest, comes just as markets from Hong Kong to New York are roiled by real-estate giant China Evergrande Group's showdown with its creditors.
Consultancy firm Kearney found their numbers have expanded by 9% globally in the past decade, in part because loose monetary policy has allowed them to keep rolling over debts.
While "zombies" have been on the rise since the last financial crisis, the pandemic looks likely to bolster their ranks, with more companies seeking waivers after taking on unsustainable piles of debt when economies were shuttered.
The OECD defines zombie companies as those that have been trading for more than 10 years and have been unable to cover their interest burden from their operating revenues for three consecutive years.
Kearney studied records of 67,000 listed companies from 152 countries. It found:
7.4% of real-estate firms were zombies
5.9% of healthcare
5.5% of telecommunications and media
5.1% of travel and tourism
Within retail, online retail had a slightly bigger share of zombies than brick-and-mortar counterparts, potentially due to the low profitability of online players, according to the report.
Europe
At least 5 issuers are offering debt on European markets on Thursday, with new issuance volumes of at least EU2.25 billion-equivalent.
Bank of England voted to keep bond-buying target and interest rate benchmark unchanged at a record-low 0.1%
Ashmore Group Plc's Jan Dehn is set to leave the firm, ending a 16-year stint at the emerging market-focused money manager
SMCP's majority shareholder, European TopSoho's, failed to redeem at maturity EU250 million 4.0% bonds exchangeable into SMCP shares
Asia
Financial regulators in Beijing issued a broad set of instructions to China Evergrande Group, telling the embattled developer to focus on completing unfinished properties and repaying individual investors while avoiding a near-term default on dollar bonds.
Global investors will focus on China Evergrande Group's $83.5 million interest payment due Thursday on a five-year dollar note
The People's Bank of China pumped in 110 billion yuan ($17 billion) of cash with seven- and 14-day reverse repurchase agreements.
Four Chinese firms were offering dollar bonds Thursday, ending a three-day lull in the Asian credit market amid holidays and concern about contagion from the distressed property giant Evergrande
U.S.
Federal Reserve Chair Jerome Powell said there is little direct U.S. exposure to debt of the Chinese company Evergrande but said it could impact global financial conditions
Powell said the Fed could begin scaling back asset purchases as soon as November and complete the process by mid-2022
The takeover of medical supply company Medline Industries Inc. is being funded by the largest leveraged buyout loan in three years
A gauge of volatility in the $4 trillion market for state and local-government debt has tumbled to just shy of a record low set in early January
©2021 Bloomberg L.P.
Record-breaking real estate: North Saanich property sells for nearly $23M – CHEK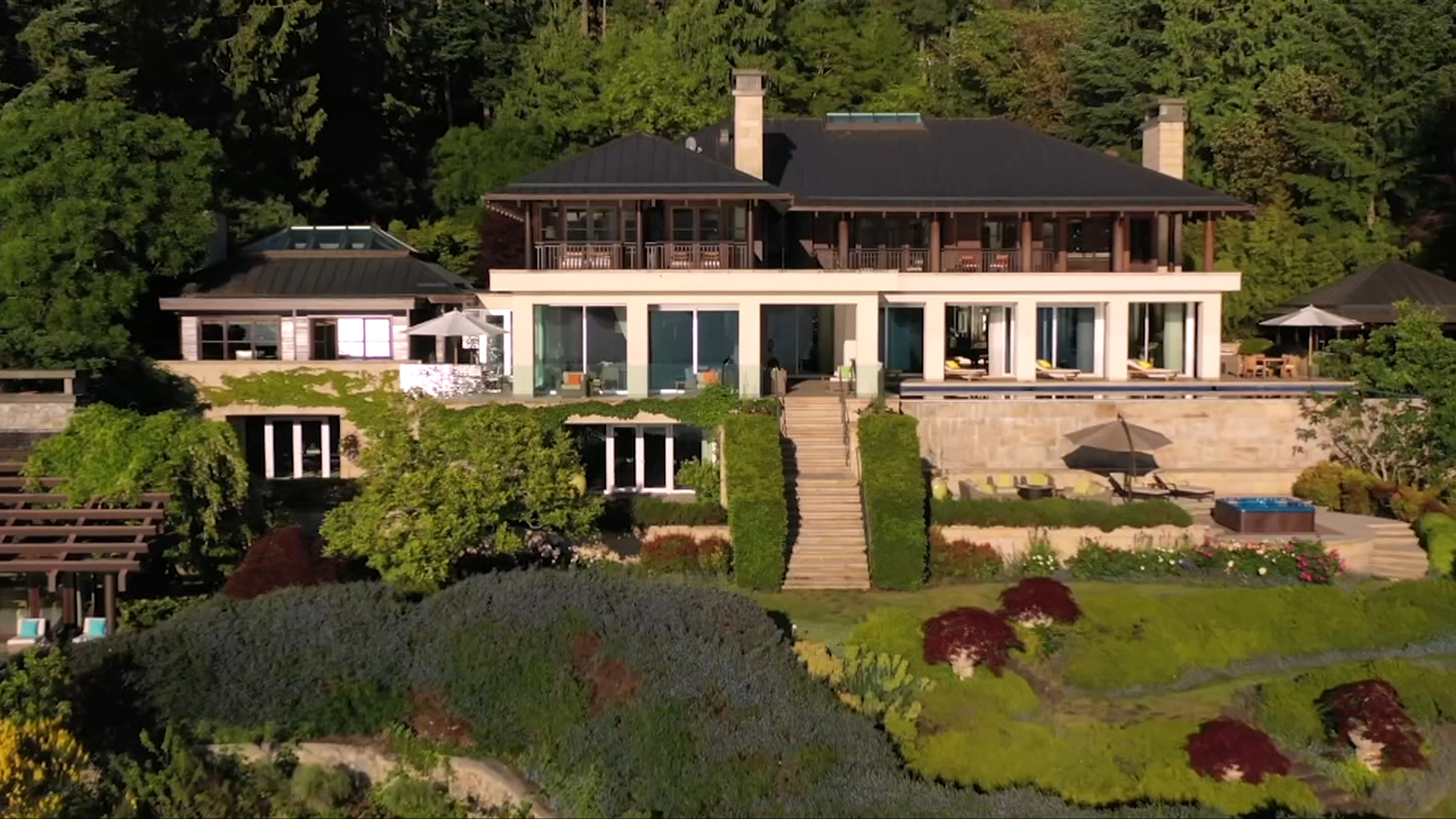 The sale of a multi-million dollar listing in North Saanich is shattering any previous record for highest house price on Vancouver Island.
For $22.75 million, the Lawrence Road property includes a 13,000-square-foot home with eight bathrooms, six bedrooms, a two-storey study, a detached yoga studio, an infinity pool, tennis court, gym — even an underground wine cellar.
The president of the Victoria Real Estate Board, David Langlois, said the property is unique.
"You are looking at a very high-end, very interesting property that is going to offer features that you simply can't find anywhere else," he said.
It also comes with its own detached two-bedroom guest cottage.
"It's significant in that it's certainly the largest recorded sale that we've seen in our marketplace," Langlois said.
"We do have a lot of really valuable real estate throughout the Greater Victoria area. We've got lots of private islands, and lots of estate-like settings. It's not surprising."
In June, a property in Metchosin sold for $12 million. It sits on 67 acres and a stream runs under parts of the 10,000-square-foot home.
WATCH: Luxury home with stream running through it sets real estate record in Greater Victoria
At the time, it was the highest price ever paid through the Victoria Real Estate Board listings.
Tina Ireland, a regional assessor with BC Assessment, said there are fewer homes in the luxury market available right now.
"The luxury home market is more unique though of course, because the properties are more unique."
With demand up for properties worth $4 million and more, so are prices.
"Last year's assessment, we had seen a 10 per cent increase," Ireland said. "This year I think we'll see at least that in our assessed values."
There have been 245 sales of homes in the $2 million category so far in 2021, compared with just 94 in the same period in 2020.
Dubai real-estate firm DAMAC approved to take firm private – 95.7 News
DUBAI, United Arab Emirates (AP) — A Dubai real-estate company known for its deals with former President Donald Trump said Thursday it had received regulator approval for an effort to take the firm private.
DAMAC Properties still plans to offer $595 million for outstanding shares of the company, the firm said in a filing on Dubai Financial Market stock exchange.
It said it would offer an update on the plan in the coming weeks. It earlier announced plans in June for the offer to take the company private, then withdrew them as regulators examined the plan.
The buyout would be through Maple Invest Co. Ltd., a holding company of DAMAC's billionaire founder Hussain Sajwani. Sajwani owns nearly four-fifths of the company through various investment firms.
DAMAC stock traded up Thursday over 3% on the news. The firm has a market capitalization of over $2 billion.
DAMAC is known in Dubai for a development that features a Trump-branded golf club surrounded by villas and apartments, making it the only one of its kind in the Middle East that bears the Trump logo.
The company's partnership with the Trump Organization to manage and run the golf course was struck before Trump's election as U.S. president.
The Associated Press