Global economy faces fears of a 'lost decade' as COVID-19 cases surge – CBC.ca
Optimism that the early arrival of a vaccine meant that the global economy would be out of the woods in 2021 is facing a rethink as COVID-19 resurges and mutates.
There remains every possibility that an efficient rollout of the vaccine in Canada and elsewhere really will lead to signs of a recovery well before the end of this year. But there are voices suggesting that the pandemic may hold more bad news in store.
Certainly the year's first day of market trading was less than auspicious.
"Stocks hit records early in the session as investors focused on the rollout of COVID-19 vaccines," Reuters reported. "But investors quickly turned cautious over the path of the virus, which continues to spread amid the discovery of a new variant."
It is never a good idea to put too much stock in a single day's trading or the instant analysis of sudden market moves, but Monday's decline — which saw a fall in the technology-heavy Nasdaq market of nearly three per cent — added to a feeling of unease.
Triggering tighter restrictions
"As the new COVID-19 strain triggers tighter restrictions on economic activity and limits even more the movement of people, it has become increasingly clear that the road to vaccine-induced immunity will now have more potholes," Mohamed El-Erian, a well-known U.S. adviser to financial corporations who is now president of Queen's College, Cambridge, wrote in Tuesday's Financial Times.
El-Erian worried that the struggle to recover from the pandemic's economic impact would lead to misguided efforts by countries toward a "further weaponization of trade tariffs" and a destabilizing polarization in politics and income.
Virologists warn of not just a single new strain but a series of continuing mutations as the disease spreads around the world, constantly evolving through accidental changes in its genetic makeup. Then, as we have already seen, the most virulent versions out-compete their viral cousins to sweep back out and around the world.
With luck, the faster-spreading mutations will be no worse — and could theoretically be milder. But some scientists in the United Kingdom have warned that current vaccines may not be as effective on one new variant in South Africa.
The more virulent European version has already turned up in the United States and Canada. As of this writing, the one found in South Africa has not yet been spotted here, but experience with previous transmission waves implies its arrival is inevitable.
Meanwhile, the idea that countries and regions can fight the virus while keeping the economy intact is facing contradictory evidence.
Case and death rates in regions that remained largely open mean places such as Britain and the U.S. have faced increasing public pressure to take stronger action, even as the economy weakens. Places that imposed severe lockdowns earlier in the battle against the pandemic, such as Australia and China, have seen relative economic success.
World Bank worries about debt, education breakdown
China's economic data is commonly disputed, but the World Bank suggests growth in the country will rebound to about eight per cent this year.
In its newly released Global Economic Prospects report for 2021, the World Bank fears a lingering impact from the virus — what it warned could be a "lost decade," especially for countries that failed to get on top of the pandemic early.
"Many countries are expected to lose a decade or more of per-capita income gains," the World Bank report said. "Downside risks include the possibility of a further resurgence of the virus, more severe effects on potential output from the pandemic and financial stress."
Besides the immediate damage to the economy caused by interruptions to trade, domestic commercial activity and job losses, the World Bank worries that such factors as a huge piling up of public and private debt and a breakdown in education will lead to a prolonged deterioration in economic prospects.
In parts of Canada and in the U.K., calls for stricter measures — including more severe limits on travel intended to combat holiday-induced spread and growing pressure on hospitals — mean earlier hopes that the autumn rebound would continue into 2021 seem less certain.
Although they may be distorted by the holidays, jobs data for both the U.S. and Canada are due on Friday and will offer the freshest possible update on whether the slow but steady uptick in the Canadian economy has stalled.
Gross domestic product figures released two weeks ago showed that growth has continued to creep up ever since April's big dip. If that continues, it won't strictly be a V-shaped recovery, but maybe a V written by a four-year-old that stretches out a bit too far to the right.
That may have changed. The GDP data was from October when everyone was far more optimistic, whereas Statistics Canada collected the December jobs data that we'll see on Friday just weeks ago.
Those employment figures may offer a first hint if the right-hand bar of the V has jogged down, making it into something closer to a W — the potential indicator of a double-dip recession.
WATCH | Making vital supplies became saviour for manufacturers during pandemic:
As the pandemic ramped up, Canada's manufacturing sector nimbly shifted gears and started making products to keep people safe from COVID-19. Even among manufacturers, it reminded people what happens when a country makes its own necessary goods. 2:09
Follow Don Pittis on Twitter: @don_pittis
Biden's rescue plan will give U.S. economy significant boost: Reuters poll – TheChronicleHerald.ca
By Indradip Ghosh and Richa Rebello
BENGALURU (Reuters) – U.S. President Joe Biden's proposed fiscal package will boost the coronavirus-hit economy significantly, according to a majority of economists in a Reuters poll, and they expect it to return to its pre-COVID-19 size within a year.
Biden has outlined a $1.9 trillion stimulus package proposal to jump-start the world's largest economy, which has been at the epicenter of the COVID-19 pandemic having lost over 400,000 lives, fueling optimism and sending Wall Street stocks to record highs on Thursday.
Hopes for an upswing in U.S. economic growth, helped by the huge stimulus plan, was reflected in the Jan. 19-22 Reuters poll of more 100 economists.
In response to an additional question, over 90%, or 42 of 46 economists, said the planned fiscal stimulus would boost the economy significantly.
"There are crosswinds to begin 2021 as fiscal stimulus helps to offset the virus and targeted lockdowns. The vaccine rollout will neutralize the latter over the course of the year," said Michelle Meyer, U.S. economist at Bank of America Securities.
"And upside risks to our…growth forecast are building if the Democrat-controlled government can pass additional stimulus. The high level of virus cases is extremely disheartening but the more that the virus weighs on growth, the more likely that stimulus will be passed."
For a Reuters poll graphic on the U.S. economic outlook:
https://fingfx.thomsonreuters.com/gfx/polling/oakveynqovr/Reuters%20Poll%20-%20U.S.%20economy%20outlook.png
The U.S. economy, which recovered at an annualized pace of 33.4% in the third quarter last year from a record slump of 31.4% in the second, grew 4.4% in the final three months of the year, the poll suggested.
Growth was expected to slow to 2.3% in the current quarter – marking the weakest prediction for the period since a poll in February 2020 – amid renewed restrictions.
But it was then expected to accelerate to 4.3%, 5.1%, 4.0% in the subsequent three quarters, a solid upgrade from 3.8%, 3.9% and 3.4% predicted for those periods last month.
On an annual basis, the economy – after likely contracting 3.5% last year – was expected to grow 4.0% this year and 3.3% in 2022, an upgrade from last month.
For a graphic on Reuters Poll – U.S. economy and Fed monetary policy – January 2021:
https://fingfx.thomsonreuters.com/gfx/polling/azgpoljbkvd/U.S.%20economy.PNG
Nearly 90%, or 49 of 56 economists, who expressed a view said that the U.S. economy would reach its pre-COVID-19 levels within a year, including 16 who expected it to do so within six months.
"Even without the stimulus package, we had already thought the economy would get back to pre-COVID levels by the middle of this year," said Jacob Oubina, senior U.S. economist at RBC Capital Markets.
"With the new stimulus package there will be more direct money in people's pockets, easily boosting the economy, provided a vaccine rollout progresses in a constructive manner."
But unemployment was not predicted to fall below its pre-pandemic levels of around 3.5% until 2024 at least.
When asked what was more likely for inflation this year, only one said it would ease. The other 40 economists were almost evenly split between "a significant pickup" and price pressures remaining "about the same as last year."
Still, the core Personal Consumption Expenditures (PCE) price index – the Federal Reserve's preferred inflation gauge – was forecast to average below the target of 2% on an annual basis until 2024 at least, prompting the central bank to keep interest rates unchanged near zero over the forecast horizon.
"I don't think it will be an increase in underlying (inflation) trend, it is sort of a rebound in prices that have been depressed during the pandemic," said Scott Brown, chief economist at Raymond James.
(For other stories from the Reuters global long-term economic outlook polls package:)
(Reporting by Indradip Ghosh and Richa Rebello; Additional reporting by Manjul Paul; Polling by Mumal Rathore; Editing by Rahul Karunakar and Hugh Lawson)
The U.S. economy likely grew 4.1% at the end of 2020, but GDP seen masking weakness in some sectors – MarketWatch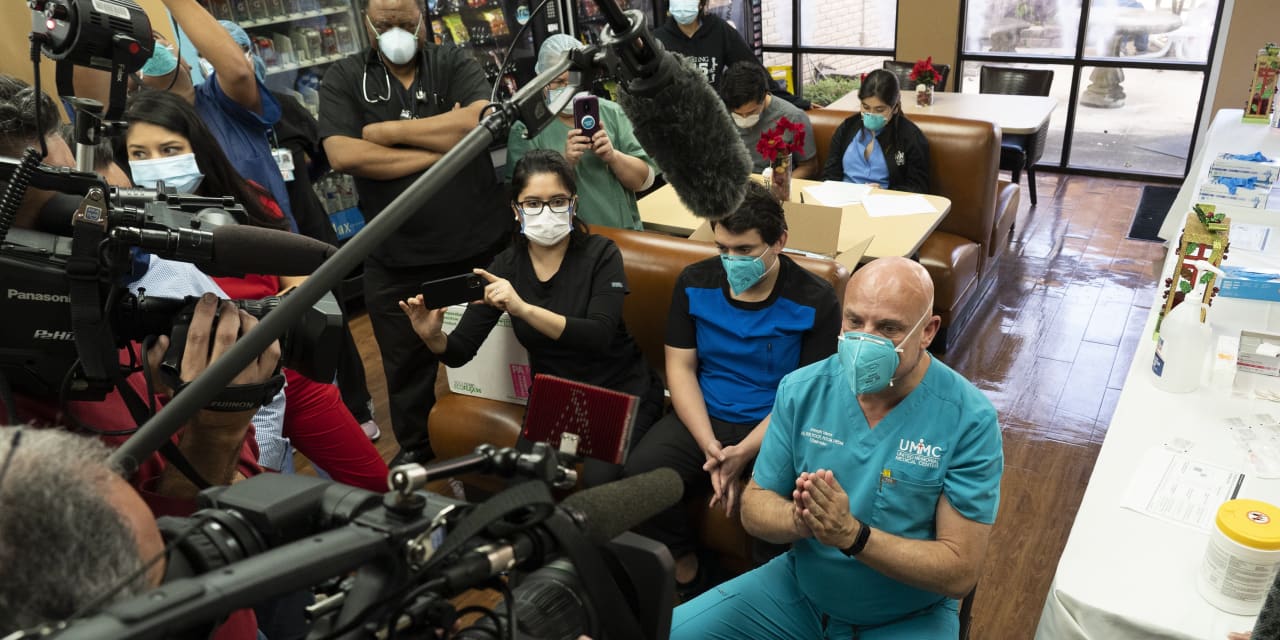 The U.S. economy may have grown about 4% in the final three months of 2020, a great showing even in the best of times.
These are not the best of times.
The economy still has lots of ground to make up, for one thing, after the deepest recession on record. And growth slackened off toward the end of 2020 after the coronavirus pandemic roared back and caseloads reached a record high, pointing to a loss of momentum in the economy early in the near year.
Read: The U.S. lost 140,000 jobs in December. How bad was it?
The U.S. fourth-quarter report on gross domestic product, due on Thursday, will still offer a useful diagnosis of the economy. It will tell us which parts have mostly recovered and which are still ailing.
Wall Street
DJIA,
-0.57%
economists polled by the Dow Jones/The Wall Street Journal predict a 4.1% increase in fourth-quarter GDP on an annualized basis. While that would mark a steep drop from the 33.4% increase in the third quarter, it still shows the economy forging ahead even as the coronavirus pandemic spiked again.
The details are unlikely to look quite as good.
The biggest component of the U.S. economy, consumer spending, almost certainly softened to mediocre 3% growth or less. Most government aid for the economy had faded away by the start of the quarter and businesses facing new government restrictions laid off more workers at the end of the year.
Business investment in structures such as oil rigs or office buildings was also weak.
Other drags on the economy included lower state and local spending and a bigger international trade deficit.
The economy got some sizzle from a surprising boom in the housing market. Low mortgages rates and people seeking more space outside the cities have lifted sales of previously existing homes to a 14-year high.
Businesses also started to rebuild their inventories — goods for future sale, that is — after letting them draw down early in the pandemic. That's a good sign for 2021 since it suggests companies are expecting stronger sales.
Indeed, a pair of surveys of business executives in January suggest companies are banking on a better 2021, mostly because of rollout of coronavirus vaccines.
How soon the vaccinations levels are high enough to really help the economy, however, is still an open question.
Read: Fauci says two more COVID-19 vaccines could be approved within 'weeks'
"We only expect vaccination rates to be high enough to accelerate the economic recovery from mid-2021 onward," said Cailin Birch, global economist at The Economist Intelligence Unit.
The promise of more federal financial aid from the Biden White House is also adding to the optimism, but the stimulus could take awhile to reach households and businesses. It's also unclear how much aid Congress will approve.
What could also help the economy after a rocky start in the new year is rising consumer confidence. Americans historically spend more when they are confident and push the economy to greater heights.
A pair of surveys this coming week, consumer confidence and consumer sentiment, will give another glimpse into whether the hopes inspired by the vaccines are outweighing the angst caused by the record number of coronavirus cases.
Biden Seeks to Juice Economy as Congress Spars Over Stimulus – BNN
(Bloomberg) — President Joe Biden is discovering the limits of his power to boost the world's largest economy on his own, as congressional opposition to his sweeping stimulus plan hardened soon after he was inaugurated.
While publicly urging Congress to swiftly pass his $1.9 trillion proposal — warning of rising unemployment, hunger and homelessness if lawmakers don't act — Biden issued more than a dozen executive actions in his first three days in office, some aimed at propping up the economy and containing the coronavirus to allow its reopening.
While moderate Republicans including Susan Collins of Maine see little need for a big new spending bill after last month's dose, Biden's making the case that the crisis is deepening, not fading, and urgent action is needed. But top Biden aides acknowledge that unilateral action can only accomplish so much.
"If we don't act now, we will be in a much worse place, and we will find ourselves needing to do much more to dig out of a much deeper hole," Biden's top economic adviser, Brian Deese, said of the stimulus plan at a press briefing on Friday.
Record Covid-19 death tolls and renewed lockdowns have battered the economy this winter. A government report for December on Friday is expected to show the worst back-to-back monthly declines in personal spending since the dark days of last spring. And while U.S. stocks hit record highs the past week, some of that optimism has been based on assumptions of new stimulus getting passed.
Biden's executive actions can at least signal his intentions, but he'll need cooperation from Congress to validate financial markets' confidence and make a real difference for the economy and the 11 million unemployed Americans. The legislature's sign-off is required for the scale of spending needed to notably boost growth.
Biden signed two orders on Friday that expand food stamp benefits for low-income families, direct the Treasury Department to ensure Americans eligible for stimulus checks received them and reinstate protections and collective bargaining rights for federal workers. Next week, he's expected to sign additional actions urging federal agencies to buy goods and services from U.S. companies, directing regulatory action to fight climate change and strengthening Medicaid.
"It is perfectly reasonable and necessary to start with a strong statement of intent from the administration, and it sounds like that is how they will use the executive orders — as ammunition in the battles to come," said Thea Lee, president of the Economic Policy Institute, a left-leaning thinktank.
GOP Skepticism
"But when we talk about the $1.9 trillion Covid relief package or the big investments in infrastructure, climate change or the 'care economy,' those are things that will need the finance and power of the U.S. Congress to succeed," she said.
Biden's plan has so far sparked little enthusiasm from congressional Republicans. They have complained his first legislative proposal is too expensive, not targeted enough or is too much of a laundry list of liberal goals, including a minimum wage increase.
Not a single Republican has indicated support for Biden's stimulus plan as presented, with Senators Mitt Romney, Chuck Grassley and Collins questioning the urgency since the government is still enacting a $900 billion stimulus from December.
"It's hard for me to see, when we just passed $900 billion of assistance, why we would have a package that big," Collins said this week about Biden's proposal. "I'm not seeing it right now, but again, I'm happy to listen."
Piecemeal Approach?
Parts of the plan could get traction, however. Republican Senator Todd Young of Indiana called the total package a "non-starter, but it's something that we will scrutinize and hopefully, find some common ground on."
He said he might support a proposal to add funding for coronavirus vaccinations, as an example, and said he and Vice President Kamala Harris had spoken about finding a compromise.
The Biden team has said it would prefer to pass the relief package with Republican votes. Deese is scheduled to speak with a bipartisan group of senators on Sunday at 3 p.m. Biden is making his own calls to lawmakers, though the White House has declined to specify with whom he's speaking.
During her confirmation hearing on Tuesday, Treasury Secretary-designate Janet Yellen defended Biden's proposal against Republicans who raised concerns about the deficit — an issue that practically evaporated in Washington while Donald Trump was president.
Yellen's Case
She said Congress needs to "act big" to revive the economy.
"Right now, short term, I feel that we can afford what it takes to get the economy back on its feet, to get us through the pandemic," Yellen told the Senate Finance Committee, highlighting that interest rates are historically low and that debt-servicing payments as a share of the economy are lower today than before the 2008 financial crisis.
She said doing too little to sustain the economy now could lead to "scarring."
Presidents Barack Obama and Trump both made liberal use of executive orders and other actions to make policy, particularly when the opposing party controlled a chamber of Congress.
"Executive orders are the trend. It began almost 30 years ago, and they are becoming more and more the practice because Congress has been unable and unwilling to address these challenges through statute," said former Democratic Senate Majority Leader Tom Daschle.
Daschle said Biden has no choice but to use the executive-authority tools: "He has an ambitious agenda."
©2021 Bloomberg L.P.