GM announces plans for 30 new EVs by 2025 – some to be unveiled today? – Electrek.co
GM has committed to an additional $7 billion in funding for electric car and autonomous vehicle programs and will launch 30 new EVs globally through 2025, CEO Mary Barra announced today. Two-thirds of these new EVs will be available in North America, and 40% (!) of GM's US model line will be battery electric vehicles by 2025. GM also announced it would be moving its US debut of the Cadillac Lyriq SUV up from late 2022 to early 2022.
But GM has been making a lot of announcements lately, yet if you go to a GM dealership today, there's a very small chance you'll see an EV. Should we take GM at its word?
With this announcement, GM has now dedicated more than $27 billion to EVs and AVs through 2025, which eclipses its planned spending on gas and diesel vehicles and represents a majority of GM's capital spending and product development in that timeframe.
Cadillac, GMC, Chevrolet, and Buick will each have electric vehicles available at all price points. GM will make at least three unannounced GMC vehicles, four Chevrolets, four Cadillacs, and two Buicks, including GMC- and Chevy-branded pickup trucks and a compact crossover from Chevy.
GM's plans don't just end with money and promises of future vehicle launches, though. The company is pushing forward with its "Ultium" battery technology (developed jointly with LG Chem) and expects batteries to cost 60% less and have double the energy density of today's packs by mid-decade. This will allow some Ultium-based vehicles to achieve a maximum range of up to 450 miles (which is probably way more than you need). GM is exploring the possibility of licensing Ultium to other automakers including Honda which it announced and Nikola, which it has been silent about lately.
EV batteries have consistently improved over the years, generally at a rate of 5-10% per year. So GM's expected improvement is about in line with the high end of that technology curve, though these projections may be slightly hopeful.
GM also shared that it plans to sell a million EVs by mid-decade (a number which Tesla, a much smaller automaker, already passed back in March). GM has currently sold under 100,000 BEVs with its Chevy Bolt, though the Volt PHEV/Cadillac ELR also sold fairly well before it was retired
As for specific models, GM has accelerated plans for both the Hummer EV and Cadillac Lyriq EV. GM announced $2 billion in investment for an EV factory in Tennessee just last month, where the Lyriq is planned to be built. Cadillac now plans to launch the Lyriq in the first quarter of 2022, nine months ahead of its previous schedule of late 2022.
The Hummer EV was originally announced with a slow rollout, with the first trim levels being available in 2021, while base model buyers will have to wait until 2024. GM didn't specify whether this announcement means the timeline for lower trim levels would be accelerated.
They did state, however, that the development time for the Hummer EV was only 26 months, down from a standard of around 50 months. GM expects this to be its new benchmark for new vehicle development, which will enable them to roll out promised EV models on a much tighter timeline than has traditionally been the case.
This could allow us to see some models much earlier than might otherwise be anticipated. So far, we've seen some spy photos of what might be an electric Cadillac SUV, trademarks for something called an "E-Ray," but little else is publicly available. Seth Weintraub of Electrek did attend GM's EV Day way back in March and saw GM's upcoming EVs in the flesh, so several are currently being developed, and we'll hear more about them soon.
In comments about these announcements, Barra said:
"Climate change is real, and we want to be part of the solution by putting everyone in an electric vehicle. We are transitioning to an all-electric portfolio from a position of strength and we're focused on growth. We can accelerate our EV plans because we are rapidly building a competitive advantage in batteries, software, vehicle integration, manufacturing and customer experience."
President-elect (and Chevy Corvette owner) Joe Biden met with Barra, labor leaders, and other automotive and tech CEOs on Monday. We can imagine that electric vehicles were a topic of conversation, given Biden's nearly $2 trillion climate plan, which includes plans to expand electric vehicle adoption. When asked specifically, GM says that the change in US leadership was not a factor in today's announcement, though they would welcome a return to the $7500 tax rebate for all makers that Biden has pushed.
During a conference call with reporters last night, GM said it would make some announcements about specific EVs today at the Barclay's Automotive event. Electrek will of course be "on the scene'.
Electrek's Take
Despite these big plans, GM is sending mixed signals. The company is still allied with the coal-lobbyist-led EPA to sue California over higher emissions standards, which makes little sense for a company that is supposedly serious about electric cars. When we asked GM President Mark Reuss about this early this year, and he gave us a bogus, Orwellian rationale that GM's opposition to higher emissions standards is somehow meant to encourage a faster shift to EVs. When asked about siding with Trump this week, Doug Parks, GM's executive vice president of Global Product Development, Purchasing and Supply Chain disappointingly echoed these claims saying that "all GM wants is a level playing field."
We've also heard big new model plans like these before. Back in October 2017, GM promised two new EVs within 18 months and 20 new EVs within five years. Currently, GM sells one battery-electric vehicle in the US, the Chevy Bolt, which it was also selling prior to that promise. It's a great little car, but it's quite short of the big promises we've heard. And it's not the first time GM has broken EV promises.
Even with a 26-month development timeline, GM is going to have to rush to release 20 new EVs by (*checks calendar*) 23 months from now. Also, notably, all of those draped vehicles in this article's featured photo, which originally came from GM's October 2017 announcement (37 months ago), are still not available and most have not been shown publicly. The fact that we can run the same photo more than three years later and GM's available model line hasn't changed at all is a pretty big indication that things are going slower than they should.
So, as it seems like we keep saying virtually any time any automaker announces anything: great talk, now show us some action. Many of these EV commitments are already weaker than what we need as a planet to avoid the worst effects of climate change, and automakers keep missing even the mild commitments they set for themselves. Even when the cars do hit the road, GM will have to struggle with getting its dealerships to sell them, which remains a problem for most companies with franchised dealership models.
GM's commitments today are stronger than most and reasonably impressive, but the company's mixed history on EVs, legal advocacy against emissions standards that will save both lives and money, and the current status of its previous promises give us reason to be skeptical. Show us the cars at the dealership, GM.
FTC: We use income earning auto affiliate links. More.
---
Subscribe to Electrek on YouTube for exclusive videos and subscribe to the podcast.
[embedded content]
62 cases of COVID-19 linked to outbreak at window factory in Vaughan – CP24 Toronto's Breaking News
York Region Public Health says 62 confirmed cases of COVID-19 have been linked to an outbreak at a window manufacturing and installation facility in Vaughan.
In a public notice posted on Sunday, public health officials said they were notified of the first case at State Window Corporation located on Hunter's Valley Road, just east of Highway 50, on Nov. 10.
Since then, 61 other cases have been identified, prompting York Region Public Health to declare an outbreak on Nov. 20.
"York Region Public Health continues to investigate this workplace outbreak and conduct case management and contact tracing. As the workplace is not open to the general public, the risk is considered low to York Region residents," officials said.
Also, there are five probable cases and one case under investigation.
Of the 62 individuals, 28 are from Peel Region, 22 are from Toronto, seven are from York Region, and five are from Simcoe-Muskoka.
"Public Health conducted an on-site inspection and continues to work with the employer to identify additional cases and identify close contacts associated with the confirmed cases," officials said.
York Region said this is the second outbreak at the facility. A total of 17 cases were reported during the initial outbreak that was declared on May 17 and lasted until July 6.
York Region said the outbreak is showing signs of improvement after prevention measures were taken.
The employer has also taken some actions, York Region said. They include providing face shields, hand sanitizers and disinfecting wipes to workers, increasing monitoring of adherence to physical distancing, clearing of lunchroom tables after every use, and introducing multi-lingual screeners to address language barriers.
N.S. reports 11 new COVID-19 cases; active cases rise to 126 – CTV News Atlantic
HALIFAX —
Nova Scotia reported 11 new cases of COVID-19 on Sunday, bringing the total number of active cases to 126.
Ten of the cases are in the Central Zone, one case is in the Western Zone.
With new COVID-19 restrictions having come into effect on Thursday, Nova Scotia Premier Stephen McNeil says it's crucial that residents make a collective effort.
"By following the new restrictions in the greater Halifax area, we are working together to contain the spread of the virus," said McNeil in a press release on Sunday. "And wherever you live in the province, we all have a role to play, by limiting non-essential travel and following all the protocols – limit social contacts, practise social distancing, wear a mask and wash your hands. This is how we will flatten the curve."
"No matter where you live in Nova Scotia, it is important to follow all public health measures," said Nova Scotia's chief medical officer of health Dr. Robert Strang. "While the majority of the cases are in the Central Zone, COVID-19 can easily find its way into other parts of the province. We must all remain vigilant and continue working to limit spread within, and beyond, Halifax."
NEW SCHOOL-BASED CASE
On Sunday evening, the province noted an additional case was identified. The case is connected to the Northeast Kings Education Centre in Canning, N.S., located in the Western Zone.
Northeast Kings Education Centre has been closed since its first case of COVID-19 was announced on Tuesday. The province says a public health investigation in the coming days will determine whether the latest case was a close contact of the first confirmed case. The province notes that given the school has been closed, the new case is not believed to have been in school while infectious.
To allow for completion of contact tracing and testing, and out of an abundance of caution, Northeast Kings Education Centre will remain closed for the week and students will be supported while they learn at home.
As with any positive COVID-19 case, public health will be in touch with any close contacts of the case and advise them on next steps. Everyone who is a close contact will be notified, tested and asked to self-isolate for 14 days.
CASE BREAKDOWN
On Saturday, Nova Scotia Health Authority's labs completed 2,254 Nova Scotia tests.
Since October 1, Nova Scotia has had 44,909 negative test results and 201 confirmed cases of COVID-19. Of those cases, 75 cases are considered resolved and no one has died as a result of the novel coronavirus, leaving 126 active cases in the province.
There is no one in hospital due to COVID-19.
The province's confirmed cases range in age from under 10 to over 70.
There are cases confirmed across the province, but most have been identified in the Central Zone, which contains the Halifax Regional Municipality.
The provincial government says cumulative cases by zone may change as data is updated in Panorama, the province's electronic information system. On Sunday, the province noted the website would not be updated on that day due to technical difficulties.
RAPID TESTING
On Saturday, 540 tests were administered at a rapid-testing pop-up site in Dartmouth with one positive result. The individual was directed to self-isolate and has been referred for a standard test.
Despite seeing only one positive result during Saturday's rapid testing and lower new case numbers, Microbiology expert, Dr. Todd Hatchett, continues to urge caution.
"There is usually a two-week lag from a peak," says Hatchett, who was present at a rapid testing event at the Woodlawn Public Library in Dartmouth on Sunday. "We are not past that point where we can say those people who had contacts cannot spread those infections."
Hatchett says a lot of the success in fighting COVID-19 is happening on the front lines of community-based rapid testing sites.
At rapid testing sites, volunteers ask individuals a series of questions, including questions about the COVID-19 status of their close contacts and family. After being questioned, individuals take a rapid test.
"I think it's wonderful that they put this together," says resident Ruby Blois. "It's a lot of amazing volunteers. I'll give them full marks for a great effort."
Rapid testing site volunteer Patrick LeClair – who has no medical science background – signed up to help as a form of community service. He notes training for volunteers is thorough.
"Every time I come in, they run us through the training," says LeClair. "This is a great opportunity to be a part of this; this is a great opportunity and a historic moment here in Nova Scotia and across the world."
Dr. Lisa Barrett says the sites are staffed and managed by doctors and trained medical professionals; however, to be successful, they rely on volunteers.
"We asked for volunteers from the community, and we have got them, overwhelmingly," says Barrett.
Volunteer duties include asking screening questions, processing results, and administering the actual COVID-19 test.
"A week ago, if you told me I would be swabbing people for COVID-19, I would not have believed that," says LeClair. "It's great to be here to help people through the process."
Barrett notes volunteers range from younger people to older people from diverse career backgrounds – all appreciated for their efforts.
"People learn very quickly, and they are good at it," says Barrett. "There is no one who has trained to be a swabber or tester who has actually not performed really, really well."
Meanwhile, rapid testing sites are planned at various locations throughout the HRM in the coming weeks, as well as select parts of Nova Scotia outside of the city.
COVID ALERT APP
Canada's COVID-19 Alert app is available in Nova Scotia.
The app, which can be downloaded through the Apple App Store or Google Play, notifies users if they may have been exposed to someone who has tested positive for COVID-19.
LIST OF SYMPTOMS
Anyone who experiences a fever or new or worsening cough, or two or more of the following new or worsening symptoms, is encouraged to take an online test or call 811 to determine if they need to be tested for COVID-19:
Sore throat
Headache
Shortness of breath
Runny nose/nasal congestion
SELF-ISOLATION AND MANDATORY MASKS
Anyone who tests positive for COVID-19 is required to self-isolate at home, away from the public, for 14 days.
Anyone who travels to Nova Scotia from outside the Atlantic region for non-essential reasons is required to self-isolate for 14 days and must fill out a self-declaration form before coming to the province. Travellers must self-isolate alone, away from others. If they cannot self-isolate alone, their entire household must also self-isolate for 14 days.
Residents of New Brunswick, Prince Edward Island and Newfoundland and Labrador are not required to self-isolate when travelling to Nova Scotia, but they must be prepared to provide proof of their place of residency at provincial borders.
Visitors from outside the Atlantic region who have already self-isolated in another Atlantic province for 14 days may travel to Nova Scotia without having to self-isolate again.
It is mandatory to wear a face mask in indoor public spaces in Nova Scotia.
Coronavirus: What's happening in Canada and around the world on Sunday – CBC.ca
The latest:
Canada's death toll from COVID-19 passed 12,000 on Sunday as the country's chief public health officer said "rapid growth will continue" if Canadians don't reduce their close contacts.
The country remains on a troubling path for new infections as case counts continue to mount, Dr. Theresa Tam tweeted on Sunday, adding "increasing contacts will be an even worse scenario."
Her tweet reiterated the stark warning she made on Saturday, saying the country could see up to 10,000 cases a day in mid-December "if we continue on the current pace" of infection.
Canada is currently recording caseloads at about half that level, with the most recent seven-day average standing at 5,335 between Nov. 20 and Nov. 26.
1/2 To date, labs across 🇨🇦 have tested 11,344,925 people for <a href="https://twitter.com/hashtag/COVID19?src=hash&amp;ref_src=twsrc%5Etfw">#COVID19</a>, w an average ~3.1% positive overall, for a rate of 301,813 people tested per million population in Canada. <a href="https://t.co/jrZH3tHRUo">https://t.co/jrZH3tHRUo</a>

&mdash;@CPHO_Canada
Also on Sunday, the federal government extended existing international travel restrictions to prevent the spread of COVID-19, barring entry to most travellers who are not Canadian citizens, permanent residents or people entering from the U.S. for "essential" reasons.
In a news release issued Sunday, Minister of Public Safety and Emergency Preparedness Bill Blair and Health Minister Patty Hajdu announced that travel restrictions on U.S. citizens and foreign nationals seeking to enter Canada from the U.S. will be extended until Dec. 21.
Similarly, restrictions on travellers arriving from other countries will be extended until Jan. 21, as will the mandatory requirement for anyone who is granted entry to self-isolate for 14 days upon arrival.
Emergency orders brought forward on Mar. 16 banned most foreign nationals from entering Canada for non-essential travel. There are a number of exceptions for immediate family members of citizens, essential workers, seasonal workers, caregivers and international students, to name a few.
By extending the expiration dates to the 21st of the month, today's change brings the timing of the international travel restrictions in alignment with those governing the Canada-U.S. land border. Previously, international restrictions expired on the last day of each month while the Canada-U.S. border restrictions expired on the 21st.
What's happening across Canada
As of 3 p.m. ET on Sunday, Canada's COVID-19 case count stood at 368,670, with 63,074 of those considered active cases. A CBC News tally of deaths based on provincial reports, regional health information and CBC's reporting stood at 12,023.
In British Columbia, two Chilliwack churches have vowed to hold in-person services in defiance of the province's public health order barring gatherings. Chilliwack RCMP spokesperson Cpl. Mike Rail told CBC News that the orders "are not optional," but that education rather than enforcement was the focus for officers.
Saskatchewan reported 351 new cases, but no new deaths.
Meanwhile, the number of cases amid an outbreak at the Saskatoon Correctional Centre has risen to 128. Inmates at the facility have launched a hunger strike to protest what they say are poor conditions that have exacerbated the outbreak.
Manitoba recorded 365 new cases of COVID-19 and 11 more deaths on Sunday.
Meanwhile, RCMP officers prevented people from accessing the parking lot of the Church of God south of Steinbach, Man. Police recently issued two fines to a minister at the church for attending a protest against COVID-19 restrictions and being at a Sunday religious service.
WATCH | Churchgoers near Steinbach, Man., met with police blockade:
More than 100 cars sat along a rural Manitoba highway as RCMP blocked the entrance to the parking lot for the Church of God's planned drive-thru service. 1:36
Ontario reported 1,708 new cases of COVID-19 and 24 deaths on Sunday, with nearly 54,000 tests completed. Locally, there were 503 new cases in Peel Region, 463 in nearby Toronto and 185 in York Region.
Officials in the province have said it could take at least two weeks to see some improvements after the added restrictions were imposed on Monday.
Quebec reported 1,395 new cases and 12 deaths.
Meanwhile, the Maimonides Geriatric Centre in Montreal is transferring dozens of patients with COVID-19 to local hospitals on Sunday in an effort to contain an outbreak that has already killed 10 people.
New Brunswick recorded 14 new cases. An outbreak at a retirement-living complex in Saint John worsened after tests on all staff and residents found six more infections, bring the total to 15.
Newfoundland and Labrador reported four new cases.
Nova Scotia's caseload increased by 10, while Prince Edward Island's remained the same after reporting no new cases.
Nunavut reported 13 new cases — including 11 in the hard-hit community of Arviat — but the number of active cases declined to 112 after 32 people recovered.
---
What's happening around the world
As of Sunday, there were more than 62.4 million cases of COVID-19 recorded worldwide, with more than 39.9 million of those considered recovered or resolved, according to a coronavirus tracking tool maintained by Johns Hopkins University in Baltimore. The global death toll stood at more than 1.4 million.
In Asia, South Korea is shutting down indoor gyms offering intense workout classes and banning year-end parties at hotels in the greater Seoul area to fight the virus. The country reported 450 new cases on Sunday. South Korea on Thursday registered more than 500 new virus cases for the first time in eight months.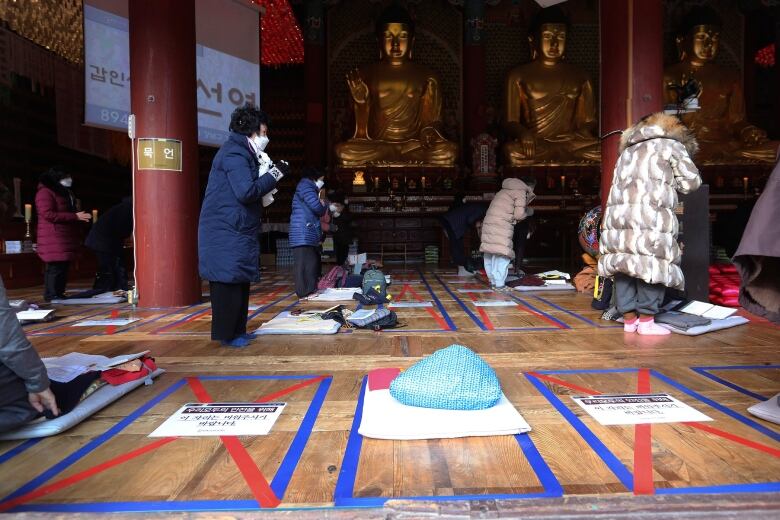 In Europe, the Czech government said Sunday it is easing measures imposed to contain the new coronavirus due to falling numbers of new confirmed cases. All stores, restaurants and bars can reopen on Thursday in the country, which was among the hardest hit by a new wave of infections in the fall.
In the Americas, New York City Mayor Bill De Blasio announced the city will reopen its school system to some in-person learning and increase the number of days a week many children attend class.
In Africa, the continent has seen more than 2.1 million confirmed cases and more than 51,000 deaths. South Africa leads the continent on both counts, with more than 785,000 infections and more than 21,000 fatalities.