GM closure an example of technical changes 'disrupting' Canadian industries: expert – Global News
The General Motors assembly plant in Oshawa, Ont., shuttered this week, ending an era for the motor city. Experts say the closure of the plant, which led to layoffs affecting thousands of workers, signifies more than just that.
Craig Alexander, chief economist at Deloitte Canada, told Global News the Canadian labour market is "doing well," but technical changes are affecting workers.
"A lot of workers are being affected by technical changes that are disrupting business models as a result."

Tweet This

"We have a lot of workers that are ultimately going to need to be retrained, develop new skills, so that they can move into the industries that are experiencing the strongest job growth in the future," he added.
GM announced in November last year that it would wind down production at the plant, which has been in operation since 1953, while the company first started producing vehicles in the city east of Toronto in 1918. The closure means about 2,600 unionized employees will lose their jobs, though about 300 are being saved through a $170-million investment by GM to turn part of the operation into a parts plant.
Alexander said having workers who are losing jobs and need to retrain can be "detrimental" to the Canadian economy.
"We've actually seen globally in things like Brexit and the rise of Trump … that when people get left behind, they become frustrated that the system, the establishment isn't working for them, they want political change — and sometimes those changes are not healthy," he said.
While technological changes in the economy have always been present, increasing global competition for business makes it more difficult for workers to keep up, the economist noted.
"I think what we're seeing is fundamental change in the structure of the Canadian economy," Alexander said. "When we look at industries driving growth, it isn't the industries that drove growth in the past."
Greig Mordue, an associate engineering professor at McMaster University, highlighted the change that's occurred specifically with the Oshawa GM plant.
"At one point in time, Oshawa made a million cars a year. It was responsible for about a third of the automotive production at its peak year," he said. "Oshawa has had a long, slow, difficult come-down from those peak years."
Mordue noted Canada's auto industry doesn't necessarily have to get left behind.
"You can build electric vehicles, once you decide how you want to build them, in any location," he said, noting the same is possible for autonomous vehicles.
However, Mordue acknowledged that laid-off workers will have difficulty adjusting to the change, retraining and finding jobs.
Roy Eagen is one of those parts workers. Walking out of the plant on Wednesday, his eyes welled with tears, both from the biting cold wind and the emotions of the day.
"It was rough, it was pretty depressing," he said of watching the last truck frame go down the line.
GM has been working to help employees find other jobs, while about 1,200 of the employees qualify for full retirement packages.

2:20


GM Canada VP looks ahead to future of company in Oshawa



GM Canada VP looks ahead to future of company in Oshawa
"The employee base that we've had over the years has accomplished so much, and we owe it to them to help them transition as best we can," said David Paterson, vice-president of corporate affairs at GM Canada.
He said it was a sad day, but with Oshawa only operating at about a third of capacity and no vehicles ready to assign to it, the company felt it had to wind down production.
Along with the parts conversion, GM is also building a track at the Oshawa facility to test electric and autonomous vehicles as part of a major transition in the auto industry.
The auto giant said this month that several employers have identified about 2,000 jobs that will become open in Durham Region in 2019 and 2020 — many of them related to the refurbishment of the Darlington nuclear power plant southeast of Oshawa.
The company has also identified 300 openings for auto technicians at GM dealerships in Ontario and 100 jobs that will be open at other GM facilities in Ontario.
Paterson said the company would ensure its employees get retraining. Durham College is expected to establish a confidential internet portal in the new year to help auto workers identify job openings and begin plans to take retraining courses offered by a consortium of colleges.

1:55


GM employees reflect on the day the company announced the closure



GM employees reflect on the day the company announced the closure
Don Lovisa, the president of the college, explained that several companies have reached out saying they need employees.
"Companies approach us and say we need people, train these people, tell them about our jobs, we'll hire them," he told Global News.
He acknowledged, however, that it will be a challenge for older workers to retrain or in some cases return to school, and then settle in to new jobs.
— With files from Global News' Jeff Semple and the Canadian Press
© 2019 Global News, a division of Corus Entertainment Inc.
Canada extends 3 COVID-19 supports for businesses until June – Global News
The Canadian federal government announced Wednesday it will extend multiple critical COVID-19 emergency benefits aimed at helping businesses during the pandemic.
Prime Minister Justin Trudeau said the Canada Emergency Wage Subsidy and the Canada Emergency Rent Subsidy Canada, as well as the Lockdown Support programs, will maintain their current rates until June 5, 2021.
"Times are hard," he said. "We're here to provide you with the support you will need to make it through this crisis, as long as it lasts."
The extension means the maximum wage subsidy rate for employees still on payroll will remain at 75 per cent. For the rent subsidy program, the rate will remain at 65 per cent. The Lockdown Support program will remain at 15 per cent.
This will provide "hard-hit businesses with rent support of up to 90 per cent," Finance Minister and Deputy Prime Minister Chrystia Freeland added.
She said the trio of programs are being extended because the economy is still struggling even with encouraging signs of a recovery on the horizon.
"Even if we have seen encouraging signs of a recovery, including higher growth forecast in the fourth quarter of 2020, we are not yet at the end of it," she said in French.

1:53


Calgary landlord offers tenants rent relief with new 'COVID clause' in leases



Ottawa has paid out more than $66 billion in wage subsidies and $1.6 billion in rent subsidies, according to official data.
Freeland said the cost of extending these programs were already set out in estimates published back in November.
"Our approach is very cautious," she said. "We had already anticipated in the forecast that it might be necessary to do what we announced today."
Extending the rent program to June will cost an additional $2.1 billion, Freeland said. For the wage subsidy program, the additional cost would come at an approximate $13.9 billion.
"I would add, these are programs that depend, in fact, on the situation Canadian businesses face. The level of assistance will depend on business revenues," she continued in French.
"So we will spend less if the economy is stronger and we will spend more if the economy is weaker and if businesses need further assistance."
— with a file from Reuters
© 2021 Global News, a division of Corus Entertainment Inc.
Coronavirus: What's happening in Canada and around the world on Wednesday – CBC.ca
The latest:
Quebec Premier François Legault is expected to announce updated COVID-19 restrictions later Wednesday that will apply after March 8.
Quebec reported the lowest daily number of new COVID-19 infections since September on Tuesday morning.
Health Minister Christian Dubé, however, told reporters on Tuesday that he is scared about the spread of new coronavirus variants, particularly in the Montreal area, and that it may be the calm before the storm.
Quebec allowed movie theatres, arenas and some indoor swimming pools to reopen last Friday, a move intended to offer activities for families during the province's spring break week, which began Monday.
An 8 p.m. curfew and a ban on private gatherings remain in effect in southern Quebec — including in Montreal and Quebec City. A 9:30 p.m. curfew applies in the rest of the province, except the northern region of Nunavik.
-From The Canadian Press, last updated at 6:40 a.m. ET
---
What's happening across Canada
WATCH | Some provinces won't give AstraZeneca to seniors, could change rollout plans:
Several provinces are signalling they will follow the recommendation of Canada's vaccine advisory body and not give the AstraZeneca-Oxford vaccine to seniors, creating a shift away from a high-priority group despite Health Canada's advice that the vaccine is safe and effective. 2:29
As of 12:40 p.m. ET, Canada had reported 874,443 cases of COVID-19, with 30,060 cases considered active. A CBC News tally of deaths stood at 22,081.
In Quebec, health officials reported 729 new cases of COVID-19 and 19 additional deaths on Wednesday. Hospitalizations in the province stood at 618, with 120 COVID-19 patients in intensive care, the province reported.
Ontario on Wednesday reported 958 new cases of COVID-19 on Wednesday and 17 additional deaths. Hospitalizations in the province stood at 668, with 274 COVID-19 patients in intensive care units.
In Atlantic Canada, Newfoundland and Labrador reported three new cases of COVID-19 on Wednesday. The number of people in hospital with COVID-19 stood at nine, health officials said.
Prince Edward Island reported one new case of COVID-19 on Wednesday, as the chief public health officer said there was no evidence of widespread community transmission in the province.
BREAKING: <a href="https://twitter.com/hashtag/PEI?src=hash&amp;ref_src=twsrc%5Etfw">#PEI</a> Premier Dennis King says province moving out of modified red alert, back to "circuit breaker" restrictions. That will stay in place until March 14. Schools will resume tomorrow, including Three Oaks in Summerside. <a href="https://twitter.com/CBCPEI?ref_src=twsrc%5Etfw">@CBCPEI</a>

&mdash;@JWayneCBC
Dr. Heather Morrison said the province is not yet out of the woods, warning that the province is still susceptible to the importation of COVID-19.
"Let us proceed cautiously, and let us continue to be patient and kind," she said.
Newfoundland and Labrador reported five new cases of COVID-19 on Tuesday, including one in a health-care worker. There were four new cases reported Tuesday in New Brunswick. Health officials in Nova Scotia, meanwhile, reported one new case.
Across the North, Nunavut had no new cases to report on Wednesday. Health officials in Yukon and the Northwest Territories had not yet reported updated figures for the day.
WATCH | Industrial workplaces remain a concern as COVID-19 variants spread:
As variants of concern continue to spread, workers in industrial settings remain a big risk. In Peel Region, a major manufacturing centre outside Toronto, many precautions aren't followed and the lack of sick days is still a major hurdle for employees. 5:25
In the Prairie provinces, Manitoba reported 64 new cases and eight additional deaths. The Manitoba government is loosening some of its COVID-19 restrictions as its case numbers continue to drop. Starting Friday, people will be allowed to have another entire household visit in their home, and outdoor public gatherings can increase to 10 people from five.
In neighbouring Saskatchewan, health officials reported 134 new cases of COVID-19 and two additional deaths.
Alberta reported 257 new cases of COVID-19 and two additional deaths on Tuesday. Hospitalizations stood at 261, with 54 people in intensive care units.
British Columbia, meanwhile, reported 438 new cases of COVID-19 on Tuesday, as well as two more deaths. The update came as the province's top doctor said the decision to delay second doses of COVID-19 vaccine by four months is based on scientific evidence as well as real-world data.
Dr. Bonnie Henry said the data shows protection from a single dose is upwards of 90 per cent and lasts for several months, and delaying second doses will maximize the benefit of vaccines for everyone while reducing mortality and severe illness for those most at risk.
-From The Canadian Press and CBC News, last updated at 12:45 p.m. ET
---
What's happening around the world
As of early Wednesday morning, more than 114.8 million cases of COVID-19 had been reported worldwide, with more than 64.9 million cases considered recovered, according to a tracking tool maintained by Johns Hopkins University. The global death toll stood at more than 2.5 million.
In the Asia-Pacific region, the first batch of AstraZeneca's COVID-19 vaccine has arrived in Taiwan.
Taiwan has signed contracts securing 10 million doses of the AstraZeneca vaccine, 5.05 million doses of the Moderna vaccine and 4.76 million doses of vaccines through COVAX. Wednesday's delivery had 117,000 doses, which was transported from the airport with a police escort.
Health-care workers, especially those who have direct contact with suspected or confirmed COVID-19 cases, will be the first to get the shots, Taiwan's Health Minister Chen Shih-chung said at a news briefing. The island has yet to announce a mass vaccination campaign for the general public.
Indonesia has detected two cases of the more infectious COVID-19 variant first discovered in Britain, marking a potential new complication for the country.
Japanese Prime Minister Yoshihide Suga says he is considering extending an ongoing state of emergency for the Tokyo region for about two weeks, amid concerns that infections have not slowed enough and are continuing to strain health systems in the region.
Suga had declared a month-long state of emergency in Jan. 7 for Tokyo, Kanagawa, Saitama and Chiba, then extended the measure through to March 7. The measure issued for up to 10 other urban prefectures later in January was lifted last week, underscoring the government's eagerness to allow businesses to return to normal as soon as possible.
In the Americas, U.S. President Joe Biden is directing states to prioritize vaccinating all teachers during the month of March, and announced that the federal government will help in the effort through its partnership with retail pharmacies.
Biden said his goal is for every pre-kindergarten through 12th grade educator, school staff member and child-care worker to receive at least one shot by the end of March. To achieve this, Biden announced that qualifying individuals will be able to sign up this month to be vaccinated at a pharmacy near them.
Biden said that while schools are safe to reopen even before staff have been vaccinated, "time and again, we've heard from educators and parents that have anxieties about that," so to "accelerate" the safe reopening teachers should be prioritized.
Texas Gov. Greg Abbott issued the most sweeping rollback of restrictions of any U.S. state on Tuesday, lifting a mask mandate and saying most businesses may open at full capacity next week, while Michigan and Louisiana also announced a loosening of restrictions.
Venezuelan President Nicolas Maduro said that 500,000 doses of China's Sinopharm coronavirus vaccine had arrived in the South American country, along with protective material for medical personnel.
In the Middle East, Saudi Arabia's health ministry has ruled that only people who have been vaccinated against COVID-19 will be allowed to attend the hajj this year, Saudi newspaper Okaz reported.
In Europe, Spain revised downward its tally of coronavirus cases on Tuesday after eliminating those registered twice in the region of Catalonia.
German leaders are looking for ways to ease the country out of a long-running coronavirus lockdown, which they are expected to extend on Wednesday while also opening the door to relaxing some restrictions.
Chancellor Angela Merkel and the country's 16 state governors, who in highly decentralized Germany have the power to impose and lift restrictions, are expected to extend the shutdown in principle by three weeks until March 28. But they are looking for ways to balance concern over the impact of more contagious coronavirus variants with a growing clamour for a return to a more normal life.
The first measures already have been taken: many elementary students returned to school a week ago. And on Monday, hairdressers opened after a 2½-month break.
Some German states also allowed businesses such as florists and hardware stores to open on Monday. Most stores have been closed nationwide since Dec. 16. Restaurants, bars, and sports and leisure facilities have been closed since Nov. 2 and hotels are allowed only to accommodate business travellers.
When they last conferred on Feb. 10, Merkel and the governors set a target of 35 weekly new cases per 100,000 inhabitants before letting small stores, museums and other businesses reopen. The aim is to enable reliable contact tracing.
But reaching that target soon has appeared increasingly unrealistic as cases of the more contagious variant first detected in Britain increase, with overall infections creeping slightly higher. The cases-per-week number, which peaked at nearly 200 per 100,000 inhabitants just before Christmas, has been stalled above 60 in recent days.
Governors and others have called for Wednesday's video conference to produce step-by-step opening plans that would allow some, albeit cautious, relaxation of restrictions on a regional basis well above the target of 35 — possibly with the help of rapid tests.
Germany has seen the number of deaths from COVID-19 and people in intensive care decline in recent weeks. But it has been struggling to ramp up its vaccination drive, which has drawn widespread criticism for being too slow, even as the supply of vaccines improves. German lawmakers have ditched plans for hefty fines for people who skip the vaccine queue.
Portugal had its fewest COVID-19 patients in hospital in four months on Tuesday, as its prime minister warned that enforcing lockdown curbs remained essential in a country that topped global death rates a month ago.
In Africa, more countries received the long-awaited first deliveries of COVID-19 vaccines on Wednesday, with Kenya and Rwanda benefiting from the global COVAX initiative that aims to ensure doses for the world's low- and middle-income nations.
African and other health officials have been frustrated with the sight of a handful of rich countries rolling out vaccines after snapping up large amounts for themselves.
"We will be known as the continent of COVID," if Africa doesn't quickly reach its target of vaccinating 60 per cent of its population of 1.3 billion people, the director of the Africa Centers for Disease Control and Prevention, John Nkengasong, said last week. The continent last month surpassed 100,000 confirmed deaths.
So far Ghana, Ivory Coast, Nigeria, Angola and Congo also have received their first vaccine doses via COVAX, with several other countries including Mali, Senegal, Malawi and Uganda set to receive them this week.
Rwanda is becoming the first African nation to receive the Pfizer vaccine via COVAX. The vaccine needs storage at ultra-cold temperatures, making rollout complex in hot countries and rural areas, for example. COVAX has faced delays related to the severely limited global supply of vaccine doses as well as logistical issues.
And COVAX alone will not supply Africa's 54 countries with the doses needed to reach the 60 per cent population coverage for achieving so-called herd immunity, when enough people are protected through infection or vaccination to make it difficult for a virus to continue to spread.
That's why some countries such as South Africa, the hardest-hit African nation, are also pursuing COVID-19 vaccines via bilateral deals or via the African Union's bulk-purchasing program.
-From The Associated Press and Reuters, last updated at 9:45 a.m. ET
The latest news on COVID-19 developments in Canada – Squamish Chief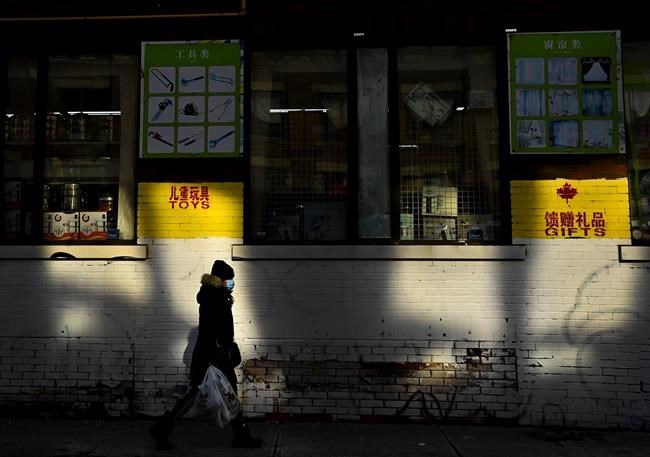 The latest news on COVID-19 developments in Canada (all times Eastern):
11:40
Prime Minister Justin Trudeau says three federal aid programs designed to blunt the fallout from COVID-19 are being extended.
Trudeau says the federal wage subsidy, rent support and lockdown programs will remain in place until June.
Finance Minister Chrystia Freeland says all three programs will keep support at the current levels.
She says the trio of programs are being extended because the economy is still struggling even with encouraging signs of a recovery on the horizon.
—
11:15 a.m.
Prince Edward Island will lift restrictions that closed schools and most businesses at midnight.
Premier Dennis King says results from 11,000 COVID-19 tests conducted since the weekend provide confidence that restrictions can be eased.
The health orders were imposed after COVID-19 case clusters emerged in Charlottetown and Summerside.
Chief medical officer of health Dr. Heather Morrison is reporting one new COVID-19 case today; P.E.I. has 22 active reported infections.
—
11:15 a.m.
Quebec is reporting 729 new cases of COVID-19 today and 19 more deaths from the virus, including two within the past 24 hours.
Health officials say hospitalizations dropped to 618 and the number of people in intensive care dropped to 120.
—
10:30 a.m.
Ontario is reporting 958 new COVID-19 cases today.
The province says 17 more people have died from the virus.
More than 27,000 tests were completed to compile the data.
The province says 27,398 COVID-19 vaccine doses were administered since the last daily update.
—
This report by The Canadian Press was first published March 3, 2021.
The Canadian Press