'Hell' planet found with lava oceans, rocky rain and supersonic winds – Global News
Scientists have identified a planet where the oceans are lava, the raindrops are rocks, the winds are supersonic, and the politics are non-existent.
It's been dubbed a "hell planet" but some might prefer it to the insanity of Earth in 2020, especially in the middle of a global pandemic and political unrest in the United States.
The exoplanet, called K2-141b, is one of the most extreme worlds ever found, according to a Canadian-authored paper published Tuesday in the Monthly Notices of the Royal Astronomical Society. It's larger than Earth, 202 light-years away and rockier than you could possibly imagine. Everything, including the air, has rock in it.
The paper describes an intensely polarized world that would turn you into cinders or a block of ice, depending on which side you visited. It's also partly covered by a huge magma ocean, though it might be possible to get to solid high ground — if you could survive the temperatures.
The planet is tidally locked to its nearby star, meaning one side is always a sizzling 3,000 degrees Celsius in daylight, while the other is eternally shrouded in darkness and frigid -200-degree Celsius temperatures.
The day side is so hot that it causes rock — like the rocks on Earth — to evaporate. This rock vapour collects over the lava ocean into a thin atmosphere, then swirls toward the night side on winds that blow at over 5,000 kilometres per hour, according to the paper.
The rock vapour eventually cools and condenses into rock-drops that fall back into the ocean, researchers say.
It's basically a hardcore version of the water cycle on Earth.

2:08


Possible signs of life discovered in clouds of Venus



Astronomers have known about the planet since 2018, but a Canadian team used illumination patterns to learn more about its surface and weather.
"Our finding likely means that the atmosphere extends a little beyond the shore of the magma ocean, making it easier to spot with space telescopes," co-author Nicolas Cowan of McGill University told CBS News.
Cowan and his fellow researchers say the planet's atmosphere is likely a mix of evaporated sodium, silicon monoxide and silicon dioxide. All of those materials can be found in solid form on Earth, especially silicon dioxide, which forms the vast majority of rocks on our planet.
"The study is the first to make predictions about weather conditions on K2-141b that can be detected from hundreds of light years away with next-generation telescopes such as the James Webb Space Telescope," lead author Giang Nguyen said in a news release.
The study was a joint effort by astronomers at McGill University and York University in Canada, along with the Indian Institute of Science and Education.
The researchers' findings provoked a flurry of Star Wars jokes on Twitter, where many dubbed the planet "Mustafar."
Mustafar is the lava planet where Anakin Skywalker becomes Darth Vader in Episode III: Revenge of the Sith. Anakin loses a lightsaber fight (and the high ground) to his mentor, Obi-Wan Kenobi, then suffers critical burns from the lake of lava. The pivotal moment has become a popular meme in recent years.
Researchers say they're looking forward to collecting more data on the planet next year, once the James Webb Space Telescope comes online.
They suspect the planet is in a state of flux, and will eventually take a different form due to the intense and erratic patterns on its surface.
That means it'll probably be a little more hospitable in the distant future — or perhaps just hospitable enough for a very dangerous lightsaber fight.
© 2020 Global News, a division of Corus Entertainment Inc.
AI Solves 50-Year-Old Biology 'Grand Challenge' Decades Before Experts Predicted – ScienceAlert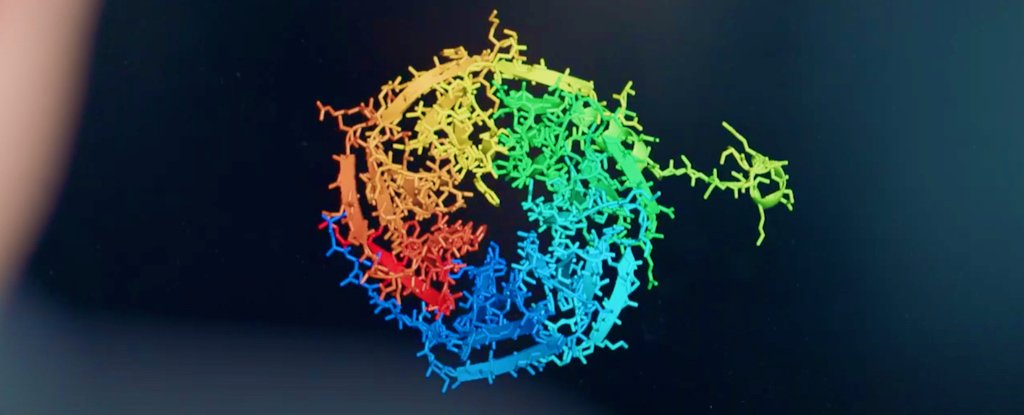 A long-standing and incredibly complex scientific problem concerning the structure and behaviour of proteins has been effectively solved by a new artificial intelligence (AI) system, scientists report.
DeepMind, the UK-based AI company, has wowed us for years with its parade of ever-advancing neural networks that continually trounce humans at complex games such as chess and Go.
All those incremental advancements were about much more than mastering recreational diversions, however.
In the background, DeepMind's researchers were seeking to coax their AIs towards solving much more fundamentally important scientific puzzles – such as finding new ways to fight disease by predicting infinitesimal but vitally important aspects of human biology.
Now, with the latest version of their AlphaFold AI engine, they seem to have actually achieved this very ambitious goal – or at least gotten us closer than scientists ever have before.
[embedded content]
For about 50 years, researchers have strived to predict how proteins achieve their three-dimensional structure, and it's not an easy problem to solve.
The astronomical number of potential configurations is so mind-bogglingly huge, in fact, that researchers postulated it would take longer than the age of the Universe to sample all the possible molecular arrangements.
Nonetheless, if we can solve this puzzle – known as the protein-folding problem – it would constitute a giant breakthrough in scientific capabilities, vastly accelerating research endeavours in things like drug discovery and modelling disease, and also leading to new applications far beyond health.
For that reason, despite the scale of the challenge, for decades researchers have been collaborating to make gains in developing solutions to the protein-folding problem.
A rigorous experiment called CASP (Critical Assessment of protein Structure Prediction) began in the 1990s, challenging scientists to devise systems capable of predicting the esoteric enigmas of protein folding.
[embedded content]
Now, in its third decade, the CASP experiment looks to have produced its most promising solution yet – with DeepMind's AlphaFold delivering predictions of 3D protein structures with unprecedented accuracy.
"We have been stuck on this one problem – how do proteins fold up – for nearly 50 years," says CASP co-founder John Moult from the University of Maryland.
"To see DeepMind produce a solution for this, having worked personally on this problem for so long and after so many stops and starts wondering if we'd ever get there, is a very special moment."
In the experiment, DeepMind used a new deep learning architecture for AlphaFold that was able to interpret and compute the 'spatial graph' of 3D proteins, predicting the molecular structure underpinning their folded configuration.
The system, which was trained up by analysing a databank of approximately 170,000 protein structures, brought its unique skillset to this year's CASP challenge, called CASP14, achieving a median score in its predictions of 92.4 GDT (Global Distance Test).
That's above the ~90 GDT threshold that's generally considered to be competitive with the same results obtained via experimental methods, and DeepMind says its predictions are only off by about 1.6 angstroms on average (about the width of an atom).
"I nearly fell off my chair when I saw these results," says genomics researcher Ewan Birney from the European Molecular Biology Laboratory.
"I know how rigorous CASP is – it basically ensures that computational modelling must perform on the challenging task of ab initio protein folding. It was humbling to see that these models could do that so accurately. There will be many aspects to understand but this is a huge advance for science."
It's worth noting that the research has not yet been peer-reviewed, nor published in a scientific journal (although DeepMind's researchers say that's on the way).
Even so, experts who are familiar with the field are already recognising and applauding the breakthrough, even if the full report and detailed results are yet to be seen.
"This computational work represents a stunning advance on the protein-folding problem, a 50-year old grand challenge in biology," says structural biologist Venki Ramakrishnan, president of the Royal Society.
"It has occurred decades before many people in the field would have predicted."
The full findings are not yet published, but you can see the abstract for the research, "High Accuracy Protein Structure Prediction Using Deep Learning", here, and find more information on CASP14 here.
A 'Beaver Full Moon' With Lunar Eclipse Happened This Morning—And Folks Took Some Stunning Photos – Good News Network
If you were up in the early hours of this morning, you may have noticed the full moon turning a shade or so darker and redder.
What you were seeing is called a penumbral lunar eclipse. Caused by the moon dipping behind the Earth's fuzzy penumbra, or outer shadow, this subtle shading effect peaked at 4:32 am ET November 30, when—according to NASA—83% of the moon was in the shadow of our planet.
NASA has also given a list of the names November's full moon is known by: The Algonquin tribes have long called this the Cold Moon after the long, frozen nights. Others know it as the Frost Moon, while an Old European Name is Oak Moon: perhaps because of ancient Druid traditions that involve harvesting mistletoe from oak trees for the upcoming winter solstice.
In America, the November full moon is perhaps still best known as the Beaver Moon—with Native Americans associating it with a time when the beavers are scrabbling to finish building their dens from mud and sticks and rocks in preparation for winter.
While this was the last penumbral eclipse of the year, don't worry if you missed the occurrence due to sleep or clouds.
For those who didn't get to witness the phenomenon in person, from San Francisco to Michigan to the Sydney Opera House, here are some stunning pictures of this year's last partial lunar eclipse.
RELATED: With Every Planet Visible This Week and Leonid Meteor Shower Shooting Fireballs, It's Time to Get Out the Telescope
P.S. The next full moon will be the Cold Christmas Moon on December 29, 2020.
The full moon captured with the San Francisco skyline view at Alameda
A peaceful scene from Mackinac Island in Michigan
Surreal views from Joshua Tree
The Columbia River Gorge became a moonrise kingdom
Cool blue views were taken by this photographer in Northumberland, England
This photographer in Russia caught an image straight from a folk tale
Clouds added interest and atmosphere to these photos taken in Preston, England
A calming moment was captured on Rhode Island
The moon united photographers everywhere last night. Here's a view from Sydney.
SHARE These Far-Out Views With Friends on Social Media…

How to see a mysterious object that might be space junk fly near Earth today – CNET
The moon shouldn't feel too jealous. Earth has another satellite right now, but it's only a temporary fling. The exact identity of the object, named 2020 SO, is still a lingering question, but you can watch it on Monday, Nov. 30, when it gets close to Earth. The Virtual Telescope Project will livestream the flyby.
The Earth's gravitational pull captured the object into our planet's orbit earlier this month, which makes 2020 SO a sort of mini-moon.
Usually, we'd expect an object like this to be an asteroid, and there are plenty of those flying around in space. But 2020 SO may have a more Earthly identity. The orbit of 2020 SO around the sun — which is very similar to Earth's — has convinced researchers it's probably not a rock, but is actually a piece of space junk from a NASA mission.
The object's closest approach to our planet will be on Dec. 1. The Virtual Telescope Project will offer a livestream starting at 2 p.m. PT on Nov. 30.
Virtual Telescope Project founder Gianluca Masi already managed to capture a view of the tiny object on Nov. 22. It appears as a dot against a backdrop of stars.
Scientists with NASA JPL's Center for Near-Earth Object Studies (CNEOS) analyzed 2020 SO's path and tracked it back in time.
"One of the possible paths for 2020 SO brought the object very close to Earth and the Moon in late September 1966," CNEOS Director Paul Chodas said in a NASA statement earlier in November. "It was like a eureka moment when a quick check of launch dates for lunar missions showed a match with the Surveyor 2 mission."
NASA's ill-fated Surveyor 2 lander ended up crashing on the moon's surface, but the Centaur rocket booster escaped into space.
NASA expects 2020 SO to stick around in an Earth orbit until March 2021 when it will wander off into a new orbit around the sun. The agency's Planetary Defense Coordination Office shared a visual of the object's journey around Earth.
The upcoming close approach should give astronomers a chance to dial in 2020 SO's composition and tell us if it is indeed a relic from the 1960s.
Even with a telescope view, 2020 SO should look like a bright spot of light traveling against the dark of space. The cool thing is getting the chance to witness a piece of space history returning to its old stomping grounds.