PS5 DualSense controller review: This is a literal game changer – Polygon
Place a PlayStation 1-era DualShock controller alongside a PlayStation controller, and you might have a tough time telling the difference between the two. Sure, there have been improved ergonomics and new features added to PlayStation controllers, from touchpads to light bars, but the overall layout and design haven't changed much at all in the 23 years since that first DualShock dropped. It's an astonishing level of commitment for Sony, but also a testament to just how strong that original design was. After all, if it ain't broke …
Which is why the first photos of the PlayStation 5's new DualSense controller were so surprising. The shape-marked face buttons were there, as were the symmetrical analog sticks, but the thick, stubby handles of DualShocks long past had been replaced by longer, thinner handles that swooped down, looking like a black-and-white croissant. Why, Sony? Why mess with something that was working so well?
Well, now I know why. This may be the best controller I've ever used.
Is the DualSense's new design better?
Photographs don't adequately capture the new DualSense controller's attributes. In a still image, it doesn't look like something I'd ever want to hold. Even just looking at it on a table, it doesn't seem particularly comfy. I remember bracing myself before picking it up for the first time last week, knowing I would be stuck with this controller for the next seven years or more.
But when I wrapped my hands around the new, lengthy handles of the DualSense, it clicked. Goddamn, this controller feels great to hold. The longer handles mean my entire hands can rest on them comfortably, in contrast to the DualShock 4, which could cause floating pinky syndrome for players with bigger hands. And because the handles are thin and somewhat angled in the back, it feels like I have a more secure grip than I did with the exclusively round DualShock 4 handles. The new DualSense arms feel like they were built around the concept that fingers have joints and don't actually bend in a perfect circle. The DualSense fits my hand like the best handshake I've ever had.
There are far too many hand types across the spectrum to account for everyone's personal style and preference. Some of my colleagues have experienced hand strain when using the DualSense for a few hours, so mileage may vary from person to person.
How much do adaptive triggers + haptics really matter?
The rest of the improvements made to the new PlayStation 5 controller aren't immediately evident upon picking the thing up, but quickly become clear once you start playing games designed to make use of the gamepad's features.
The new controller's L2 and R2 triggers feel nearly identical to those on the DualShock 4 under normal circumstances. But if you happen to stumble on a game that supports the "adaptive trigger" functionality, something magical happens.
Adaptive triggers mean that the force required to pull the trigger can change depending on what's happening on screen. In my early impressions of Astro's Playroom, I talked about pressing down on a spring and feeling that increased pressure pushing back at me in the trigger. In Bugsnax, when taking photos of critters, the last 10% of the trigger turns into a "clickable" button, giving the illusion of taking a shot with a DSLR.
To further sell this illusion, Sony makes use of the DualSense's internal speaker to mimic the sound of the spring or shutter going off, making me feel like these are things that are happening literally in my hands as I play.
The last part of this magic trick uses the new haptics. Think of it like the next generation of vibration technology. Rather than just being limited to the same rumbly feel for everything, there's a lot more variety in what the PS5 controller can produce to mimic the events on screen. Captain Astro's little feet tapping across a glass surface in Astro's Playroom feel completely different from the robot standing near a massive explosion, for example.
These three features combine to give me more of a "next-gen" sense than 4K visuals or HDR ever have.
The big question right now is just how many of these features will actually appear in most PS5 games. It's safe to expect that Sony-published titles will lean into this functionality — if Horizon Forbidden West doesn't have a bowstring trigger, I'd be shocked — but third-party games could easily skimp on or ignore this functionality entirely, since it does require more work to include features that are only supported by a single platform.
There's also the threat of overusing these features to the point of them being a detriment to the experience. Spider-Man: Miles Morales uses adaptive triggers to mimic the tension of Miles' web-swinging, but after just a few hours, I started developing finger strain and turned off the feature. When used sparingly, the adaptive triggers can be a tasty addition. But developers need to be careful not to oversalt.
On the new, built-in microphone
While there are returning bells and whistles, like the aforementioned touchpad and motion controls (which work, more or less, like they did previously), there's really just one more major difference between the PS4 and PS5 controllers: the microphone.
Every DualSense controller comes with a built-in mic, letting you communicate with friends (and enemies) online without needing to grab a headset. It's a handy feature, but it also comes with some noteworthy drawbacks.
The DualSense mic is surprisingly good at sensing when you're talking versus when your TV is making noise, and it will attempt to filter out the latter. Even with my TV volume jacked to higher-than-normal levels, my online buddy was only hearing my end when I was actively speaking, rather than when the game I was playing made a loud boom. (There's also a button to hard-mute your mic if you don't want to stress about any of this.)
That quasi push-to-talk feature is neat, but perhaps a little aggressive. Even just a brief, one-second pause between words (perhaps for added drama?) will cut your mic off before bringing it back again on your next word, often clipping your audio in the process. On the other side, your buddy might only hear the second half of what you were saying, as the mic decides when it's safe to start picking up your voice again.
What's more, the built-in mic does not offer great audio quality, and if you're using it without a headset, your buddy's voice chat will default to coming out of the controller itself, which just has a passable (but tinny) speaker. You are able to shift chat audio to your TV's speakers, but all that does is further highlight the limitations of the built-in mic.
In practice, the mic's inclusion is nice if you're just looking to ask a friend a quick question. But if you want to have a drawn-out conversation, or you're trying to complete complex gameplay tasks (like a Destiny 2 raid), you'll be much better off plugging in an actual headset.
Into the unknown
There are other variables regarding the PlayStation 5 controller that make it hard to to judge fully at this early stage. Thus far, the battery life on the DualSense has seemed comparable to that of the DualShock 4 — Sony claims five to six hours of battery life on the new one — but surely that depends heavily on which games you're playing and how many of the rumble, trigger, or speaker features are being used. Also, after several years, DualShock 4 controllers definitely lost a large chunk of their charging capacity. A true scientific test of battery life over a long period of time is beyond my personal reach, though I'm sure the more tech-minded will swoop in within days to fill in the blanks.
There's also the weird question of, uh, slimy analog sticks. DualShock 4 analog sticks, for whatever reason, get pretty damn slimy and gross if they haven't been used for a few weeks. And no, I'm not playing with Cheeto hands. But it's enough of a problem that I've had to break out rubbing alcohol if it's been a while since the last time I played my PS4. The new DualSense sticks feel the same as they did on the DualShock 4, but whether they will suffer from the same slimy residue remains up in the air.
Despite these X-factors, I find myself totally smitten by the new DualSense. The major structural alterations from the DualShock 4 are big boons when holding the controller for long stretches. Meanwhile, the melding of haptics and adaptive triggers is a gobsmackingly cool way to evoke new feelings of immersion from the events onscreen. If the DualSense ends up being the new standard for the next 23 years, I would have no problem with that.
The PlayStation 5 will be released Nov. 12 in the U.S., Canada, Mexico, Australia, New Zealand, and South Korea, and on Nov. 19 elsewhere. This review was conducted with a final retail PlayStation 5 (and its DualSense controller) provided by Sony Interactive Entertainment. Vox Media has affiliate partnerships. These do not influence editorial content, though Vox Media may earn commissions for products purchased via affiliate links. You can find additional information about Polygon's ethics policy here.
Alleged Xiaomi Mi 11 and Mi 11 Pro specifications surface on Weibo – Notebookcheck.net
Some Xiaomi Mi 11 and Mi 11 Pro specifications have shown up online. Both phones are tipped to come with a 1440p screen that refreshes at 120Hz. The Mi 11 Pro will allegedly support fast charging at 120W. Xiaomi is expected to unveil the Mi 11 series by the end of December 2020.
With the Xiaomi Mi 11 series' launch date drawing closer, the internet is abuzz with speculations about the phone's specifications. Xiaomi and Qualcomm have already confirmed that it will run the Snapdragon 888, so we know that for sure. However, there seems to be a lot of buzz around the Xiaomi Mi 11 series' camera and battery prowess. A table showcasing the alleged specifications of the Xiaomi Mi 11 and Mi 11 Pro's side-by-side has now surfaced on Weibo. It shouldn't be long before we know if this information is correct. Ice Universe suggests that Xiaomi plans on launching the Mi 11 series at the end of December.
It is unclear as to how many cameras both smartphones will come in total. The base Xiaomi Mi 11 is billed to ship with a 108MP Samsung ISOCELL HM3 sensor assisted by a 13MP ultra-wide-angle lens. Things begin to get murky here, as the machine translation fails to tell us the telephoto lens' megapixel count. It may also come with a hole-punch 20MP selfie camera. There appears to be a macro lens thrown in the mix, too. More details about it should emerge as time passes. The Xiaomi Mi 11 will reportedly ship with a 4,700mAh battery that can be charged at 50W via a cable, and at 30W wirelessly. Prices are expected to start at RMB 3,999 (US$610) for the base variant with 8GB of LPDDR5 RAM and 128GB of USF 3.1 storage. Other Xiaomi Mi 11 features include an under-display fingerprint scanner, NFC, and a 1440p screen with a refresh rate of 120Hz.
Moving on to the better-specced Xiaomi Mi 11 Pro (or Mi 11 Ultra according to some sources), we get what appears to be a 50MP primary sensor. However, an earlier report told us that the 50MP image is a result of 4:1 pixel billing, so we're likely looking at a 200MP sensor. It will be assisted by a 48MP ultra-wide-angle lens and a 48MP telephoto lens. Xiaomi could very well follow Huawei's path and throw in a second telephoto lens for good measure. Even the Galaxy S21 Ultra is billed to feature a similar setup, giving Xiaomi additional incentive to follow suit. Things get even more impressive when we look at the Xiaomi Mi 11 Pro's battery specifications. It will allegedly support fast charging at 120W over a cable and 80W wirelessly. Xiaomi has been working on its 100W fast charging tech for quite some time now, and it's good to see it make its way in a flagship smartphone. The Xiaomi Mi 11 Pro is expected to cost RMB 5,299 (US$807) for the same memory and storage configuration as the non-Pro variant. Information about the exact screen size is scant, but it stands to reason that the smartphone will come with a 1440p 120Hz AMOLED screen.
Xiaomi Mi 11, Mi 11 Pro specifications and images leaked – gizmochina
Xiaomi is expected to launch the Xiaomi Mi 11 series later this month. The lineup reportedly includes two handsets named the Mi 11 and Mi 11 Pro. Fresh leaks have surfaced on Weibo to reveal the specs of the two phones. Also, a couple of images have also surface to showcase the rear camera design of the Mi 11 duo. Before reading ahead, readers are advised to digest this report with a grain of salt since these leaks are not from regular leakers.
Xiaomi Mi 11 and Mi 11 Pro specifications (Unconfirmed)
The leak reveals that the Mi 11 and Mi 11 Pro will be equipped with S-AMOLED panels that offer a 120Hz refresh rate and quad HD+ resolution. The exact screen size is not mentioned in the leak. Both phones are said to be equipped with 20-megapixel front-facing cameras.
The Mi 11 could be backed by a battery of around 4,780mAh capacity and it may come with support for 50W wired charging and 30W wireless charging. The Mi 11 Pro could be coming with a smaller battery of around 4,500mAh capacity. It may support 120W wired charging and 80W wireless charging.
The leak states that Mi 11 may feature a 108-megapixel + 13-megapixel (ultrawide) + 5-megapixel (macro) triple camera setup. The Mi 11 Pro could be equipped with a 48-megapixel (OmniVision OV48C) + 20-megapixel (ultrawide) + 12-megapixel (telephoto with 2x optical zoom) triple camera setup.
The Snapdragon 888 will fuel the device with LPPDR5 RAM and UFS 3.1 storage. For security, these phones have an under-display fingerprint scanner and 2D face unlock. The other features that are available on Mi 11 duo include dual speakers, x-axis linear motor, IR blaster, and NFC. The leak states that the Mi 11 with 8 GB RAM + 128 GB storage may cost 3,999 Yuan (~$610) to 4,499 Yuan (~$686). The Pro model with the same RAM and storage may cost 5,299 Yuan (~$808) to 5,499 Yuan (~$838).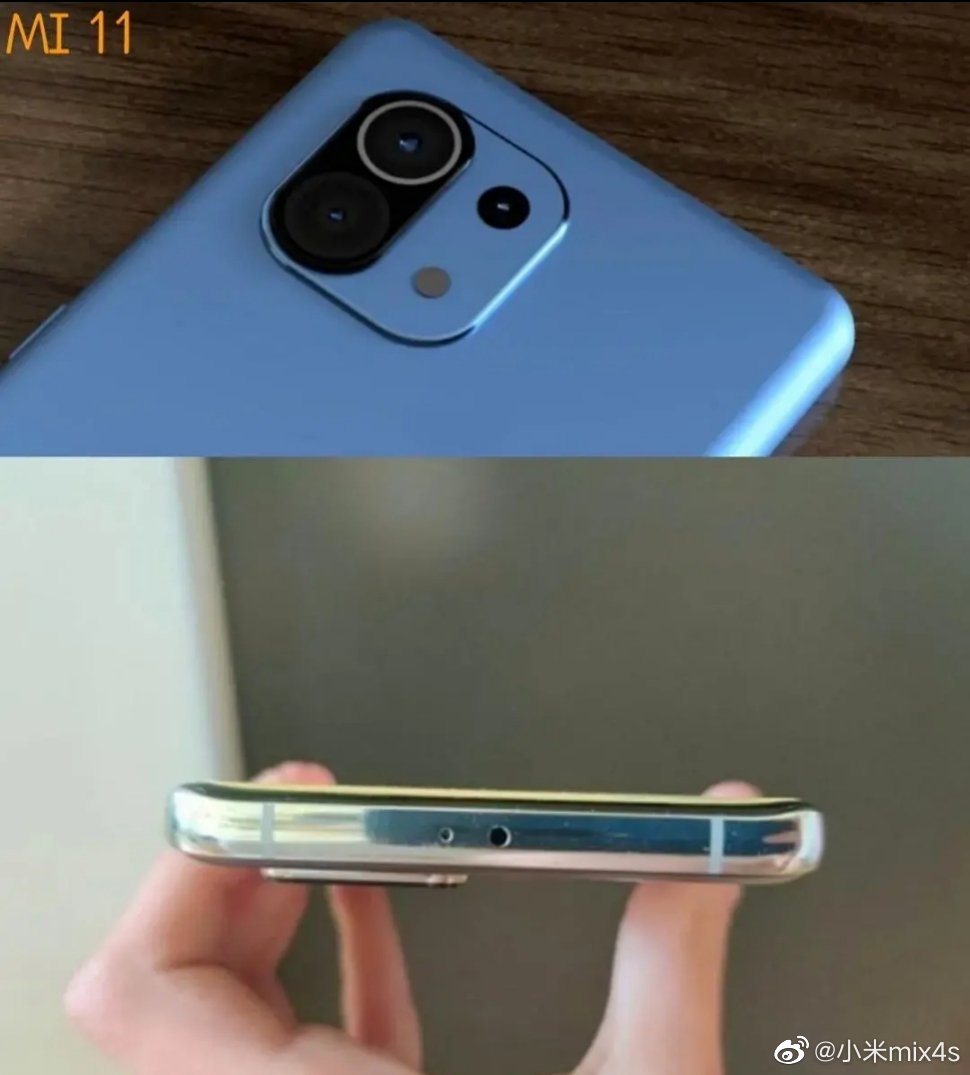 Tipster Digital Chat Station hinted today that the Mi 11 series will have a horizontal camera array. Shown above are some images that reveal that the Mi 11 duo will have a square-shaped camera module.
ALWAYS BE THE FIRST TO KNOW – FOLLOW US!
Amazon is replacing PS5 consoles that might have been stolen in transit – BGR – BGR
Some consumers who bought a PS5 from Amazon received a random item instead.
Amazon refunded the purchases and offered vouchers, but customers who thought that they were getting consoles were irate and wanted to know when they could buy a PS5.
Amazon is now emailing customers to offer them a replacement for the PS5 order.
---
As if securing a PlayStation 5 hasn't been difficult enough, in a cruel twist of fate, some consumers who thought that they were actually able to complete their orders on or before launch day ended up receiving a random item from their seller instead. As IGN reported late last month, Amazon customers in the United Kingdom were getting a wide variety of products in the mail instead of the next-generation consoles that they ordered, from cat litter and George Foreman grills to bed sheets and lamps. It's unclear why this happened, but Amazon appears to be on the case.
A few days after the publication of freelance journalist Bex April May's exhaustive investigation surrounding the PS5 orders, some UK customers that were sent the wrong item began receiving emails from Amazon alerting them that a new PS5 had been obtained and would be shipped their way within the next two weeks.
---
BGR's Top Deal of the Day
FDA-authorized Powecom KN95 masks that block 99% of viruses and small particles cost $45/box — now they're $22.31 at Amazon! Price:$24.99
Available from Amazon, BGR may receive a commission
---
"We are pleased to confirm that we will be able to secure a PlayStation 5 for you as a replacement for the order that you didn't receive," said the email from Amazon, which was forwarded to IGN by May. "Subject to valid payment, we expect to dispatch your PlayStation 5 within 14 days of your confirmation."
Amazon has yet to offer an official explanation for the botched orders. As such, theories began to spring up, some of which May discusses in her piece for IGN. Shortly after receiving her package, May posted a video on Twitter of what was meant to be a PS5 unboxing, but instead turned into an air fryer unboxing:
Happy #PS5 day everyone. Tried to document our one's unveiling, but Amazon have tricked us with an unsolicited air fryer instead (after giving delivery password). Anyone else had this problem today? pic.twitter.com/99IUSzSJUU

— Bex April May (@bexlectric) November 19, 2020
After the video went up, someone responded, noting that Amazon doesn't use clear tape on its packages. If you have received a package from Amazon recently, you know that they all use black Prime-branded tape. Other shoppers said that they encountered the same clear tape on their packages. Had someone tampered with their Amazon boxes? Had they removed the PS5 consoles and replaced them with different items? There are few products harder to get a hold of right now than a PS5, and with the resale market on fire, it certainly seems plausible.
That said, there are a number of safeguards that would make it very difficult, if not impossible, for someone working at an Amazon warehouse or delivering packages to swap out an order. There's a good chance that we will never find out what happened, but at least Amazon is attempting to do right by its customers.