Kelly McParland: The media needs to break its polling addiction – TheChronicleHerald.ca
There was so much uncertainty surrounding Tuesday's U.S. election, it was almost reassuring to note one clear message: the pollsters blew it.
Again. If the world noticed anything, it was the latest example of an industry that had four years to avoid the same colossal humiliation it suffered in 2016 when it had everyone convinced Hillary Clinton was just an easy waltz from the White House.
That it failed is pretty much a universal conclusion, as some sample headlines attest:
CBC: "How the polls got it wrong — again."
Washington Times: "Pollsters, once again, are utterly, completely wrong"
New York Post: "The pollsters were wrong, again. Why do we listen to them?"
Israel Hayom: "The Pollsters got it wrong, again."
Sydney Morning Herald: "Why the polls were wrong — and will never be right again"
BBC: "Why the pollsters got it wrong, again."
That last one, by the way, was a bit of a trick. It topped a report by the venerable journalist and broadcaster Alistair Cooke regarding the 1980 presidential contest between challenger Ronald Reagan and incumbent Jimmy Carter. That must have been one difficult race to misread, given that Reagan ended with 489 electoral college votes to Carter's 49. So overwhelming was Carter's whomping that he had to be dissuaded from conceding defeat even before the TV networks formally declared the result.
This is not a new phenomenon
So this is not a new phenomenon. It has, in fact, become pretty much a ritual, regularly leaving news editors scratching their heads and wondering how the pollsters managed to bugger it up so badly, and why they'd been so naive as to trust in their predictions.
Donald Trump's surprise victory in 2016 was supposed to be such a shocking event that the polling industry delved deeply into its practices and procedures to ensure nothing so embarrassing could happen again. And yet, four years later, there was Trump within inches of an unexpected victory over Joe Biden, after we'd all been told the Democratic candidate was well ahead in plenty of crucial swing states, and should have a relatively smooth run, perhaps even a blowout.
So, OK, how did they get it wrong? Well, let's see, all sorts of reasons. Turns out Cubans in Miami still haven'y gotten over Castro, and Hispanics aren't one big homogenous population that all votes for the same party. Who knew? And according to Pew Research, a big U.S. pollster, response rates to survey inquiries have fallen to six per cent, meaning 94 per cent of people can't be bothered. Add in those who lie, aren't planning to vote at all, or don't want to admit they're supporting someone like Trump, and you've got an industry based on the word of two or three people out of a hundred, with nothing better to do.
Even industry veterans wonder what's wrong. "You cannot be this wrong, this consistently wrong, and actually pretend like you know what you're doing," Democratic pollster Chris Kofinis

told the CBC

.
They overestimated Democrat chances in the Senate, they missed their weakness in the House, they had Biden well ahead in swing states he barely won by the skin of his teeth. Texas turned out not to be within his grasp. Florida was never there to be had. India's Hindustan Times assessed the situation and

passed judgment

: too many people drinking one another's bathwater. "Let's call it the echo chamber bias of the chattering classes," it pronounced.
None of this would matter, if it weren't for the media's inability to get over its decades-long love affair with polls. "There's media people, major news outlets in major news networks in the United States that are listening to pollsters who have no idea what they're doing," Kofinis fumed. No kidding. And they're not limited to the U.S. Canada's media outlets can't get enough of polls, no matter how inane, ill-timed or poorly grounded.
Canada's media outlets can't get enough of polls
Almost immediately after Erin O'Toole was selected as Conservative leader, pollsters revealed that few Canadians knew much about him. Fifty-two per cent said they knew so little they couldn't even form an opinion. That didn't stop another pollster from seeking views on his carbon tax plans, which somehow were supposedly better known than the man himself. We're confronted with polls on political support, mid-way between elections when voters are paying scant, if any, attention. We're told Canadians support Ottawa's Liberals, when what they really like is the outpouring of COVID money, not necessarily the party firing off the cheques. Interest groups commission polls predestined to support their agenda, and news organizations treat them as valid. In September the Assembly of First Nations spent good money on a poll indicating — guess what — Canadians broadly support the AFN cause. If that's the case, why did they need the poll?
The New York Times reported that people were feeling so isolated by the COVID-19 pandemic they were increasingly willing to answer their phones when pollsters called. "They just want to talk to someone," one interviewer marvelled. Of course, that doesn't mean they had any more idea what they were talking about. Ask people for an opinion and they'll usually give one, whether they grasp the issue or not.
The flaws of polling are the industry's problem. The puzzle is why the media insists on risking its own reputation, what's left of it, on a business about as reliable as politicians' promises. Polls are cheap and easy, and fill space in the paper. They're like a news industry version of Ripley's Believe It or Not: one found that 27 per cent Americans think God decides the winner in football games. Another found that 46 per cent opposed Obamacare but just 37 per cent opposed the Affordable Care Act, even though they're the same thing.
As the New York Post wondered, why do we listen to them? Australia's Sydney Morning Herald agreed: "Political polling is good fun, but it should be treated more as entertainment than as serious politics." The media knows it has a problem, one that's easily solved. Take the cure, swear off the addiction. It will ache for a while, but we'll be better off in the end.

• Twitter:

KellyMcParland


Copyright Postmedia Network Inc., 2020
Kyrie skips media availability, releases statement – theScore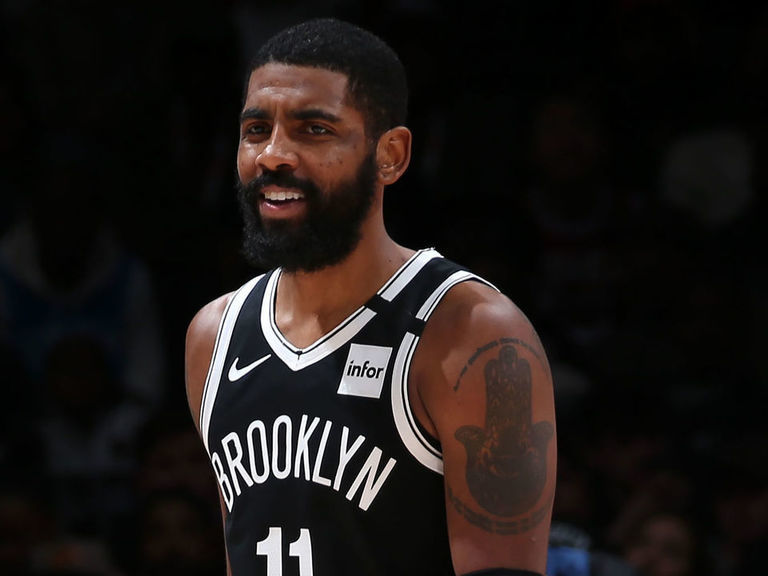 As the NBA prepares for its 2020-21 season to begin on Dec. 22, the enigmatic Kyrie Irving did not provide access to reporters on Friday as part of the Brooklyn Nets' media week.
Instead, the 28-year-old guard released a written statement "to ensure that (his) message is conveyed properly," per ESPN's Malika Andrews.
Here's Irving's statement in full:
COVID-19 has impacted us all in many ways, so I pray for the safety and health of our communities domestically and abroad. I am truly excited for the season to start and I am also praying that everyone remains safe and healthy throughout this journey.

Instead of speaking to the media today, I am issuing this statement to ensure that my message is conveyed properly.

I am committed to show up to work everyday, ready to have fun, compete, perform, and win championships alongside my teammates and colleagues in the Nets organization. My goal this season is to let my work on and off the court speak for itself.

Life hit differently this year and it requires us, it requires me, to move differently. So, this is the beginning of that change.
The league's collective bargaining agreement requires veteran players to "participate in photograph and media sessions" as early as the 22nd day prior to the first game of the regular season.
Additionally, under a section pertaining to promotional activities, the CBA states: "Upon request, the player shall consent to and make himself available for interviews by representatives of the media conducted at reasonable times."
It's unclear whether Irving's statement constitutes participation in the Nets' training camp media session or whether certain allowances have been made in regard to media availability within the amended agreement due to COVID-19.
In an injury-shortened debut season with the Nets in 2019-20, Irving averaged 27.4 points, 6.4 assists, 5.2 rebounds, and 1.4 steals per game across 20 appearances.
Conversations That Matter: The state of the media – Vancouver Sun
Article content
Jack Webster was known as the king of the airways in B.C> for close to 40 years. Since his retirement the foundation in his name has been recognizing and celebrating excellence in journalism.
This year, on Dec. 8, the awards dinner is being netcast, opening it up, for the first time, to the public.
If it was on the public agenda, Webster was there. When prisoners at the B.C. Penitentiary rioted and took hostages in 1963, they asked Webster to resolve the standoff. They asked for him because he was trusted at a time when mainstream media was believed to be fulfilling the responsibilities for the fourth estate – to step in, stand up, advocate, call out, and record the people and events of our lives.
Since Webster's retirement in 1988, the media landscape has changed dramatically. In Vancouver, for example, the major powerhouses in print, radio and TV have all seen their constituencies dwindle. Shrinking audiences meant less ad revenue, which, in turn, led to cuts in newsrooms and that leads to further reductions in audiences.
Kyrie Irving Imposes 'Media Blackout,' Won't Speak To Reporters This Season – Forbes
Kyrie Irving was tentatively scheduled to do a Zoom interview with reporters on Friday, just as Kevin Durant and his other Nets teammates have been doing in recent days.
Now it appears Irving won't speak to the media at all this season. ESPN's Brian Windhorst reported on "The Jump" that Irving will conduct a "media blackout" this season, and Irving issued this statement.
Irving, the former St. Patrick (N.J.) High School and Duke star, has had some missteps with the media in the past.
In 2017, when he was with the Cleveland Cavaliers, he claimed that the Earth was flat.
It became a major story and even NBA Commissioner Adam Silver — who, like Irving, went to Duke — was asked to offer his opinion.
"Kyrie and I went to the same college," Silver said then. "He may have taken some different courses."
Irving later ended up apologizing for his comments.
"To all the science teachers, everybody coming up to me like, `You know I've got to reteach my whole curriculum?' I'm sorry," Irving said. "I apologize. I apologize."
In October, Irving made some controversial comments about new Nets coach Steve Nash.
"I don't really see us having a head coach," Irving said on the podcast, "The ETCs With Kevin Durant." Referring to Durant, he said, "K.D. could be a head coach. I could be a head coach."
Speaking this week on a Zoom with reporters, Nash tried to diffuse the situation.
"I read what he said, and I think it was one phrase at the end of a bunch of things he said about being excited — about having me in this position and coaching — and then maybe taken to another level that seemed incredible in headlines, which is fine," Nash said. "I'm in a fortunate position where I get to coach Kevin Durant and Kyrie Irving. What we've dealt here in a short period of time with how we're going to prep and play is exciting. I'm thrilled to get to coach those guys.
"One statement that I don't think necessarily was completely — wasn't meant the way it was taken by the press, that doesn't bother me at all."
Without using the words "load management," Nash also said he would be surprised if Durant or Irving played all 72 games this season. Durant is coming off Achilles surgery, and Irving off shoulder surgery.
Through it all, Irving has continued to financially support his alma mater, now called The Patrick School. In 2018, he funded the renovation of the gym, locker room, weight room and lounge at the school.
He has also mentored younger players, like Seton Hall guard Bryce Aiken and Jonathan Kuminga, the former Patrick School star now with the G League Ignite team, and pledged $1.5 million to WNBA players forgoing last season due to coronavirus or social justice concerns.
Irving, Durant and the Nets open the preseason Dec. 13 against the Wizards and the regular season Dec. 22 at home against the Warriors.