HiFi Club to hold month-long online art auction to prevent closure in wake of COVID-19 – Calgary Herald
Article content continued
Rizvi says the club would like to raise $20,000 through the auction, which will kick off Sept. 8. He said the operators of the club were intending to spend this year celebrating HiFi's 15th anniversary. Because the club has operated as a "rotating pseudo-art gallery space" in the past, it has acquired art pieces from local and global artists. Works from Vancouver artist Ben Tour, the late Dust La Rock from California, San Diego-based illustrator Matt Luckhurst, Los Angeles art collective HVW8, Dutch illustrator Parra and Calgary puppetry artist Jane Trash, among others, will be up for grabs.
Patrons and art fans will get a chance to bid on these "iconic pieces of art from Hifi's past" over a month-long online auction beginning Sept. 8. The auction will be held at 32auctions.com/hificlub.
While music has returned to some clubs, restrictions involving social distancing and capacity and the sort of entertainment allowed has made it tough for club owners to make ends meet. A fundraiser featuring live music and silent auction was held for the Ironwood Stage and Grill in late August and another is scheduled from Sept. 18 to 20.
PHOTOS: Celebrating art and community during a pandemic – Revelstoke Review
Though LUNA Nocturnal Art & Wonder was rescheduled to 2021 due to COVID-19 restrictions, the team put together LUNA RE-IMAGINED to celebrate art in a pandemic friendly way.
On Friday, Sept. 25, a small number of guests saw a live show at the Roxy Theatre featuring Leila Neverland, and three films, including one by local filmmaker Francois Desrosiers.
The event was streamed live for all to see.
The next day, six new pieces that will permanently live in Revelstoke's Art Alleries, were revealed. Musicians played the alleyways throughout the day.
On Sunday, Sept. 27, the four artists discussed their works of art and people were invited to make squares for the Climate Action Quilt project, in a LUNA Studio-ish event.
---
@JDoll_Revy
jocelyn.doll@revelstokereview.com
Like us on Facebook and follow us on Twitter.

<!– View Comments –>
Revisiting memory at the "…fire and frost" art exhibit in SUB – The Gateway Online
As we head into fall, I once again remember how quietly the trees forget their leaves in an exhale of colour. I remember the ground in a pool of yellow when I told my partner I loved him for the first time. I remember finding out I could order pumpkin spice lattes year-round.
While these recollections may seem minuscule, we are all a collection of "I remembers." Our brains serve as our own personal wizards, cataloging and discarding events at the touch of a synapse. Our memories are sacred. They are stored time.
Those memories are the theme of ...fire and frost, a partnership between The Art Gallery of Alberta, Alberta Foundation for the Arts, and University of Alberta Students' Union on exhibit at the Myer Horowitz Theatre from now until September 30, and at Concordia University from October 8 to November 4. The exhibit is curated by Shane Golby and features three contemporary artists: Colin Smith, Linda Craddock, and Candace Makowichuk.
I visited the exhibit earlier and let me tell you, the work is deep, and not your one-in-the morning-stoner-revelation-deep. It is physically deep in that I found myself enveloped within the places the artwork took me. When I stood in front of Craddock's oil and photo collage Embarkation #5 1944, I felt like I was dusting off my memories, like my first fall romance. Or how I felt a longing to be a kid again when viewing Makowichuk's bromoil photograph, Waiting: The Playground Is Closed Series. The act of recalling my memories felt like a tribute to my past.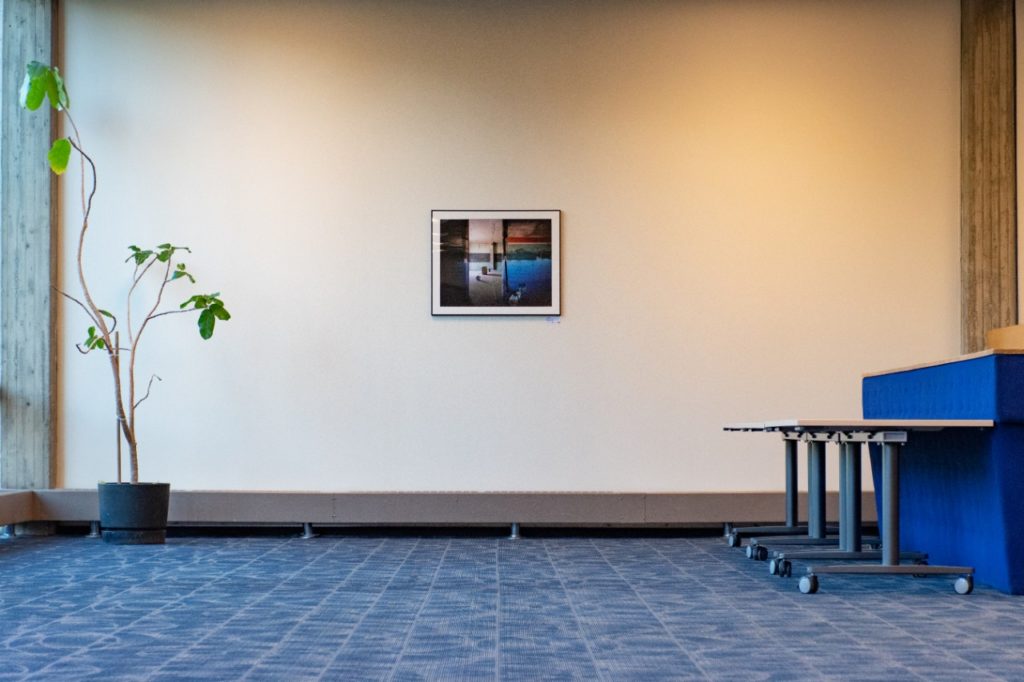 I was most moved by Colin Smith's photography on paper, Piapot School. In it you find an empty classroom, with the exception of a desk flipped on its side, a blank chalkboard with a scribble on it, and a peeling soccer ball on the floor. Outside lies an upside down projection of a deserted basketball court. There is however no learning taking place there, no one to play soccer with, and there is not even a basketball to play with on the court. Viewing Piapot School was like viewing a school memory without the two subjects that made it important: academics and the people. The experience was at once contemplative and haunting.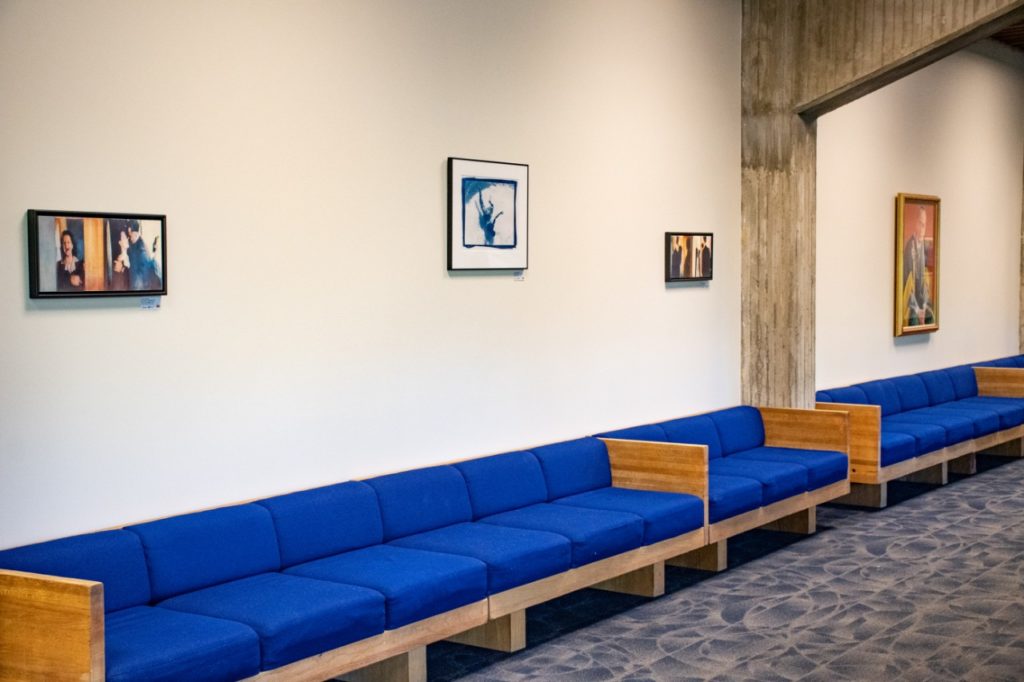 On Gil Scott-Heron's final album I'm New Here there's a verse that says, "No matter how far gone you've gone, you can always turn around." The process of "turning around" is essential to what makes us human. Our memory is a knitted scarf we wear, each memory a stitch building off of the last one. In the presence of the pieces in the …fire and frost exhibit I unraveled the threads of my own personal history.
New art gives Downtown Guelph walkway a new look (8 photos) – GuelphToday
A project to revitalize The Walkway in Guelph's downtown core offers passersby an opportunity to take in local art in a unique space.
The Walkway Project allowed members of the Necessary Arts Collective (NAC) to beautify the space by painting the pillars throughout the sunroof-lit walway that connects St. George's Square with the Baker Street Parking lot.
The City of Guelph funded the project through the Regional Relief and Recovery Fund which is a $30 million province-wide fund dedicated to stimulating the tourism economy and safely bringing visitors back into local communities during the COVID-19 pandemic.
"It was kind of cool because all of the artists were already committed free of charge," said Chanel DesRoches, local artist and owner of the NAC studio. "But the city paid us for our time and the Downtown Guelph Business Association pitched in for materials so it was really this last-minute huge community engagement opportunity."
Artist Amber Ozols said her succulent-inspired series is about death and loss, but Ozols uses colour to try to bring happiness to the observers of her technicolour pieces.
"You can still tell that it looks like a plant or a flower but they're all just succulents that I have digitally altered or I do sketches of them on-sight and bring them out here," said Ozols.
Robert John Paterson, a freelance illustrator, based his design off the dimensions of his pillar before starting to paint his Canadian landscape-inspired tower just outside of the downtown post office.
"Coming up with a design that was really tall and skinny is pretty challenging," Paterson said. "Most times when you compose an image it's rectangle or square but this is like colouring on the side of a cigarette."
On Sunday, the final pieces were unveiled and members of the public were able to walk through the footpath and enjoy the artists' creations. Members of the public were also able to take a tour of the newly renovated Necessary Arts building.
"The fact that people know about us based on what they see online, or based on a short conversation based on what they see here (the walkway) and sparking potential interest … That is everything," DesRoches said. "The thing about art is that it's a side hobby now until you're think you're ready to make a jump and we can be that small or big jump."