Higher real estate prices expected in 2022 | City News | thesuburban.com – The Suburban Newspaper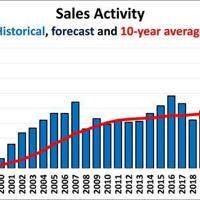 The Canadian Real Estate Association's updated Resale Housing Market Forecast says sales are expected to "moderate somewhat in 2022, but tight supply conditions are expected to continue to push prices higher."
The CREA's numbers come from the Multiple Listing Service® (MLS®) Systems of Canadian real estate boards and associations.
"Monthly home sales over Canadian MLS® Systems were not as volatile in 2021 as they were in 2020," says a CREA statement. "That said, they were nonetheless still very unstable – similar to what was seen during the 2008-2009 financial crisis – but at a much higher level. This volatility, ranging from a seasonally adjusted annualized high of 807,250 sales in March 2021 to a low of 585,250 sales in August 2021, then back up to around 650,000 at the time of this writing, was not the result of lockdowns or any major fluctuations in demand."
Instead, "with the end-of-month supply of homes for sale setting new record-lows every month this year, it would seem the ups and downs of sales in 2021 had more to do with where and how many properties came up for sale. When they did, the demand was there to scoop them up."
The CREA adds that "along with an unprecedented supply crunch, there are quite a few other factors that will play important roles in Canadian housing markets in 2022. Ongoing strong demand from an unobservable but no doubt large number of households waiting for new listings to show up will be one tailwind.
"Many of those listings will likely show up as existing owners continue to move around in record numbers in response to the changes to our lives since the emergence of the COVID-19 pandemic. Demand should be further turbocharged by, and buyers will face increased competition from, the return of very strong or perhaps even all-time record levels of international immigration, depending on the evolution of the pandemic."
As well, "there will also be headwinds, chief among them higher interest rates. While the Bank of Canada has set the stage for a tightening cycle of still indeterminant size to begin as early as April of next year, mortgage rates have already started to move higher, first this past spring, and again in the last few months."
The CREA says the national average home price is "projected to rise by 21.2% on an annual basis to $687,500 in 2021, again, a little higher than in CREA's previous forecast. This historically large increase reflects the unprecedented imbalance of housing supply and demand, with the number of months of inventory nationally remaining close to two throughout 2021. The long-term average for that measure is more than five months.
"On a monthly and quarterly basis, sales are forecast to remain historically strong in 2022 while at the same time trending slowly back in the direction of more typical levels. Limited supply, higher prices and higher interest rates are expected to tap the brakes on activity in 2022 compared to 2021; although, increased churn in resale markets resulting from the COVID-19-related shake-up is expected to continue to boost activity above what was normal before COVID-19. Indeed, it is possible that many of the moves associated with changes related to remote work won't play out until further down the road when we have more certainty about what the future will look like post-COVID-19."
Also predicted is that "national home sales are forecast to fall by 8.6% to around 610,700 units in 2022 – still the second-best year on record. This easing trend is expected to play out across most of the country with buyers facing both supply and affordability constraints, while at the same time, the urgency to purchase a home base to ride out the pandemic continues to fade.
"Still, with supply continuing to hit fresh lows every day, the national average home price is forecast to rise by a further 7.6% on an annual basis to around $739,500 in 2022; although, for context, it should be noted that as of November 2021, the national average price was almost $721,000, making this a somewhat conservative forecast given what the handoff from 2021 to 2022 is looking like."
Canadian home sales up 0.2% in December
Canadian home sales rose 0.2% in December from November even as supply fell to a record low level, data from the Canadian Real Estate Association showed on Monday.
The national average selling price was C$713,500 ($569,161) in December, up 17.7% from a year earlier, the industry group said.
($1 = 1.2536 Canadian dollars)
(Reporting by Julie Gordon in Ottawa)
New analytics tool helps companies take the guesswork out of their real estate needs – Business in Vancouver
Impaired Aging Parents Managing Real Estate – Forbes
Who's Minding the Store?
We're seeing it more and more now at AgingParents.com: elders as landlords who can't do the management job any longer. Sometimes it's the adult children who bring the issue to our attention. They see Dad failing maintain those rental houses he has had for decades. If tenants complain, he does not do anything. They see Mom fail to collect rents from her commercial enterprise, a small shopping center. They realize that rentable spaces are vacant and have been for some time. No effort to lease them is underway. The kids are alarmed. It may be a single rental home, a commercial building, a vast portfolio or anything the elder owns. Cognitive decline was not anticipated. No one was paying attention and things go wrong.
Financially successful people often invest in real estate, but for those who manage the properties themselves, we see a lack of planning about how to ease out of the management role. The same problem can occur when a property owner has a long time management company which is not held accountable for its work due to the cognitive impairment of the owner. Again, no one is watching management. It is a perfect opportunity for theft from the owner.
Real Life Examples
In one case a wealthy man owned a rental apartment next to his house. The long time tenant took ruthless advantage of the 85 year old owner and simply stopped paying rent. He lived for free and manipulated the owner into thinking the tenant was giving him help in exchange for use of the apartment when no such exchange actually took place.
In another case the 87 year old owner of an office building with long-term tenants in it did not take steps to terminate a very problematic tenant who had been there for 20 years. The landlord hated her but failed to exercise his rights to simply not renew her lease. Instead he waited for her to give notice that she was going to vacate. He had another person interested in the space, willing to lease it but he seemed confused about what to do to secure that new lease. He managed the property by himself.
Both of those elders who were landlords had adult children who could have stepped up. In the first matter, the rental apartment, the elder resisted the son's attempts to intervene. The elder did have dementia but functioned rather well in other things. He angrily fought his son's attempts to take over his financial affairs. He had previously appointed his son to do this very thing. The freeloading tenant manipulated the elder into signing an agreement to give the tenant free rent for five years.
In the office building matter, the daughter of the 87 year old was clearly not close to her father and was not paying attention to his confusion. She may have been stopped from getting involved by her father, who was stubborn and unwilling to admit that he was having trouble with managing the investment. In both cases, the only way to prevent abuse and manipulation was for someone appointed earlier to step in and assume responsibility for property management. That works smoothly when the elder is cooperative. It creates a legal mess when the elder resists.
Cognitive Decline and Money Management
Research tells us that even in the earliest stages of dementia or other cognitive impairment, financial judgment is impaired. It is, in a way, the first ability to decline and it is hard to see at first. The older person with impairment for financial judgment can carry on a normal conversation, sound and look okay. But if you asked them about the bookkeeping or accounting, they likely can't keep it straight. Decline is subtle at the beginning and gets worse over time. Something is amiss before any family member may notice it. Sometimes this leads to loss of value in the property as well as lost income.
What family members can do is to be aware that as a person ages, their sharpness for financial management of property (and other matters too) can slide downhill. If you are aware of aging parents' real estate investments, it is helpful to educate yourself about them, and to offer to help "in case of any emergency". Ask your aging parent to teach you about them, even if you know plenty already. This approach can appeal to one's ego: asking for advice. Do this before you see any sign of a problem and you are likely to be successful in preventing loss of income and value of any real estate they own.
If you simply assume that if Mom or Dad has been managing the family real estate investments for decades and it's all just fine, you are taking too much chance that it will stay fine. Aging takes its toll. Most of us need some sort of help as we age, especially as we reach 85. By that time, one in three people will have Alzheimer's disease. If you don't like those odds, make your best effort to get involved in the real estate they have before the investment loses its value for lack of attention. Fraud is all too common. Predatory real estate brokers, crooked management companies and dishonest tenants can take ruthless advantage of vulnerable elders. Don't let it happen in your family. If you see your aging parent declining in ability to manage real estate and they fight you on stepping in, it is time to seek legal advice so you can learn what options you have.