Highlights from Berkshire Hathaway's annual report and Warren Buffett's letter By Investing.com
By Daniel Shvartsman
Investing.com — Berkshire Hathaway (NYSE:) (NYSE:), the Warren Buffett-led insurance and industrial conglomerate, reported record operating earnings in 2022 even as its net income line showed deep losses due to the bear market on Wall Street last year.
Berkshire Hathaway's operating earnings, which is Buffett's preferred figure to measure the company's growth as it is adjusted to remove net capital gains or losses during the year, was $30.79B, 12.2% above 2021's figure. GAAP net income came in as a loss of $22.8B. In his annual letter to shareholders that came out Saturday, Buffett reiterated his preference to focus on operating earnings, saying that capital gains' "quarter-by-quarter gyrations, regularly and mindlessly headlined by media, totally misinform investors."
Indeed, Berkshire Hathaway's book value also dropped in 2022, with the drop in Berkshire's equity securities' value amounting to more than the book value drop.
Berkshire Hathaway's annual report, Buffett's annual letter, and Berkshire's annual shareholder meeting in May are all hotly followed as indicators of the state of the economy, both given Buffett's accumulated insight into the state of the economy – with his partner and Berkshire Hathaway vice chairman Charlie Munger – and Berkshire Hathaway's conglomerate nature, which offers read-throughs to the wider economy.
Here are some highlights from Buffett's letter and the report:
In defense of capitalism, the U.S., and Berkshire's corporate citizenship
Buffett's letter was short on comments about his portfolio, the post-Buffett future of Berkshire Hathaway, or whether the market is more fairly valued after saying 'little excites us' a year ago.
Instead, he seemed to make a philosophical and political argument. Buffett made clear the value of share buybacks, noting that Berkshire Hathaway reduced the share count 1.2% from the 2021 annual report to the 2022 annual report (buying back $7.85 billion in shares in 2022) to the benefit of shareholders. But he also stated that, "When you are told that all repurchases are harmful to shareholders or to the country, or particularly beneficial to CEOs, you are listening to either an economic illiterate or a silver-tongued demagogue (characters that are not mutually exclusive)," pushing back on criticism but also perhaps the calls for .
Buffett also spent a section of the letter pointing out that Berkshire paid $32 billion in corporate taxes in the decade ending 2021, amounting to .1% of all federal taxes collected in that period, as a reminder that Berkshire is doing its part. This, combined with his praise of Berkshire Hathaway shareholders who tend to donate their wealth to charity, amounted to defense of Berkshire's position in the U.S. social fabric.
He coupled that with his continued defense of America, however, saying, "I have yet to see a time when it made sense to make a long-term bet against America. And I doubt very much that any reader of this letter will have a different experience in the future."
A turning point for GEICO?
Berkshire's insurance businesses ended up posting a $90 million loss for the year, but Q4 marked a gain of $234 million. GEICO has been the main cause of the loss as compared to past years, struggling with pricing amidst increased claims severity (in part related to used car price inflation).
The auto insurer still lost $440M in Q4, but this was a narrowing compared to Q3. The report cited a reduction in underwriting expenses related to less advertising, an 8.9% drop in policies in force for the year, and an 11.3% increase in average premium pricing for the year. This suggests GEICO is competing less for less-profitable business and adjusting to the increased severity. Throw in any moderation for used car inflation – claims severities were up 14-16% for collision and 21-22% for property damage – and GEICO may have a stronger 2023.
Berkshire at least thinks so, saying it expects an underwriting profit for the year from the unit.
Inflation Vs. Recession
Berkshire's various businesses struggled with cost inflation and lessening volumes while also benefiting from price inflation. The question is whether those dynamics continue, or whether a recession or conversely a soft landing plays out.
Berkshire's railroad segment grew revenues 11.9% but operating earnings drop 2.4% and net earnings drop .7% due to this prices up but costs up and volumes down dynamic. The energy and utilities business grew earnings by 9.3%, and the manufacturing segment grew earnings 12.5%. But in regard to the latter, the firm wrote that, "demand began to weaken in the second half of the year at certain of our businesses."
The importance of long-term investing
While Buffett didn't comment much on Berkshire Hathaway's portfolio positions, he talked about the secret sauce to their investment strategy: long-term thinking, and focus.
Buffett cited Berkshire's positions in Coca-Cola (NYSE:) and American Express (NYSE:), where the buying was mostly done in 1994 and 1995 for $1.3 billion each, and which now return dividends to Berkshire of a combined $1 billion (a 38.5% yield on cost). Pleasing, but "far from spectacular", Buffett wrote. The key is the capital appreciation, as he noted that each position amounts to 5% of Berkshire's current net worth, at $25 billion (Coke) and $22 billion (Amex) respectively.
Buffett's conclusion: "The lesson for investors: The weeds wither away in significance as the flowers bloom. Over time, it takes just a few winners to work wonders. And, yes, it helps to start early and live into your 90s as well."
This might explain why the firm's most recent form 13F filing didn't contain : not everything happens in a given quarter.
Catch up on historic statistics about Berkshire Hathaway.
Exclusive-Credit Suisse tells staff plans for investment banking to be informed later -memo – Yahoo Canada Finance
By Engen Tham and Julie Zhu
SHANGHAI/HONG KONG (Reuters) -Credit Suisse told staff its wealth assets are operationally separate from UBS for now, but once they merged clients might want to consider moving some assets to another bank if concentration was a concern, according to an internal memo.
The memo, dated Sunday and seen by Reuters, gave talking points to Credit Suisse staff for client conversations after a historic Swiss-backed acquisition of the troubled bank by UBS Group.
"For now, assets are still legally separated. Once that changes, you (clients) may of course want to consider moving some of your assets to another bank if concentration is a concern," the memo said.
That response was suggested to Credit Suisse staff if they were asked by clients what they should do if they were also a UBS client and wanted to avoid too much asset concentration, which can be a concern for wealthy customers.
In a package orchestrated by Swiss regulators on Sunday, UBS will pay 3 billion Swiss francs ($3.23 billion) for 167-year-old Credit Suisse and assume up to $5.4 billion in losses.
UBS will become the undisputed global leader in managing money for the wealthy through the takeover of its main rival, triggering some concerns about concentration risks for clients.
Credit Suisse also told staff to inform clients that plans for its investment banking business will be communicated in due course as details of its acquisition by UBS were still being worked out, according to the memo.
"We do not expect there to be any disruption to client services. We are fully focused on ensuring a smooth transition and seamless experience for our valued clients and customers," a Credit Suisse spokesperson said.
Credit Suisse is also going ahead with its annual Asia Investment Conference in Hong Kong, starting on Tuesday, the spokesperson said, adding the event, however, would now be closed to media.
In a separate memo on Sunday, the bank told employees that its day-to-day operations were unaffected after it agreed to the UBS takeover.
"Our branches and our global offices will remain open, and all colleagues are expected to and should continue to come to work," Credit Suisse said in the memo sent globally and seen by Reuters.
Reuters reported on Friday, citing sources, that a number of major banks including Societe Generale SA and Deutsche Bank AG were restricting new trades involving Credit Suisse or its securities.
Regarding counterparties having stopped business with Credit Suisse, the bank said in the client talking points memo that it believed the transaction "will help to restore confidence to the financial markets more broadly."
Market players remain concerned about the next moves at Credit Suisse and the impact on employees, investors and clients.
UBS Chairman Colm Kelleher told a media conference that it would wind down Credit Suisse's investment bank, which has thousands of employees worldwide. UBS said it expected annual cost savings of some $7 billion by 2027.
(Reporting by Engen Tham in Shgnghai and Julie Zhu in Hong Kong; Additional reporting by Scott Murdoch in Sydney; Editing by Sumeet Chatterjee, Himani Sarkar and Jamie Freed)
Enbridge: Investment Grade Company Offering 7.6% Bond (NYSE:ENB)
Author's note: All financial data in this article is presented in Canadian dollars.
Enbridge Inc. (NYSE:ENB), a North American energy transportation and distribution giant is currently finding itself near a 52-week low. Income investors may see the rising dividend yield, now at 7.1%, as a reason to scoop up shares. Interestingly, Enbridge has an extensive offering of corporate debt, and the longest dated maturity of 2083, is currently priced below par and offering a yield of greater than 7.6%. While many high yield investors may not be interested, it's important to note that Enbridge holds an investment grade credit rating, which typically offers fixed income returns of almost 200 basis points lower.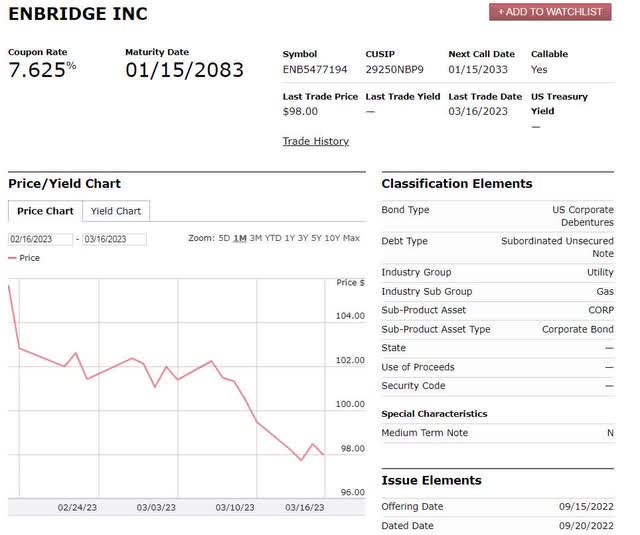 Enbridge's operation continued to grow in 2022 with revenues up $6 billion from 2021. The company's expenses outpaced revenue growth, but that was mainly due to the $3 billion write off of assets and intangibles. Had the write offs not occurred, operating income would have been higher in 2022 than in 2021, but nevertheless, the $5.2 billion in operating income was sufficient to cover the company's interest expenses.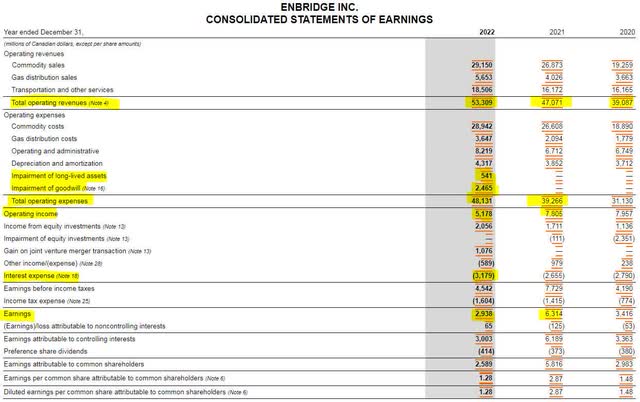 While earnings of Enbridge looked healthy last year, the balance sheet tells a slightly different story. The business increased its total debt by more than $5 billion and shareholder equity declined by $1 billion. The company did succeed in building up some cash, but its current liabilities are $8 billion higher than current assets. This working capital deficit will likely lead to new debt issuance or refinancing in the next 12 months.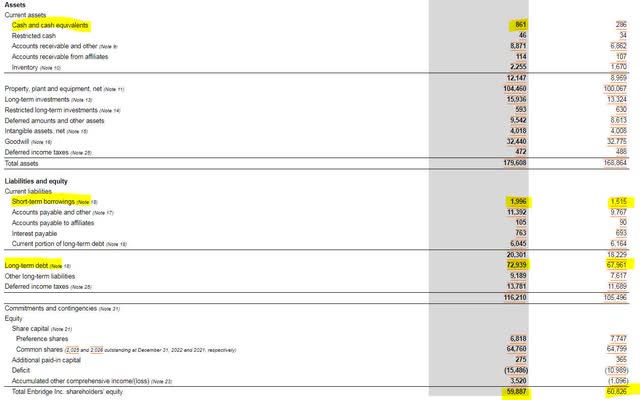 From a cash flow standpoint, debt investors need to see that Enbridge can generate the cash needed to pay down debt. In 2022, Enbridge grew operating cash flow by $2 billion and generated an impressive $6.6 billion in free cash flow. If Enbridge generated so much cash, why did debt increase in 2022? The answer lies in a combination of investing and financing activities. Enbridge invested $2 billion in investments and acquisitions that were not related to capital expenditures. On top of that, the company shelled out $7.3 billion in preferred and common share dividends, and redeemed $1 billion in preferred shares. The culmination of these activities led to the company needing to borrow more than $3 billion. (Note: I believe $2 billion in additional debt was placed on the balance sheet from other investing activities)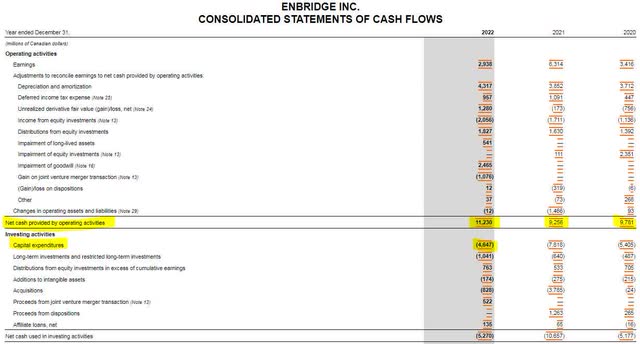 Under Enbridge's current operating structure, additional capital is needed by either borrowing or selling assets to maintain the common share dividends. While the dividends on the preferred shares are very safe, they are actually yielding less than the coupon yield on the 2083 notes. Investors in long-term debt of Enbridge are getting a safer security for more income.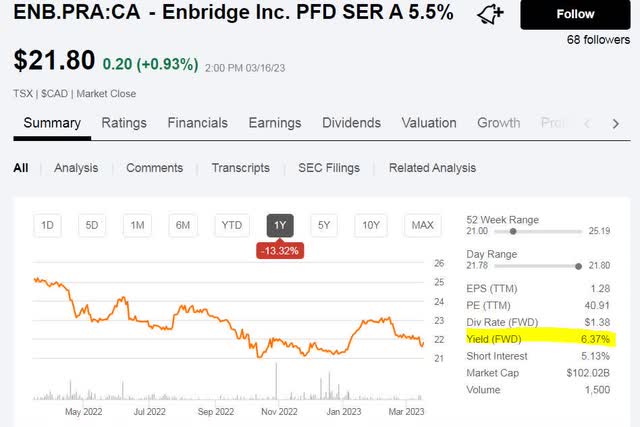 Complicating Enbridge's future further is the fact that the company has over $14 billion worth of debt maturing over the next 2 years. The need to refinance this debt in a higher interest rate market combined with a working capital deficit is going to put pressure on the dividend. Enbridge may have to choose between its existing dividend and maintaining its credit rating. Fortunately for debt holders, the company does have over $9 billion in liquidity to work with among its existing credit facilities.


Even if Enbridge is downgraded into junk territory, the company's 2083 notes are still trading at a higher return than the benchmark BB corporate yield. As in any case in life, there is a catch to what may be considered a "too good to be true" trade. These long term notes were underwritten with an automatic conversion covenant. In the event of a bankruptcy or related event of insolvency, the 2083 bonds would be automatically converted into preferred shares. This strange provision is the likely contributor behind the higher return on the notes.

While swings and uncertainties in the energy markets over the next several years could greatly change the risk landscape for Enbridge, I believe the company's strong free cash flow makes it capable of weathering bear markets. Should the company need additional cash flow, it could reduce common share dividends and not impair the value of its bonds.
Note: These notes are not available with all brokerage sites, but they have been traded in increments as low as $5,000, therefore they are available to retail holders.
CUSIP: 29250NBP9
Price: $99.00
Coupon: 7.625%
Maturity Date: 01/15/2083
Yield to Maturity: 7.63%
Credit Rating: (Moody's/S&P): Baa3/NR
Warren Buffett May Invest in Regional Banks
The U.S. has reportedly turned to Warren Buffett once more for help in a financial crisis.
The billionaire investor offered lifelines to Goldman Sachs in 2008 following the collapse of Lehman Brothers, and to Bank of America in 2011.
Now, Buffett has been in contact with the White House amid this year's regional banking crisis, offering advice and guidance but also discussing an investment in the sector, Bloomberg News reported Sunday (March 19), citing unnamed sources.
Federal officials have sought to reassure the public over the past week after two high-profile banking failures: the collapse of Silicon Valley Bank on March 10, followed by the failure of Signature Bank two days later.
In a speech March 13, President Joe Biden told Americans they "can rest assured our banking system is safe. Your deposits are safe."
That hasn't kept politicians from both sides of the aisle for proposing tougher action against the banking sector. In that same speech, Biden called for a "full accounting" of what led to the two bank failures.
Later in the week, the top Republican and Democrat on the House Financial Services Committee said they'd scheduled a hearing for later this month to question top officials from the Federal Reserve and Federal Deposit Insurance Corp.
"The House Financial Services Committee is committed to getting to the bottom of the failures of Silicon Valley Bank and Signature Bank," Republican Patrick McHenry and Democrat Maxine Waters said in a news release. "This hearing will allow us to begin to understand why and how these banks failed."
Worries about the industry continued late into the week, with a group of 11 large banks banding together to help another regional bank — First Republic of California — with a $30 billion injection.
"Last weekend felt like the wild, wild West," Charlie Youakim, CEO of payments startup Sezzle, told PYMNTS CEO Karen Webster soon after the SVB failure. "SVB had been around forever, they had a great brand. [Its collapse] is a big shock to me.
Now, he added, there's a conversation happening across the ecosystem about the future of banking, as they begin to be more diligent about where they keep their money.
"We've got a board meeting later this week to go over the set of banks that [Sezzle] works with," said Youakim. "We're putting together a report of what these banks look like, their financial stability … because it's not the case anymore that you can just trust your bank, trust that your money will be safe."