Hopewell and Prince George Breez-In stores: Bubblegum machines with collectible mini art – Progress Index
---
Save two quarters to see which local artist's masterpiece rolls out: Support 'The Button Project'
Wearable art is now available at Hopewell and Prince George Breez-In convenience stores. Deposit fifty cents in a gumball machine, turn the handle, open the door, and retrieve mini art created by local artists.
Instead of bubble gum, capsules include an art button/pin with a short artist bio. Some buttons feature downtown Hopewell murals and artwork from "The Hopewell Billboard Project."
"The goals of the button project are to build community pride, expand the knowledge that art is happening in our area and that the Tri-Cities is home to many talented local artists," Lamb Center for Arts and Healing [Lamb Arts] Co-Founder and Executive Director Dr. Eliza Lamb said. "With this project, we are expanding the concept of creative care for our community."
Amazing prize in Cap'n Crunch: Shaquille O'Neal, Wendy, Little Debbie, Fred and Barney: What do they have in common?
Will you guess the local celebrity?: Richmond venue on national tour: 'The Masked Singer' favorite characters brought to life
Full-time studio artist Aimee Joyaux who lives and works in a renovated cotton warehouse in Petersburg with her husband Alain and hound dog Oliver is a huge fan of Lamb.
"I think she is brilliant," Joyaux said.
Joyaux's recent painting titled "Sing, Sing, Pray, Pray, Sing Pray Sing" was selected for the project. According to Joyaux, the affirmation, included along with her art, is about finding joy, looking for the silver lining and celebrating love.
Members of the community and participants in Lamb Center for the Arts and Healing's teen leadership program Creative Change Makers generated the positive affirmations/fortunes found within the capsules.
This is not the first time Joyaux has shared her art for a good cause.
"I've made artwork for the Art-O-Mat, a former cigarette machine, that now dispenses handmade art," Joyaux shared. "These objects, like the pins, are also collected."
Accessible art
Through partnerships with organizations like Breez-In, Lamb Arts is making art accessible in community members' everyday lives. The art reflects back images of the community in a positive way.
Three buttons are pulled from Lamb Art's 2020 billboard project which had the same cornerstone philosophy.
"We are so thrilled and touched by Breez-in's heart for the community," Lamb said. "This would not have been possible without them."
"It's a fun way for the local community to see the amazing art these artists created while learning more about the artist," David M. Bogese, Chief Operating Officer, Breez-In Associates, L.C. said. "There is fun info about each artist on the back of the pin."
Bogese and his team also like that the proceeds go directly to Lambs Arts.
"They have been great for the community," Bogese said. "They engage with the youth to help them explore their potential artistic abilities."
Wish to open a brick-and-mortar?: Hopewell seeks entrepreneurs and creatives: Business pitch competition, win $30,000 award
Ever eaten a dandoodle?: Virginia icon Adams' Peanuts & Country Store turns 61: Dandoodles, Rat Cheese, friendship
"This project also makes the concept of collecting art accessible to all," Lamb said. "For a couple of quarters, community members can start their own mini art collections."
"Once we explain what is inside the machine and where the proceeds go, customers usually buy one," Bogese shared. "It's been a fun promotion that we've had in our stores. Our hope is to grow the exposure of Lamb Arts and all the great stuff they do."
"Lamb Arts is always working on reflecting the community back to itself in a positive way and in celebrating the diversity of experiences and perspectives in our hometown," Lamb said.
Lamb Arts was founded in 2016. The nonprofit is dedicated to helping underserved communities in Hopewell and the surrounding area thrive through accessible, high-quality arts programming and mind, body, spirit healing opportunities.
The Hopewell Billboard Project: Hopewell celebrates ArtoberVA in an enormous pandemic-friendly way
Featured artists
"Dr. Lamb's efforts to help raise artists up in the community is wonderful. Using buttons as a way to collect artists' work and information about the artist sends such a positive message to the community in terms of the value of art and artists," Pedro Ledesma III of Richmond said. "Art is accessible to everyone, so it's very much inclusive for all to make art and be an artist."
Ledesma, who works from home and the Visual Arts Center of Richmond, devotes his energy to visual storytelling through photography. His mixed Korean and Mexican heritage and extensive travel give him a great appreciation for culture and family.
Ledesma's image taken from Randolph Road in downtown Hopewell is featured on one of the buttons.
"I came to Hopewell as a complete stranger and was drawn to Hopewell because of its beauty, history and community," Ledesma said. "Many of my photos put Hopewell's beauty on display with its natural assets and man-made environment, a combination that makes it a unique and beautiful home for its community."
Hopewell native on the rise
"Teddy Blanks who grew up within a mile of the location of the Prince George button machine in Jordan Point now lives and works in New York City as a successful graphic designer," Lamb shared. "In fact, he recently designed the opening credits for Lin Manuel Miranda's "In the Heights" and "Tick Tick Boom."
The capsules also include miniature art by Lamb herself as well as Federico Infante, Ed Hatch, Joe Jones Jr., Austin "Auz" Miles, Brenay Brockenbrough and Nico Cathcart.
Drop by the Hopewell Breez-In at 930 Cousins Avenue or the Prince George Breez-In at 10101 James River Drive to purchase an inexpensive, unique gift for a loved one, neighbor, or friend. Valentine's Day and Easter are just around the corner.
"Go full-on Pokémon with this one," Lamb Arts posted on Facebook. "You gotta catch 'em all!"
— Kristi K. Higgins aka The Social Butterfly columnist is the trending topics and food Q&A reporter at The Progress-Index. Have a news tip on local trends or businesses? Contact Kristi (she, her) at khiggins@progress-index.com, follow @KHiggins_PI on Twitter, and subscribe to us at progress-index.com.
The art of Katherine McNenly: An enduring gift to generations – CTV Edmonton
In her Almonte home and studio, an artist sits face to face with the subject of her latest portrait.
It's a young girl. Her gaze is fixed and serious; her wide, dark eyes focused on the painter before her.
The girl isn't actually in the room, although the image on the canvas is so strikingly real, it feels like she could be.
In reality, she is a creation; a timeless treasure brought to life by the gifted brush of Katherine McNenly.
"It's something much more than a photograph. It's something that's going to endure," McNenly said.
"It's a piece of history. It's going to last. It could be in your family for generations."
McNenly is an award-winning portrait and still life artist. She is an ardent observer of the living and inanimate, capturing, on canvas, the people and things we love.
"I think it's trying to get people to stop and slow down and just look at something for a few moments and maybe think about the miracle of what you're looking at," she said.
"For me, it's the just the beauty of looking at these objects and people. You're bringing them to light. It's almost like magic."
The magic began for McNenly during childhood. A lifelong drawer and painter, she studied fine art in the 1980's at York University during the day, and took night classes with an English portrait painter living in Toronto.
"It was really amazing to get that foundation which is really what I wanted," said the artist.
McNenly typically paints from photographs she takes herself. Meeting subjects in person is often a valuable part of her process.
"I prefer that so I have an interaction with them and get to know them before doing the portrait. So, even though you're doing a likeness, you're also trying to capture something of their personality," said McNenly.
At International competitions, featuring works from thousands of artists, McNenly's pieces have received top honours from the Portrait Society of America.
She is frequently commissioned; her larger, more detailed requests often taking several months to complete.
McNenly's still life pieces are equally demanding. She painstakingly sets up each one, working to capture the seemingly ordinary, while elevating it to something worthy of our interest and focus.
"I like the challenge of painting these inanimate objects from life, usually with natural light, and trying to find all the variations in light and shape and form and colour. There's almost a feeling of air of movement, like it's vibrating," said McNenly.
McNenly is also a gifted landscape painter. In warmer weather, she loves venturing into the great outdoors to find her next piece.
"I like to do plein air. It's wonderful to be outside in nature and painting it.
Despite McNenly's years at the easel, and her commitment to excellence, the artist confesses to never being fully satisfied with the outcome.
"With every painting, I always feel disappointed in the end. I feel it's not good enough. I need to keep going."
And Katherine McNenly will, fuelled by the faces she's yet to meet, and the art she was born to create.
"I don't think I'll ever stop. Every time, it's something brand new again, so you're always feeling this passion."
The art of Katherine McNenly can be viewed on her website or at General Fine Craft in Almonte. Her work will also be exhibited, along with other artists, at a show on April 23-24 at the Mississippi Valley Textile Museum in Almonte.
City applying for grant to fund temporary downtown art exhibit – Energeticcity.ca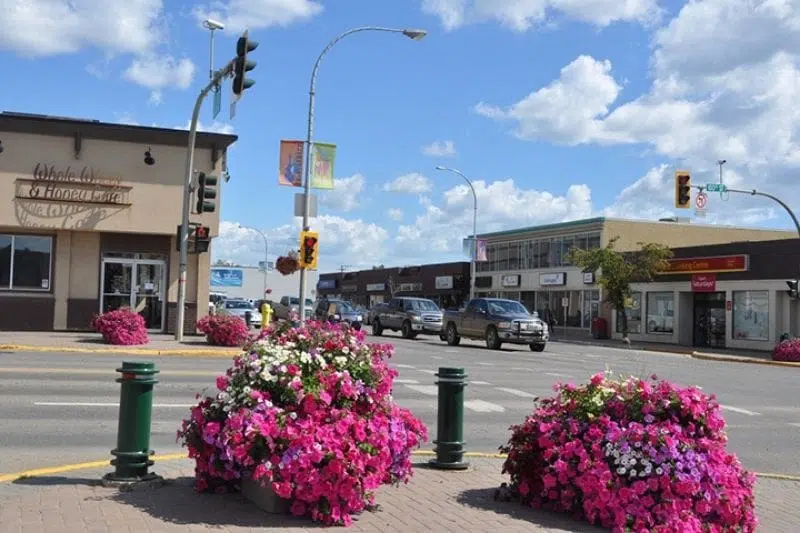 The city is hoping the exhibit will encourage more residents to go downtown and visit its businesses in the process while celebrating "the reconnection of our communities in the aftermath of the
pandemic."
"This project directly supports free, accessible delivery of arts and culture programming to the community while enhancing the downtown core," said a January 24th report for council.
The city can apply for up to $100,000 and must do so before the end of March 2023.
Council directed staff to apply for the grant on Monday, January 24th.
Collaborative art exhibition explores grief at GV – Grand Valley Lanthorn – Grand Valley Lanthorn
The Grand Valley State University Art Gallery hosted a brand new exhibition Thursday with "Sorrow/Fullness: A Reflection on Mourning." This is a metalsmithing showcase that takes a look at grief and loss through the lens of reflection and celebration. The exhibition was a collaboration between three metalsmith artists, including Sue Amendolara, Adrienne M. Grafton and GVSU professor Renee Zettle-Sterling.
Amendolara and Grafton were unable to attend but it was ultimately a success, with an extremely positive reception from those who attended.
"I just wish that Sue and Adrienne could have been there with me," Zettle-Sterling said. "I felt that people were receptive to the work and the ideas surrounding the show. I received a lot of questions and interest seemed to be positive."
The showing was a big deal for the artists, as it saw them return to a world where their work could be viewed by spectators in person. Zettle-Sterling said that the energy that surrounds a live show just does not compare to online showings.
"I am feeling very lucky that the show is able to be seen in a live setting," Zettle-Sterling said. "I have been in several shows that have been forced to be online exhibitions and it's just not the same. It reminds me of teaching online versus teaching in person; it's just not the same and lacks soul."
Grafton was happy to return to showing in person as well, as the coming together of artists to show and discuss efforts was her favorite aspect of pre-COVID exhibitions. She was also grateful for the precautions and actions taken by GVSU in order to best showcase the project.
"It was truly wonderful to be with friends and family again at our opening back in October at the Erie Art Museum," Grafton said. "When the pandemic hit, one of the things I missed the most was art openings and museums. I absolutely love gathering with artists and looking at and discussing work. With the latest rise in COVID-19, it again feels intimidating to get together, but, I'm very pleased with the online presence GVSU has created to showcase this exhibition."
"Sorrow/Fullness" explores the realm of grief and loss, with a special focus on celebrating the lives of lost loved ones and the experiences shared with them. The art pieces have a very personal connection to the artists, as they were inspired by the lost loved ones in their own lives.
Grafton's work was inspired by her mother, who passed away in 2014. The event was something that touched her deeply, ultimately inspiring the pieces shown in "Sorrow/Fullness."
"A few years after her passing I began using the grief as a source of inspiration for the body of work in the show," Grafton said. "The work for me is about the passing of time and memories. I use recognizable imagery to tell stories about my emotions and experiences. In my piece titled "Residue," I've taken my mom's old used makeup and dipped it in plaster. The fragile shell encases the things she touched every day that were an important part of her daily routine."
Amendolara's work for the project was also inspired by the loss of her parents. She said that her focus was to celebrate the experiences she had with them and to continue them with surviving family members.
"As a child, I spent a lot of time in my parent's interior design studio looking at fabrics, wallpapers, antiques, etc.," Amendolara said. "I loved talking with my father about projects he was working on, and it was these experiences that led me to become a craftsperson."
Working with different materials led Amendolara to create the piece she made for this exhibit. She took pieces that were personal to her and her loved ones to turn it into something else.
"I made a pair of upholstery scissors using cast flowers from my mother's funeral bouquet," Amendolara said. "The scissors are deconstructed, suggesting lingering grief or the inability to heal. The scissors rest on a small quilt made from silk from my wedding dress; a reference to family."
Coming together to work through grief collectively is a powerful and healing concept that really flourished with "Sorrow/Fullness." It brought people from all over to experience the grief of the artists as a way to get through their own. Each of the artists hopes all who come to view their work are helping to use it to cope with their personal situations and hopefully broaden the conversation surrounding grief and loss.
The exhibition will be on display at the Haas Center for Performing Arts Gallery until April 1, 2022. For more information on the project and each of the artists, visit the GVSU Art Gallery website here.