House-Hunting for Caves on Mars Has Already Started – The New York Times
Researchers identified nine caves on the red planet that might make suitable shelters for future astronauts.
The neighborhood is a wild card, and moving there is bound to be expensive. But one of the best options for shelter when humans finally make it to the red planet will be subterranean caves. These rocky hollows, which exist in droves on both Earth and the moon, are natural buffers against the harsh conditions of Mars.
In a presentation this month at the Geological Society of America Connects 2022 meeting in Denver, researchers pinpointed nine leading cave candidates worthy of future exploration. All of these grottos appear to extend at least some distance underground, and they're close to landing sites accessible to a lightweight rover.
These structures would offer a respite from the challenging Martian environment, said Nicole Bardabelias, a geoscientist at the University of Arizona. "Everything at the surface is subject to harsh radiation, possible meteorite or micrometeorite bombardment and really large day-to-night temperature swings," she said.
To home in on Mars' most sought-after real estate, Ms. Bardabelias and her colleagues consulted the Mars Global Cave Candidate Catalog. This compendium, based on imagery collected by instruments aboard the Mars Odyssey spacecraft and the Mars Reconnaissance Orbiter, inventories over 1,000 candidate caves and other peculiar-looking features on Mars. (Think of it as the first Martian multiple listing service.)
Just as any discerning home buyer would filter search results on Zillow or StreetEasy, the researchers narrowed the catalog by imposing two criteria. First, they required that a cave be within roughly 60 miles of a suitable spacecraft landing site. Second, they stipulated that high-resolution imagery be available.
Ms. Bardabelias and her collaborators defined a suitable landing site as one below an elevation of roughly 3,300 feet. Such relatively low-lying locales are favorable landing sites because they give spacecraft more time to slow down as they travel through Mars' thin atmosphere, Ms. Bardabelias said.
"Mars has just enough atmosphere that you can't discount it, but not enough to actually give you a significant amount of aerobraking," she said, referring to using a planet's atmosphere to slow an incoming spacecraft. "If you don't have enough space between when you hit the top of the atmosphere and where you're supposed to land, it's going to be very, very hard for you to do the entry, descent and landing sequence properly."
The team also required that top-shelf imagery be available for each cave candidate. Until brokers appropriate NASA's Mars Helicopter for Martian real estate photography, that honor belongs to HiRISE, or the High Resolution Imaging Science Experiment camera aboard the Mars Reconnaissance Orbiter. Ms. Bardabelias is lead operations engineer for HiRISE, which is capable of discerning features on Mars as small as about 3 feet across but has imaged less than 5 percent of the planet's surface to date.
There were 139 apparent caves that satisfied the team's criteria, and Ms. Bardabelias and her collaborators manually examined images of each one. After disregarding features like bridge-shaped rock formations that obviously weren't caves, the team analyzed the remaining pit-like features. The researchers homed in on only those that appeared to extend some distance underground, which yielded a sample of nine leading cave candidates.
These potential caves, the largest of which has an opening that could swallow a football field, are all worth a closer look, Ms. Bardabelias said. But none of the rovers currently operating on Mars are close enough to explore any of these caverns, so that task falls, for now, to spacecraft orbiting the red planet. Follow-up HiRISE images taken from different angles and in different lighting conditions will reveal new details about these caves, Ms. Bardabelias said. You can help the HiRISE team decide what to photograph next by voting for your favorite cave.
It's fitting that we're looking to caves once again for shelter as we prepare to explore new worlds, said Glen Cushing, a space scientist at the Astrogeology Science Center at the U.S. Geological Survey and the creator of the Mars Global Cave Candidate Catalog, not involved in the research. "That takes us all the way back to the dawn of humanity."
What Are Fast Radio Bursts? – Worldatlas.com
The universe is full of mystery. No matter how much becomes known about the cosmos, there always seems to be more that is unknown. Any time a question is answered, more questions seem to arise, and so the process of scientific discovery becomes never ending. There are many examples of what is unknown about the cosmos, yet one perfect example is a phenomenon known as Fast Radio Bursts (FRB). As the name suggests, an FRB is a burst of radio waves that originate from the depths of interstellar space. They usually only last up to three seconds long, yet whatever releases them emits more energy in one second than our sun does every day. This suggests that FRBs are created by high energy processes, yet exactly what causes them remains unknown.
Where Do FRBs Come From?
Most FRBs detected originate beyond the Milky Way Galaxy, yet some have been detected within our galaxy. To date, astronomers have detected around 500 FRBs, yet there remains no consensus on what actually creates them. That isn't to say there aren't any possible explanations, however. Some popular theories claim that FRBs originate from stellar remnants such as neutron stars or black holes. Other theories posit that they may originate from collisions between black holes or neutron stars. Another interesting theory is that FRBs come from a type of stellar remnant called a magnetar. A magnetar is a type of neutron star that has an exceptionally strong magnetic field and emits high amounts of x-rays and gamma rays, and some FRBs have been traced back to regions around magnetars. It's quite possible that FRBs form from multiple different events, with no single phenomenon able to explain the origin of every FRB.
Alien Origin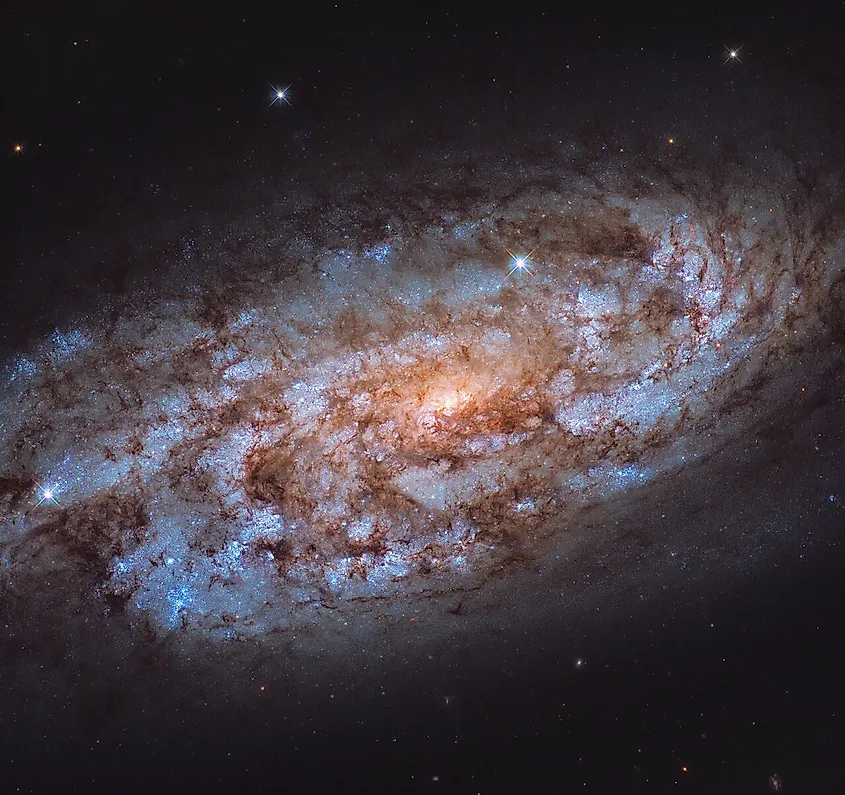 Whenever astronomers detect signals of unknown origin, there is always the question of whether or not the signal originated from another civilization. Ever since humans began using technology to transmit signals around the world, some of the signals leak into space and travel at the speed of light. Any civilization that happens to be pointing a radio telescope in the right direction at the right time would detect our signals. Assuming other intelligent civilizations develop radio technology, they too would emit signals out into space that could be detected by us. Thus, some astronomers have wondered if some FRBs are in fact the radio signals from another civilization. Interestingly, this isn't the first time this has happened. When astronomers discovered the first pulsars, they thought they had come across an alien signal, yet it later turned out to be a rapidly rotating neutron star. In the case of FRBs, it is unlikely they originate from another intelligent species. This is mainly due to the fact that they do not appear to come directly from other solar systems, and the bursts themselves contain so much energy that it seems unlikely a civilization would be creating them. Rather, a natural explanation is more likely, yet it still remains unknown exactly where FRBs come from.
How Old Is The Sun? – Worldatlas.com
The sun formed around 4.6-billion years ago, and all the planets formed within the next 100-million years. The age of the sun and the planets is one of the most widely accepted facts about our solar system, and the reason for this is that every line of evidence points to the same age. How is the age of the sun determined?
Finding The Oldest Thing In The Solar System
One way to determine the approximate age of the sun is to find the oldest object in the solar system. Fortunately, there are countless objects that formed along with the sun, such as asteroids, meteors, and planetesimals. These forms of planetary debris remain virtually unchanged for billions of years, and by using radiometric dating methods, scientists can determine their age, in turn directly telling us how old the sun is. Radiometric dating uses precise chemicals to determine the age of rocks, and it works by using something called a half-life. For example, carbon-14 dating is a reliable method for dating things like fossils, as carbon-14 is only present in organic matter. Carbon-14 has a half-life of 5,730 years, meaning that after 5,730 years, half of the carbon-14 will decay into another chemical, in this case, nitrogen-14. Every 5,730 years, another half will decay and so on. By determining the amount of carbon-14 present relative to the amount of nitrogen-14, scientists can determine the age of whatever it is that is being analyzed. While carbon-14 is a reliable method for determining the age of organic matter, it will not work for determining things that are billions of years old.
To find out when the sun first began to form, astronomers look for iron-60, a rare isotope of iron that is only produced during a supernova explosion. A supernova likely preceded the formation of our solar system, and the energy released from the explosion likely ignited the formation of the sun billions of years ago. Iron-60 has a half-life of 2.26-million years, wherein it decays into nickel-60. Like with carbon-14 and nitrogen-14, astronomers analyze rocks from asteroids and meteors to determine the ratio between iron-60 and nickel-60, which produces an age of around 4.6-billion years. Furthermore, other dating methods used on Earth and the moon have produced ages of around 4.5-billion years, offering further evidence that the sun is at least that old.
Lifespan Of The Sun
The sun is 4.6-billion years old, and astronomers believe that it is only about halfway through its life. We obviously cannot see into the future, and so how do scientists estimate the amount of time the sun will exist for? The process is actually rather simple, and it involves knowing how much fuel the sun has and rate at which it consumes that fuel. Like every other star in the universe, the sun is powered by the nuclear fusion of hydrogen nuclei in its core. When hydrogen is fused together, it produces helium and vast amounts of energy that power the star. So long as nuclear fusion is maintained within the core, the sun will remain a main sequence star. However, that fuel will eventually run out, and when it does, the sun will enter into the final stages of life. By knowing the amount of fuel the sun has and the rate at which it uses that fuel, astronomers estimate that the sun will continue fusing hydrogen in its core for at least another 4 to 5-billion years. When the sun does begin to run out of usable hydrogen, it will evolve into a red giant, eventually blowing off its outer layers. Those outer layers will form a shell of stellar material called a planetary nebula. Meanwhile, the core of the sun will collapse and become a white dwarf.
UBC Okanagan study to investigate where Eurasian watermilfoil occurs in lakes – Vernon Morning Star
A UBC Okanagan pilot project is seeking to better pinpoint and map where the beginnings of Eurasian watermilfoil (EWM) infestation occurs in the large lakes within the Okanagan Valley watershed.
If this pilot project proves successful, it could become a blueprint for other jurisdictions to follow in their own battles with this aquatic plant or other invasive aquatic species, says UBCO assistant professor Mathieu Bourbonnais.
Bourbonnais, with the Irving K. Barber Faculty of Science, is overseeing the project with the assistance of masters graduate student Mackenzie Clarke.
The data modelling prototype is using the technology of topobathymetric lidar, the science of simultaneously measuring and recording three distinct surfaces – land, water and submerged land up to 20 metres below the water surface – using airborne laser-based infrared imagery sensors.
Bourbonnais says being able to better identify potential or small milfoil patches will give better control management tools for the Okanagan Basin Water Board's Euroasian watermilfoil harvest program, which currently is about an $800,000 a year initiative to try and control the growth and limit the damage of the invasive water plant.
It could also potentially target specific watermilfoil growth sites before they grow out of control near valley lake areas deemed sensitive by Environment Canada for the preservation of the Rocky Mountain Ridge Mussels.
He said EWM has been a formidable invasive aquatic plant species to control since it was introduced into the Okanagan Valley lake system some 40 years ago.
It has also illustrated to the water board the need to be stringent when trying to avoid the Zebra and Quagga mussels from being introduced into the lake system.
Like watermilfoil, there is no solution for removing the mussels once they are introduced into a lake system. It is a rooted submerged plant inhabiting the shallows waters of lakes across North America.
EWM originated from Asia, Europe and Northern Africa and has spread rapidly, introduced in North America from the ballast water of ships or aquarium activities.
Bourbonnais said a lake choked with watermilfoil growth impacts the biodiversity and food webs reliant on the lake habitat, alter the water temperature and impacts its recreational use for swimmers and boaters.
"The impact of invasive species on our lake aquatic systems costs billions of dollars to deal with across the country. It definitely has an impact both ecologically and economically," he said.
The pilot project fieldwork will be done by early spring, he said, with the hope it provides data upon which to target areas for harvesting leading up to the permit application process next year.
"The goal is the Okanagan Basin Water Board can take the data generated from this research model and liaise with the province and federal government on how to go forward," he said.
"We hope it can help the management strategy of where to send the lake rototillers to pull up the plants."