How green politics are changing Europe – BBC News
An ocean of conservative blue blankets the electoral map in Germany's southern state of Bavaria.
And yet the conservative vote actually fell across Germany in last month's federal vote, while the Greens achieved their biggest success yet,.
In an election dominated by climate change, a speck of green has made a ripple in Bavaria. For the first time a Greens candidate was directly elected to represent Bavaria in the federal parliament.
It is symbolic of the creeping rise in support for European green parties, from Hungary to Finland.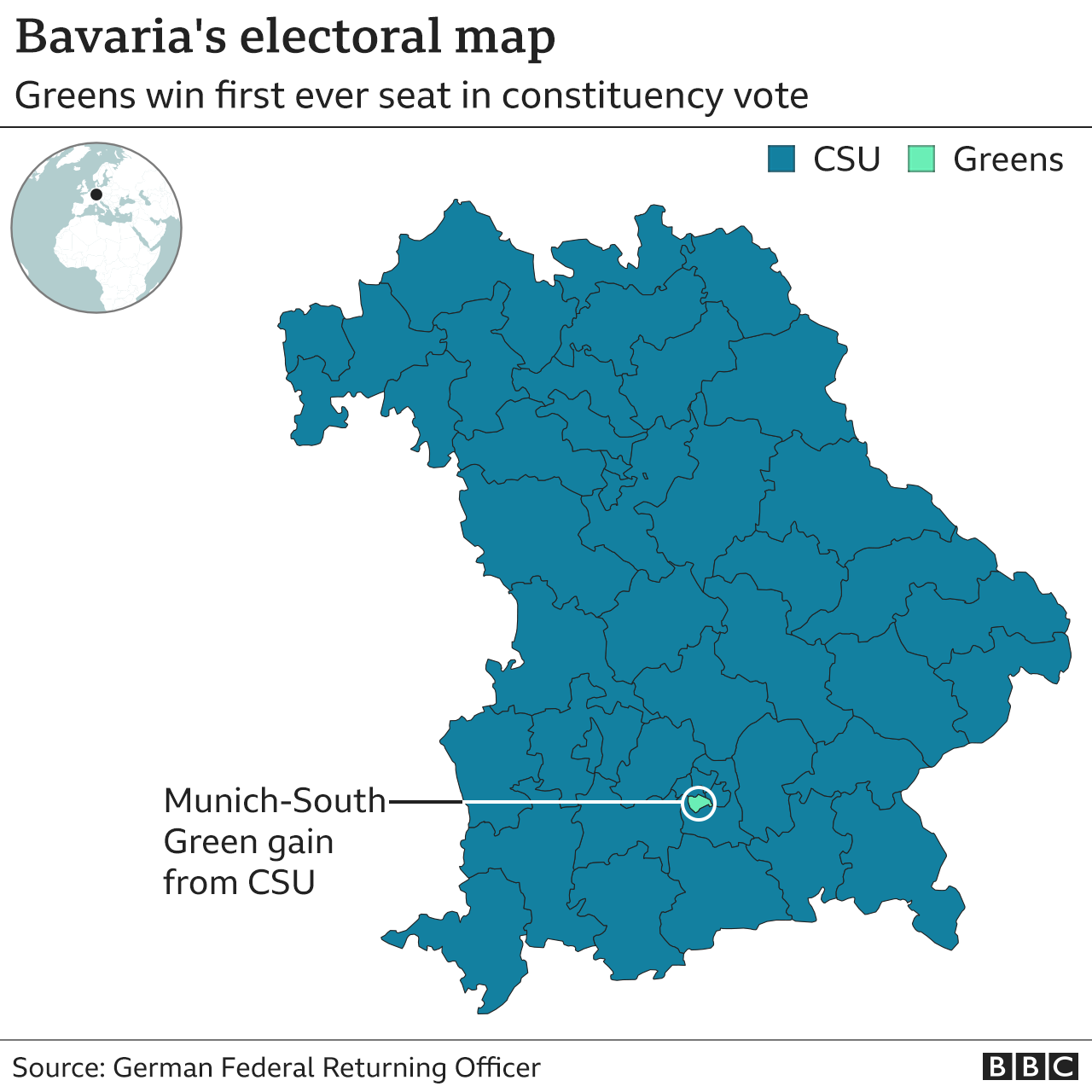 The new MP, Jamila Schäfer, beamed with satisfaction when she recalled her surprise victory in Munich-South, by a wafer-thin margin of 0.8%. Only once before had the CSU lost the constituency since 1976.
"This is a major sign of change," Ms Schäfer told the BBC.
A campaign 'close to the people'
The Greens won 14.8% of the vote nationwide, appealing beyond their eco-protest roots with Annalena Baerbock standing as candidate for chancellor. Now they are in talks to share power as part of a three-way coalition.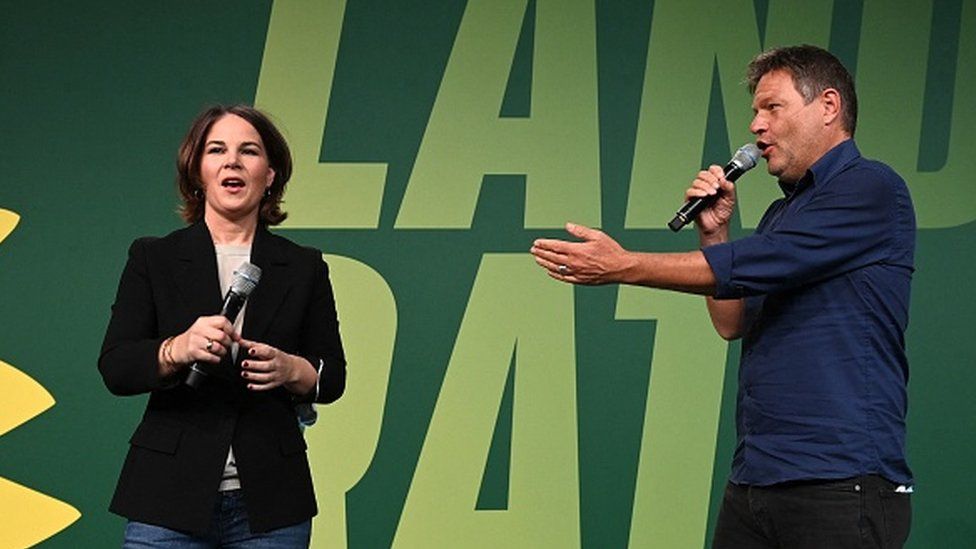 Ms Schäfer, 28, is the Greens' deputy federal chairwoman and typifies a party that has undergone a national makeover after years of power-sharing in several German states (Länder).
She rose through the ranks of Green Youth, taking part in school strikes against education reforms, long before Swedish activist Greta Thunberg made her name by skipping classes for climate protests.
Climate change was consistently ranked as the most serious facing Germany in opinion polls ahead of the election.
Even so, Ms Schäfer targeted her "close-to-the-people" campaign in Munich-South on housing, pensions and taxes.
Green shoots of success
Once ridiculed by many as idealistic hippies, Green parties increased their vote share in 13 European countries at the most recent national elections. In six of those countries – Austria, Belgium, Finland, Ireland, Luxembourg and Sweden – green parties have a share of power in coalition governments.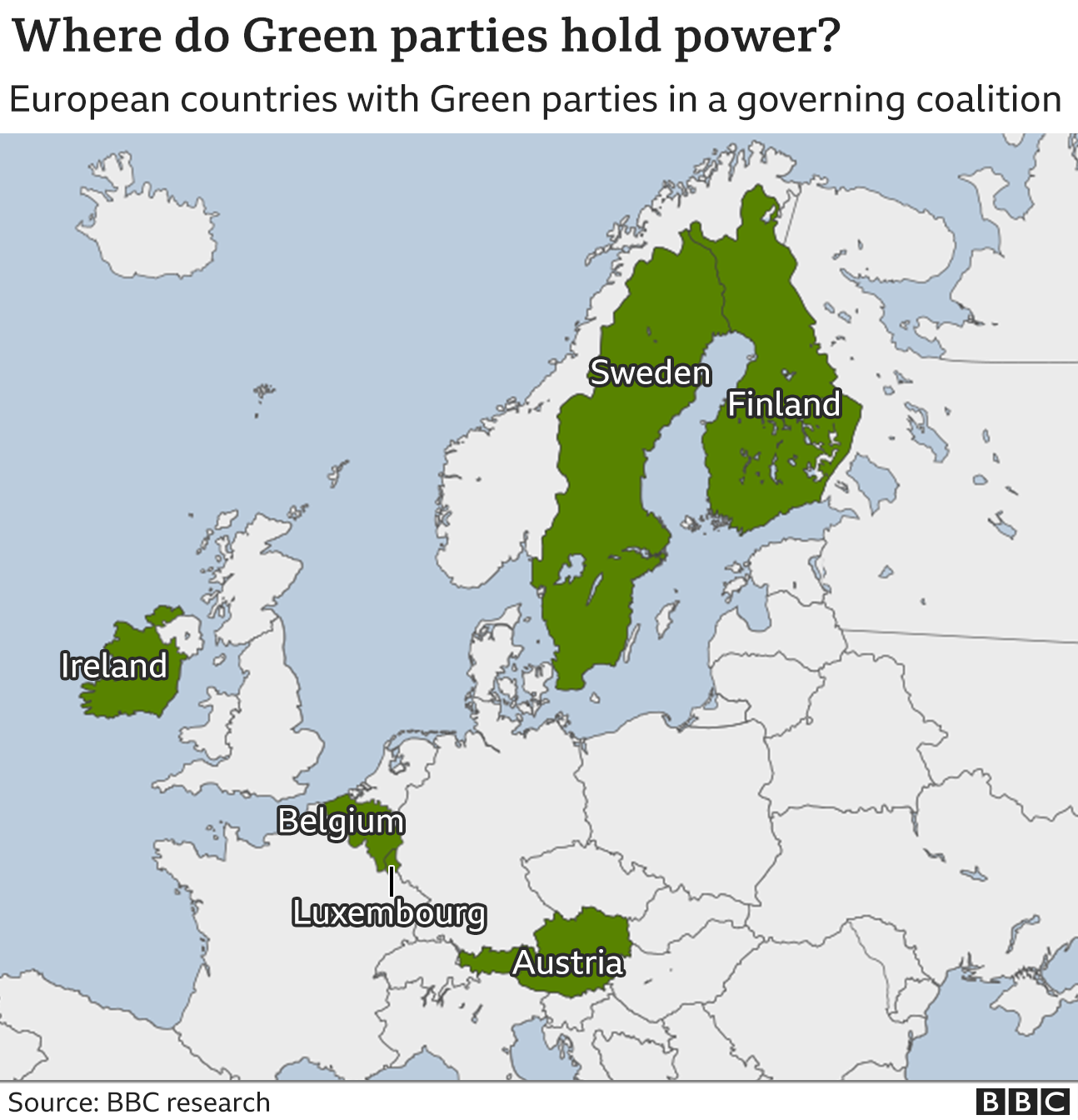 In all those cases, the Greens are pressing their partners to adopt more ambitious targets for lowering carbon emissions. Elsewhere, the green mayors of Amsterdam and Budapest are aiming for carbon neutrality by 2050 and 2030 respectively – to balance the greenhouse gases emitted and absorbed by their cities.
Despite last month's election success for the German Greens, even co-leader Ms Baerbock admitted they had failed to live up to early opinion poll ratings: "We wanted more. We didn't achieve that."
Given the urgency of curbing emissions, what's holding the Greens back?
Trust and fear of change
One explanation is that mainstream parties across Europe have elevated climate change to the top of their agendas.
"If you're concerned about the climate, it doesn't follow that you're going to vote green," Adam Fagan, a political scientist at King's College, London, said. "It means you're going to scrutinise the manifestos of the main parties for their green credentials."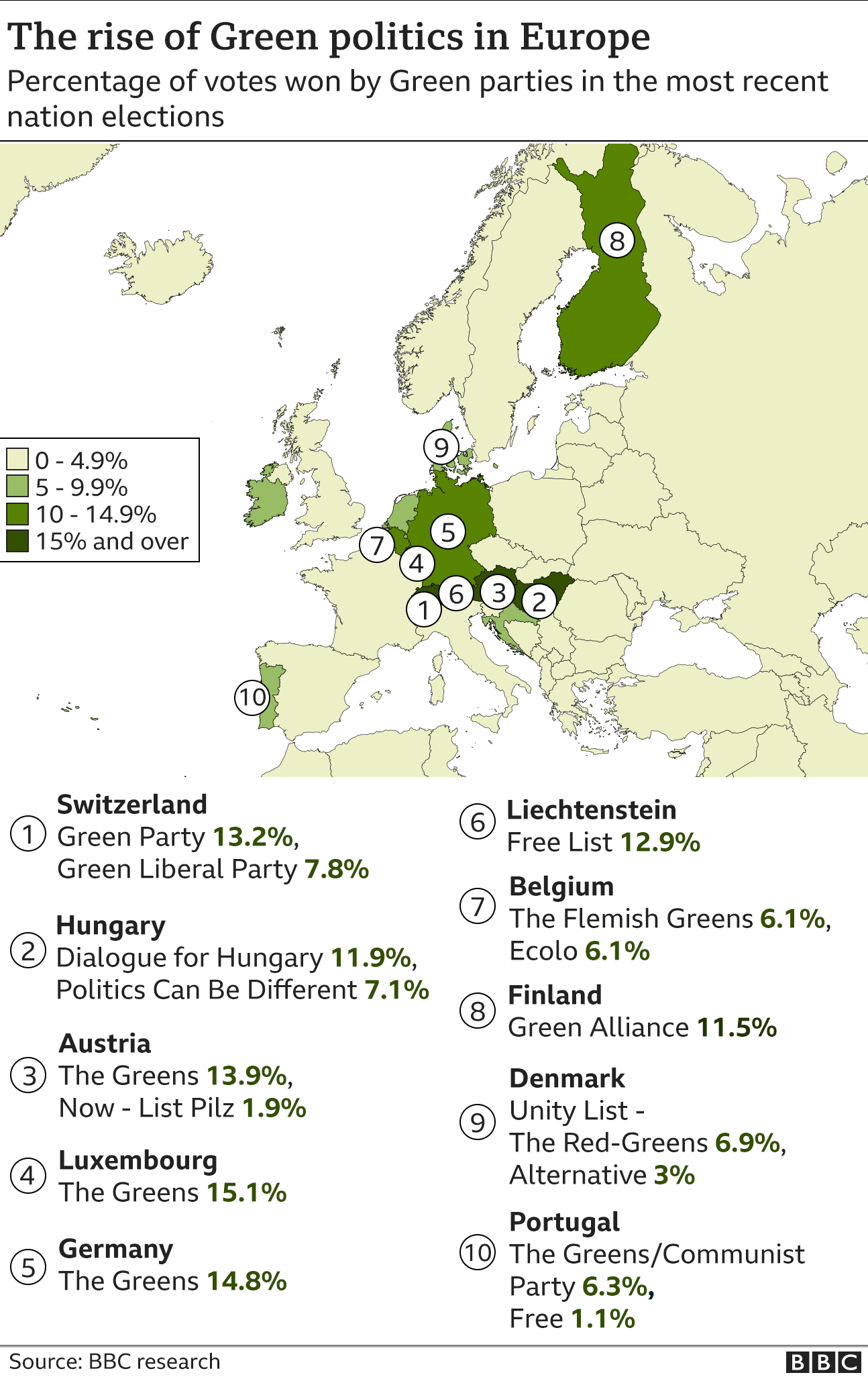 Green parties tend to do better in countries with more proportional systems, as used by the European Union for its parliamentary elections. For example, the Greens/EFA bloc gained 25 seats with 10.8% of the vote in the 2019 election to the European Parliament.
"People think putting the Greens in power [in the EU] is less dangerous," said Philippe Lamberts, co-president of the Greens/EFA.
"From the right and the left, there's always a question hanging over us: can you really trust the Greens with the economy?"
National election results suggest the answer is no.
To reduce emissions, the Greens say big structural changes to the economy are needed. While those reforms are necessary, they scare people and put them off voting green, Ms Schäfer said.
"They're worried they'll be the losers of big transformation," the MP said. "It's a lack of control that people are afraid of. But we need to convince people that our politics is not about giving up control."
'Killing the planet'
It's even more difficult in Southern and Eastern European countries, where support for green parties is fragmented or non-existent. Surveys show that climate change is far from a top priority in post-communist countries such as Poland, the Czech Republic and Lithuania.
Voters and political parties there are generally more concerned about economic development or migration, leaving environmental issues to civil society groups.
Mr Lamberts believes voters find the message that their country's model is "killing the planet" unpalatable.
Unlike in many of the other former Soviet-bloc states, green parties have made inroads in Hungary.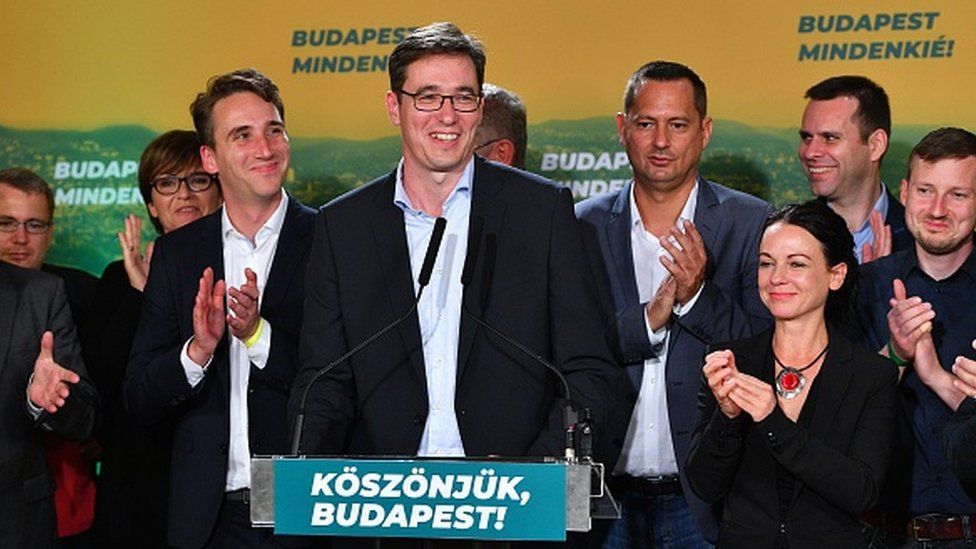 The green LMP party has won seats in three consecutive national elections since 2010, while Dialogue received 11.9% of the vote in an alliance with the Hungarian Socialists in 2018.
Dialogue's success came under the leadership of Gergely Karacsony, who was elected mayor of Budapest in 2019.
He defeated the nationalist incumbent by rallying opposition parties behind his liberal platform, and promising solutions not only to environmental issues, but economic and social ones too.
"In Hungary today, there are three different crises. A democratic crisis, a social crisis and an environmental crisis," Budapest's mayor told the BBC. "The advantage of the green movement is that we have proposals for all three."
He linked green policies such as urban foresting and carbon-free public transport to Hungary's poor record on air quality and other environmental problems.
Particularly in post-Soviet countries, the mayor said, social justice must go hand in hand with the green transition.
"We cannot put the costs of sustainability on disadvantaged segments of society."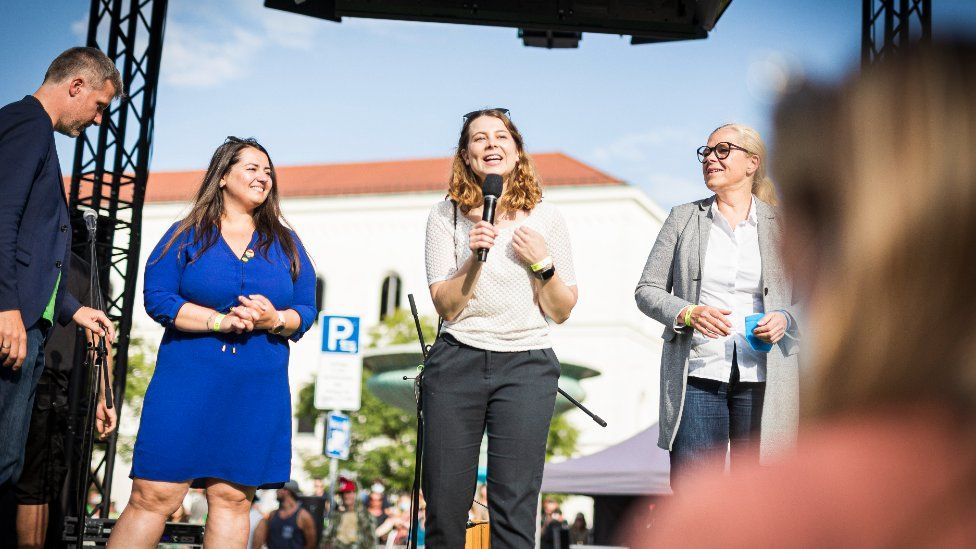 What worked in Budapest may not necessarily follow elsewhere, but green candidates have achieved electoral success where they have channelled voter discontent, united the opposition and diversified their offer beyond the environment.
If the Greens can build on these gains, there is a future for them in coalitions, Professor Fagan said.
"Green politics in Europe is getting bigger and stronger, and I'm sure it will grow in the coming years," Ms Schäfer said.
U.S. Senate passes bill to avert government shutdown, sends to Biden for signature
The Democratic-controlled U.S. Senate on Thursday passed a bill to fund the government through mid-February, averting the risk of a shutdown after overcoming a bid by some Republicans to delay the vote in a protest against vaccine mandates.
The 69-28 vote leaves government funding at current levels through Feb. 18, and gives Democratic President Joe Biden plenty of time to sign the measure before funding was set to run out at midnight on Friday.
The Senate acted just hours after the House of Representatives approved the measure, by a vote of 221-212, with the support of only one Republican.
Congress faces another urgent deadline right on the heels of this one. The federal government is approaching its $28.9 trillion borrowing limit, which the Treasury Department has estimated it could reach by Dec. 15. Failure to extend or lift the limit in time could trigger an economically catastrophic default.
"I am glad that in the end, cooler heads prevailed. The government will stay open and I thank the members of this chamber for walking us back from the brink from an avoidable, needless and costly shutdown," Democratic Senate Majority Leader Chuck Schumer said on nailing down a deal with Republicans to clear the way for passing the bill.
The vote ended weeks of suspense over whether Washington might be plunged into a government shutdown at a time when officials worry that the potentially dangerous Omicron variant of COVID-19 could take hold in the United States after being discovered in South Africa.
Such a shutdown could have forced layoffs of some U.S. government medical and research personnel.
Senate Democrats defeated an attempt by a handful of conservative Republicans to attach an amendment that would have prevented enforcement of Biden's coronavirus vaccine mandate for many U.S. workers.
Republican Senators Mike Lee, Ted Cruz and Roger Marshall had earlier raised the possibility that the government could partially shut down over the weekend while the Senate moves slowly toward eventual passage.
"It's not government's job, it's not within government's authority to tell people that they must be vaccinated and if they don't get vaccinated, they get fired. It's wrong. It's immoral," Lee said before the defeat of the amendment.
Over the past few days, Senate Minority Leader Mitch McConnell insisted there would be no government shutdown from congressional inaction. But he had to work through the day on Thursday to get his Republican lawmakers in line on a deal allowing quick passage of the funding bill.
The emergency legislation is needed because Congress has not yet passed the 12 annual appropriations bills funding government activities for the fiscal year that began on Oct. 1.
A partial government shutdown https://www.reuters.com/world/us/what-happens-when-us-federal-government-shuts-down-2021-09-27 would have created a political embarrassment for both parties, but especially for Biden's Democrats, who narrowly control both chambers of Congress.
LONGER TIMELINE
The fact the temporary spending bill extends funding into February suggested a victory for Republicans in closed-door negotiations. Democrats had pushed for a measure that would run into late January, while Republicans demanded a longer timeline leaving spending at levels agreed to when Republican Donald Trump was president.
"While I wish it were earlier, this agreement allows the appropriations process to move forward toward a final funding agreement which addresses the needs of the American people," House Appropriations Committee Chairwoman Rosa DeLauro said in a statement announcing the agreement.
But she said Democrats prevailed in including a $7 billion provision for Afghanistan evacuees.
Once enacted, the stopgap funding measure would give Democrats and Republicans nearly 12 weeks to resolve their differences over the annual appropriations bills totaling around $1.5 trillion that fund "discretionary" federal programs for this fiscal year. Those bills do not include mandatory funding for programs such as the Social Security retirement plan that are renewed automatically.
(Reporting by Richard Cowan and Susan Cornwell; Additional reporting by Moira Warburton, Doina Chiacu, David Morgan and Susan Heavey; Editing by Scott Malone, Alistair Bell and Peter Cooney)
Austria's Ex-Chancellor Sebastian Kurz to Quit Politics Amid Corruption Probe – Bloomberg
Austria was thrust into political turmoil after former Chancellor Sebastian Kurz quit his party and politics, prompting his hand-picked successor and finance minister to also resign.
The day of commotion in Vienna started with Kurz's decision on Thursday to leave his most recent role as leader of the People's Party amid a corruption probe.
Canada joins U.S, EU and Britain in imposing new Belarus sanctions
Canada imposed new sanctions on Belarusian officials and entities in coordination with international partners on Thursday to protest against what it called attacks on human rights and acts of repression, Ottawa said.
A foreign ministry statement said Canada was acting together with the United States, the European Union and Britain. Separately, the U.S. Treasury imposed restrictions on dealings in new issuances of Belarusian sovereign debt and expanded sanctions, targeting 20 individuals and 12 entities.
(Reporting by David Ljunggren)