How is Toronto Real Estate Hot With Unemployment at 14%? – Move Smartly
In spite of three months of economic free fall due to COVID-19, the Toronto real estate market seems to be returning to its pre-pandemic vigour.

Click on the video below to watch my update this – recap follows below. As always, I welcome your questions and comments at askjohn@movesmartly.com
Sales are down 16% compared to last year but you can see from the chart below that every week they keep improving and are getting close to last year's volumes.
The Months of Inventory (MOI) which measures the number of homes on the market relative to the number of sales also keeps falling – which means every week that passes the number of available homes for buyers to choose from is declining.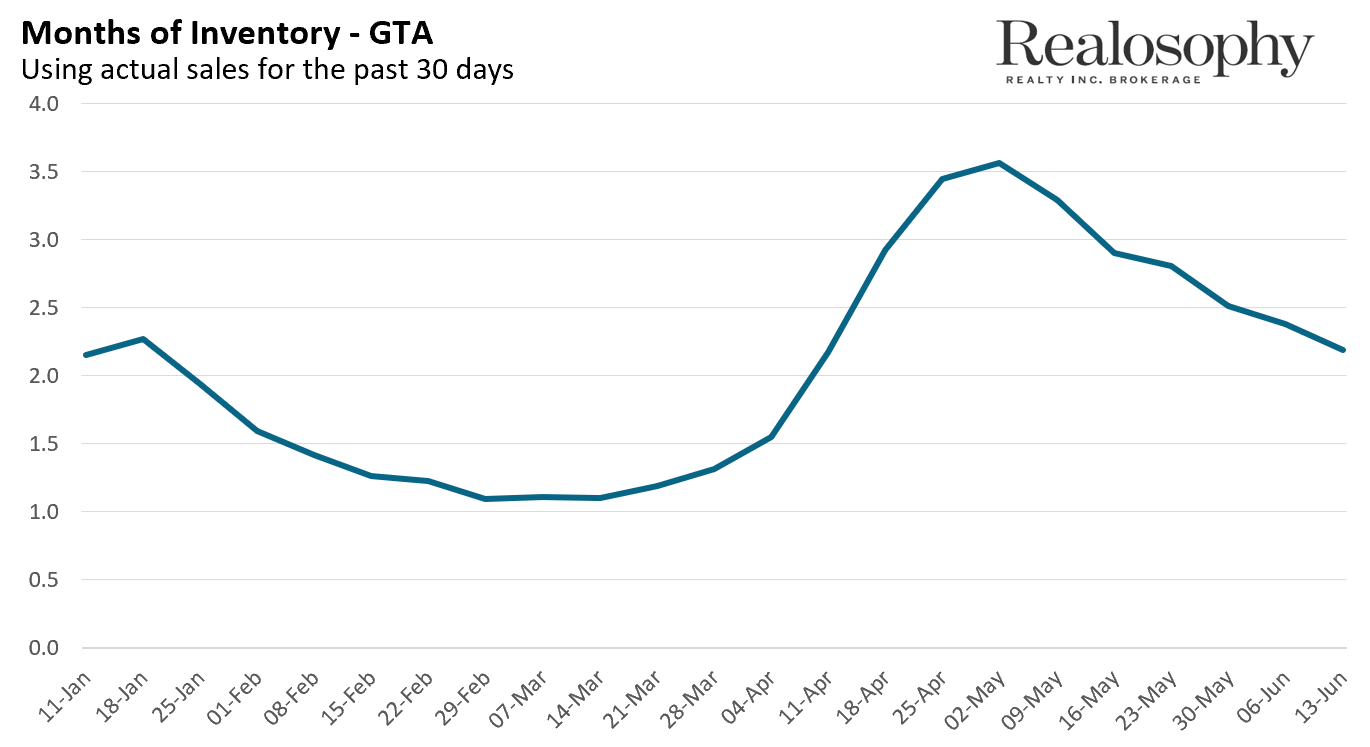 See latest Greater Toronto Area market stats at Realosophy.com
What does this look like on the ground? More bidding wars, homes selling faster and with far more competition.
This of course does not mean every home is getting 10 offers and selling in 3 days. As always, there are some segments of the market that are slower than others. But as a whole the market is quite competitive.
Which of course raises an important question, why is the real estate market booming when the unemployment rate is at 14%?
History has shown us that housing markets usually cool down when the unemployment rate increases. This makes sense. With an increase in the number of people loosing their jobs fewer buyers can afford to buy homes and more owners usually need to sell their homes when they can no longer afford their mortgage after a prolonged period of unemployment.
So why is the opposite happening?
Some people are pointing to the very low interest rates – around 2% for a 5 year mortgage – as the cause for this surge in demand. But low rates don't create demand. If you lost your job over the past 2 months you're not going to suddenly jump back into the market and buy a home because rates are lower – you can't get a mortgage without a job.
The more likely explanation is that the vast majority of jobs that have been lost in Canada were in lower paying front line service jobs. Many of the buyers our agents are working with have not been impacted by the recent job losses. They are primarily in jobs where working from home is an option so have not seen a loss to their income.
So how will the housing market progress from here?
I expect the summer to remain very competitive and the only thing that might help cool the competition is a spike in new listings.
As for the fall market, there are still two main risks on the horizon. Firstly, when all the government support for businesses and individuals who lost their jobs comes to an end, only then will we know how many households are impacted and have permanently lost their income as a result of this crisis.
Secondly, households who have deferred their mortgage payments are going to see their deferrals come to an end this fall.
But while I was very concerned about the fall market about a month ago, I'm a bit less concerned today for a couple of reasons. As businesses open up, I expect household spending to increase and more and more businesses to start making money again. I don't think things will be back to normal, but I do not think they will be worse than they were a month ago. The economy will start to recover which means it's unlikely for demand to be lower tomorrow than there is today.
There may be some tenants and homeowners who are unable to pay their rent or mortgage after all the government support comes to an end, but I'm not convinced that this alone is enough to put downward pressure on home prices. Anecdotally, I'm hearing that many of the households deferring their mortgages today are doing this to be cautious, not because they can't afford their mortgage payments.
The one big unknown of course is if we see a second COVID-19 wave that is worse than the first, which would be additional stress on an already stressed healthcare system and economy. It's hard to imagine what things will look like if that does happen. The best we can do for now it to monitor developments closely – stay tuned.
Follow John's latest updates on Twitter, YouTube, Facebook or Instagram
John Pasalis is President of Realosophy Realty, a Toronto real estate brokerage which uses data analysis to advise residential real estate buyers, sellers and investors.
A specialist in real estate data analysis, John's research focuses on unlocking micro trends in the Greater Toronto Area real estate market. His research has been utilized by the Bank of Canada, the Canadian Mortgage and Housing Corporation (CMHC) and the International Monetary Fund (IMF).
Cottage real estate market heats up with more Canadians working remotely – CTV News
TORONTO —
While the COVID-19 pandemic has damaged much of the Canadian economy, there is one market that appears to be thriving: the cottage industry.
Ontario realtor Catharine Inniss of Cottage in Muskoka Real Estate told CTV New Channel on Sunday that the cottage market in the province has "been really, really speedy" in the last few months.
"We had a delayed market for a while but now it has completely sped up and surpassed every other year though that real estate has been in existence up here," Inniss said in an interview from her home in Port Carling, Ont.
Inniss, who represents the Muskoka, Haliburton, Orillia and Perry Sound regions, said she started to see a surge in May of people living in the Toronto area expressing interest in buying cottages.
"We were hearing that there was pent up demand. It's been a seller's market, meaning that there are not enough properties for the number of buyers that we have for the last several years, but it's just been more extreme this year," Inniss explained.
However, Inniss said she expected the increase in cottage purchases this year.
"We were hearing stories about people living in condos in the city, and not being able to get out anywhere to a public park, even being concerned about walking on the sidewalk so we thought if anybody's been thinking about it, then now would be the time that they would be pursuing buying a cottage," Inniss said.
With many people now working from home, Inniss said they've realized they can now work from anywhere as long as they have a decent Wi-Fi connection.
"There's so much more telecommuting now, I think employers have gotten past the idea that it's not productive and found out that it's very productive," Inniss said. "So people might be turning to having a place that they can come to on occasion in Toronto, in a city, and then living up here [in cottage country]."
Inniss said the uncertainty of the stock market amid the pandemic has also pushed Canadians to reconsider what they are investing their money in.
"I think people started thinking that they want something more solid and being able to enjoy your investment and live and work in your investment," she explained.
While purchasing any property may still be out of reach for those financially impacted by the pandemic, Inniss said Canadians' travel budgets could provide the start of a down payment.
She added that a halt on travel also has Canadians looking to spend more time exploring their own backyard.
"They're interested in the experience of enjoying the Canadian forest, our beautiful lakes… the whole experience, and they also are wondering what they will be doing with their travel budget," Inniss said. "It's a question mark when people will be able to travel again and I think people are looking at investing in real estate here rather than further south."
For those currently looking to purchase a property in cottage country, Inniss recommends potential buyers work with a realtor in the area, rather than an agent from the city.
"We hear lots of sad stories and sometimes horror stories about [people] bringing in agents from other areas that don't know how to go about being successful in real estate purchases here," Inniss said.
"If you have an association with an agent say in the city or wherever you live, then you could always get a referral to an agent. They can help you do your homework and find a good agent here."
LACKIE: Pandemic real estate hit costing city dearly – Toronto Sun
By now it should be a familiar tale: the once-great North American city, booming with industry and immigration, hits a rough patch.
Soon enough the long-overburdened infrastructure starts to crack, then crumble.
Taxes go up. Businesses balk and depart for greener pastures. Less taxes come in.
The people soon follow. Tax revenue drops even more. And now the real estate market is in decline.
The city is less appealing. Even fewer people want to live there. Off they go. Rinse. Repeat. It's a vicious cycle.
Okay, so that was a bit of an exercise in hyperbole and surely not applicable to a world-class city like Toronto.
Except on a much smaller scale, is it perhaps a cautionary tale?
The second largest financial centre in North America, Toronto is Canada's business and financial capital and North America's fastest growing technology market.
We are the functional brain of organizations — where world talent is attracted, recruited, hired, and put to work.
And it's to all of our benefit.
Home to some of North America's fastest growing populations, Toronto's population increase has little to do with birth rates and everything to do with net migration, both from within our borders and beyond.
Why is that interesting?
Because the people coming immediately contribute taxes that keep our potholes filled, transit running, and the lights on in our schools, libraries and rec centres.
And for Toronto — a city required by law to keep a balanced budget — those taxes are critical to funding operations.
Property taxes and Municipal Land Transfer Tax — once referred to as the Toronto's "budget-balancing golden goose" — comprise a significant percentage of the city's revenue.
As long as people are selling up as property values rise, that revenue is a certainty.
But what if that were to change?
Today, in the wake of COVID-19, corporations may be rethinking their relationship to their workforce.
Having been forced to pivot their staff to a work-from-home model as much as possible, many of these same companies are now identifying that productivity didn't take the hit they feared, and may now, instead, opt to shrink some of their operational costs by slashing their office footprints.
If employees can work from home — wherever that home may be — wont this change the nature of hiring, retention, and of office culture?
Will top talent even need to move their life to Toronto?
What about the ecosystem of support services that line the PATH and sustain our downtown office buildings?
The dry cleaners, the 30-minute manicure spots, the expensive juice bars — what about them?
Of all the businesses who have taken a hit through the emergency shut down, it's hard to imagine they will have an easy time bouncing back, if at all.
The last four months have been a crash course in remote community building.
We rally together on Zoom calls, commiserate about the challenges of child-wrangling without parks or play dates, and collectively rely on one another to mask-up and stop the spread of this virus.
Community now matters more than ever.
But it seems that community can now be forged pretty easily outside of the 416 and 905.
Muskoka and Collingwood, as examples, are seeing record-breaking sales figures in recent days — people have evidently determined that if they can work from anywhere, they might as well do it where their dollars stretch further and they have more room to spread out.
A bi-weekly trip down to head office in the city doesn't seem bad at all.
We can really only begin to guess at the ripple effects such a shift might initiate.
And not all of them are negative — if people being able to work remotely drives populations back to the smaller communities where Amazon has decimated Main Street, that's a good thing.
Restaurants and retail will rise to meet the demand — it's an opportunity for small businesses.
But in such a scenario the challenge for Toronto will be how to make up the void — a void already unfathomable following months of economic shutdown.
In terms of financial impact, the estimated burn rate for the city at the height of things was $65 million per week. Months of deferred property taxes for homeowners will be the extra kick.
Shrinking commercial footprints will mean shrinking property tax revenue.
Fewer people riding the TTC downtown to work will mean a substantial hit to fare revenues.
A decrease in demand for housing in the downtown core means an eventual decline in property values. Fewer people transacting real estate purchases means a hit to the land transfer tax revenue.
The golden goose will have stopped laying its eggs.
So, it seems to me that maybe people should stop complaining about companies bringing in talent from beyond our borders and recognize that it may well be what props up our economic recovery.
The alternatives are definitely going to anger you more.
— Lackie is a second-generation Sales Representative with Chestnut Park Real Estate and has been helping her clients navigate the challenging Toronto market since 2011
RE/MAX | Canadian Real Estate: St. John's Housing Market – RE/MAX News
Canadians have faced extraordinary circumstances over the past few months due to the ongoing global pandemic. In efforts to contain the virus, people have been practicing social and physical distancing, which has affected how they work, spend money and the Canadian real estate market. When it comes to the market in St. John's, many are left wondering how the capital of Newfoundland and Labrador is faring these days.
St. John's is the main financial, commercial and cultural centre of the province, and the city is home to a variety of suburban neighbourhoods, shopping complexes and industrial areas. Although the fishing industry is still important in St. John's, the city is known today as the main service centre for the province's offshore oil and gas industry. St. John's is a growing metropolitan area with lots to offer, and it's no wonder one-third of Newfoundland's population chooses to live here.
Although housing prices are still relatively low in St. John's compared to other Canadian markets, prices are expected to increase.
Late last year, RE/MAX was anticipating a two-per-cent decline in prices in 2020 for St. John's Metro. Buyer's market conditions were expected to prevail in 2020, a continuing trend from 2018-2019.
St. John's housing market offers exceptional affordability versus many other major cities across Canada, and this is a leading reason why it is an attractive place to settle down for many people. First-time homebuyers were expected to drive the market in 2020, with the Galway subdivision in high demand.
Home Sales in St. John's
Home sales are down in St. John's and Newfoundland & Labrador. The Newfoundland And Labrador Association of Realtors reported that residential transactions in St. John's fell by 61 per cent on a year-over-year basis in May 2020, while home sales in the rest of the province were down 37.4 per cent.
When we look at single detached homes in St John's, there was a decline of 62.1 per cent from levels in April 2019.
Examining the overall supply of homes on the market, we can see that there was quite a drop comparing this year to last year. There were 4,013 active residential listings at the end of May, which is a decrease of 27 per cent from the same time last year.
Housing Prices in St. John's
Housing prices in St. John's remain low, however, there is an expectation that they will experience an increase over the next several years.
Province-wide, the average price of homes sold in May 2020 was $228,519, down 2.3 per cent year-over-year.
However, due to improvements in the labour market and in the unemployment rate in St. John's, we could see housing prices in St. John's begin to crawl higher over the next several years.
Effects of Low Housing Prices in St. John's
There are several effects that low housing prices can have on a housing market such as St. John's, including the rate of housing construction and the willingness of homeowners to put their properties on the market.
When housing prices are very low, there is a tendency for a slowdown in housing construction. There is the expectation that a reduction in new home construction in St. John's will affect housing prices, leading to an eventual increase in prices.
Another effect of low housing prices is that when prices are low, homeowners have the tendency to keep their houses off the market. This will mean fewer homes for sale, leading to a decrease in supply and therefore encouraging prices to go up.
With home sales down and prices remaining low, those looking to purchase a property in St. John's could find this that now is an opportune time.
Buying a new home during the pandemic does come with its challenges; you may be wondering how the quality of services will differ during this time. Luckily, most activities relating to buying or selling a home can be done online. If you are interested in entering the real estate market, always make sure that you work with a qualified Realtor who can best guide you through the market.