How one woman turned her row house into an art collection – Toronto Star
Some might consider a broken mirror bad luck, but Lynda Middleton saw in it a graceful tree, and glued the bits to form a strikingly original piece of art. It was just one aspect of the redecorating work she recently did on her 1890s Toronto row house, a project she undertook as a creative way to make use of her time during the COVID lockdown. The results? Surprising and stunning.
For Middleton, an avid tennis player, it turns out that her hand skills extend to brushwork, and her mind is full of paint swatches.
"I always resisted doing a lot of work on (the house), because I suspected if I ever were to sell, new owners would gut the place," she says. But when a real-estate agent mentioned that buyers might want to live there before taking on another project with a big bill, she decided to take the opportunity, even though she is not looking to sell.
"Something just clicked," Middleton says. "I knew it was time to begin. I didn't do research – I'd looked around at rooms before."
Before she set about redecorating her 2,000-square-foot, three-storey home from top to bottom, she first had to take care of a host of formidable tasks.
"I stripped and repaired wallpaper," Middleton says. "I painted the trim in all the rooms, staircases and landings, plus an entire bedroom, two bathrooms, single walls in three rooms – and floors."
While standard home decorating follows a linear path of painting walls and floors before assessing the results and then hanging art, "the designs and artwork were done as I went along," Middleton says.
What influenced her choice of patterns? "I looked at books and on YouTube," she says, before admitting, "I've only had internet at home since the start of the pandemic, at the insistence of my friends. I must admit this has led to some unexpected and welcome pursuits."
Middleton, who has lived in the house since the 1990s, has always enjoyed fine art, visiting galleries and exhibitions. She is also an accomplished photographer, having shot theatre productions and developed and printed the works, some of which are displayed in her home.
One of the images she created for her home renovation project, an angular line drawing inspired by a souvenir from the play "The War Horse" – made with a pen and ruler on paper – sits in the stairwell going up from her kitchen. Its placement was hardly random – it's there to soften a colour choice.
"I used sunshine yellow on the walls, but it was way too bright for me," she says. "I created the image and sat it there to tone down the effect. I have an aversion to hanging things from walls by nails after all the painting I did."
Likewise, a floor painted grey seemed dull and lifeless to Middleton. Rather than go over it in a different shade, she painted a strong geometric pattern in white strips that resemble bars of sunlight.
"This gave the room some energy," she says. "The idea to have designs on stair landings was mine, and one, a stylized star, was actually derived from an image used for the American election."
Similarly, she painted a section of the second-floor hallway in strips of colour. "Those details seemed logical to me," Middleton says. "A lot of the colour choices were done on instinct."
While her painted designs have been incorporated into the walls, floors and staircases, she also created one-of-a-kind works using a variety of materials. In addition to the broken-mirror tree, there's an eagle made of construction tape, some bird-like pieces that now hang from her deck and more. She bought her supplies from a local Canadian Tire as well as from a dollar store, using twist ties and coloured pieces of rubbery material to form some of the works that now grace her home.
When Middleton finally finished in January, she was happy yet missed doing the work. "It wasn't time to start tennis playing just yet," she says. "I almost think I should have stretched this project a bit. However, I'm definitely pleased with the outcome and proud of what I achieved. I would do it again!"
Moose Jaw Museum & Art Gallery is currently hosting exhibits by Belinda Harrow & David Milne – moosejawtoday.com
Two different styles from two different eras of Saskatchewan landscape art are currently on display at the Moose Jaw Museum & Art Gallery. Belinda Harrow's work occupies the front of the gallery with sculptures, drawings, and paintings representing animal and human interactions and overlaps in and around Regina. It is titled Unsettled.
"I think people will really enjoy them," Jennifer McRorie, Director/Curator at MJMAG says, "they have a lot of whimsy and humor, but they also have deeply layered meanings, political themes, themes surrounding land and animals, and indigenous themes around indigenous use of the land and colonialism."
Harrow is a highly-educated Saskatchewan artist who has taught at the Design and Art College of New Zealand and been a guest lecturer in Beijing, China and Ahmedabad, India. Working across a wide variety of art mediums, she has had exhibits across Canada, and in New Zealand, the UK, China, and Thailand. Some of her work is part of the permanent collection of the Yukon Government. She lives and works in Regina.
At the back of the gallery is an extensive display of David Milne's art on loan from the Art Gallery of Windsor. Its curator Chris Finn will be participating in an Artist's Talk hosted by MJMAG this Wednesday at 7:00pm. The link to the virtual talk can be found on the Gallery's current exhibitions page.
Milne's art was, "Pretty ahead of its time, approaching landscape in abstract ways," McRorie comments. "He was involved during his time with making work with the Group of Seven, whom most people have heard of. But he also studied in New York and was heavily influenced by the abstract experimentation taking place there just prior to WWI."
Milne continues to have a heavy influence on Saskatchewan landscape painting. The exhibit, titled 'Blazes Along the Trail': Exploring David Milne's Imaginative Vision, also explores his history, legacy, and current influence.
The current lobby exhibit is from MJMAG's permanent collection, and is called Shibui: Rob Froese, Shoji Hamada, Jack Sures, Randy Woolsey. It showcases ceramics by Canadian and Japanese artists. Those wishing to see Shibui should go soon, as it will leave the lobby on Sep. 26th.
The Heritage Gallery has a deeply moving new exhibit called Lost Children of the Residential School System, incorporating community-contributed objects from the display at St. Andrew's United Church, which was in response to the recent revelations surrounding residential school system abuses.
Finally, MJMAG is looking forward to once again hosting the Moose Jaw Art Guild's annual exhibition. Titled Looking Out My Window, it will run from Nov. 12 to January 9.
Moose Jaw Museum & Art Gallery's hours are Tuesday to Sunday from 1:00 to 5:00pm. They also have special hours on Wednesdays from 10:00am to noon specifically for seniors and immunocompromised individuals.
Concert In Support Of Orillia Museum Of Art And History Coming Up On October 30 – muskoka411.com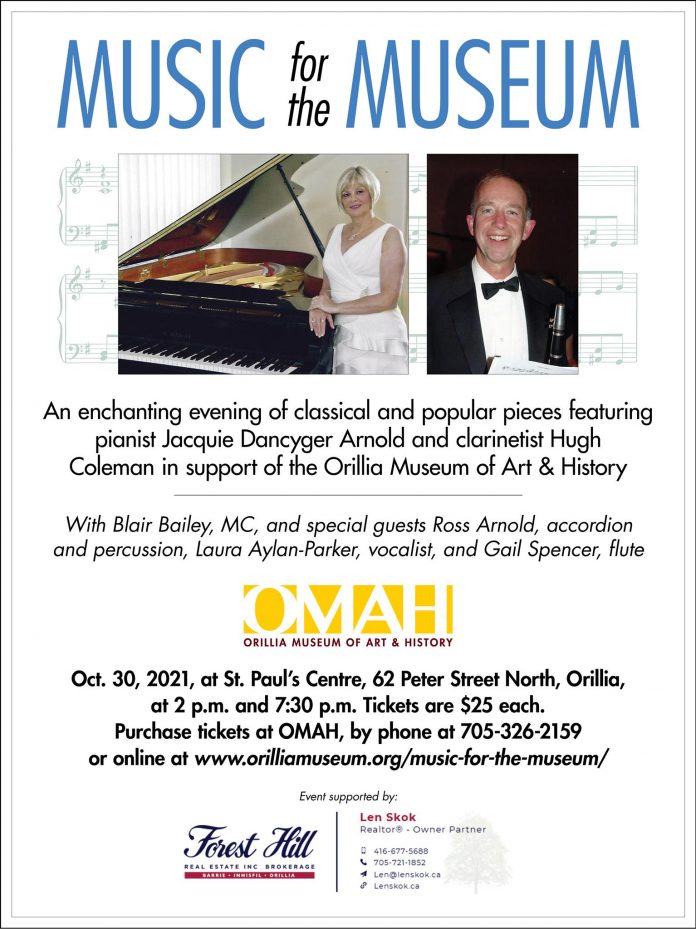 Tickets are selling fast for Music for the Museum, a special concert of classical and popular works that aims to raise funds for the Orillia Museum of Art and History.
The October 30 concert, featuring pianist Jacquie Dancyger Arnold and clarinetist Hugh Coleman, will take place at the St. Paul's Centre at 62 Peter Street North, Orillia, at 2 p.m. and 7:30 p.m. Tickets are $25 each.
Orillia concert performer and music educator Blair Bailey will be MC for the performances, which will also feature appearances by percussionist Ross Arnold, mezzo-soprano Laura Aylan-Parker and flutist Gail Spencer. Among the show's musical selections will be "Fantasie-Impromptu" by Chopin, Bizet's "Carmen Rhapsody" and "Swinging Shepherd Blues" by Moe Koffman.
"We are so thrilled that these wonderful local performers have come together to support OMAH," says Executive Director Ninette Gyorody. "It's a sign of Orillia's incredible community spirit and desire to return to normal. Aligning arts, heritage and culture through this collaborative event is just what we need to rejuvenate ourselves."
Apart from Music for the Museum, OMAH has a variety of events planned for the coming weeks and months. They include new exhibitions opening in November and again in January, as well as complementary programming for families and the community.
For more information on the concert and the Orillia Museum of Art and History, visit orilliamuseum.org or contact Monica Szegvary via email at visitors@orilliamuseum.org or by telephone at 705-326-2159. The museum is open Tuesday through Saturday from 11 a.m. to 4 p.m.
The art of making art: Visibility Arts – Evanston RoundTable
"I like to come and make art before I go to my job at the grocery store. It calms me down."
"I like to work on one piece at a time so that I don't get confused."
"I need variety, so I work on several pieces at once so that I feel better."
Visibility Arts is part of the nonprofit organization Search Inc. For 20 years, Visibility Arts has provided classes focused on art history and creating art. The Evanston branch of the program is at 824 Dempster St.
All artists in the program have some type of developmental challenge or disability. A group of six individuals – John, Katy, Eric, Becky, Pam, and Henry – were kind enough to share with me how they create time and focus for their artistic work. They have been working individually with Visibility Arts from four to as many as 20 years.
Art is regularly offered in 1- to 2-hour time slots. Attendees get exposure to art history, learn about artists, are introduced to new materials, and use studio time to create their personal art. The six artists I interviewed create their works using a variety of mediums, including acrylics, prints and virtual graphics.
A work is sometimes utilized on products sold by Visibility Arts. such as graphic images on drinking glasses or labels on candle packaging. One such image was of a raccoon. Pam explained that she sees raccoons much like humans: They both need love and food. The final graphic was a result of creating several variants before settling on one that was then printed on drinking glasses. Becky created an image of a musk ox. After creating the image in pencil, it was sent to a printer to print on drinking glasses. She also selected the color and finish for the product.
Visibility Arts was awarded a grant from the Evanston Arts Council to publicize the ability of those with disabilities to participate and contribute equally to the Evanston art community. One of the activities supported by the grant was to create a logo that could be used on buttons, stickers, business cards and lapel pins that would be distributed throughout Evanston. The activity was part of an awareness campaign called NeurodiVERSED.
The final logo is reflective of the multiple ways that people process using their brains. It is the shape of the brain with five different colors representing different regions of the brain. The logo was developed by Henry and John. Because of the pandemic restrictions, they had to collaborate remotely. One would gather photos; the other would create a sample. They talked to each other remotely and completed the image.
As with most artists, sharing their finished creations is important to Visibility Arts artists in order to receive recognition. The artists at Visibility Arts have the opportunity to participate in as many as 12 shows each year. Some are in gallery space like the recent show at Three Crowns gallery. Another example is the Evanston Made market on the first Saturday of each month during the summer. Most recently, works by the artists were shown at the Evanston Art Center as part of the Evanston Made show, and theirs were some of the first works sold at that show. Completed art is in the windows every day at their Dempster office. All the art pieces are for sale, and the funds go to the artists.
As members of the Main-Dempster Mile (MDM) community organization, the Visibility Arts artists created and contributed the drawings for a coloring book that is being sold as a fundraiser for the MDM Festival Fund by some of the merchants. It is Halloween-themed and can be purchased locally. To see it and learn where to purchase it, visit MDM's website.
Another instance of their artistic accomplishments: John and Katy collaborated to offer a class in portraiture at the Evanston Public Library.
Visibility Arts creates the opportunity for the artists to have control, which for some disabled people is often lacking in other parts of their lives. They use their artistic voice to present a component of their lives that often is not seen or is dismissed. When asked why they do art, the answers sounded very similar to all the artists I am fortunate enough to interview.
"I feel like I created something great."
"I enjoy being an artist and grateful for this opportunity."
"I like seeing people look at our work through the window."
I asked: "And how do you know when a piece is done?"
"I walk away and then come back with fresh eyes another day. But sometimes it is tough to make that decision."
The response to this question that has stayed with me relates to the subjective aspect of art that is one of the most defining and alluring features of creative work.
"When I think it looks good, then it is done."
Just like our brains are different, so are our tastes in art. And none of them are wrong.
If you would like to learn more visit www.search-inc.org . If you would like to purchase an item, visit the office at 824 Dempster St. or planet-access-co.shoplightspeed.com/home-goods/visibility-arts/.
This story appeared earlier on the Evanston Made website.