How the pandemic 'lit the fire' of a red-hot real estate market inside the Atlantic bubble – TheChronicleHerald.ca
For the first time in 20 years, Richard Kennedy is getting a taste of what it would be like to sell real estate in Ontario's hot housing market.
Since COVID-19 hit Canada, the St. John's-based agent at Hanlon Realty has been fielding multiple offers on properties — a staple of Ontario's market, but a rarity in Newfoundland. His clients can no longer take weeks to make a decision, knowing they'll have their choice of properties, but instead need to pull the trigger in days. And, yes, they actually have to make offers above listing price to fight off competing bids.
"It's the first time in a long time where I've seen listings go at asking price or over asking price," he said, noting the last time he experienced a market like this was in the early 2000s. "I was just speaking to another agent about this: Houses are up for 48 hours and they're gone."
Kennedy's experience is part of a wider trend across Atlantic Canada. In September, prices surged by double-digit percentage points on a year-over-year basis in each province but Newfoundland, where they rose by 7.7 per cent. Sales volumes, meanwhile, hit record totals across the board, according to the Canadian Real Estate Association. Even the worst-performing province, P.E.I., registered a 24.5 per cent year-over-year increase. Newfoundland, at 39.5 per cent, reported the largest bump. In just one year's time, inventories have been halved, bringing Nova Scotia, Prince Edward Island and New Brunswick into seller's market territory.
For what you'd buy the cheapest, absolute worst house next to the railroad tracks in Burlington, Ont. for — $600,000 to $700,000 — you can buy a mansion here
Charlottetown real estate agent Michael Poczynek
Realtors point to a variety of factors to explain the increasingly hot market, from low interest rates to the built-up demand caused by the freeze during the early months of COVID-19. What they all agree on, however, is that there is an increased surge from buyers coming from outside the East Coast and that the pandemic, in one way or another, is pushing them there.
"The thing about COVID is it lit the fire," said Sandra Bryant, a realtor at Bryant Realty Atlantic in Halifax who says she has been regularly fielding calls from interested parties in Toronto.
Multiple realtors told the Post that buyers are moving to the region knowing that the shift to working from home means they no longer need to be near expensive city centres like Toronto and Montreal and that the aggressive restrictions on visitors to the region have made it something of a safe haven from the virus.
It's difficult to determine the precise degree to which the influx from outside Atlantic Canada is contributing to the property boom because no organization fully tracks the geographic origin of real estate buyers in Canada.
That's left to individual realtors like Re/Max's Michelle Roy in Fredericton, who reports that about a quarter of her sales are coming from outside Atlantic Canada. This can lead to some disparity as a competing agent's numbers may be several percentage points higher or lower and tell a different story.
Re/Max defaults to the numbers of one local agent in each province. In Nova Scotia, the company reports 20 per cent of sales are coming from outside Atlantic Canada, when only 10 per cent did pre-COVID. In P.E.I., it's 15 per cent — five times higher than the norm, while an agent in New Brunswick reports numbers around 10 per cent. Sales to buyers outside of Atlantic Canada in Newfoundland have nearly tripled to reach eight per cent.
Those buyers are homing in on what's always made the region a desirable one: affordability and safety. Even in the midst of one of the most heated housing markets in Canada, buyers from the most populated regions of Ontario could be looking at a $700,000 discount compared to buying a home in the province.
"For what you'd buy the cheapest, absolute worst house next to the railroad tracks in Burlington, Ont. for — $600,000 to $700,000 — you can buy a mansion here," said Michael Poczynek, a Century 21 Northumberland Realty real estate agent in Charlottetown.
Poczynek said escaping COVID-19 has been top-of-mind for a few buyers from Ontario.
"I have buyers all over Ontario, from Windsor, London, Kitchener, Cambridge and Waterloo, and some of them have said to me on the phone, 'We can't get out of here fast enough,' because they're just terrified about COVID-19 and sending their kids to school," he said.
On Thursday, the four Atlantic provinces combined had 108 active cases of COVID-19. Ontario alone has lately been announcing about seven times that number in new cases on a daily basis.
Much of the success the Atlantic provinces have had in controlling the virus can be attributed to the bubble that's been set up to insulate it from outside carriers.
Travellers entering Nova Scotia and New Brunswick must self-isolate for 14 days upon arriving. In P.E.I. and Newfoundland, further restrictions are in place, and one of the only ways around them is to be a homeowner.
Because of the restrictions, most buyers from outside Atlantic Canada are buying properties sight unseen, according to Donna Harding, a broker at Engel & Völkers in Halifax.
"They're not here for closings, they're just grabbing properties so it has to be COVID-based," she said.
Harding said one couple she helped move into the province from Quebec in July was willing to work around the restrictions and buy sight unseen because they wanted to have enough time to both make the move and get their young children ready for the start of the new school year in September.
That couple, she added, had the added benefit of having jobs where they can work from home, which she thinks may be another catalyst driving interest to the area.
Non-resident buyers with similar working conditions who are also concerned about the pandemic have chosen to purchase property outside city centres. Not everyone is flocking to Halifax, Harding said, describing Nova Scotia's more rural north shore as a popular destination for Ontarians.
Some of the buyers Harding has moved told her that they were already toying with a move before the pandemic. For most of them, though, it could have been a decision they were planning to finalize in two or three years, but safety concerns and new work-from-home policies brought on by COVID-19 convinced them to move up their timelines.
As a result of the added competition for homes, locals, according to multiple realtors, are having a difficult time adjusting.
For example, Bryant said she's used to selling homes on Connolly Street in Halifax's west end for between $300,000 and $400,000, but that's no longer the case. One recently sold for close to $800,000, she said, and others on the street have gone for $100,000 above listing price.
Those prices might be difficult for locals to swallow, but Ontarians, used to aggressively bidding above asking price, already know the drill.
"Think of this, I always call it bigger dollars and deeper pockets, if you're coming out of Toronto, then it's no big deal," she said.
In Fredericton, Roy has already seen similar price action. In multiple-offer situations, it's the comfort that a bidder from Ontario has in going $60,000 to $80,000 above the listing price that ultimately allows them to win out.
But it's difficult for realtors to assess whether the current activity in the market is here to stay.
In St. John's, Kennedy has seen temporary waves of interest that may last a few months, maybe even more than a year, such as what occurred in the early 2000s, but the market has always settled back to the norm.
A fellow realtor at Hanlon Realty in St. John's, Larry Hann, worries that change could come as early as the winter.
Many high-earning Newfoundlanders were laid off due to the struggles of the Alberta oil patch. Their high incomes allowed them to buy expensive property in their home province, but if the sector doesn't recover before their cash runs out, Hann suspects Newfoundland will see a wave of foreclosures.
Roy, meanwhile, is still advising her clients to have a five-to-10-year plan in place if they're thinking about buying in New Brunswick.
She's seen too many swings from a buyer's market to a seller's market to think that the current trend is permanent. If her clients have a 10-year plan in place, that should be enough to avoid being burned by depreciation, she said.
Harding offers a different idea about the current market dynamics. Most realtors would describe the Atlantic bubble as being one of the predominant factors drawing in more outside buyers, but she can't help but think it's keeping others out.
Nova Scotia and P.E.I. have 2.7 and three months of inventory respectively. New Brunswick is sitting just above them at 3.2 months' worth. To put those numbers in perspective, all three provinces are quickly approaching the 2.6 months of inventory Ontario's blistering market had in September 2019. Once the Atlantic bubble protecting residents from COVID-19 is dissolved, Harding worries that buyers will become even more aggressive and that these numbers will continue to decline.
"If the Atlantic bubble wasn't there, I don't know what kind of market we'd have," Harding said. "There's so much demand that if you open the bubble, I'm a little concerned we're going to have enough inventory to handle the demand."

• Email:

vferreira@nationalpost.com

| Twitter:

VicF77


Copyright Postmedia Network Inc., 2020
5 Reasons for Tenants to Buy Instead of Renting – An Economic Perspective
If you are presently a Tenant anywhere in North America, before you plan to remain a Tenant, you should read this article. There are several good reasons for ownership to prevail over the tenancy and the real estate profession is littered with extremely clever pointers as to why Tenants should buy – and buy now. But quite aside from all the hype characteristic of real estate sales, there are five solid economic reasons for Tenants to purchase instead of renting. Here they are:
CAPITAL APPRECIATION
Real estate appreciates over time. This is due to a variety of factors, the most important of which is that bare land does not depreciate. The economic rationale behind this is that bare land cannot depreciate because free, available land diminishes as population increases. You may not notice this immediately if you live right in the middle of the Sahara desert, but in urban environments everywhere there is no question that land is scarce and, in turn, pricey. What depreciates in real estate is the structure, such as the walls, plumbing and electrical circuitry. This is normal functional depreciation due to the constant use – and subsequent wear and tear of the place. But functional depreciation rarely offsets land appreciation, with the result that even if you mistreat your property, you still end up building up equity.
Capital appreciation applies just as well to single-family detached houses as to condominium units. The 'land' of a condominium unit is the strata lot, so that if you do happen to live – say – on the twenty-fourth floor of a highrise tower in the downtown like I do, your condo unit still sits on a strata lot. And on the twenty-fourth floor, your strata lot does appreciate while the structure of your condo is subject to functional depreciation.
RENT MATCHES INFLATION
Inflation, as it is widely known, is defined as the loss of purchasing power of money. Inflation is due to a variety of economic factors and political choices. Still, no matter what our governments do – or fail to do – at any given time, it all boils down to increased borrowing and increased monetary supply and availability which, in turn, decreases the purchasing power of money. In layman's terminology, what this means is that it will cost tomorrow, for the sake of an example, ten cents more to buy a certain good in the economic basket than it does today. You still end up buying the same good, but you pay more for it.
These days inflation is not a problem in North America – at least not the way it used to be. But every year our currencies still lose value, albeit minimally: two per cent in the United States and almost three per cent in Canada on the respective currencies as of last year's count. Rent typically increase at the rate of inflation, so that a tenant in Vancouver that was paying – say – CAD, $1,000 per month in 2005 can expect to pay CAD 1,030 approximately in 2006. Rent paid is, in essence, the cost of just another service this time offered by a Landlord, and once the rent money is into the Landlord's pockets, it can never be recovered.
MORTGAGE CAPITAL AND INTEREST PAYMENTS
Naturally, when you go buy a house and contract out a mortgage with a lender, you will have to pay interest because you are using someone else's money. But every time you make your monthly mortgage payment, you also pay back some of this money. This builds up your equity which then grows over time. Equity growth is typically more evident in the United States where mortgages are amortized in a straight line over the term of the loan. In Canada, lenders are more complicated and apply a process known in the business as compound interest, i.e. interest on the interest. Still at about halfway through over a typical 25-year amortization span, in Canada too principal repayment takes over interest payment, so that equity growth builds up faster.
CAPITAL GAINS
Capital gains are not to be confused with capital appreciation, although they are a consequence of it. Simply put, there is a realized capital gain when the amount of money you sell your property for minus the price you paid for it is positive. The real estate market may fluctuate, but it is a matter of fact that house prices increase over time. Economic capital gains are adjusted for inflation and expressed in Dollar/Year. For instance, here in Vancouver, a single-family detached home that sold in 1975 for CAD 57,000 in 1975 Dollars may very well sell today for CAD 525,000 in 2005 Dollars.
On a cursory count, CAD 57,000 in 1975 are equivalent to approximately CAD 80,000 in 2005, so that your economic capital gains from the time you bought the house in 1975 to the time you sold it in 2005 are the difference between CAD 525,000 and CAD 80,000 expressed in 2005 Dollars, or a whopping $445,000. You can easily determine from this example how much real estate has appreciated over time in my hometown, with the appreciation already adjusted for inflation.
PRIVACY AND CONTROL
In a Tenancy Agreement, you are entitled to privacy typically for the period you pay rent for, subject to the Landlord's rights. These rights include the Landlord's right to inspect the tenanted premises on reasonable notice, the Landlord's right to sell the tenanted premises, the Landlord's right to repair and soothe and so forth. In essence, just because you pay rent that does not make you the owner. The rent guarantees your exclusive use of the premises for a certain period, again subject to the Landlord's rights.
Likewise, in most cases, you as the Tenant have no control over items such as remodeling, repainting and redecorating. It is true that in most jurisdictions, Landlords must rent premises reasonably fit for human habitation. Still, then it is also true that many Landlords do not go one inch over and above the minimum threshold required by law. But from an economist point of view, if you spend money, you should be entitled to reap the rewards – something you entirely miss out in a tenancy situation.
Too many tenants and renters think that owning a property is a farfetched goal. Yet, now more than ever, it is the best time for them to take the plunge and buy real estate. Mortgage rates are still historically low, and the buying process is easier than ever.
COVID as catalyst: How real estate in Ottawa changed in 2020 – Ottawa Citizen
Article content continued
Multiple catalysts were at play, including historically low interest rates (making for relatively inexpensive mortgages), a shortage of listings and, not least, a rush by homeowners for more space in the era of COVID-19 — whether in the form of larger home offices or physical acreage in outlying areas.
The play for more space can be seen in the detailed sales data for greater Ottawa. Year to date realtors have sold about 2,100 residential properties in 15 nearby towns for an average of $450,300. While volumes are just a bit ahead of where they were last year, prices have surged nearly 25 per cent.
This compares with a 19 per cent price gain to nearly $640,000 for residential properties inside the City of Ottawa.
Of the eight towns recording the largest price gains year to date, four were in the west (Pakenham, Braeside-McNab, Mississippi Mills and Arnprior), while two each were east (Russell, Rockland) and south (Kemptville East and Beckwith Township). Residential properties in Pakenham jumped most in price (37 per cent to nearly $500,000). Average sale prices within this group ranged from nearly $400,000 for Arnprior properties to $596,000 for rural properties in Beckwith Township, which is between Carleton Place and Smiths Falls.
The hunt for greater space was also evident within the City of Ottawa, where four of the top five real estate districts ranked by price growth were semi-rural. These included: Bells Corners and area (average price year to date was $586,000 — up 38 per cent); Greely ($704,000 — a gain of 31 per cent); Manotick and area ($866,000 — up 27.5 per cent) and Carp and area ($743,000 — a jump of 25.5 per cent).
Indeed, all rural and semi-rural districts saw house price gains greater than those posted by brokers within the city, with the exception of Dunrobin, where 158 residences were sold for an average $539,000. That represented a relatively modest gain of less than 12 per cent compared to the first 11 months of 2019.
In most other years, of course, that would have been something for sellers to celebrate.
RioCan cuts payouts as COVID-19 challenges outlook for retail real estate – BayToday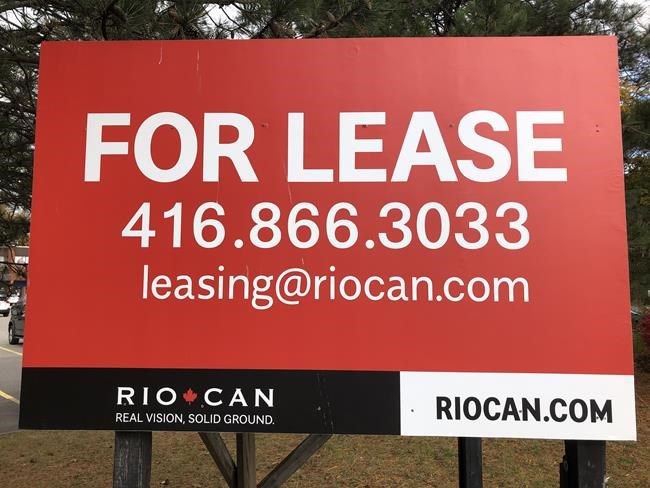 TORONTO — RioCan Real Estate Investment Trust says it is cutting its payouts to unitholders by a third as the COVID-19 pandemic creates an uncertain future for shopping centres.
RioCan, which counts Dollarama, Canadian Tire and Costco among its tenants, says that it is slashing its monthly payout to eight cents per unit, down from 12 cents.
The company says the cut will save about $152 million per year, which the company will use for expanding investments in residential real estate, as well as paying down debt and buybacks.
RioCan says the ongoing uncertainty from the pandemic influenced the board's decision to make the cut, which starts with the February payout for January 2021.
The decision comes after RioCan's third quarter report said it had collected about 93 per cent of rent billed during the quarter, but that 22 per cent of its tenants were potentially vulnerable to the pandemic, such as movie theatres, gyms and sit-down restaurants.
Chief executive Edward Sonshine says RioCan still has a well-positioned portfolio and solid tenants, and the new baseline for payouts will help the REIT's transformation, as it plans to move out of malls that house hard-hit fashion retailers.
"As RioCan continues to navigate through the uncertain retail landscape created by the COVID-19 pandemic and faces an unknown length and breadth of closures, the board has taken the prudent action of reducing our distribution," Sonshine said in a statement.
"A more conservative payout ratio is important in this undeniably challenging environment."
This report by The Canadian Press was first published Dec. 3, 2020.
Companies in this story: (TSX: REI.UN)
The Canadian Press