How to Make the Food and Water Mars-Bound Astronauts Will Need for Their Mission – Universe Today
If we ever intend to send crewed missions to deep-space locations, then we need to come up with solutions for how to keep the crews supplied. For astronauts aboard the International Space Station (ISS), who regularly receive resupply missions from Earth, this is not an issue. But for missions traveling to destinations like Mars and beyond, self-sufficiency is the name of the game!
This is the idea behind projects like BIOWYSE and TIME SCALE, which are being developed by the Centre for Interdisciplinary Research in Space (CIRiS) in Norway. These two systems are all about providing astronauts with a sustainable and renewable supply of drinking water and plant food. In so doing, they address two of the most important needs of humans performing long-duration missions that will take them far from home.
Even though the ISS can be resupplied in as little as six hours (the time between launch and the time a supply capsule will dock with the station), astronauts still rely on conservation measures while in orbit. In fact, roughly 80% of the water aboard the ISS comes from airborne water vapor (generated by breathing and sweat) as well as recycled shower water and urine – all of which is treated with chemicals to make it safe for drinking.
Food is another matter. NASA estimates that every astronaut aboard the ISS will consume 0.83 kg (1.83 pounds lbs) of food per meal, which works out to about 2.5 kg (5.5 lbs) a day. About 0.12 kg (0.27 pounds) of every meal is just from the packaging material, which means a single astronaut will generate close to a pound of waste per day – and that's not even including the other kind of "waste" that comes from eating!
In short, the ISS relies on costly resupply missions to provide 20% of its water and all of its food. But if and when astronauts establish outposts on the Moon and Mars, this may not be an option. While sending supplies to the Moon can be done in three days, the need to do so regularly will make the cost of sending food and water prohibitive. Meanwhile, it takes eight months for spacecraft to reach Mars, which is totally impractical.
It is little wonder then why the proposed mission architectures to the Moon and Mars include in-situ resource utilization (ISRU), where astronauts will use local resources to be as self-sufficient as possible. The availability of ice on the lunar and Martian surfaces is a prime example, which will be harvested to provide drinking and irrigation water. But missions to deep-space locations will not have this option while they are in transit.
To provide a sustainable supply of water, Dr. Emmanouil Detsis and colleagues are developing the Biocontamination Integrated cOntrol of Wet Systems for Space Exploration (BIOWYSE). This project began as an investigation for ways to store freshwater for extended periods of time, monitor it in real-time for signs of contamination, decontaminate it with UV light (rather than chemicals), and dispense it as needed.
What resulted was an automated machine that could perform all of these tasks. As Dr. Detsis explained:
"We wanted a system where you take it from A to Z, from storing the water to making it available for someone to drink. That means you store the water, you are able to monitor the biocontamination, you are able to disinfect if you have to, and finally you deliver to the cup for drinking… When someone wants to drink water you press the button. It's like a water cooler."
In addition to monitoring stored water, the BIOWYSE machine is also capable of analyzing wet surfaces inside a spacecraft for signs of contamination. This is important since closed-systems like spacecraft and space stations, you have humidity buildup, which can cause water to accumulate in areas that are unclean. Once this water is reclaimed, it then becomes necessary to decontaminate all the water stored in the system.
"The system is designed with future habitats in mind," added Dr. Detsis. "So a space station around the moon, or a field laboratory on Mars in decades to come. These are places where the water may have been sitting there some time before the crew arrives."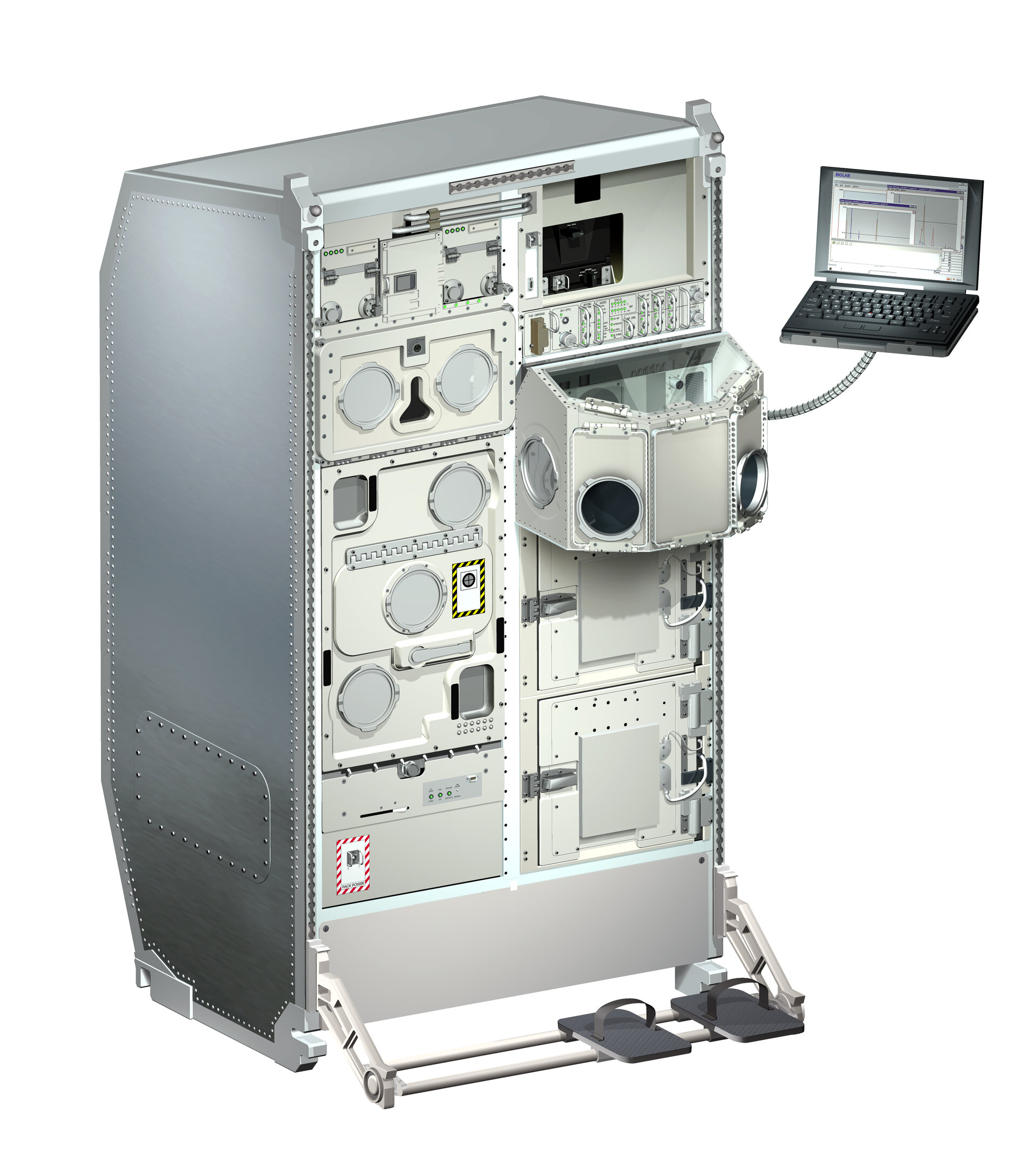 The Technology and Innovation for Development of Modular Equipment in Scalable Advanced Life Support Systems for Space Exploration (TIME SCALE) project, meanwhile, is designed to recycle water and nutrients for the sake of growing plants. This project is overseen by Dr. Ann-Iren Kittang Jost from the Centre for Interdisciplinary Research in Space (CIRiS) in Norway.
This system is not unlike the European Modular Cultivation System (EMCS) or the Biolab system, which were sent to the ISS in 2006 and 2018 (respectively) to conduct biological experiments in space. Drawing inspiration from these systems, Dr. Jost and her colleagues designed a "greenhouse in space" that could cultivate plants and monitor their health. As she put it:
"We (need) state of the art technologies to cultivate food for future space exploration to the moon and Mars. We took (the ECMS) as a starting point to define concepts and technologies to learn more about cultivating crops and plants in microgravity."
Much like its predecessors, Biolab and the ECMS, the TIME SCALE prototype relies on a spinning centrifuge to simulate lunar and Martian gravity and measures the effect this has on plants' uptake of nutrients and water. This system could also be useful here on Earth, allowing greenhouses to reuse nutrients and water and more advanced sensor technology to monitor plant health and growth.
Technologies like these will be crucial when it comes time to establish a human presence on the Moon, on Mars, and for the sake of deep-space missions. In the coming years, NASA plans to make the long-awaited return to the Moon with Project Artemis, which will be the first step in the creation of what they envision as a program for "sustainable lunar exploration."
Much of that vision rests on the creation of an orbital habitat (the Lunar Gateway) as well as the infrastructure on the surface (the Artemis Base Camp) needed to support an enduring human presence. Similarly, when NASA begins making crewed missions to Mars, the mission architecture calls for an orbital habitat (the Mars Base Camp), likely followed by one on the surface.
In all cases, the outposts will need to be relatively self-sufficient since resupply missions won't be able to reach them in a matter of hours. As Dr. Detsis explained:
"It will not be like the ISS. You are not going to have a constant crew all the time. There will be a period where the laboratory might be empty, and will not have crew until the next shift arrives in three or four months (or longer). Water and other resources will be sitting there, and it may build up microorganisms."
By having technologies that can ensure that drinking water is safe, clean, and in steady supply – and that plants can be grown in a sustainable way – outposts and deep-space missions will be able to achieve a level of self-sufficiency and be less reliant on Earth.
Further Reading: HORIZON/European Commission
Lunar Eclipse July 2020: Date, Timings, and How to Watch Live Stream – Gadgets 360
July 4 will mark the third lunar eclipse for 2020. People in certain regions will be able to witness penumbral lunar eclipse, also being referred to as a "buck moon" lunar eclipse. It also coincides with the US Independence Day which is good news for US residents as they are among the people who will get to witness this celestial phenomenon. The first lunar eclipse of 2020 was in January, followed by the second in June, making it the third lunar eclipse for the year. Unfortunately, people in India will not be able directly see the eclipse.
Lunar eclipse July 2020: What is a penumbral lunar eclipse?
A penumbral lunar eclipse (upchaya chandra grahan in Hindi) is when the Earth blocks some of the Sun's light from directly reaching the Moon and the outer part of the Earth's shadow, called the 'penumbra', covers all or part of the Moon. This type of eclipse is harder to spot as the penumbra is fainter compared to the dark core of the Earth's shadow called 'umbra'. Because of this, a penumbral lunar eclipse is sometimes mistaken as a full Moon.
As per NASA, as there will be a full moon at 12:44am EDT on July 5 (10:14am IST on July 5) and will be the first full Moon of summer (US), the Algonquin tribes used to call this full Moon the Buck Moon.
When will the lunar eclipse occur?
As per data by TimeandDate, the lunar eclipse will start at 11:07pm EDT on July 4 (8:37am IST on July 5) and reach its peak at 12:29am EDT on July 5 (9:59am IST on July 5). It will last for 2 hours and 45 minutes after which the lunar eclipse will end at 1:52am EDT on July 5 (11:22 am IST on July 5).
Who will be able to witness the lunar eclipse?
Unfortunately, this lunar eclipse of July 4-5 will not be visible in India. However, people in much of North America, South America, South/West Europe, much of Africa, Indian Ocean, Pacific, Antarctica, and Atlantic will be able to witness it.
How to watch the July 2020 lunar eclipse?
The penumbral lunar eclipse, and other such celestial events are often streamed on popular YouTube channels including Slooh and the website Virtual Telescope. If you live in one of the regions where this lunar eclipse will be visible, you should be able to watch it without any special equipment.
---
WWDC 2020 had a lot of exciting announcements from Apple, but which are the best iOS 14 features for India? We discussed this on Orbital, our weekly technology podcast, which you can subscribe to via Apple Podcasts, Google Podcasts, or RSS, download the episode, or just hit the play button below.
B.C. white throated sparrows become trend setters: 20 year study finds birds change tune – CKPGToday.ca
Researchers say they still don't know what made the new song so compelling to the sparrows mentioning that it is well known that some bird species change their songs overtime but that they usually tend to stay in local populations.
"When I first moved to Prince George in British Columbia, they were singing something atypical from what was the classic white-throated sparrow song across all of eastern Canada."—Ken Otter, UNBC Professor
In the 1960's white-throated sparrows across the nation whistled their song which at the time ended in a repeated three-note triplet but come the 1990's the song had already changed in western Canada, according to Otter.
Otter and his team utilized a large network of citizen scientist birders across North America who had uploaded recordings of the white throated sparrow songs online to track the new ending. Their findings showed that the song wasn't just popular west of the Rocky Mountains but was spreading quickly east.
"Originally, we measured the dialect boundaries in 2004 and it stopped about halfway through Alberta."—Ken Otter, UNBC Professor
"By 2014, every bird we recorded in Alberta was singing this western dialect, and we started to see it appearing in populations as far away as Ontario, which is 3,000 kilometers from us," said Otter.
Otter says that they believed perhaps overwintering grounds were the reason for the song change. "We know that birds sing on the wintering grounds, so juvenile males may be able to pick up new song types if they overwinter with birds from other dialect areas. This would allow males to learn new song types in the winter and take them to new locations when they return to breeding grounds, helping explain how the song type could spread," Otter says.
Further research found that the overwintering grounds did in fact play a part to the change in tune and that the original tune was completely being replaced by the sparrows new tune.
"In white-throated sparrows, we might find a situation in which the females actually like songs that aren't typical in their environment. If that's the case, there's a big advantage to any male who can sing a new song type."—Ken Otter, UNBC Professor
Otter and his team are curious to find out if the new tune may be preferred by female birds used to the three note ending song. Otter says that now a new song has appeared in another western sparrow population and are excited to see if this tune to takes over the country.
Huge Black Hole That Is Eating One Sun Everyday Discovered – Sakshi English
A new study conducted by an international team of astronomers found that the fastest-growing black hole, J2157 known to humans is 34 billion times the mass of our Sun and is extremely hungry. It eats nearly the equivalent of one Sun every day. The study was published in 'Monthly Notices of the Royal Astronomical Society' and the research was conducted by "The Australian National University."
Dr. Christopher Onken, one of the researchers said that the mass of the black hole is about 8,000 times larger than the black hole in the centre of the Milky Way. He further added that, "If the black hole of the Milky Way wanted to expand that large, it would have to swallow two-thirds of all the stars in our Galaxy."
Onken said that that how much a black hole can eat depends on how big they are. In this case, the black hole is so big that is why it can live on the diet of one sun a day. The studies say that the black hole is growing 1% every one million years. J2157 was discovered by the team for the first time in 2018. Dr. Onken asserted that the scientists were looking at it at a time when the universe was just 1.2 billion years old, adding that it has been the biggest black hole that weighed in that early period of the universe.
Onken added that "With such an enormous black hole, we're also excited to see what we can learn about the galaxy in which it is growing. Is this galaxy one of the behemoths of the early Universe, or did the black hole just swallow up an extraordinary amount of its surroundings? We'll have to keep digging to figure that out."
Christian Wolf, who found the black hole, said, "This black hole is expanding so quickly that it shines thousands of times brighter than the entire galaxy, because of all the gasses it absorbs every day that cause a lot of friction and heat." According to the study, Fuyan Bian of the European Southern Observatory (ESO), who is also part of the team said that they have used the very large telescope of ESO in Chile to collect data on the mass of the black hole. It is located inside the Holm 15A galaxy, which is 700 million light-years away from Earth.
A year ago, NASA stated that "A black hole and its shadow have been captured in an image for the first time, a historic feat by an international network of radio telescopes called the Event Horizon Telescope (EHT)."