Huawei 'forging forward' despite Trump sanctions – BBC News


.css-94m6rd-HeadingWrapperborder-bottom:solid 1px #BABABA;padding-bottom:1.5rem;.css-94m6rd-HeadingWrapper > *:not([hidden]):not(style) ~ *:not([hidden]):not(style)margin-top:1rem;
.css-1c1994u-StyledHeadingfont-family:ReithSerif,Helvetica,Arial,freesans,sans-serif;font-weight:500;font-size:2rem;line-height:2.25rem;color:#3F3F42;@media (min-width:37.5rem).css-1c1994u-StyledHeadingfont-size:2.75rem;line-height:3rem;.css-1c1994u-StyledHeading:focusoutline-style:none;.css-1c1994u-StyledHeading:focus-visibleoutline-style:auto;
Huawei 'forging forward' despite Trump sanctions
.css-11c8au8-MetadataStripfont-family:ReithSans,Helvetica,Arial,freesans,sans-serif;font-weight:400;font-size:0.8125rem;line-height:1rem;margin-top:-0.25rem;color:#696969;
.css-8d0yke-MetadataStripItemdisplay:inline-block;white-space:nowrap;margin-top:0.25rem;max-width:calc(100% – 1em);.css-8d0yke-MetadataStripItem::aftercontent:";display:inline-block;height:1.25em;border-left:#BABABA 1px solid;margin:0 0.5em;vertical-align:-0.25em;.css-8d0yke-MetadataStripItem:last-childmax-width:100%;.css-8d0yke-MetadataStripItem:last-child::aftercontent:none;

Published

.css-1n98t8y-MetadataContentdisplay:inline-block;max-width:100%;

.css-1hizfh0-MetadataSnippetdisplay:inline-block;max-width:100%;overflow:hidden;text-overflow:ellipsis;white-space:nowrap;vertical-align:bottom;.css-1n712b9-IconContainerdisplay:inline-block;width:1em;height:1em;vertical-align:-0.125em;padding-right:0.25em;

12 hours ago
.css-r83t2i-ComponentWrappermargin:1.5rem 0;
.css-1759m9z-StyledFigurefont-family:ReithSans,Helvetica,Arial,freesans,sans-serif;font-weight:400;font-size:0.875rem;line-height:1.125rem;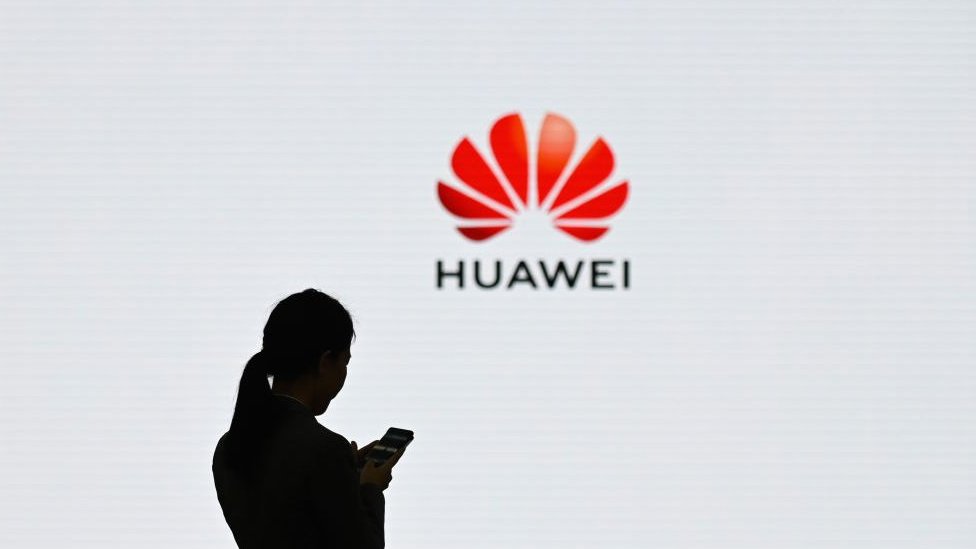 .css-uf6wea-RichTextComponentWrappermargin:1rem 0;max-width:36.25rem;
.css-83cqas-RichTextContainercolor:#3F3F42;.css-83cqas-RichTextContainer > *:not([hidden]):not(style) ~ *:not([hidden]):not(style)margin-top:1rem;
.css-14iz86j-BoldTextfont-weight:bold;Chinese phone maker Huawei said it was doing its best "to survive and forge forward" despite US sanctions.
Huawei is one of a handful of Chinese tech firms targeted by Donald Trump on the grounds of national security.
The phone maker had been busy stockpiling its supply of microchips before a US trade ban came into effect in September.
On Friday, it said revenues for the first three quarters of 2020 were 9.9% higher than the same period last year.
But Huawei said its ability to find component parts such as microchips has been "put under intense pressure and its production and operations saw increasing difficulties".
.css-1pzprxn-BulletListContainermargin-left:1.5rem;.css-1pzprxn-BulletListContainer *:not([hidden]):not(style) ~ *:not([hidden]):not(style)margin-top:1rem;.css-1pzprxn-BulletListContainer ullist-style-type:disc;.css-1pzprxn-BulletListContainer ollist-style-type:decimal;
.css-yidnqd-InlineLink:linkcolor:#3F3F42;.css-yidnqd-InlineLink:visitedcolor:#696969;.css-yidnqd-InlineLink:link,.css-yidnqd-InlineLink:visitedfont-weight:bolder;border-bottom:1px solid #BABABA;-webkit-text-decoration:none;text-decoration:none;.css-yidnqd-InlineLink:link:hover,.css-yidnqd-InlineLink:visited:hover,.css-yidnqd-InlineLink:link:focus,.css-yidnqd-InlineLink:visited:focusborder-bottom-color:currentcolor;border-bottom-width:2px;color:#B80000;@supports (text-underline-offset:0.25em).css-yidnqd-InlineLink:link,.css-yidnqd-InlineLink:visitedborder-bottom:none;-webkit-text-decoration:underline #BABABA;text-decoration:underline #BABABA;-webkit-text-decoration-thickness:1px;text-decoration-thickness:1px;-webkit-text-decoration-skip-ink:none;text-decoration-skip-ink:none;text-underline-offset:0.25em;.css-yidnqd-InlineLink:link:hover,.css-yidnqd-InlineLink:visited:hover,.css-yidnqd-InlineLink:link:focus,.css-yidnqd-InlineLink:visited:focus-webkit-text-decoration-color:currentcolor;text-decoration-color:currentcolor;-webkit-text-decoration-thickness:2px;text-decoration-thickness:2px;color:#B80000;Huawei launches fresh phones despite chip freeze
Disruptions in manufacturing caused by Covid-19 were also to blame.
During January to September this year, Huawei generated 671.3bn Chinese Yuan ($100bn; £77bn) in revenue.
.css-72p885-ComponentWrapper-CrossheadComponentWrappermargin:1.5rem 0;padding-top:1rem;
.css-1jlqpzd-StyledHeadingfont-family:ReithSerif,Helvetica,Arial,freesans,sans-serif;font-weight:500;font-size:1.5rem;line-height:1.75rem;color:#3F3F42;@media (min-width:37.5rem).css-1jlqpzd-StyledHeadingfont-size:2rem;line-height:2.25rem;.css-1jlqpzd-StyledHeading:focusoutline-style:none;.css-1jlqpzd-StyledHeading:focus-visibleoutline-style:auto;
Chips down
The US government put Shenzhen-based Huawei on its blacklist last year and put pressure on other countries to exclude Huawei from their next-generation 5G networks.
The US now requires any company that sells Huawei products made anywhere with US technology to obtain a licence.
Huawei said it was hopeful some chipmakers will apply for licences and was willing to work with partners to replenish its supplies.
Going forward, Huawei said it would focus on technologies such as Artificial Intelligence (AI) and cloud "and unleash the value of 5G networks along with its partners".
On Thursday, Huawei unveiled its Mate 40 smartphones, claiming they feature a more "sophisticated" processor than Apple's forthcoming iPhones.
.css-144ki52-SectionWrappermargin:1.5rem 0;padding-top:1.5rem;
PM: Feds, provinces agree vaccine prioritization should be consistent Canada-wide – CTV News
OTTAWA —
As the precise order of who will follow seniors, health care workers and high-risk populations in line to get COVID-19 vaccines is still being sorted out, Prime Minister Justin Trudeau says the federal and provincial governments agree that there should be a cross-Canada "consensus" on the matter.
With Health Canada now beginning its assessment of a fourth potential vaccine candidate — Johnson & Johnson's — the prime minister said talks are ongoing with the provinces and territories about the "challenging ethical and societal" aspect of the country's vaccine rollout.
Logistics aside, governments and health care experts are having to weigh and decide who will be prioritized and what the eventual order of precedence will be for Canadians to line up and be vaccinated.
According to the preliminary guidance issued by the National Advisory Committee on Immunization, prioritization will be based on three factors: the state of the pandemic when the vaccine is available; the supply available and number of doses required; and the risk-benefit analysis of key populations such as those who are at higher risk for adverse outcomes if they contract the novel coronavirus.
Based on that advisory group's preliminary guidance, the recommendation is that essential workers and others who face increased risks related to COVID-19 should be vaccinated against the disease before everyone else. Examples of those at higher risk include providers of essential services, or those whose living or working conditions put them at higher risk.
The subsequent order of who gets vaccinated next remains a largely open question, however, in the race to see 70 per cent of Canadians vaccinated by September.
"We talked about it with the provinces last week on our 22nd first minister's call, and there was a number of perspectives, but there seemed to be a consensus that we should all agree across the country on what that list looks like and make sure that it is applied fairly right across the country," Trudeau told reporters on Tuesday.
"There are more conversations to come and we will keep Canadians informed as we determine what that right order of priority is. Other elements of it is, certain vaccines might be more effective with certain populations versus others, and that's why the experts are going to be so important in making determinations around, what is the best path to move forward for our country," said the prime minister.
Though, Health Minister Patty Hajdu said later that provinces will be able to refine the prioritizations based on their own regional demographics.
"At the end of the day it is the provinces who deliver health care and it is the provinces who will decide on the priority populations and of course we're working closely to make sure that we have coordination across the country, and that we agree on the principles, which in fact we have, we have a shared set of principles," Hajdu said.
"There are also some federal populations that we will obviously have to take care of ourselves as the federal government," Hajdu said. Examples of these groups would presumably be Indigenous communities and federal inmates.
Manitoba Premier Brian Pallister said on Tuesday that he and other premiers still have outstanding questions that need to be answered.
"Clearly we need our most vulnerable folks, our seniors… our front-line care workers to get the vaccine earlier, we can all agree on that. But the devil's in the details, when you get beyond that. Should it be done on the basis of age? Or how do you determine vulnerability? Should it be done on the basis of ethnicity? Should it be done on the basis of race in some way? These questions have to be addressed," Pallister said.
"We're not saying the federal government has to do it all but we're saying that we need to have the criteria established and the priority should be common, not different in one side of Saskatchewan's border with Alberta than it is on the other, or not different than it is in Ottawa from Gatineau, but rather that we have a co-ordinated strategy."
In an interview on CTV's Power Play, New Brunswick Premier Blaine Higgs said in his province he doesn't anticipate there will be a huge line up of people who want to get vaccinated early on, but communicating as clearly as possible in advance of who will be eligible first will help avoid a "panic situation."
So far, just over $284 million has been spent on distributing vaccines to Canadians, with overall more than $1 billion allocated to Canada's vaccine procurement effort, as part of a more than $14-billion commitment over the next several years on research into and development of vaccines and therapeutics.
AGE MAY BE KEY FACTOR: TAM
Chief Public Health Officer Dr. Theresa Tam said Tuesday that work is underway right now on getting more "granular" in planning who among the highest risk groups will be first.
"That detail work is, you know, being taken very seriously by the provinces and territories as they begin to plan their immunization clinics."
Then, once the priority groups are immunized, it's possible the next easiest way to break down the order would be by age, said Tam.
"The age group, based on our analysis is actually the easiest and the most scientifically-sound way, I think, of increasing the population coverage," she said.
"We know that underlying medical conditions put people at high risk but when we actually analyze all the different underlying medical conditions, and their age, it still comes out that the age is in fact the most important where you look at severe illness and mortality."
There will also be groups who won't be able to get a vaccine early on, due to the lack of research into the potential impacts on them, such as children and people who are pregnant.
"Kids haven't really been engaged in a lot of the clinical trials, so that would be another age group for which data is needed, and we'll be looking towards more data on pregnant women as well," Dr. Tam said.
Asked whether he anticipates being among the earliest groups to get vaccinated, Trudeau said that he's "going to trust the experts to make the right determination of what the priority populations are."
With files from CTV News' Ryan Flanagan
Here's when your Samsung Galaxy phone may get the One UI 3.0 (Android 11) update – XDA Developers
Android 11 is the newest version of Android. While the update has rolled out to a bunch of smartphones, phones that come with heavier UX skins need to wait for a longer time for the update to reach them. Samsung's One UI 3.0 update is based on Android 11, and so far, the update has largely been restricted to flagship S series, Note series, and Fold series. If you are wondering when will your Samsung Galaxy smartphone get One UI 3.0 based on Android, here's when it will receive its update.
Samsung has not publicly posted an update timeline for its Galaxy smartphones, but a list has been posted in the Samsung Members app for users in Egypt (via TizenHelp). This list may be talking about the update in the context of that region, but we can get a rough idea of the general timeline on when different phones will be getting their update. So far, Samsung has rolled out One UI 3.0 betas for the Galaxy S20 series, Galaxy Note 20 series, Galaxy S10 series, Galaxy Note 10 series, Galaxy Z Flip, and Galaxy Z Fold 2.
According to the list, here is the update timeline for stable releases:
December 2020:

Galaxy S20
Galaxy S20+
Galaxy S20 Ultra

January 2021:

Galaxy S10
Galaxy S10+
Galaxy S10 Lite
Galaxy Note 10
Galaxy Note 10+
Galaxy Note 20
Galaxy Note 20 Ultra
Galaxy Z Flip
Galaxy Z Fold 2

February 2021:
March 2021:

Galaxy M21
Galaxy M30s
Galaxy M31
Galaxy A51
Galaxy Note 10 Lite
Galaxy Tab S7

April 2021:
May 2021:

Galaxy A21s
Galaxy A31
Galaxy A70
Galaxy A71
Galaxy A80
Galaxy Tab S6
Galaxy Tab S6 Lite

June 2021:

Galaxy A01-Core
Galaxy A01
Galaxy A11
Galaxy M11
Galaxy Tab A

July 2021:

Galaxy A30
Galaxy Tab S5e

August 2021:

Galaxy A10
Galaxy A10s
Galaxy A20
Galaxy A20s
Galaxy A30s
Galaxy Tab A 10.1
Galaxy Tab Active Pro

September 2021:
As is apparent, the update timeline mentioned within the Samsung Members app prioritizes the devices that already have a Beta update available in some form. The update lands on Samsung's mid-range and budget range not before March 2021, which is a little disappointing. The update timeline also stretches all the way to September 2021, which is about a month before the next Android release is expected in stable form. Also, keep in mind that the wording used in the announcement on the Samsung Members app is "Preparing in …", and not "Rolling out", which leaves room open for any unexpected delays. While you wait for the update to arrive, check out the features that Samsung has in store for you, and the general update changelog.
Ontario reports 1,707 new COVID-19 cases today, and seven new deaths from the virus – ThinkPol
Ontario is reporting 1,707 new cases of COVID-19 today, and seven new deaths due to the virus.
Health Minister Christine Elliott says 727 new cases are in Toronto, 373 in Peel Region, and 168 cases in York Region.
The province also reported 299 new COVID-19 cases related to schools, including at least 253 among students.
Those bring the number of schools with a reported case to 737 out of Ontario's 4,828 publicly funded schools.
In the province's long-term care homes, 743 residents currently have COVID-19 and six new deaths have been reported today.
The province says 109 of its 626 long-term care homes are experiencing an outbreak.
This report by The Canadian Press was first published Dec. 1, 2020.
The Canadian Press