Lowe homers twice, Rays hold off Dodgers to even Series – TSN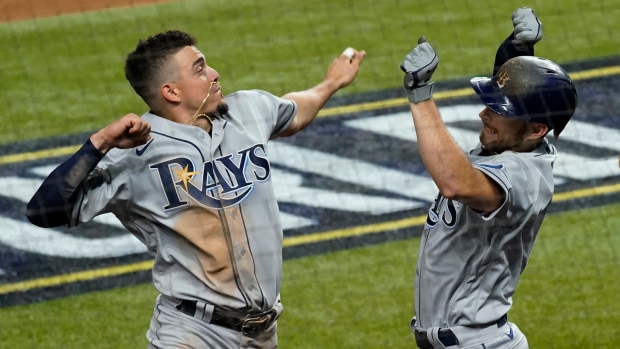 ARLINGTON, Texas — Brandon Lowe busted out early and Tampa Bay's bullpen hung on late.
Rays and Dodgers, tied in Texas.
Lowe shook loose from his extended post-season slump with two opposite-field home runs, and Tampa Bay held off Los Angeles 6-4 on Wednesday night to square the World Series at one game apiece.
"Yeah, those felt really good," said Lowe, a 2019 All-Star who led the Rays with 14 homers and 37 RBIs this season. "It felt great to kind of get back and contribute to the team. They've been doing so well for the past month — it felt really good to get back and actually start doing stuff again."
Blake Snell struck out nine in 4 2/3 innings for the Rays and didn't allow a hit until Chris Taylor's two-run homer trimmed it to 5-2 in the fifth. The Dodgers threatened to complete a big comeback in the eighth, but Tampa Bay's relievers held firm.
Lowe and Joey Wendle each had three RBIs for the Rays, whose six runs and 10 hits were their most over the past 11 post-season games.
"I think today was a little bit better indicator of the kind of team that we are," Wendle said. "Just a complete win, complete team win, everybody contributing at different parts of the game."
Nick Anderson got four outs for the victory. Diego Castillo earned the save when he struck out Taylor, the only batter he faced.
Pete Fairbanks went 1 2/3 innings and left-hander Aaron Loup threw a called third strike past slugger Cody Bellinger with a runner on second to end the eighth. Loup also retired the first two hitters in the ninth.
"We did a good job of battling. They've got some really good pitchers. They got out to that early lead and we just weren't able to overcome it," Taylor said. "We did a pretty good job of fighting to the end and we just weren't able to come up with the big hit we needed."
After an off day, Game 3 in the best-of-seven Series matches two big-game pitchers starting on extra rest Friday night. Charlie Morton goes for the Rays against Walker Buehler.
Los Angeles was the "home team" for the first two games but will bat first in the next three.
Lowe hit a solo shot to left-centre in the first off rookie Tony Gonsolin, putting the American League champion Rays ahead for the first time at this neutral-site World Series with their 27th homer of the post-season, matching a major league record. The second baseman was hitting .107 this post-season, and in an even worse 4-for-48 slide (.083) the past 13 games since the start of the AL Division Series.
"Sometimes guys, you've got to allow them to go through some tough patches, and he's been in one," Rays manager Kevin Cash said. "He will go quiet for a little while, but he can get as hot as anybody in baseball."
By the time Lowe went deep again in the fifth, his second opposite-field homer of the game — and the entire season — it was 5-0. That one bounced off the top of the left-field wall with a runner on against Dustin May, already the fourth Los Angeles pitcher.
Will Smith and NLCS MVP Corey Seager also homered for the Dodgers. Seager's solo shot in the eighth was his seventh homer and 16th RBI, extending the franchise records he had already set this post-season. It's the most homers by a shortstop in any MLB post-season.
Snell already had all nine of his strikeouts when he walked Kiké Hernández with two outs in the fifth before Taylor, the No. 9 batter, homered on his 80th pitch. The Rays' ace was out of the game two batters later, after Mookie Betts walked and Seager singled.
"He was outstanding," Cash said. "The slider from my vantage looked like it was a really good weapon for him. He was awesome. Gave us everything that we needed."
Anderson got out of the jam with a strikeout of Justin Turner.
The Dodgers knew it would be primarily a bullpen game using various arms, instead of bringing back Buehler on short rest after ace lefty Clayton Kershaw threw six strong innings in their 8-3 win Tuesday night in Game 1.
"We didn't have anybody that was on regular rest," manager Dave Roberts said afterward, though he said he felt great with Buehler going in Game 3.
Roberts also said Julio Urías, who is 4-0 in four appearances this post-season after getting the last nine outs in the NLCS clincher, will start Game 4. Kershaw would then be ready on regular rest for Game 5.
Four of the first five LA pitchers allowed runs, with Dylan Floro keeping a clean slate after benefiting from a nice defensive play and a replay review that ended the second. The Dodgers were the first team to use four pitchers within the first four innings of a World Series game since the Oakland Athletics against Cincinnati in Game 3 of the 1990 World Series.
Gonsolin allowed Lowe's first homer and was done after 1 1/3 innings. That was the shortest start in a World Series game since San Francisco's Jake Peavy was done after giving up five runs in 1 1-/ innings in a 10-0 loss at Kansas City in Game 6 of the 2014 World Series.
Snell threw only 10 pitches in a 1-2-3 first that included strikeouts of Betts and Turner. After 11 of his first 15 pitches in the second inning were balls, among two walks and a strikeout, the 2018 Al Cy Young Award winner retired the next 10 batters until the walk to Hernández in the fifth.
The left-hander was attacking with breaking pitches in the strike zone, not his usual pattern, since the Dodgers don't often chase. But Los Angeles didn't get many bats on the ball against him. But less than a week after an aggressive hook by Cash to take Snell out of Game 6 of the ALCS after four innings, he still hasn't completed six innings in a game since July 2019.
Smith homered for Los Angeles in the sixth off Anderson.
A bobble by Hernández at second base proved costly, taking away a potential inning-ending double play in the fourth before the Dodgers changed pitchers again and gave up two runs.
With one out and Randy Arozarena at first, Ji-Man Choi hit a grounder to Hernández, and by time the second baseman gathered the ball to get the force, Seager's relay throw was late. Manuel Margot then greeted May, the third reliever, with a single before Wendle's two-run double into the right-centre gap for a 3-0 lead.
Wendle added a sacrifice fly in the sixth.
UP NEXT
Rays: Morton has won all three of his starts this post-season, including 5 2/3 scoreless innings in the deciding Game 7 of the ALCS against Houston. He faces the Dodgers for the first time since the 2017 World Series, when he pitched the final four innings for the Astros to win Game 7 in relief. The veteran right-hander also pitched in Game 4 of that Series, limiting LA to one run and three hits while striking out seven over 6 1/3 innings.
Dodgers: Buehler threw six shutout innings to win Game 6 of the NL Championship Series against Atlanta and force Game 7. His only previous World Series start was Game 3 against Boston in 2018, when he fired seven scoreless innings in the only game the Dodgers won.
___
More AP MLB: https://apnews.com/MLB and https://twitter.com/AP_Sports
Inside look at New York Rangers – NHL.com
NHL.com is providing in-depth roster, prospect and fantasy analysis for each of its 31 teams from Nov. 16-Dec. 16. Today, the New York Rangers.
The New York Rangers are confident they're entering training camp with the blueprint for how they need to look and play to be a Stanley Cup Playoff contender.
"We found that balance toward the end of last season, the last two months, from playing with a defensive conscience and also being productive offensively," Quinn said. "That's what we have to be. We found some continuity with lines and [defenseman] pairings, and that was really the first time that had happened in the last two years. I think for the first time going into training camp we have a little bit of a clearer picture of what we're going to look like."
[Rangers 31 IN 31: 3 Questions | Top prospects | Behind the Numbers | Fantasy breakdown]
The disappointment of the Rangers' quick exit from the Stanley Cup Qualifiers last season — they were the first team eliminated, swept by the Carolina Hurricanes in three games — hasn't stolen from their belief that they've grown into a contender to reach the Stanley Cup Playoffs.
It starts with familiarity with who they have returning, a list that doesn't include Henrik Lundqvist. They bought out the final year of the goalie's seven-year contract, making the Rangers' leader in wins (459) an unrestricted free agent to solve the three-goalie issue they dealt with last season and pave the way for Igor Shesterkin to be their new No. 1.
Shesterkin was 10-2-0 with a 2.52 goals-against average and .932 save percentage in 12 starts last season after being recalled from Hartford of the American Hockey League on Jan. 6. New York also re-signed goalie Alexandar Georgiev to a two-year contract Oct. 15.
"I just love his demeanor," Quinn said of Shesterkin. "I just love how confident he is."
Artemi Panarin proved last season, when the left wing had 95 points (32 goals, 63 assists) in 69 games (1.38 points per game), that he's comfortable in the New York spotlight, solving one of the questions the Rangers had going into last season.
Video: Top 10 Artemi Panarin plays from 2019-20
Panarin, entering the second year of his seven-year contract, is expected to start camp playing with center Ryan Strome, who re-signed with a two-year contract Nov. 5.
Quinn is eyeing 19-year-old Kaapo Kakko to be the right wing with Panarin and Strome, replacing Jesper Fast, who signed with the Carolina Hurricanes as a free agent. Kakko, the No. 2 pick in the 2019 NHL Draft, scored 23 points (10 goals, 13 assists) in 66 games last season.
Mika Zibanejad delivered as a No. 1 center last season, scoring 41 goals in 57 games, including an NHL-high 23 in 22 games from Jan. 30 to the end of the regular season. He is again expected to have Chris Kreider and Pavel Buchnevich on his line, giving the Rangers continuity in their top six forwards.
"No final decisions have been made, but certainly you want to start that way and hit the ground running," Quinn said.
Video: WSH@NYR: Zibanejad scores five goals, OT winner
The Rangers expect Alexis Lafreniere, the No. 1 pick in the 2020 NHL Draft, will be an impact player in his rookie season. Lafreniere is penciled in as the left wing on the third line, likely playing with 21-year-old center Filip Chytil.
Lafreniere arrived in the New York area from his home in Saint-Eustache, Quebec, in November and is training and living with a billet family in Connecticut.
"He has the whole package," Rangers assistant general manager Chris Drury said. "His skating, his sense, his shot, his passing, you name it, it's all very elite. His internal drive is exceptional."
The Rangers are comfortable with their returning defensemen, even if there are issues to iron out, namely filling an opening on the left side they created by trading Marc Staal to the Detroit Red Wings.
Quinn said the Rangers could move a right-handed defenseman (Jacob Trouba, Tony DeAngelo or Adam Fox) to the left side.
DeAngelo, who led New York defensemen with 53 points (15 goals, 38 assists) last season, is the most likely candidate, but Quinn said he knows Fox would be comfortable too. It's unlikely they ask Trouba to switch.
K'Andre Miller and/or Tarmo Reunanen, two of New York's top defenseman prospects and each a left-handed shot, could play well enough in training camp to win a job and remove the need to move a righty to the left side.
"That probably is the one position that we're going to have to really let it play out," Quinn said.
The Rangers have far fewer uncertainties than they've had entering the past two seasons, fueling their optimism.
"We feel real good about where we are," New York president John Davidson said. "We've come a long way. There's been some very difficult decisions, but to get to that end, to the championship, this is what you have to do."
Canucks anthem singer Mark Donnelly axed for planned appearance at anti-mask rally – Global News
He's long been a staple of Vancouver Canucks home games, but it appears Mark Donnelly has sung the national anthem for the last time in Rogers Arena.
Canucks owner Francesco Aquilini took to Twitter Friday, responding to a Vancouver Sun report that the Canucks' anthem singer would be performing at an anti-mask rally in Vancouver on Saturday.
"Hey @VancouverSun, change the headline to 'Former Canucks anthem singer.' #wearamask," wrote Aquilini.
Global News has requested comment from Donnelly.
[ Sign up for our Health IQ newsletter for the latest coronavirus updates ]
Gatherings of more than 50 people have been banned by public health order in B.C. since March. In November, the province extended that ban to all social gatherings.
Saturday's planned "B.C. Christmas Freedom Rally" is being organized in part by Ryan Kulbaba, who has spearheaded several other anti-mask rallies in Vancouver since July.
The events have featured a variety of anti-vaccine speakers and decried what participants say is censorship and government overreach.
Others have expressed fears that a vaccine would be made mandatory, or argued that the fatality rate from the virus does not justify the economic effects of restrictions.
Previous Vancouver rallies have also drawn believers in a range of conspiracy theories, including debunked myths that masks cause cancer or other health issues, baseless accusations that Bill Gates plans to use vaccines to implant microchips in people, and the U.S.-based QAnon fantasy which claims a cabal of U.S. pedophile politicians are consuming children's blood.

2:07


British Columbians opposed to wearing masks hold Vancouver protest



Posters for Saturday's rally declare "we oppose government orders & will gather for the holidays."
Along with Donnelly, the event features a message from Santa, singing, speeches from vaccine opponent Ted Kuntz and the group Hugs over Masks, comedy, an anti-5G presentation and evangelical anti-SOGI123 activist and former People's Party of Canada candidate Laura Lynn Tyler Thomas.
© 2020 Global News, a division of Corus Entertainment Inc.
Canucks anthem singer to perform at anti-mask rally in Vancouver – News 1130
VANCOUVER (NEWS 1130) — A rally in Vancouver protesting COVID-19 orders will feature music by Mark Donnelly, the man who has been singing the national anthem at Canucks home games since 2001.
The BC Christmas Freedom Rally is being held in Vancouver Saturday.
"We oppose government orders and will gather for the holidays," the poster for the event says.
Donnelly is set to perform after a musical parody act and before closing remarks by the organizers.
A previous rally drew a crowd of around 1,000 people to the Vancouver Art Gallery.
In the past, Donnelly has performed the national anthem at anti-abortion rallies.
Team owner Francesco Aquilini tweeted in response to a local newspaper's publishing of this story "Hey @VancouverSun change the headline to "Former Canucks anthem singer." #wearamask

NEWS 1130 has reached out to Mark Donnelly and the Vancouver Canucks for comment.