Huawei says its replacement for Google services will soon launch in India – SiliconANGLE News
China's top smartphone maker Huawei Technologies Co. Ltd. is hoping to throw off the shackles of the Android operating system with the launch of its own version of Google Mobile Services.
The replacement set of services, called Huawei Mobile Services, would allow the company's smartphones to run their own versions of Google's suite of services, which includes applications such as Gmail, Drive, YouTube, Maps and the Google Play Store.
In addition, Huawei has also started engaging with Indian developers, offering them lucrative incentives to build localized mobile services for its smartphones in the country.
In an interview with The Economic Times, Charles Peng, chief executive officer of Huawei and Honor India, said the company was in talks with the developers of the top 150 applications in India and was confident of ensuring their availability in its own app store by next year.
"We have our own HMS and are trying to build a mobile ecosystem," Peng told the Times. "Most of the key apps such as navigation, payments, gaming and messaging will be ready by December end."
Huawei is launching HMS after restrictions were imposed on its ability to do business with Google LLC and other American technology firms by the U.S. government. As a result, the company is unable to sell new phones that feature Google's services.
The ban on doing business with Huawei was imposed in May, due to suspicions that the firm has close ties with the Chinese government and therefore represents a threat to U.S. national security.
"Consumers won't see a difference between GMS and HMS," Peng claimed.
As for developers, Huawei is offering incentives of up to $17,000 in order to integrate their applications with HMS. The hope is that if it can get enough developers onboard it will be able to offer a suite of applications that's similar enough to what you'd normally find on an Android phone. Later, Huawei plans to launch similar initiatives in other countries too, Peng added.
"In every country, we will focus on bringing top 100-150 apps to customers through HMS," Peng said. He added that the apps created by Indian developers would also be made available to users in Europe and other global markets.
Experts remain skeptical of Huawei's plans however, and it's not difficult to see why. The company still needs to come up with alternatives to apps like Gmail, Maps and YouTube, and then it needs to convince people to actually use them. That's a tough ask – the amount of content on YouTube for example is unrivaled, while Gmail and Maps both come with dozens of important features not found in rival apps.
"It is going to be very tough for Huawei/Honor to sell the phone based on their own suite. They would need to double down on efforts for India," said International Data Corp. analyst Navkender Singh.
---
Since you're here …
Show your support for our mission by our 1-click subscribe to our YouTube Channel (below) — The more subscribers we have the more then YouTube's algorithm promotes our content to users interested in #EnterpriseTech. Thank you.
Support Our Mission: >>>>>> SUBSCRIBE NOW >>>>>> to our Youtube Channel
… We'd like to tell you about our mission and how you can help us fulfill it. SiliconANGLE Media Inc.'s business model is based on the intrinsic value of the content, not advertising. Unlike many online publications, we don't have a paywall or run banner advertising, because we want to keep our journalism open, without influence or the need to chase traffic.The journalism, reporting and commentary on SiliconANGLE — along with live, unscripted video from our Silicon Valley studio and globe-trotting video teams at theCUBE — take a lot of hard work, time and money. Keeping the quality high requires the support of sponsors who are aligned with our vision of ad-free journalism content.
If you like the reporting, video interviews and other ad-free content here, please take a moment to check out a sample of the video content supported by our sponsors, tweet your support, and keep coming back to SiliconANGLE.
AirPods Max: Rumored Spatial Audio Upgrade Isn't Coming, After All – Forbes
A recent rumor suggested that Spatial Audio on AirPods Max and AirPods Pro was about to become available on Netflix. But it now seems that's not the case, which is disappointing.
If you've listened to Apple AirPods Pro or the more recent AirPods Max, you may have marveled at the audio quality Spatial Audio offers. It's a surround-sound effect that works really well.
Part of its success is dynamic head tracking. This means that if you're watching the right content there's a whole extra level of fidelity.
Say you're playing The Mandalorian on your iPad and listening through AirPods Pro. Dynamic head tracking means that even when you turn your head left or right, the software instantly and subtly adjusts the relative volume in each ear so that the audio appears to be locked to the screen.
It's phenomenally effective. My first experience was so realistic that I had to stop to make sure I was really connected by headphone, so perfectly did the sound seem to come from the iPad itself.
So, the prospect that Spatial Audio was coming to Netflix was very welcome, something which was rumored last month. After all, Apple TV+, Amazon Prime Video, Vudu, HBO Go, Hulu and Disney+ were already on board, with selected content.
So, Netflix was easily the biggest beast of the streaming jungle which was missing.
This week, though, Netflix told MacRumors that contrary to previous reports, it is not testing Spatial Audio support. It is testing multi-channel support for built-in speakers, the company said.
This is a shame and although it can change, the fact that Netflix has gone out of its way to say Spatial Audio isn't coming suggests that any change would not happen for a while.
Netflix is such a big player in this world that it doesn't need to follow what others have done, but it would have been great to be able to hear programming with the improved audio Spatial Audio delivers. Of course, if you mostly watch Netflix on a TV or another screen without headphones, then Spatial Audio won't be there anyway and maybe that was part of Netflix's thinking.
Even so, let's hope Netflix changes its mind in time.
Riot unveils Astra, VALORANT's new controller – Dot Esports
Riot Games' latest agent for the tactical shooter VALORANT is on her way.
The developer revealed the agent on Twitter today. Her name is Astra, she originates from Ghana, and she's a new controller agent.
"African Futurism was a huge inspiration for us when it came to designing Astra's thematics," John "Riot MEMEMEMEME" Goscicki, a character producer at Riot, said. "Once that element was brought into her development all the pieces naturally fell in place."
Astra joins Brimstone, Omen, and Viper in the controller category. She's the first controller added to VALORANT since the game released. Duelists Raze, Reyna, Yoru, and sentinel Killjoy were added since the game's release.
Astra's abilities
Before activating the C, Q, and E abilities, you need to hang some of Astra's Stars in the sky with her X ability.
Here are Astra's abilities:
C: Gravity Well
Activates a Star with C to form a Gravity Well. Players in the area are pulled toward the center before it explodes, making all players still trapped inside "fragile."
Q: Nova Pulse
Activates a Star to detonate a Nova Pulse. The Nova Pulse charges briefly then strikes, concussing all players in its area.
E: Nebula
Activates a Star to transform it into a Nebula (smoke).
F: Dissipate
Use F on a Star to Dissipate it, returning the star to your inventory be placed in a new location after a delay.
Dissipate briefly forms a fake smoke (Nebula) at the Star's location before returning.
X: Astral Form, Cosmic Divide
Activate with X to enter Astral Form, where you can place Stars with your primary fire key. Astra will leave her physical body behind in favor of a top-down view of the map. Her physical body will be vulnerable in this form.
When Cosmic Divide is charged, use your secondary fire in Astral Form to begin aiming it, then your primary fire to select two locations. An infinite teleport-esque tunnel connects the two points you select.
---
Make sure to follow us on YouTube for more esports news and analysis.
Samsung Galaxy Xcover 5 gets Bluetooth certified, leaked render reveals rugged design – GSMArena.com news – GSMArena.com
A press render of the Samsung Galaxy Xcover 5 we've been hearing about since late last month has surfaced, revealing its rugged design.
The image was shared by leakster Evan Blass, who claimed the Xcover 5 is not a successor to last year's Xcover Pro, but a follow-up to the Xcover 4s launched back in 2019.
While we are yet to hear anything from Samsung about the Galaxy Xcover 5, the smartphone has moved a step closer to the launch as it bagged Bluetooth SIG certification.
The certifying authority didn't detail the Xcover 5's specs, but it did confirm that it will come with Bluetooth 5.0 and have two models – SM-G525F and SM-G525_DS. The latter is likely a dual-SIM variant, and the former was spotted on Geekbench last month with an Exynos 850 SoC, 4GB RAM, and Android 11.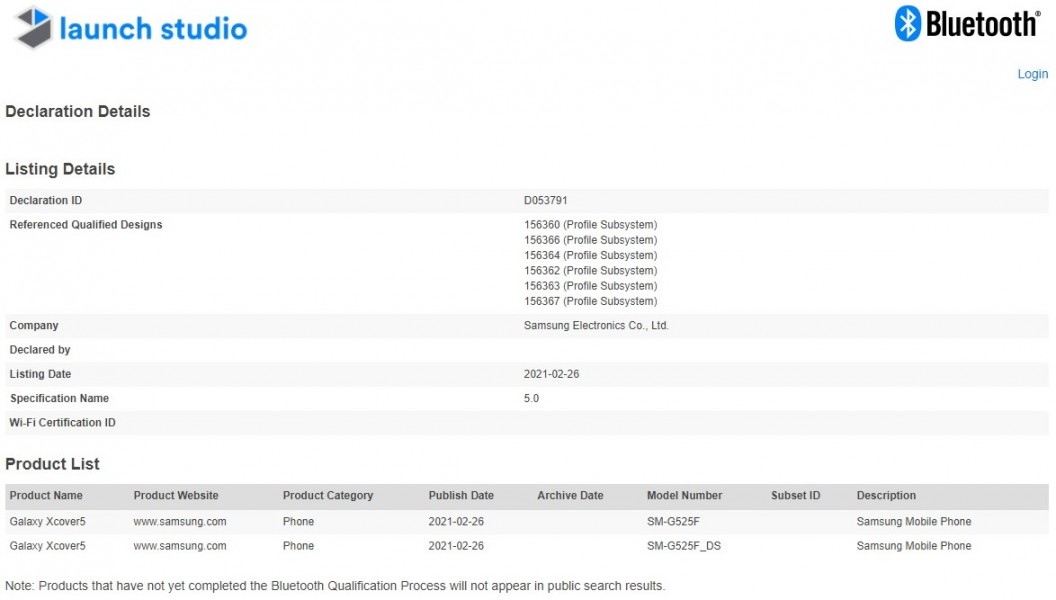 The rest of the rumored specs of Galaxy Xcover 5 include a 5.3″ HD+ LCD, 64GB storage, microSD card slot, and a 3,000 mAh user-replacable battery that will charge through a USB-C port at up to 15W.
The Xcover 5 is said to feature 16MP primary and 5MP selfie cameras, and come with an NFC chip onboard. It will be IP68 dust and water-resistant, carry a MIL-STD-810G certification, and is expected to cost around €300.