Huawei says sales rose 18% in 2019 despite US pressure – Airdrie Today
BEIJING — China's Huawei Technologies said Tuesday that its sales rose a lower-than-projected 18% in 2019 and predicted tough times ahead as the U.S. moves to restrict its business.
The flash sales estimate came in an annual New Year's message to employees. Chairman Eric Xu warned that mediocre managers would face demotion as the telecom giant and leader in 5G mobile technology focuses on survival.
"It's going to be a difficult year for us," he wrote, calling on the company's more than 190,000 employees "to work hard and go the extra mile to bring their capabilities to a new level."
No one is predicting Huawei's demise. The unlisted company, a major maker of both mobile transmission equipment and handsets, estimated that 2019 sales would rise to more than 850 billion yuan ($120 billion).
"These figures are lower than our initial projections, yet business remains solid and we stand strong in the face of adversity," Xu said in the letter, which was released to The Associated Press and other media.
Huawei, based in the tech hub of Shenzhen in southern China, typically releases its official and audited annual financial results in March.
Zou Zhidan, an analyst at the consulting firm Zero Power in Shenzhen, said that given Huawei's size and the breadth of its business, it won't face a survival crisis. Rather, it will face obstacles to progress and pressure on its rapid profit growth, he said in an email response to questions.
Zou noted that Huawei enjoys a relatively good reputation outside of the U.S. and will benefit from its leading position in the still nascent 5G market.
"The difficulties for Huawei in 2020 won't be small, but the company has its own strengths," Zou wrote.
The U.S. government says Huawei technology poses a security risk and has urged other countries not to buy its 5G mobile network equipment. It has also put Huawei on its entity list, blocking U.S. technology sales to the company. Huawei denies the allegation.
Calling difficulty the prelude to greater success, Xu said America's "strategic and long-term" campaign against Huawei is an opportunity to build up some muscle and build capabilities to navigate future challenges.
"Despite concerted efforts by the U.S. government to keep us down, we've made it out the other side and continue to create value for our customers," he wrote.
The five-page letter exhorts employees to hone their skills and rid themselves of complacency. Saying that survival is the company's top priority, Xu warns that mediocre managers "who have lost their enterprising spirit" will be removed faster than before.
___
Associated Press researcher Yu Bing contributed to this report.
Ken Moritsugu, The Associated Press
Xiaomi Mi 10 Ultra in white poses for the camera, alleged pricing leaks – GSMArena.com news – GSMArena.com
A few days ago it was made clear that Xiaomi is going with the Mi 10 Ultra moniker instead of the previously rumored Mi 10 Pro Plus. A couple of leaked promo posters revealed the back design of the phone but a more recent live image is here to give us a closer look at how the handset will look in person.
The white back panel isn't just plain white. It has a subtle pearl-like gradient while the close-up shot of the camera module confirms the 120x zoom, the quad-camera array and the overall design of the camera stack.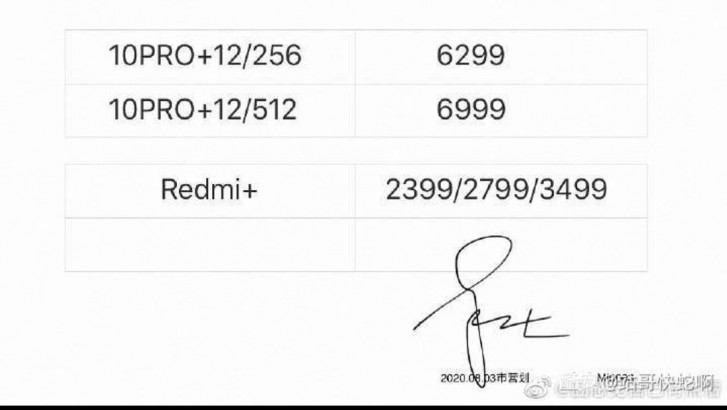 The pricing of the Mi 10 Pro Ultra has leaked as well from the same source. The report claims that the Mi 10 Ultra will start at CNY 6,299 (~$900) for the 12GB/256GB version and will ask additional CNY 700 (~$100) for the beefed-up 12GB/512GB configuration. The same screenshot reveals the Redmi K30 Ultra pricing, which is believed to be CNY 2,399, CNY 2,799 or CNY 3,499 depending on the storage configuration.
Huawei may no longer be able to produce its own chips after Sept. 15 – IT World Canada
As Huawei copes with its 5G network gear being banned in key global markets, the production of its Kirin system-on-chip (SoC) used for its smartphones has all but stalled.
According to the Associated Press, Huawei will stop producing its Kirin SoCs after Sept. 15. Richard Yu, Huawei's president of its consumer group, described the news as a "very big loss" during the China Info 100 conference.
"Unfortunately, in the second round of U.S. sanctions, our chip producers only accepted orders until May 15. Production will close on Sept. 15," Yu elaborated. "This year may be the last generation of Huawei Kirin high-end chips."
In May 2019, the U.S. government placed Huawei onto an Entity list over concerns that the company may use its telecom equipment to spy for the Chinese government. The blacklist also barred Huawei's gear from being installed in the U.S.' 5G networks.
Under the new restrictions, U.S. technology companies could no longer conduct businesses with Huawei. This caused Google to sever ties with the company, cutting Huawei off from the official release of the Android operating system and the Google Play Store. Google's Android operating system is the most prevalent mobile operating system in the world. Losing access to it meant Huawei must find an alternative to recapture markets outside of China.
Today, Huawei smartphones run a custom version of EMUI based on the Android Open Software Project (AOSP), an open-sourced variant of Android. While AOSP doesn't need special licensing from Google and can still get security updates, it doesn't have access to Google's Play Store. Additionally, compatibility and upgrading need extra work from the operator.
Huawei developed Huawei AppGallery to fill in the hole void behind by the Google Play Store. Moreover, it prepared its Hong Meng multi-platform operating system in case it loses Android completely.
In May 2020, the U.S. government further announced that semiconductor manufacturers using U.S. equipment would need to be granted a licence to sell chips for Huawei. Two months after the announcement, Taiwan Semiconductor Manufacturing Company (TSMC), which produces a lion's share of Huawei's Kirin smartphone SoCs, said it would stop supplying chips to Huawei after Sept. 14.
It's unclear whether the U.S. would grant a license to TSMC to sell chips to Huawei, or if TSMC has even applied for one.
In the meantime, Huawei is looking within China for options. According to the Hong Kong publication Asia Times, one promising candidate is Semiconductor Manufacturing International Corporation (SMIC), China's largest foundry. Although it lacks the capacity to fulfill Huawei's massive demands, Huawei can offload extra orders to smaller fabs, such as Shanghai Microelectronics, who has recently announced that it's willing to capture any excess orders.
But, as highlighted by Yu, Huawei's current predicament remains dire: Huawei's smartphone production has "no chips and no supply," he said.
---
Related Download

Sponsor: LG


LG Business Solutions
New technologies can ease the burden on IT departments while enhancing productivity and satisfaction for the end users they serve.
Learn More
Public Research Findings: Threat to live music extended as more Canadians to avoid public events for longer – Canada NewsWire
TORONTO, Aug. 10, 2020 /CNW/ – Music Canada commissioned Abacus Data to conduct public opinion research to determine how the music industry is being impacted by Canadians' changing feelings around music, during the pandemic. The second round of the national public opinion survey found that an increasing number of Canadians are concerned about COVID-19, and a growing number of them plan to avoid public events even after restrictions are lifted, resulting in a longer threat to live music.
"The ongoing triple threat facing the live music industry, and all mass gathering industries, requires government action," said Patrick Rogers, Interim co-Chief Executive Officer. "This threat includes the medical concerns that Canadians have about the virus, that government restrictions on large gatherings will remain well into recovery, and that even after government restrictions are lifted, confidence in returning to live events will continue to be low."
"Live music was one of the first sectors impacted by the pandemic, and it will continue to feel the impacts long after restrictions are lifted," continued Rogers. "Artists, venues and support staff will require further support long after other elements of the economy have reopened."
Concern among Canadians about the pandemic remains elevated, with more believing that "the worst is yet to come" than did in April. The research shows that even as economies begin to slowly re-open, more Canadians expect to stay away from live music events long after physical distancing restrictions are lifted. Even those who regularly attended live music events before the pandemic, 55% said that they will wait at least 6 months or longer to attend a music festival after physical restrictions end – and for large concert venues, it was 60%. Perceptions of risk for attending these types of events are rising over time – instead of declining. The findings ultimately point to the prolonged threat faced by the live music industry.
"This research confirms that Canadians continue to worry about the health impacts of COVID-19. While both artists and fans dearly miss the live music experience, it is clear that ongoing concerns about the virus will continue to significantly impact live events well into 2021," said Jackie Dean, Music Canada's Interim co-Chief Executive Officer. "The results show that certain safety measures will help attract some live music lovers back to live events – but many will remain hesitant."
Many Canadians want to get back to enjoying live music when it's safe to do so. As the pandemic continues, the research found that self-identified "live music lovers" now miss live music even more than they did in April. 90% of respondents in this group now say "I really miss going to concerts" – and 89% of this group agree that digital content will never replace the feeling of seeing live music (an increase of 5% from polling conducted at the end of April).
This research builds upon Abacus Data's findings from earlier in the pandemic. In May, Abacus' national public opinion survey identified the triple threat the music industry faces in its recovery from the impacts of COVID-19.
Music Canada also commissioned Abacus Data to conduct national research that explores the impact of the COVID-19 pandemic through the experience of Canada's artists. That research found that professional musicians are feeling increasing pressure as a result of the pandemic, due to a reduction in income and their ability to produce music that threatens their ability to survive.
"The pandemic has had a devastating impact on artists' ability to perform, to create, and to earn a living from their music," said Miranda Mulholland, artist and Chair of the Music Canada Advisory Council. "While the findings are bleak, this series of research is providing valuable insights for artists, industry, and government as we look for safe ways to return to work. It is clear that artists and those who work closely with them in the live performance space will need further support as the economy begins to reopen."
For more information on the findings released from Abacus Data, please visit: https://abacusdata.ca/live-music-threat-pandemic-music-canada/.
About Music Canada
Music Canada is a non-profit trade organization that represents the major record companies in Canada: Sony Music Entertainment Canada, Universal Music Canada and Warner Music Canada. Music Canada also works with some of the leading independent record labels and distributors, recording studios, live music venues, concert promoters, managers and artists in the promotion and development of the music cluster.
SOURCE Music Canada
For further information: Erica Meekes, Music Canada, [email protected], (416) 462-1485
Related Links