Hungarians demand end to pro-government bias in public media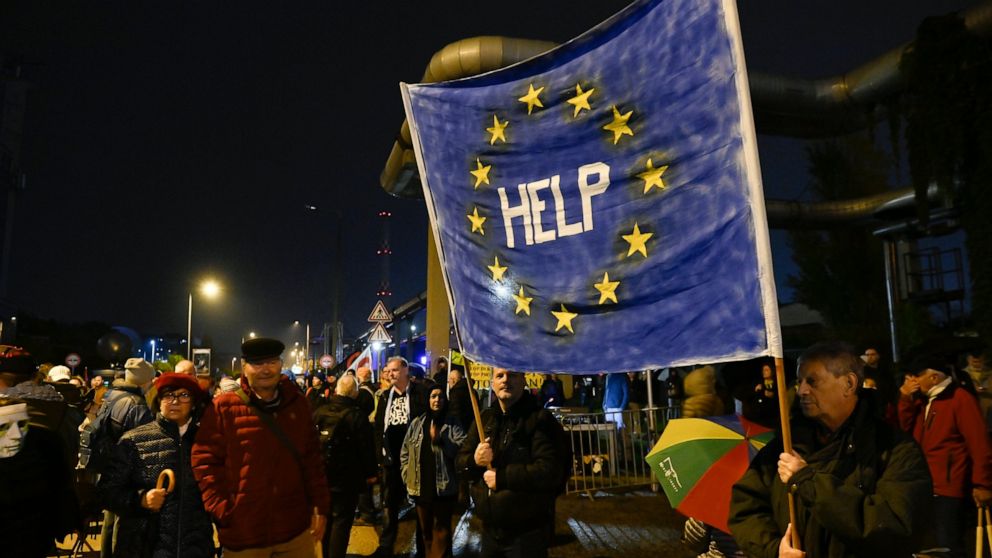 BUDAPEST, Hungary — Around 1,500 demonstrators gathered at the headquarters of Hungary's public media company Friday to protest what they say is biased news coverage and state-sponsored propaganda that favors the country's populist government.
Demonstrators called for the replacement of the director of public media corporation MTVA and for coverage of a recent wave of major protests and strikes by Hungarian teachers and students. The protests demanding better pay and working conditions for educators have been largely ignored by public media despite some drawing tens of thousands of people.
The protest Friday, dubbed a "blockade of the factory of lies," was called by independent opposition lawmaker Akos Hadhazy, a former member of the ruling Fidesz party who is known as an anti-corruption crusader.
Speaking at the protest, Hadhazy said Hungary's government had created a "propaganda machine" that has refused to provide opposition voices airtime while openly advocating the policies of the governing party.
"In a normal country, the public media follow very strict rules to ensure that opposition opinions and government party opinions are presented in the same way and in the same quantity," Hadhazy said. "As long as this propaganda machine is available to the government, it can do virtually anything."
Hungary's government, under the leadership of nationalist Prime Minister Viktor Orban since 2010, has frequently been accused of eroding press freedoms and rolling back democratic checks and balances.
International media watchdog Reporters Without Borders added Orban to its list of "press freedom predators" last year. But he has pointed to the existence of several online news outlets and commercial television stations that are critical of his government as proof that the media in Hungary are "freer and more diverse" than in Western Europe.
At the protest Friday, Sandor Godan, 68, said Hungary's public media have used the airwaves to create an alternate reality.
"Well, it's just unwatchable, it's as simple as that," Godan said. "They're not saying what's happening in reality, they're living in a bubble."
Another demonstrator, Gyorgy Laszlo, said he believed Hungarian elections have been influenced by an over-representation of pro-government voices.
"The fact of the matter is that public media doesn't operate according to the law. If you read the media law, it should be balanced," he said. "Hungarian brains have been washed for ten years and they have been washed successfully."
In September, the European Union's legislature declared that Hungary had become "a hybrid regime of electoral autocracy" under Orban's leadership, and that its undermining of the bloc's democratic values had taken Hungary out of the community of democracies.
Orban's government faces financial penalties from the EU in the billions of dollars over concerns over corruption and rule-of-law violations.
Russian media report unexplained blasts at 2 military bases
KYIV, Ukraine –
Ukrainian officials reported a new barrage of Russian missile strikes across the country Monday, an attack that was anticipated as Russia seeks to disable Ukraine's energy supplies and infrastructure with the approach of winter.
Media reports referred to explosions in several parts of the country, including the cities of Odesa, Cherkasy and Kryvyi Rih. In Odesa, the local water supply company said a missile strike cut power to pumping stations, leaving the entire city without water.
"The enemy is again attacking the territory of Ukraine with missiles!" Kyrylo Tymoshenko, the deputy head of the Ukrainian president's office, wrote on Telegram.
Air raid alerts sounded across the country, and authorities urged people to take shelter.
A spokesman for the Ukrainian Air Force, Yuriy Ihnat, said Russia launched land-based missiles from southern Russia and shipborne missiles from the Caspian and Black seas. Russian strategic bombers also launched missiles, he said.
Ihnat warned the Russians could attack in several waves to make it more difficult for the Ukrainian air defences to shoot down the missiles.
Earlier Monday, Russian media reported that explosions rocked two air bases in Russia. One reportedly happened at a base that houses nuclear-capable strategic bombers that have been involved in launching strikes against Ukraine.
Neither Ukrainian nor Russian authorities immediately commented on the possible cause of the blasts.
Russian state RIA Novosti news agency said three servicemen were killed and six others injured, and a plane was damaged, early Monday when a fuel truck exploded at an air base in Ryazan, in western Russia. The base houses long-range flight tankers that serve to refuel bombers in the air.
Separately, authorities in the Saratov region along the Volga River said they were checking reports about an explosion in the area of the Engels air base, which houses Tu-95 and Tu-160 strategic bombers that have been involved in launching strikes on Ukraine. Those bombers are capable of carrying nuclear weapons.
Saratov regional governor Roman Busargin said there was no damage to civilian facilities and added that the authorities are checking whether there have been any incidents at military facilities.
Regional media reported sounds of a powerful explosion near the Engels base, and some residents were quoted as saying they saw a flash of light coming from the area.
Asked whether Russian President Vladimir Putin had been briefed about the Engels base explosion, Kremlin spokesman Dmitry Peskov said simply that the president was being regularly informed about ongoing developments.
Ukrainian President Volodymyr Zelenskyy's adviser, Mykhailo Podolyak, trolled the Russians over the drone attack on Engels, stopping short of claiming responsibility:
"The Earth is round — discovery made by Galileo. Astronomy was not studied in Kremlin, giving preference to court astrologers. If it was, they would know: if something is launched into other countries' airspace, sooner or later unknown flying objects will return to departure point," Podolyak tweeted.
Zelenskyy's office said three rocket strikes hit the president's hometown of Kryvyi Rih in south-central Ukraine, killing a factory worker and injuring three others. In the northeastern region of Kharkiv, a person was killed in strikes by S-300 missiles on civilian infrastructure in the town of Kupyansk, it said.
The war that began with Russia's invasion of Ukraine on Feb. 24 has displaced millions from their homes, killed and injured an untold number of civilians, and shaken the world economy — notably through the fallout on the prices and availability of foodstuffs, fertilizer and fuel that are key exports from Ukraine and Russia.
Western countries on Monday began imposing a US$60-per-barrel price cap and a ban on some types of Russian oil, part of new measures aimed at stepping up pressure against Moscow over the war.
The move has prompted a rejection from the Kremlin and also criticism from Zelenskyy — whose government wants the cap to be half as high.
Russian Deputy Prime Minister Alexander Novak, who is in charge of energy issues, warned in televised comments on Sunday that Russia won't sell its oil to countries that try to apply the price cap.
"We will only sell oil and oil products to the countries that will work with us on market terms, even if we have to reduce output to some extent," Novak said in televised remarks hours before the price cap came into effect.
The 27-country European bloc also imposed an embargo on Russian oil shipped by sea.
Russia, the world's No.2 oil producer, relies on the sale of oil and gas to underpin its economy, which has already come under sweeping international sanctions over President Vladimir Putin's war in Ukraine.
In recent weeks, Russia has been pounding Ukrainian infrastructure — including power plants — with military strikes and keeping an offensive going in the east, notably in and around the town of Bakhmut.
Russian forces have also been digging in near the southern city of Kherson, which was recaptured by Ukrainian forces last month after an 8-month occupation.
PBR Tries To Buck Media Trend With New Print Magazine
As media outlets and sports organizations prioritize digital, video and social media in order to engage with the highly coveted Generation Z demographic, Professional Bull Riders (PBR) is poised to buck the trend with a new print magazine.
Gold Buckle, named after PBR's world champion trophy, will launch its first-ever issue on December 9. The semiannual publication, available at newsstands everywhere for $13.99, will feature exclusive interviews and behind-the-scenes access to marquee bull riding events while also showcasing the best of Western lifestyle including travel, food, history, gear and music.
The inaugural issue includes interviews with two-time PBR world champion Jose Vitor and 'Yellowstone' star Cole Hauser, a preview of upcoming electric trucks, a feature on 10 historic working ranches, and an oral history on the founding of PBR 30 years ago.
"The Western lifestyle was once considered a regional phenomenon, but cowboy culture is no longer just home on the range," says PBR CEO and commissioner Sean Gleason. "In today's culture, it's Main Street. Western touches all parts of pop culture, entertainment and fashion. Western influences are on Broadway, in television commercials, and are pushing into the rap-infused neighborhoods of Compton and Hot 'Lanta.
"Some people may see our sport merely drafting off the success of 'Yellowstone,' and we're thrilled to have Cole Hauser on our first cover, but as PBR celebrates our 30th anniversary, we've been helping push cowboys into the mainstream for three decades."
Begun in 1992 when 20 riders from the rodeo circuit branched out to highlight bull riding as a separate entity, Professional Bull Riders now features more than 500 bull riders competing in 200+ annual events across the United States, Australia, Brazil, Canada and Mexico.
A subsidiary of Endeavor since 2015, PBR's Unleash The Beast tour and Team Series are televised on CBS, CBS Sports Network, Pluto TV, Recast and other networks around the globe reaching half a billion households in 130 countries and territories.
Off the dirt, PBR recently opened its 11th PBR Cowboy bar, in Huntsville, Ala., with five more planned to open in 2023.
"We are an ambassador, influence and catalyst expanding the Western lifestyle and cowboy culture," Gleason says. "In sports, PBR already owns the cowboy hat. With that position we can extend the brand into different areas—whether it's country cowboy bars, a new magazine, consumer product opportunities, or exciting TV and film projects on the horizon."
Launching a print publication, especially in today's digital-first landscape, will be no easy feat. Estimated revenue for periodical publishing, which includes magazines, fell by 40.5% from $40.2 billion in 2002 to $23.9 billion in 2020, according to the U.S. Census Bureau's Service Annual Survey (SAS).
Popular publications including ESPN The Magazine, Playboy and O, The Oprah Magazine ceased printing in 2020 in favor of digital, while Dotdash Meredith recently announced it will stop publishing six magazines including Entertainment Weekly, Health and InStyle.
Despite the changes in how people consume media and rising costs, 60 print magazines launched in 2020 during the height of the coronavirus pandemic.
Gold Buckle is published in partnership with a360media, the publishers of celebrity and health and fitness magazines including Men's Journal, Soap Opera Digest, Us Weekly and Woman's World. Approximately 140,000 copies per issue will be produced.
"There is always a place for high-quality publications packed with beautiful photos and great writing," says a360media president and chief media officer Doug Olson. "Nothing matches the experience of sitting down with a magazine you love. The Western lifestyle is red hot, and PBR continues to grow in popularity, attracting millions of avid fans.
"We believe the timing is perfect to launch Gold Buckle, which will serve the PBR faithful, while introducing the world of Western sports to a new and engaged audience."
Iran says hijab law is under review, as state media dismisses claims feared morality police has been abolished
Iran's Attorney General Mohammad Jafar Montazeri said Thursday that Iran's parliament and judiciary are reviewing the country's mandatory hijab law, according to pro-reform outlet Entekhab.
Montazeri was also quoted as saying Iran's feared morality police had been "abolished" but Iranian state media strongly pushed back on those comments, saying the interior ministry oversees the force, not the judiciary.
CNN is reaching out to the Ministry of Interior for comment.
The wearing of a hijab in public is currently mandatory for women in Iran under strict Islamic law that is enforced by the country's so-called morality police. The laws around the head covering sparked a nationwide protest movement after the death of 22-year-old Mahsa Amini, who died in police custody after being apprehended by the morality police allegedly for not wearing her hijab properly.
Her death on September 16 touched a nerve in the Islamic Republic, with prominent public figures coming out in support of the movement, including top Iranian actor Taraneh Alidoosti.
The country has been gripped by a wave of mass protests that were first ignited by Amini's death and have since coalesced around a range of grievances with the regime. Authorities have unleashed a deadly crackdown on demonstrators, with reports of forced detentions and physical abuse being used to target the country's Kurdish minority group.
In a recent CNN investigation, covert testimony revealed sexual violence against protesters, including boys, in Iran's detention centers since the start of the unrest.
On the hijab law, Montazeri said, "We know you feel anguished when you witness [women] without a hijab in cities, do you think the officials are silent about it? As someone who is in the field of this issue, I say that both the parliament and the judiciary are working, for example, just yesterday we had a meeting with the cultural commission of the parliament, and you will see the results within the next week or two," as quoted by ISNA, state-affiliated media.
But there is no evidence of what, if any, changes could be forthcoming to the law, which came into effect after the Islamic Revolution in 1979.
In response to a reporter who asked if the country's morality police was being disbanded, Montazeri was quoted by an Iranian state media outlet as saying, "Morality police have nothing to do with the judiciary. It was abolished from the same place it was launched. Of course, the judiciary will continue to monitor society's behavior."
Arab-language Al-Alam state television claimed foreign media were depicting Montazeri's comments as "a retreat on the part of the Islamic Republic from its stance on hijab and religious morality as a result of the protests", but that all that could be understood from his comments was that the morality police were not directly related to the judiciary.
"But no official of the Islamic Republic of Iran has said that the Guidance Patrol has been shut," Al-Alam said Sunday afternoon.
"Some foreign media have attempted to interpret these words by the prosecutor-general as the Islamic Republic retreating from the issue of Hijab and modesty and claim that it is due to the recent riots."
The remarks were uttered in Qom, considered a holy city in Siha Islam.
The-CNN-Wire
™ & © 2022 Cable News Network, Inc., a Warner Bros. Discovery Company. All rights reserved.