Hunter Biden's art dealer tells House GOP to ask him about paintings
WASHINGTON – A lawyer for Hunter Biden's art dealer has replied to a House committee, which seeks information about sales of his paintings, suggesting lawmakers deal with the president's son instead.
Rep. James Comer, R-Ky., chairman of the House Oversight and Accountability Committee, asked New York art dealer Georges Berges for documents and testimony about who was buying Hunter Biden's paintings and for how much. Comer voiced concerns the high prices could buy influence with the Biden administration.
But Berges' lawyer, William Pittard, replied in a letter that ethical arrangements with the White House and a recent Supreme Court decision prevented him from providing the information Comer requested. Pittard suggested Comer pose his questions to Hunter Biden and his lawyer, Abbe Lowell, "to consider an appropriate path forward."
Hunter Biden's art dealer says his work is 'important':Why the paintings factor into GOP probes.
Hunter Biden's artwork is 1 focus of wide-ranging investigations
Comer's request is one piece of wide-ranging House Republican investigations into the Biden administration that lawmakers argue were lacking in recent years. Comer has focused initially on Hunter Biden, through his laptop and his art, to investigate lucrative foreign business deals and art sales he said could potentially influence President Joe Biden.
The committee said in a statement Berges should produce the documents requested. "We find the objections unconvincing and incoherent," the statement said.
Comer's request for information about art sales is contentious because Hunter Biden doesn't work for the government.
Hunter Biden laptop story enflames House lawmakers:7 takeaways from Twitter hearing
Hunter Biden's lawyer has dismissed the probe
Lowell has already replied to the committee that its request for information about foreign influence peddling was illegitimate for pursuing a private citizen and had no valid legislative function.
"Peddling your own inaccurate and baseless conclusions under the guise of a real investigation, turns the Committee into 'Wonderland' and you into the Queen of Hearts shouting, 'sentence first, verdict afterwards,'" Lowell wrote in a four-page letter to Comer.
Latest on the Hunter Biden investigations:Hunter Biden, White House, House GOP clash over widening investigation of Joe Biden's son
Georges Berges kept artwork details private to avoid ethical concerns, lawyer says
Pittard said Berges arranged to keep information about buyers of Hunter Biden's art and the prices confidential, to avoid ethical concerns with his father.
"In light of these considerations, providing the documents and information requested in your letter seemingly would defeat the efforts of Mr. Biden and the White House to avoid the 'serious ethical concerns' that you raise," Pittard told Comer. "Mr. Berges hopes that you and Mr. Biden can resolve that tension."
Pittard also cited a Supreme Court decision about demands from Comer's panel and two others in the investigation of former President Donald Trump, in a case involving his longtime accounting firm, Mazars USA.
The high court ruled "transactions by the President and his family" exceeded the House's authority, Pittard wrote. The high court also noted demands for personal papers might "aim to harass the President or render him complaisant to the humors of the Legislature," Pittard wrote.
The 100 most popular art museums in the world—who has recovered and who is still struggling? – Art Newspaper
After two years of lockdowns and uncertainty, personal loss and public turmoil, 2022 was the year when most people could once again go and visit their favourite art or travel somewhere new, with, in most cases, relatively few restrictions. The result was that 141 million visits were paid to the top 100 art museums in our survey.
Are things back to normal? Not quite yet. That 141 million is double the number we recorded last year, and nearly three times that of 2020. But there is still some way to go before we regain the high watermark of 230 million visits in 2019, the last full year before the pandemic.
7.7m visitors to Musée du Louvre in Paris—down just 20% on 2019
And, as our analysis reveals, the recovery is uneven. China's zero-Covid strategy has meant that its museum-goers had to negotiate regular lockdowns and draconian rules. Russian museums have had to contend with their country becoming an international pariah following its invasion of Ukraine, and tourism to and from many places becoming restricted. Visitor numbers in both countries have been similar to 2021, at best.
Elsewhere, some major museums have bounced back strongly—the Musée du Louvre in Paris is planning to restrict visitor numbers due to overcrowding but still managed to top our poll with an extraordinary 7.7 million visitors in 2022, beating the second-placed Vatican Museums by more than two and half million. London's British Museum and Tate Modern regain their places in our top five, but their recoveries have been more sluggish than some of their international rivals, reflecting a slow bounceback by UK museums as a whole.
Taken together, the top ten accounted for almost 40 million visits. Now that the pandemic is largely over, people seem to going back to much the same cities as they did before: Paris and London, Rome and New York. For all the efforts to get domestic audiences to visit more, either virtually or physically, it seems that people couldn't wait to travel to see the Mona Lisa, the Parthenon marbles and the Laocoön. These icons still draw the crowds.
UK not so OK
Elsewhere in this supplement we report on the relatively slow recovery of London's major museums. Sadly, this is reflected across the rest of the UK. The National Gallery in London has the dubious distinction of having lost more visitors than any other museum we surveyed, with nearly 3.3 million fewer visitors in 2022 than in 2019, the last year before Covid-19 hit. In percentage terms, however, three other UK institutions did worse: Kettle's Yard in Cambridge was down 57% on its 2019 visitors, while V&A Dundee and the Wellcome Collection in London were both down 55%.
None of these museums was impacted by Covid-related closures in 2022, though Kettle's Yard, located in a former residential building, still had restricted capacity. The UK had one of the earliest and fastest roll-outs of Covid vaccines in the world and prided itself on getting back to normal as soon as possible—face masks are now a rare sight. So the reason for the slow recovery of its museum visitor numbers is hard to pinpoint, especially for those smaller museums that were less reliant on international tourists. It is true, however, that most UK museums saw strong year-on-year growth in 2022, many tripling their attendance over the lockdown-affected 2021, so perhaps next year will see a return to form.
Many UK museums tripled attendance over the lockdown-affected 2021, so next year may see a return to form
Where were the brightest spots in the UK? Mostly north of the border. The Burrell Collection in Glasgow reopened in March 2022 to much higher visitor figures than previously, welcoming an impressive 483,000 visitors. (Perhaps people skipped a visit to the city's Kelvingrove museum, which got half of its 2019 figure.) Edinburgh museums did well, too, with the National Museum of Scotland receiving nearly two million visitors and the Scottish National Gallery 1.3 million, both similar to pre-pandemic times.
The UK's most successful paid-for exhibition of 2022 was not a blockbuster solo artist show, but Fashioning Masculinities: The Art of Menswear at the Victoria and Albert Museum (V&A), followed by shows at Tate Modern (Surrealism Beyond Borders on 158,843) and the Royal Academy of Arts (Francis Bacon: Man and Beast, 146,694). Meanwhile, David Hockney brought 221,950 free visitors to the Fitzwilliam in Cambridge for Hockney's Eye: The Art and Technology of Depiction—a notable success for the medium-sized university gallery.
America still dreaming
Of New York's major museums, the Solomon R. Guggenheim Museum had the biggest percentage drop in visitors, at 42% (with 750,000 in 2022 compared to 1.3 million in 2019), while the Metropolitan Museum of Art on Fifth Avenue saw the biggest fall in actual numbers, with 1.7 million fewer visitors than in 2019 (a 34% drop). It should be noted that the Met has changed its counting methodology, introducing "a new, digital programme that we believe is more accurate", says a spokesperson, meaning a 20% decrease to its previously reported figure in 2019.
New York was not alone in its slow recovery, with institutions across the country still considerably down compared to 2019, from the National Museum of African American History and Culture in Washington, DC (down by 45%) to Denver Art Museum (34%) and the Getty Center in Los Angeles (31%).
The most visited museum in the US was the National Gallery of Art in Washington, DC, with almost 3.3 million visitors in 2022.
Despite no widespread lockdowns in the US in 2022, the pandemic's aftershocks still affected many museums
Despite there being no widespread lockdowns in the US in 2022, the pandemic's aftershocks still affected many museums. A spokesperson for the National Portrait Gallery (NPG) in Washington, DC (which shares a building with the Smithsonian American Art Museum (SAAM) and therefore has the same figures), says that it only returned to its full opening schedule of seven days a week at the end of May, having been open for four days a week for the first quarter of the year. Despite nearly tripling its 2021 figure, with 954,000 visitors last year, the NPG and SAAM were still down 44% on pre-pandemic levels.
Similarly, the Frist Art Museum in Nashville used to be open seven days a week before the pandemic, which helped it achieve its all-time record attendance of 359,000 in 2019. But since reopening in July 2020, its change to five days a week has contributed to a 60% fall.
However, a handful of institutions reported figures that surpassed their pre-pandemic levels. Two of these, the Huntington Library, Art Museum and Botanical Gardens in Los Angeles (up by 26%) and the Frederik Meijer Gardens & Sculpture Park in Grand Rapids (up 3%), offered outdoor experiences as part of the museum visit. (The Museum of Modern Art in New York was also up 10%, but in 2019 it was closed for four months during renovations.)
Euro millions?
Around Europe the picture was mixed. While some big museums had sluggish recoveries, such as the Musées Royaux des Beaux-Arts de Belgique in Brussels (down 40% compared to 2019), the Neues Museum in Berlin (down 36%), the Rijksmuseum in Amsterdam (down 35%) and the Museo Archeologico Nazionale in Naples (down 34%), on the whole, visitors appear to be returning to museums.
The fall in foreign tourism has been a factor in many cities—Vienna's Albertina identified the drop by a quarter in the number of tourists to the Austrian capital as a major factor in its visitor numbers being down 26% compared to 2019. However, other tourist honeypots were almost back to normal—for example, Musée d'Orsay in Paris, was within 10% of its 2019 figure, while the Petit Palais was up 14%.
Fondation Louis Vuitton's blockbuster exhibition of the Morozov Collection had a staggering 1.2 million visitors
Indeed, there were some significant jumps in attendance. In Paris, the Fondation Louis Vuitton saw its figures rise by a third, from just over a million in 2019 to almost 1.4 million last year, helped by its blockbuster exhibition of the Morozov Collection, which had a staggering 1.2 million visitors. An exhibition about Matisse's The Red Studio painting helped the National Gallery of Denmark in Copenhagen achieve its highest ever attendance, as it welcomed more than 492,000 visitors, while the Museum of Fine Arts in Budapest saw an increase of 47% on 2019, helped by a Hieronymus Bosch blockbuster, the second most popular exhibition in the museum's history.
Another way of boosting attendance is to create more space. The Kunsthaus Zürich opened a new extension in October 2021, helping it double its 2019 tally of visitors to more than 555,000. The Munchmuseet in Oslo, which moved to a new building in autumn 2021, welcomed almost 852,000 people last year, getting "significantly higher visitor numbers than the old museum", according to a spokesperson.
Several museums, such as the Centro Botín in Santander and Galleria dell'Accademia in Florence—home to Michelangelo's David— have reported numbers in the final months of 2022 picking up and surpassing pre-pandemic levels, pointing further towards a healthy recovery.
Zero to here we go
China's zero-Covid strategy heavily impacted on its museum visitor numbers in 2022. And while Taiwan dropped its zero-Covid policy in March 2022, a continuted lack of Chinese tourists meant that visitor numbers to the National Palace Museum in Taipei remained low. The total of 553,000 was just 33% up on the previous year, and 86% down on the 2019 total of almost four million.
One Chinese museum that defied the trend was M+. The Hong Kong museum opened in November 2021, before having to shut again from 5 January until 21 April 2022 due to Covid restrictions. Despite this, it managed to attract more than two million visitors in the remainder of the year, launching itself into our top 20.
Australia and New Zealand had some of the strictest Covid-19 rules, which delayed their reopening compared to other parts of the world. In Australia, rules were complex and varied by state; the country did not reopen to international travellers until 21 February 2022. Despite this, visitor numbers continued to recover steadily, with many venues regaining around two-thirds of their previous numbers. The Art Gallery of South Australia in Adelaide actually did better than pre-pandemic, with 539,000 visitors. In Sydney, the Art Gallery of New South Wales saw a boost to numbers as people flocked to see its new expanded building.
The National Museum of Korea cemented its high position in our list: its 3.4 million visitors earned it fifth place
A stand-out in Asia was South Korea. A Frieze art fair was held in its capital Seoul for the first time, boosting visitor numbers at the city's museums. The National Museum of Korea cemented its high position in our list: its 3.4 million visitors earned it fifth place. This is around the same number of people who visited before Covid. The four outposts of the National Museum of Modern and Contemporary Art also did well, with its Seoul branch receiving 1.8 million visits—400,000 more than in 2019.
With most lockdowns hopefully behind us, we expect 2023 visitor figures to be buoyant. But while some museums are settling back into their old groove, for others it seems like the damage caused by the pandemic and the political responses to the crisis might be long lasting.
• Venues marked with a dagger (†) indicate institutions with more than one museum building. We have separated the venues to give a more accurate reflection of footfall. The institutions' additional venues and combined totals are: Metropolitan Museum of Art (Met Cloisters: 196,247; total for the Met: 3,405,079); NGV International (Ian Potter Centre: NGV Australia: 331,488; total for National Gallery of Victoria: 1,911,791); Scottish National Gallery (Scottish National Gallery of Modern Art: 303,678; Scottish National Portrait Gallery: 222,977; total for National Galleries of Scotland: 1,803,855); Reina Sofia (Palacio de Velázquez: 491,086; total all three sites: 3,063,092); Getty Center (Getty Villa: 405,883; total for both: 1,395,185); Smithsonian American Art Museum (total SAAM and Renwick Gallery: 1,149,245); Upper Belvedere (Lower Belvedere: 279,648; Belvedere 21: 82,279; total for Galerie Belvedere: 1,241,567). De Young Museum (Legion of Honor: 360,820; total for Fine Arts Museums of San Francisco: 1,158,264). *The Met revised its 2019 visitor number to 4,898,474 due to a changed counting methodology **We have previously reported Reina Sofia venues as a combined figure, but we have split them this year to be consistent with other venues. ***NPG, Washington, DC, and SAAM share a building, hence report the same figure. We have therefore ranked them equally and counted these visitors only once in our overall totals.
Elton John lyricist Bernie Taupin to stage first UK visual art show – The Guardian
They are one of the most successful songwriting duos in pop music, but while the musician Elton John is the ultimate flamboyant showman, the lyricist Bernie Taupin has always preferred to be out of the spotlight.
However Taupin, who has been writing songs with John for more than half a century, will now take centerstage – as a visual artist – with his first UK exhibition taking place next month at the Iconic Images gallery in central London.
In a rare interview, he told the Guardian: "I'm by no means Greta Garbo, but I couldn't do the kind of things that he [John] does. He's probably one of the most identifiable characters in the world and it's tough to live in that bubble. I couldn't do that.
"He's absolutely exemplary at it, but I like to be able to go to the market on my own and go and get my coffee in the morning. I keep very much to myself. I'm a very private person. I don't enjoy celebrity that much," he added.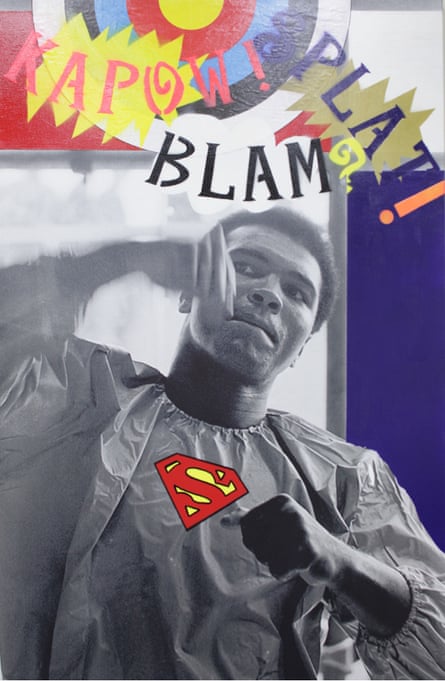 Art has been a lifelong passion for Taupin and, if he had not got lucky as a songwriter, he might well have pursued it as a career. The son of a farmer from Lincolnshire, he met John in London in 1967, after they each answered the same record company advertisement for songwriters. Taupin was 17 and could not write melodies, and the singer and pianist John – then still known as Reginald Dwight – was 20 and could not write lyrics.
They hit it off immediately, becoming the closest of musical partners, the lyricism of Taupin's words inspiring John's melodies. Their many classic songs include Rocket Man, Crocodile Rock, Candle in the Wind, Sorry Seems to Be the Hardest Word, Goodbye Yellow Brick Road and Daniel.
The duo have always written separately. Taupin says he has written dozens of new songs, but they are in an early stage and he has yet to show them to John: "Too early to say anything about that right now," he adds.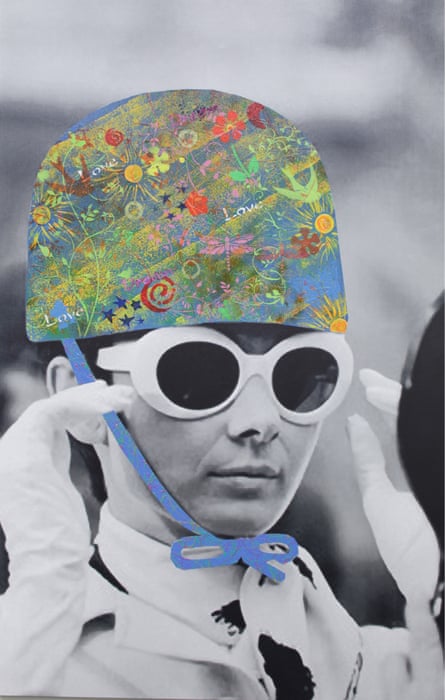 Since 1970, Taupin has lived primarily in the US, where he has had exhibitions of his abstracts and mixed-media pieces with found objects, among other works.
His show at the Iconic Images gallery is inspired by his friend, the photographer Terry O'Neill, whose shots captured the spirit of the pop and film worlds of the 1960s and 1970s.
Called Taupin and O'Neill: Two Sides of the '60s, the exhibition features 15 mixed-media paintings, each a pop-art reworking of one of the photographer's images of famous faces of the decade, including Audrey Hepburn, John Lennon and Queen Elizabeth: "The 1960s were very alive and colourful," says Taupin. "Times were changing rapidly and these were the people that were on the cusp of that change … They were the lights that burned brightest."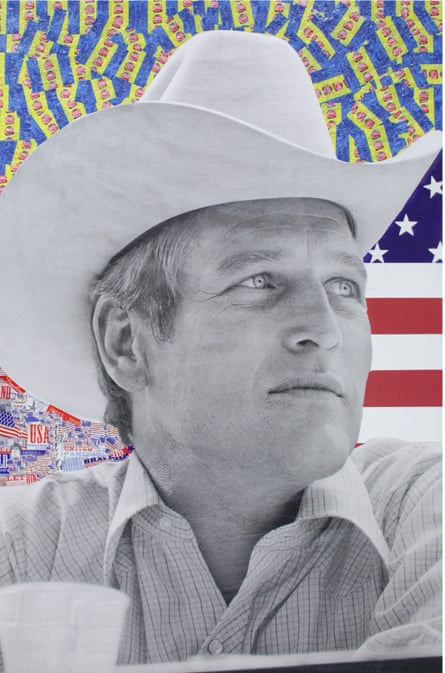 Before O'Neill's death in 2019, they had collaborated on the project, Taupin says. "[Terry was] very keen … We didn't really know how or when to present them. That's why they got pushed into the background for a while."
Discussing the reworked images, he said: "The portrait of Paul Newman, for instance, is a combination of acrylic spray paint and bubblegum wrappers … [With] the portrait of the Queen and Prince Philip, I took out the tapestry that's in the rear of them and filled it in with [a collage of] things that are wholly English [including Marmite and custard wrappers].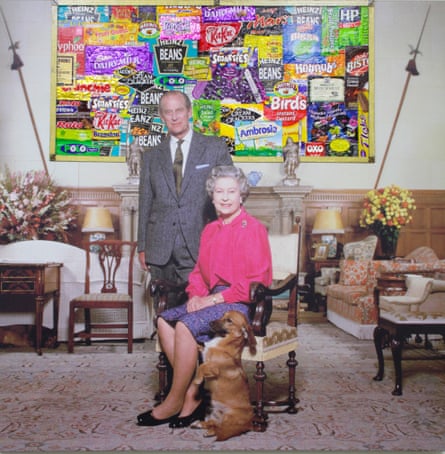 "The thing about this particular exhibition is it's all done in great good humour … Hopefully, [it'll] make you smile."
While Taupin speaks of feeling a "little gun-shy" about unveiling his work in the UK – "I'm always wary of how people react to things" – he pays tribute to O'Neill: "Terry was such a dynamic photographer … When you did a photo session with Terry – usually photo sessions are laboured and time-consuming – he made them fun. It was like having your picture taken by an East End barrow boy. He got the very best out of the best. You can see that totally in his work."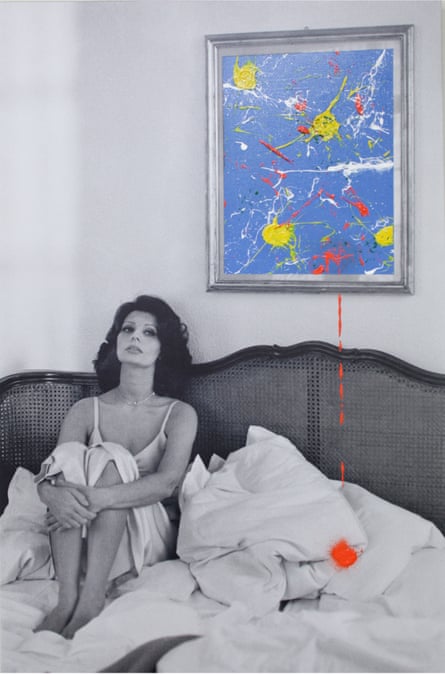 When Taupin is working on his art, he listens to music, everything from jazz to blues: "I'm not much of a pop guy."
He does not listen to songs that he co-wrote with John: "I think you have to be of a certain ego to sit around listening to your own."
20th century Japanese poster art – in pictures | Art and design – The Guardian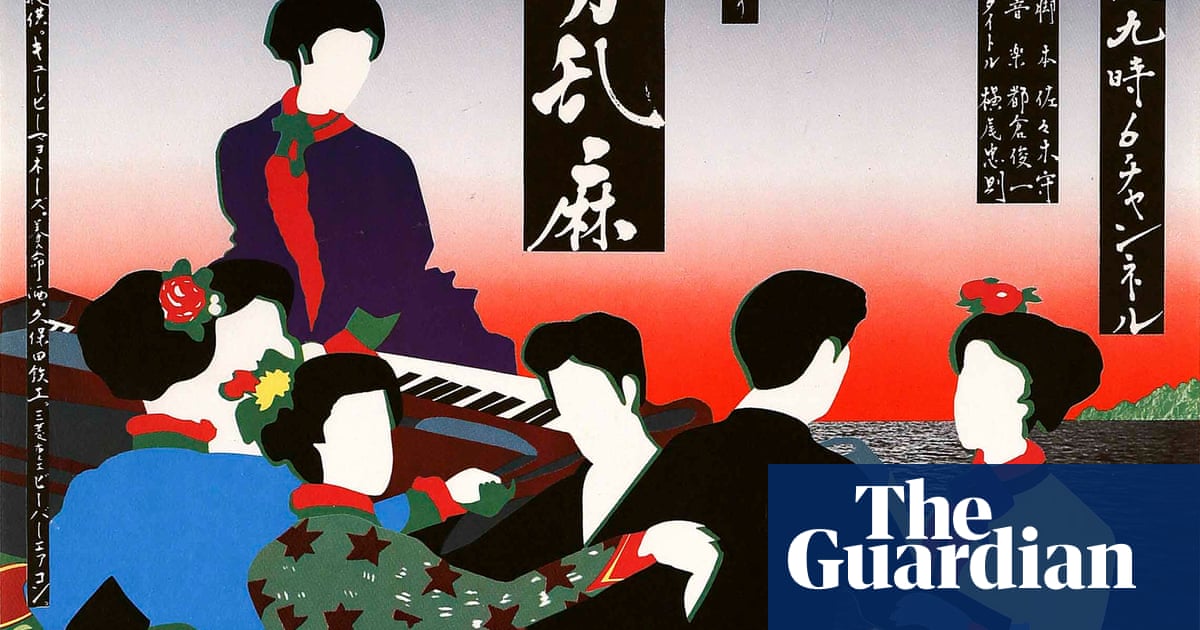 Petticoat Osen: A Tale of Forgetfulness, 1966, Tadanori Yokoo
This poster for Jōkyō Gekijō's performance of Petticoat Osen is emblematic of Tadanori Yokoo's playful and subversive approach to design. The bright hues and dynamic composition not only channel the powerful emotions, energy and bravado of Edo-period kabuki theater, but are also representative of an experimental artistic style that combines western imagery with Japanese motifs, symbols and photography, creating a synthesis between avant-garde happenings, consumer culture and everyday objects
Photograph: The Merrill C Berman Collection