Impeachment caps a dark and dysfunctional decade in American politics – NBC News
WASHINGTON — It's only fitting that the decade is coming to an end with an impeachment vote against the president of the United States, because it's been a dark ten years in American politics.
And it's gotten progressively worse, especially in the last three years.
Consider this timeline of controversy, gridlock, outrage and resentment in our politics:
The rise of the Tea Party (2010)
The Health Car War (2010-present)
Mitch McConnell's "The single most important thing we want to achieve is for President Obama to be a one-term president" (2010)
The Tucson shooting (2011)
The debt-ceiling debacle (2011)
The Birther movement led by one Donald Trump (2011)
The shooting of Trayvon Martin (2012)
Barack Obama's campaign nuking Mitt Romney over Bain Capital (2012)
Romney's 47-percent comment (2012)
Benghazi and its political aftermath (2012-2016)
The Newtown shooting (2012)
Government shutdown (2013)
The rise of Trump (2015-present)
Merrick Garland's Supreme Court nomination (2016)
"Lock her up!" (2016)
Trump's "American carnage" inaugural address (2017)
Trump's 15,000 and counting false or misleading claims (2017-present)
Trump's controversial Muslim/travel ban (2017)
The rise of the Resistance (2017)
The Mueller investigation (2017-2019)
The congressional baseball shooting (2017)
Charlottesville (2017)
The Helsinki press conference (2018)
Trump's comments after John McCain passed away (2018)
Brett Kavanaugh's Supreme Court nomination (2018)
Pipe bombs sent to prominent Democrats and journalists (2018)
The 35-day government shutdown (2019)
Trump's all-but certain impeachment (2019)
Add them all up, and it's easily the darkest decade in politics since the 1960s. And think of anyone in their 20s right now — it's all they've seen.
They weren't old enough to remember when Democrats and Republicans came together after 9/11 (even though it later led to the disastrous Iraq war).
They weren't old enough to vote in the "Hope and Change" election of 2008, when both political parties had popular presidential nominees.
And they wouldn't believe you if you told them that Obama threw an inaugural ball in McCain's honor after that election.
One other characteristic that has defined the past decade: When given the choice, political actors have typically pursued the more populist/radical/confrontational option.
That was especially true on the right earlier in the decade, and it's become more true on the left in the last few years.
And it's come amid growing polarization in our political media, the rise of social media, and the decline of local news.
And it's all contributed to a dark and dysfunctional decade in our politics.
It's Impeachment Vote Day
The U.S. House of Representatives today will vote to impeach a president for only the third time in U.S. history, per NBC's Geoff Bennett.
The two articles of impeachment: 1) Abuse of power and 2) obstruction of Congress.
The House gavels in at 9:00 am ET, and the House Judiciary Committee chairman (Democrat Jerrold Nadler) and ranking GOP member (Doug Collins) lead six hours of debate, with time divided equally between Democrats and Republicans.
Barring any delays, NBC's Alex Moe and Bennett believe the final vote on the articles of impeachment will occur between 6:30 pm ET and 7:30 pm ET.
And as it just so happens, Trump is scheduled to speak at a rally in Battle Creek, Mich., beginning at 7:00 pm ET.
Trump's six-page tirade
On the one hand, you have to give credit to President Trump and his allies for fighting this impeachment to a near draw when it comes to public opinion.
Love him or hate him, one of Trump's top political assets is how he wears down — and outlasts — his opposition.
On the other hand, however, you have to acknowledge just how dishonest and disturbed his defenses have been in this entire episode.
Let our news meet your inbox. The news and stories that matters, delivered weekday mornings.
And that was underscored by his six-page letter yesterday to House Speaker Nancy Pelosi. "In a rambling six-page letter, Trump accused Pelosi of having 'cheapened the importance of the very ugly word, impeachment' and said she was 'declaring open war on American Democracy' by pursuing his impeachment," per NBC News.
Tweet of the day
Data Download: The number of the day is … at least 21
At least 21.
That's the number of false or misleading claims counted by the Washington Post in President Trump's letter to Nancy Pelosi yesterday.
Those falsehoods include: His characterization of the 2016 results, his description of his call with the Ukrainian president, and some of his boasts about his administration's policy and economic record.
2020 Vision
Susan Collins announces she's running for re-election: It's not a surprise, but it's still significant: Sen. Susan Collins, R-Maine, announced this morning that she's running for re-election.
"The fundamental question I had to ask myself in making my decision was this: in today's polarized political environment, is there still a role for a centrist who believes in getting things done through compromise, collegiality, and bipartisanship?" she wrote in a letter to supporters, per NBC's Frank Thorp.
"I have concluded that the answer to this question is 'yes,' and I will, therefore, seek the honor of continuing to serve as Maine's United States Senator."
Here's the significance of Collins' decision: Given that Democrats need a net pick up of at least three Senate seats to take back control of the chamber, it's hard to see how Democrats win the Senate without defeating Collins.
Democrats' top pick-up opportunities — from easiest to hardest: Colorado, Arizona, Maine, North Carolina.
And remember, the GOP has a pick-up opportunity in Alabama.
On the campaign trail today
It's a quiet day before tomorrow night's Dem presidential debate… Julian Castro, who didn't qualify for the debate, stumps in the Los Angeles area… Michael Bloomberg holds a health-care roundtable in Medford, Mass… Cory Booker stumps in Nevada… And President Trump holds a rally in Battle Creek, Mich., at 7:00 pm ET.
Dispatches from NBC's campaign embeds
Pete Buttigieg pitched himself to California Democrats last night in Hollywood, and his speech touched on some old Barack Obama themes — of hope and change. NBC's Priscilla Thompson reports on Buttigieg's remarks: "I refuse to be told that my hope is a function of my age. Because the truth is, my hope for more unified America is a function of my experience as a result of what I saw in my own city – written off at the beginning of this very same decade we're living in now as a dying city that now stands tall, is growing for the first time in a long time, seeing jobs added neighborhoods lifted up the thousands lifted from poverty. It's the hope that I cultivated in the dust of a war zone in Afghanistan among fellow Americans who I had nothing in common with besides the flag on our shoulders, different races, different backgrounds, different politic definitely different politics, but we learned to trust each other with our lives, because we had to."
NBC's Maura Barrett followed a YouTube livestream that Tom Steyer held with young Democrats and picked up on how this may become commonplace for the senators in the 2020 race: "I note the details regarding how the virtual town hall was conducted as speculations swirl around how senators who are also running for president while potentially sitting on an impeachment trial in January might continue to campaign. Obviously, this won't be a problem for Steyer, but Cory Booker's campaign manager floated the idea of tele-town halls on a press call last week and other campaigns are looking for creative solutions; the virtual town hall or other solutions utilizing new technology might something we see more of, come January."
The Lid: Commercial break
Don't miss the pod from yesterday, when we looked at new polling on the reach of Michael Bloomberg's TV ads.
ICYMI: News clips you shouldn't miss
Bookmark NBC's impeachment live blog for today.
Adam Schiff is raising questions about how Vice President Mike Pence's office described his call with the Ukrainian president.
Protestors rallied yesterday to show their support for impeachment.
House Republicans are running ads on impeachment, but Democrats are trying their best to change the subject.
Trump Agenda: My Man Mitch
Mitch McConnell says he's not "an impartial juror" in the impeachment trial.
The House Rules Committee approved six hours of debate on the House floor today before the impeachment vote.
The House has passed a $1.4 trillion government spending bill.
Paul Manafort was hospitalized after a "cardiac event."
2020: Biden releases his medical history
Joe Biden has released a three-page summary of his medical history.
Voting rights advocates are worried about a recent voter purge in Georgia.
Pete Buttigieg finally started going after his rivals. Is it working?
POLITICO delves into Pete Buttigieg's Harvard days.
Both Bernie Sanders and Michael Bloomberg are trying to crack the code of how to win in California.
Conservatives accused of 'playing politics' in the House, raising questions about pandemic election – CBC.ca
All federal party leaders maintain they don't want an election in the midst of the COVID-19 pandemic, but the Conservatives appear to be pursuing a strategy that could give the Liberals justification for calling one.
Liberals are accusing the Conservatives of systematically blocking the government's legislative agenda, including bills authorizing billions of dollars in pandemic-related aid and special measures for safely conducting a national election.
The Conservatives counter that the Liberals have not used the control they have over the House of Commons agenda to prioritize the right bills, while other parties say both the government and the Official Opposition share the blame.
"They're playing politics all the time in the House. It's delay, delay, delay — and eventually that delay becomes obstruction," Government House leader Pablo Rodriguez said in an interview, referring to the Conservatives.
"It's absurd. I think it's insulting to Canadians, and I think people should be worried because those important programs may not come into force … because of the games played by the Conservatives."
Conservatives blocking legislative agenda, Liberals say
Rodriguez pointed to the three hours last week that the Commons spent discussing a months-old, three-sentence committee report affirming the competence of the new Canadian Tourism Commission president.
That was forced by a Conservative procedural manoeuvre, upending the government's plan to finally start debate on the pandemic election bill. It contains measures the chief electoral officer has said are urgent given that the minority Liberal government could fall at any time if the opposition parties unite against it.
A week earlier, MPs spent three hours discussing a committee report recommending a national awareness day for human trafficking — something Rodriguez said had unanimous support and could have been dealt with "in a second."
That debate, also prompted by the Conservatives, prevented any progress on Bill C-14, legislation flowing from last fall's economic statement with billions in expanded emergency aid programs and new targeted aid for hard-hit industries.
That bill was introduced in December but stalled at second reading, with Conservative MPs talking out the clock each time it did come up for debate. After eight days of sporadic debate — more than is normally accorded for a full-fledged budget, Rodriguez noted — Conservatives finally agreed on Friday to let the bill proceed to committee for scrutiny.
'Modest debate' warranted: O'Toole
Conservative Leader Erin O'Toole has argued that "modest debate" is warranted on C-14, which he maintains is aimed a fixing errors in previous rushed emergency aid legislation.
Last December, the Conservatives dragged out debate on Bill C-7, a measure to expand medical assistance in dying in compliance with a 2019 court ruling.
For three straight days last week, they refused consent to extend sitting hours to debate a motion laying out the government's response to Senate amendments to C-7, despite a looming court deadline that was extended Thursday to March 26.
Conservatives say they offered the previous week to extend the hours to allow a thorough debate, but the government waited five days before tabling its response to the amendments.
Liberals can't cut debates short alone
For Rodriguez, it all adds up to "a pattern" of obstruction aimed at blocking the government's legislative agenda.
Procedural machinations are commonly used by opposition parties to tie up legislation. But Rodriguez argued it's inappropriate in a pandemic, when "people are dying by the dozens every day."
If the government held a majority of seats in the Commons, it could impose closure on debates. But in the current minority situation, it would need the support of one of the main opposition parties to cut short debate — something it's not likely to get.
In a minority Parliament, Rodriguez argued, all parties share responsibility for ensuring that legislation can at least get to a vote.
Opposition parties point fingers
But Conservative House leader Gérard Deltell lays the blame for the legislative impasse squarely on Rodriguez.
"The government House leader has failed to set clear priorities and has therefore failed to manage the legislative agenda," he said in a statement to The Canadian Press, adding that "my door is always open for frank and constructive discussions."
Bloc Québécois House leader Alain Therrien agrees that the Liberals have "mismanaged the legislative calendar and must take their responsibilities." But he doesn't exempt the Conservatives.
He said their obstruction of the assisted-dying bill and another that would ban forcible conversion therapy aimed at altering a person's sexual orientation or gender identity is "deplorable."
"These are files that require compassion and rigour. It is inexcusable to hold the House hostage on such matters," Therrien said in an email, suggesting that O'Toole is having trouble controlling the "religious right" in his caucus.
As far as NDP House leader Peter Julian is concerned, both the Liberals and Conservatives are trying to trigger an election.
"We believe that is absolutely inappropriate, completely inappropriate given the pandemic, given the fact that so many Canadians are suffering," he said in an interview.
Julian accused the Liberals of bringing forward unnecessary legislation, such as the election bill, while "vitally important" bills, including one implementing the United Nations Declaration on the Rights of Indigenous Peoples and another on net-zero carbon emissions, languish.
The intention of the Liberals, he said, is to eventually say there must be an election because of "all these important things we couldn't get done." And the Conservatives "seem to want to play into this narrative" by blocking the bills the government does put forward.
Rodriguez must be at 'wits end': May
Veteran Green Party MP Elizabeth May, however, agrees with Rodriguez, who she says must be "at his wits' end."
"What I see is obstructionism, pure and simple," she said in an interview.
She blames the Conservatives primarily for the procedural "tomfoolery" but accuses both the Bloc and NDP of being "in cahoots," putting up speakers to help drag out time-wasting debates on old committee reports.
"It's mostly the Conservatives, but they're in league," May said.
"They are all trying to keep anything orderly from happening that might possibly let the Liberals say we've accomplished a legislative agenda. Whether the bills are good, bad or indifferent is irrelevant in this strategy."
Politics Chat: Former President Trump To Speak At CPAC – NPR
Former President Donald Trump speaks today at the Conservative Political Action Conference in Florida. As Trump's grip tightens on the GOP, President Joe Biden continues to address U.S. border policy.
LULU GARCIA-NAVARRO, HOST:
* And there he was…
(CROSSTALK)
GARCIA-NAVARRO: …This time in the form of a golden statue rolling through the Hyatt Hotel last week in Orlando, Fla., as the Conservative Political Action Conference kicked off. The gleaming figure of former President Donald Trump looks like a cousin of Shoney's big boy, except with a red tie, stars-and-stripes swim trunks, flip flops and the Constitution in one very shiny hand and a wand – maybe a wand – in the other. The real Donald Trump speaks today as CPAC wraps up. Meanwhile, the man who beat him in November, President Joe Biden, is himself courting Republicans in an effort to ensure the success of his political agenda. Joining me now to talk about all this is NPR White House reporter Ayesha Rascoe.
Good morning.
AYESHA RASCOE, BYLINE: Good morning.
GARCIA-NAVARRO: The speech by the former president is unusual for former presidents – not so unusual for this former president, who has made it clear he plans to try and remain relevant.
RASCOE: Yeah, Trump never adhered to norms as president, and he's still not doing it. But we should say it is really unprecedented. Presidents who lose reelection and even those that don't generally try to stay out of the spotlight after leaving the White House. The reason why it's worth paying attention to Trump at this moment is because he has so much influence on people who are still in power and those running for office.
There are some high-profile Republicans, like Congresswoman Liz Cheney, who have said that it's time for the GOP to move on from Trump, but it doesn't seem like Republicans are ready to quit him just yet. And people like Senator Lindsey Graham have basically said, yes, Trump's a handful, but there's no way Republicans win without him. Most Republicans seem to agree with Senator Graham. So this is the first time that Trump is making this sort of speech since he left office. And it's a big deal because he's able to really dictate the direction of the Republican Party.
GARCIA-NAVARRO: So what are we expecting to hear from him?
RASCOE: We are expecting him to declare himself the leader of the Republican Party. Beyond that, he will almost certainly lay into his perceived enemies. I mentioned Liz Cheney, who voted for his impeachment. He's already come out against Senate Minority Leader Mitch McConnell. So expect to hear him on the attack. He will almost certainly want to relitigate the 2020 election, especially considering he never stopped talking about the 2016 election, and he won that one. So everyone will be waiting to hear whether he teases a 2024 run.
With Trump in the picture, he's really freezing the Republican field right now. And I should remind everyone that it was at CPAC a few years ago that Trump talked for almost two hours and hugged the flag and did all of that. So it would not be surprising to see Trump do something like that again. With no social media megaphone, he probably has a lot to get off of his chest. But what his advisers and probably a number of Republicans will want Trump to do in this speech is to go after President Biden, especially on the issue of immigration, which is sort of – which is the sort of issue that can really rally the base. We will see whether that happens.
GARCIA-NAVARRO: So not exactly healing the divides within his own party. Let's turn to the actual president, Biden. He's set to meet virtually with Mexican President Andres Manuel Lopez Obrador. Border policy is on the agenda.
RASCOE: Yes, this meeting comes as Biden has been facing pressure from the left because of the surge in unaccompanied minors at the border. The White House has defended its handling of the situation, but some progressives have raised concerns about the conditions of the facilities where these children are being held. So this is an issue that's going to be on the agenda when he talks to Lopez Obrador in Biden's second virtual meeting with a foreign leader.
GARCIA-NAVARRO: That's NPR White House reporter Ayesha Rascoe.
Thank you so much.
RASCOE: Thank you.
NPR transcripts are created on a rush deadline by Verb8tm, Inc., an NPR contractor, and produced using a proprietary transcription process developed with NPR. This text may not be in its final form and may be updated or revised in the future. Accuracy and availability may vary. The authoritative record of NPR's programming is the audio record.
An American dystopia: QAnon represents perfectly the paranoid streak in US politics that Trump embraced – Economic Times


<!–

Uday Deb

–>
In 1964 Richard Hofstadter, a noted historian from Columbia University, published an essay in Harper's Magazine, The Paranoid Style in American Politics. In this essay, which has become justly famed over time, he argued that a strain existed in American politics that was akin to the clinical diagnosis of paranoia.
This deranged view of politics saw a conspiracy amongst a swath of the country's elite composed of international bankers, Jesuits, Freemasons and others. And this unhinged perspective had a peculiar appeal to those on the fringes of the American political right.
Objectively, those on the right had little to fear in a mostly conservative country where social and political change only occurred in small, incremental steps. Nor, for that matter, barring under exceptional circumstances, such as in the wake of the Great Depression, did the country even contemplate any substantial, let alone radical, transformations. Nevertheless, those on the hard edges of the American right feared dispossession.
Hofstadter attributed these fears, especially in the postwar era, to three pervasive beliefs: that President Roosevelt's New Deal had undermined free market capitalism, that officialdom was infiltrated with Communists and the "whole apparatus of education, religion, the press and the mass media is engaged in a common effort to paralyse the resistance of loyal Americans". It is necessary to include that direct quotation from his essay because it has an eerily contemporary ring to it.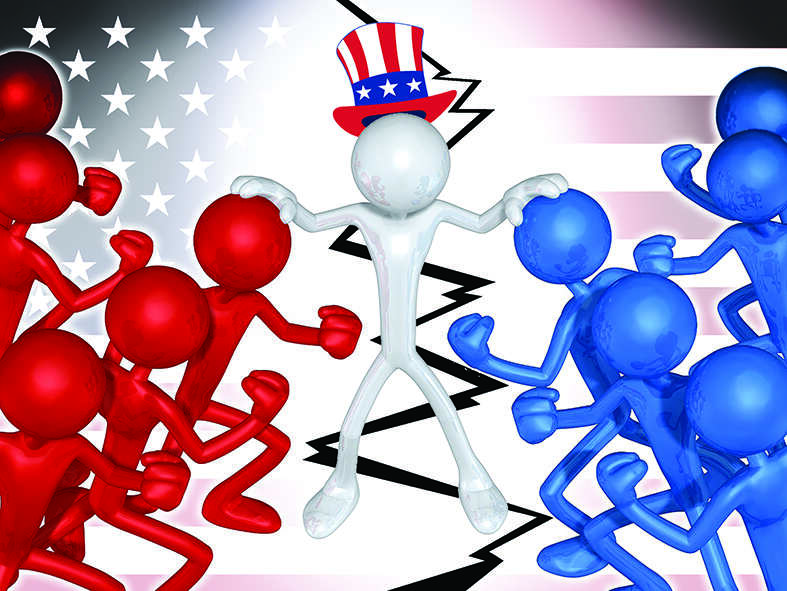 The issues he had highlighted in that sentence came to the fore over the course of the past four years when Donald Trump was at the helm of the presidency. Despite his defeat, and the emergence of a seasoned, centrist Democrat, Joseph Biden, as president, this paranoid style that Hofstadter had identified nearly 60 years ago still remains a significant force in American politics.
Even as a prospective presidential candidate, Trump had started to give currency to this propensity. It started with his so-called "birtherism" when President Obama assumed office. Any number of Trump's followers accepted his ugly and baseless claim that Obama was not a natural-born American (and was also secretly a Muslim according to many of them). In an attempt to quell this growing chorus of distrust Obama released his birth certificate from Hawaii.
Sadly, these bizarre views did not subside as the 2016 election campaign went into gear. Instead, they gained greater steam. One of the more absurd such conspiracies held that Hillary Clinton (and by extension, the Democratic Party) was running a child sex and human trafficking ring from the premises of a pizza restaurant in Washington, DC. Despite acquiring considerable traction amongst members of the right-wing media, this episode, popularly referred to as "pizzagate", was bereft of any substance. Nevertheless, it attracted such a substantial following that a man actually drove up from North Carolina and fired a shot inside the restaurant. The owner of the restaurant was also subjected to death threats.
It's widely believed that this conspiracy theory was the forerunner to another, QAnon. This has acquired an even wider following in American politics. Launched on an internet platform in 2017, it asserted that President Trump was engaged in a concerted effort to end a vast, sprawling network ranging from Hollywood elites to high government officials who are involved in global sex trafficking. The anonymous individual who posted this outlandish claim also stated that he was someone who possessed the highest levels of security clearance in the US government. Astonishingly, this theory quickly gained ground as it coursed through the internet and became the fodder of many chat rooms across the country.
The attraction of this grotesque idea amongst members of the lay public was bad enough. More disturbingly, however, it also started to attract support amongst aspiring politicians who either tacitly or even explicitly endorsed the allegation. Few politicians, however, have acquired as much notoriety for their flirtation with this conspiracy theory as Marjorie Taylor Greene, a newly elected representative from the southern state of Georgia.
During her campaign, when QAnon endorsed her, she made little or no effort to distance herself from it. Even after the brutal assault on the two Houses of Congress on January 6 of this year which, amongst others, involved QAnon believers, she refused to promptly disavow any ties with its adherents. Only when faced with censure from her House colleagues and being voted off all committee assignments did she make a lukewarm effort to distance herself from the movement.
She may be the most prominent case of a politician who has traded in this outrageous conspiracy theory. However, she's hardly alone. A host of Republican Congressional candidates from across the country have either endorsed QAnon or have offered varying degrees of support for its twisted claims. Among them is a first-time House member, Lauren Boebert, a restaurant owner and an unrelenting gun rights advocate from Colorado, who has made only half-hearted attempts to distance herself from her initial attraction to QAnon beliefs.
What's striking about the vast majority of QAnon advocates is that they are overwhelmingly if not exclusively white, they are not especially well-educated and have a decidedly right-wing political orientation. Needless to say, when in office, Trump studiously refused to publicly disavow QAnon, thereby granting it a certain stamp of credibility if not legitimacy. Even with him out of office, many of his more avid followers still remain its faithful adherents.
Hofstadter, decades ago, had accurately unearthed a strain in America's political culture that had no moorings in reality. His views have, tragically, proven to be altogether prescient.
Disclaimer
Views expressed above are the author's own.
<!–
Disclaimer
Views expressed above are the author's own.
–>


END OF ARTICLE