India's contracting economy rebooting from coronavirus blow – CTV News
NEW DELHI —
Millions of distressed Indian manufacturers and traders are counting on the eagerly-awaited October-December festive season to rescue them from their coronavirus catastrophe.
But spending may be the last thing on the minds of many Indians who have lost their jobs or businesses in the pandemic downturn, and pressure is building for Prime Minister Narendra Modi to do more to regain the momentum of growth that, at 8.2 per cent in 2016-17, made India one of the fastest growing major economies.
The Hindu Dussehra, Diwali and Durga Puja celebrations that extend through the Christmas and New Year holidays are an occasion to splurge on big ticket items like gold, homes and cars as well as clothing, smartphones and electronics.
This year will likely lack the customary pomp and show, given the need for masks and social distancing with the pandemic still raging and no vaccine yet available.
The government began easing a stringent two-month-long lockdown in June, but business still is only a quarter to a fifth of usual and customers are scarce, said Praveen Khandelwal, general secretary of the Confederation of All India Traders.
In August, Prime Minister Narendra Modi announced US$1.46 trillion in infrastructure projects to boost the sagging economy and allocated $2 billion to upgrading the country's overwhelmed health system.
That followed a 1.7 trillion rupees ($22 billion) economic stimulus package announced in March, including delivering rations of grain and lentils for 800 million people, some 60 per cent of the world's second-most populous country.
Other subsidies included a meagre cash grant of 6,000 rupees ($80) a year each for 86 million poor farmers and free cooking gas cylinders for 83 million poor women until the end of September.
The economy still contracted an unprecedented 24 per cent in the April-June quarter, with another downturn forecast for July-September.
The government needs to do more, said Nobel laureate Abhijit Banerjee, such as direct cash transfers for the poor and others severely affected by the prolonged lockdown. India's pandemic assistance has amounted to only about 1 per cent of its GDP, he said, compared with the U.S.'s package in March of about 10 per cent of its GDP.
The crisis is far from over: India's coronavirus caseload jumped from 1 million in mid-July to 6.3 million in less than three months and the number of fatalities is approaching 100,000.
Modi's administration is hard strapped to push out more stimulus, however, given the financial demands of dealing with the pandemic on top of military tensions with China along a disputed border in the mountainous Ladakh region, where both sides have amassed tens of thousands of troops.
Defence analysts estimate India may need up to 1 billion rupees ($13 million a day to run its military machine at an altitude of 16,000 feet (4,875 metres) if the two countries fail to defuse their months-long faceoff.
The lockdown imposed in late March cost more than 10 million impoverished migrant workers their jobs in the cities. Many made grueling journeys back to their hometowns and villages. Now they face the ordeal of trying to get back to their factory jobs.
"There is almost no work," said Ram Ratan, 46, who was working in a printing company before he returned to his home village in April. "We keep roaming around, looking for some steady work, but most factories don't let us in."
Mansoor Ansari is among hundreds of workers who wait every day on what is called a "labour roundabout," in an industrial area, hoping to get picked up by employers.
Before the pandemic lockdown, Ansari had a steady job at a garment factory in the industrial town of Manesar near New Delhi, earning $200 a month, he said. He was able to pay rent and send money to his wife and five children in a village in eastern Bihar state.
As Ansari's factory shut down, he joined a caravan of workers who walked several miles before jumping on to overcrowded flatbed trucks to get home.
Unable to find work there, and digging himself deeper into debt, after restrictions were lifted Ansari joined the legions of workers returning to Manesar.
Deshraj, who uses one name, lost his job as a waiter at a roadside eatery in Surat, a city in western India known for diamond cutting and polishing, in the spring and resumed farming in his home village. But unusually heavy rains in April damaged the crop.
"This is a common story in villages where crops have been destroyed by unseasonal rains, leading people to commit suicide," said Raja Bhaiya, who runs a non-governmental organization to help farmers.
Compared to the scale of need, government relief has been "meagre," Raghruram Rajan, former governor of the Reserve Bank of India, said in a Linked In post. He likened such help to a tonic.
"When the disease is vanquished, it can help a patient get out of her sickbed faster," Rajan said. "But if a patient has atrophied, a stimulus will have little effect."
The government maintains that the worst is behind.
Agriculture overall is growing at a 3.4 per cent pace. With good monsoon rains, India might attain a record of 301 million metric tons of food-grain output, including wheat, rice, oil seeds, lentils and mustard, in the 2020-21 financial year — 4 million metric tons more than in 2019-20.
Key sectors such as coal, oil, gas, steel and cement have ben recovering gradually, said the government's chief economic advisor, Krishnamurthy Subramanian.
"In a V-shaped recovery, it is possible that the slope (of rise) actually may not always be the same exactly as that of the fall, which is a drastic one," he said.
One other bright spot: Domestic brands are getting a boost from a trend to boycott inexpensive Chinese-made statues of Hindu deities, festive LED lights and electronics that have flooded the market, in favour of locally made products, said Khandelwal.
For India's nearly 70 million traders, who employ about 400 million people, an upturn could not come fast enough. They are keeping their finger crossed and trying not to let their hopes get too high as the festive season approaches.
Sanyam Jain, 24, and his brother Ankit Jain, 31, owned three clothing shops in New Delhi and its suburbs, each store averaging more than $25,000 in monthly before the lockdown.
They've shut one store and would be happy to sell even half of their inventory this year.
"The government hasn't given us any relief at all," said Ankit Jain said.
Sales usually pick up 20-25 per cent during the holidays, said Nitin Makkar, who runs a store in Noida on the outskirts of New Delhi, the capital. "I have no such hopes this time as people may restrict themselves to buying essentials and avoiding luxurious items."
——
AP Writer Biswajeet Banerjee in Lucknow, India, contributed to this report.
Coronavirus stimulus checks: How payments helped the economy — Yahoo U – Yahoo Canada Finance
GlobeNewswire
Dublin, Oct. 28, 2020 (GLOBE NEWSWIRE) — The "Soil Stabilization Materials – Global Market Trajectory & Analytics" report has been added to ResearchAndMarkets.com's offering. The publisher brings years of research experience to the 9th edition of this report. The 373-page report presents concise insights into how the pandemic has impacted production and the buy side for 2020 and 2021. A short-term phased recovery by key geography is also addressed. Global Soil Stabilization Materials Market to Reach $29.1 Billion by 2027 Amid the COVID-19 crisis, the global market for Soil Stabilization Materials estimated at US$23.4 Billion in the year 2020, is projected to reach a revised size of US$29.1 Billion by 2027, growing at a CAGR of 3.2% over the period 2020-2027. Mechanical, one of the segments analyzed in the report, is projected to record 2.7% CAGR and reach US$17.7 Billion by the end of the analysis period. After an early analysis of the business implications of the pandemic and its induced economic crisis, growth in the Chemical segment is readjusted to a revised 4% CAGR for the next 7-year period. The U.S. Market is Estimated at $6.3 Billion, While China is Forecast to Grow at 5.9% CAGR The Soil Stabilization Materials market in the U.S. is estimated at US$6.3 Billion in the year 2020. China, the world`s second largest economy, is forecast to reach a projected market size of US$6 Billion by the year 2027 trailing a CAGR of 5.7% over the analysis period 2020 to 2027. Among the other noteworthy geographic markets are Japan and Canada, each forecast to grow at 0.9% and 2.4% respectively over the 2020-2027 period. Within Europe, Germany is forecast to grow at approximately 1.6% CAGR. Competitors identified in this market include, among others: * AB Volvo * AggreBind Inc. * Altacrete * Carmeuse Group SA * Caterpillar, Inc. * Fayat Group * Global Road Technology International Ltd. * Graymont Ltd. * Irridan USA * SNF Holding Company * Soilworks, LLC. * WIRTGEN GROUPKey Topics Covered: I. INTRODUCTION, METHODOLOGY & REPORT SCOPE II. EXECUTIVE SUMMARY 1. MARKET OVERVIEW * Global Competitor Market Shares * Soil Stabilization Competitor Market Share Scenario Worldwide (in %): 2019 & 2025 * Impact of Covid-19 and a Looming Global Recession2. FOCUS ON SELECT PLAYERS 3. MARKET TRENDS & DRIVERS 4. GLOBAL MARKET PERSPECTIVE III. MARKET ANALYSIS IV. COMPETITION * Total Companies Profiled: 43For more information about this report visit https://www.researchandmarkets.com/r/a1e1jsResearch and Markets also offers Custom Research services providing focused, comprehensive and tailored research. CONTACT: CONTACT: ResearchAndMarkets.com Laura Wood, Senior Press Manager press@researchandmarkets.com For E.S.T Office Hours Call 1-917-300-0470 For U.S./CAN Toll Free Call 1-800-526-8630 For GMT Office Hours Call +353-1-416-8900
How the Trump economy compares to economies under other presidents – CNN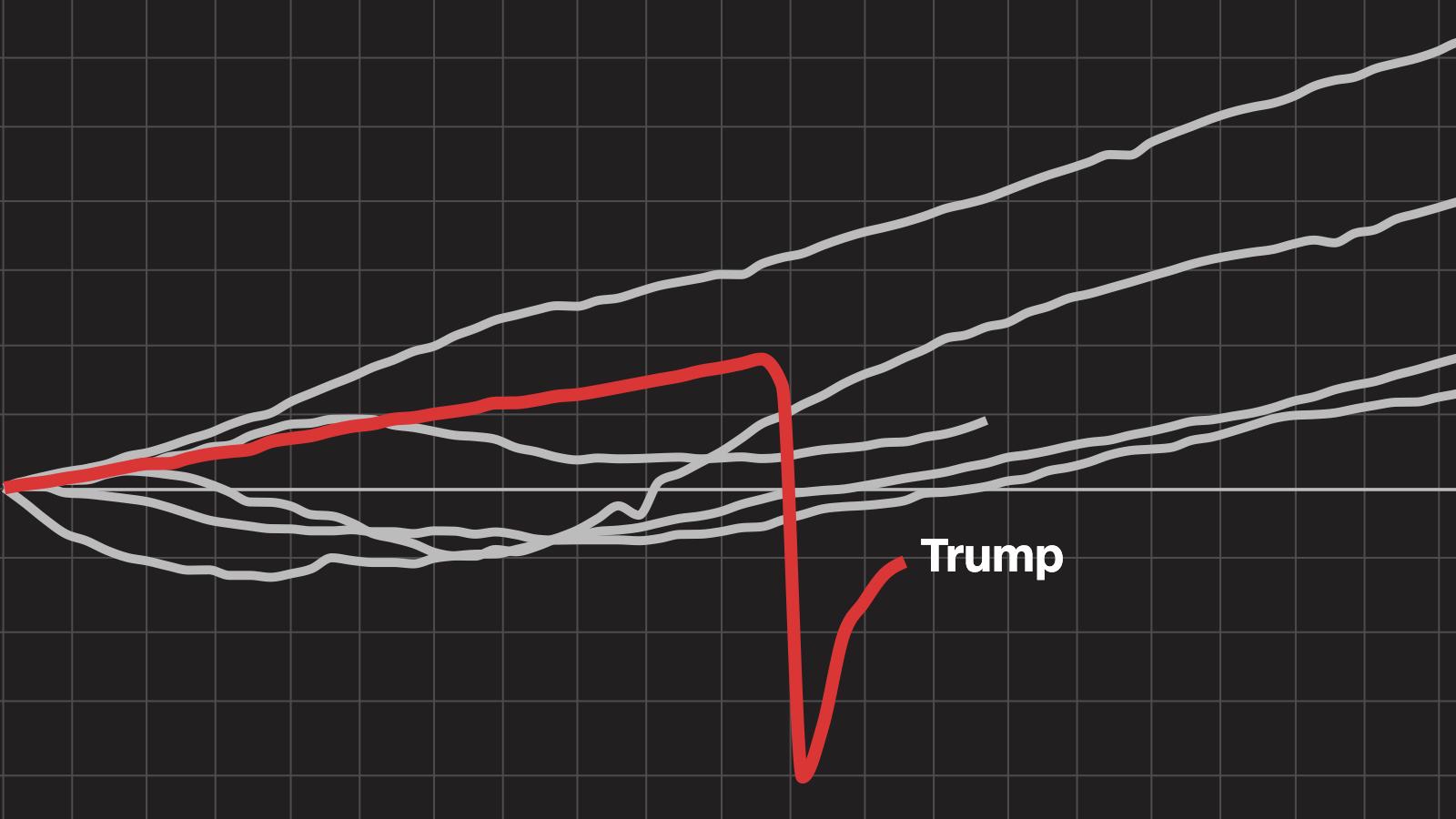 AMERICA'S ECONOMY
President Donald Trump inherited a strong economy, and it continued to grow at a healthy rate during his first three years in office. Then the Covid-19 pandemic changed everything.
At the start of Donald Trump's presidency in January 2017, the economy was healthy.
Employers had added jobs for 76 months straight — the longest hiring streak on record at the time — and unemployment was just 4.7%, a 10-year low. Corporate profits were near all-time highs, and so were stocks. Overall, gross domestic product was growing around 2.5% a year — a modest rate for the world's largest economy. Not everything was rosy: the federal debt was at its highest level since the 1950s. But by most metrics, it was hard to deny: the economy was on solid footing. And fortunately for Trump, the growth continued from there.
Below, we've tracked 10 indicators to show how the economy evolved under each president from Ronald Reagan to Trump. Keep in mind, each presidency started under different circumstances. George W. Bush's first year in office was plagued by the dot-com bust and the September 11th attacks. Barack Obama's started with the Great Recession, following a devastating housing crash and a global financial crisis. Despite these crises, however, most recent presidents have presided over a growing economy during their time in office. The Trump presidency will be characterized by the country's response to the Covid-19 pandemic, which is still playing out both as a health crisis and an economic one.
Hover over the charts to see how the economy under Trump compares with how it evolved under his predecessors.
Up until 2020, President Trump's first term was characterized by solid job growth, but then the pandemic wiped out about 15% of American jobs in just two months. Since May, the economy has recovered only about half those jobs, and Trump is heading into the election with the worst job losses on record under any president.
In contrast, at this point in Obama's presidency, the job market was up 0.4%. He took office at a time when employers were cutting hundreds of thousands of jobs a month. Hiring kicked into higher gear later in his presidency.
By the time Trump entered office, he had inherited one of the strongest job markets in American history from Obama. But Covid-19 swiftly put an end to that. The unemployment rate shot to 14.7%, up 10 percentage points from when Trump took office. Although it has improved slightly since then, unemployment still remained elevated in September. No other president has encountered such a sudden spike in joblessness.
Trump loves to talk about how middle class incomes have increased during his presidency — and that was true in his first three years. In September, the Census Bureau released data showing that the median American household earned $68,703 in 2019 — up $5,800 or 9% from 2016, after adjusting for inflation. A strong job market helped lift incomes, as more people worked full-time, year-round. And more than 20 states also raised their minimum wage, boosting earnings for low-income workers.
We don't have data for 2020 yet, but the pandemic will surely impact those numbers in a big way. For some families, $1,200 stimulus checks and a temporary $600 boost in weekly unemployment benefits actually lifted incomes during the pandemic. But many others, especially those who have lost businesses or are grappling with long-term joblessness, are struggling to make ends meet.
The longest bull market in history began shortly after Obama entered office and continued well into Trump's presidency. Investors welcomed Trump's corporate tax cuts in 2017, and although the trade war with China put them on edge, stocks enjoyed a record-breaking run all the way up to 2020. At the start of the pandemic in 2020, the S&P 500 plunged 34% in about a month, before recovering later in the summer. As of October 27, the index was up 49% in Trump's presidency, overall. While that quick bounce-back is a bright spot for him, it also contrasts with 76% stock gains under Obama and 64% gains under Clinton at the same point in their presidencies.
The housing market is one of the few parts of the economy that hasn't dramatically declined during the pandemic. That's in part because record-low interest rates and the work-from-home trend have led city dwellers to buy homes in suburban and rural areas, boosting home prices in many regions. It's also because extensive measures, including a moratorium on evictions and forbearance programs for mortgages, have helped struggling families weather the crisis so far. Those unpaid bills could eventually catch up to millions of families, causing distress in the housing market. But so far, home prices are up 21% since Trump's inauguration.
Food prices
Small increases
If it feels like your grocery bill is higher lately, that's because food prices did surge suddenly during the pandemic. Over the longer haul, however, they've been relatively stable. At this same point in the presidencies of Reagan, George H.W. Bush, Clinton and George W. Bush, food prices were already up 9% or more. They're up only 6.1% under Trump, and were up 5.9% under Obama, reflecting an era of low inflation.
Consumer spending
Up, but underperforming
American consumers are the backbone of the US economy and are not easily fazed. Although consumers sharply cut back on spending at the start of the pandemic, they were quick to reopen their wallets in May and June once stimulus checks and unemployment benefits came to their aid. Retail spending on goods, particularly through online retailers, rebounded swiftly. (Meanwhile, spending on services like haircuts, travel and dining out at restaurants remains well below pre-Covid-19 norms.) Even with a quick recovery, though, consumer spending has grown less under Trump than under any of the prior five presidents.
Manufacturing jobs
Barely changed
American manufacturing jobs peaked in 1979, and no president other than Clinton has presided over gains in factory jobs since then. So when Trump promised to bring back factory jobs, it was a tall order. In Trump's first three years, the manufacturing sector did add some jobs, but in 2020, the pandemic ruined what little progress those workers had enjoyed. As of September, the sector was down 164,000 jobs, or 1.3% from when Trump took office. That said, layoffs at factories were even steeper under Presidents Reagan, Obama and the Bushes, as globalization and technological progress reduced America's manufacturing workforce.
The federal government's debt burden hasn't been this high relative to the size of the economy since World War II, but it didn't get there during Trump's presidency alone. The debt grew under Reagan, who ushered in massive tax cuts, and it surged under Obama, who used federal stimulus funds to aid the economy during the Great Recession.
At the time Trump took office, the debt totaled around 76% of GDP. But by mid 2020, it was 105% – a 29 percentage-point increase during his presidency. Economists often argue for paying down the debt when the economy is strong, and spending more when the economy is weak. But despite his promises to "get rid of" the debt, Trump has grown it in both good times and bad. While much of that increase came from coronavirus relief funds, earlier policies like corporate tax cuts and an increase in defense spending also fueled the rise.
Gross domestic product
A deep recession
Many economists predict businesses and workers will not fully bounce back from this severe economic downturn for years.
Additional development by Byron Manley
Notes
The gross domestic product lines are calculated as percentage change from the fourth quarter preceding each president's inauguration, which is the most recent data before they took office. The lines for median income are calculated as percentage change from the last calendar year preceding each president's inauguration. The lines showing unemployment and the federal debt are calculated as percentage-point change, since those two metrics started as ratios. All other lines are calculated as percentage change from the January when each president was inaugurated. President Reagan isn't featured in the home prices data because the data is only available back to 1987 and doesn't encompass his entire presidency.
Bank of Canada set to release updated outlook for economy, inflation – CTV News
OTTAWA —
The Bank of Canada will release its updated outlook for the country's pandemic-plagued economy.
The central bank in July said it believed the country had been spared from a worst-case scenario envisioned in April, but warned things could change.
Governor Tiff Macklem has said a severe second wave of the pandemic, health restrictions that extend beyond December and the timing of a vaccine or other effective treatment could all shift the country's economic course.
This morning the central bank will provide a more detailed analysis of its forecast for the domestic economy as the country marches through a second wave of COVID-19.
Macklem has said the central bank will keep its key policy rate as low at it can go at 0.25 per cent until the economy has recovered and inflation is back at the bank's two-per-cent target.
That means experts don't expect the central bank to change the rate from near-zero when the bank makes its announcement later this morning.
This report by The Canadian Press was first published Oct. 28, 2020.