Invest in This Real Estate – TheTyee.ca
What if our governments — or maybe even a well-heeled developer — took a sum such as that spent on one spinning chandelier under the Granville Bridge, close to $5 million, and spent it on affordable portables? Not the ones that cost up to $300,000 each that we are producing in pathetic numbers now, but hundreds of pre-manufactured units, at a much lower price?
Here is just one example: Weizhengheng Prefabricated Modular Container House. You can have one of these ready to go for under $6,000 CDN, which means for $5 million you could buy more than 800. What if we placed five or six of these in various laneways, strung a wire for light bulbs, put a porta-potty at the end of the lane, and called it… some small step, at least.
Because we are stepping away and turning our backs from the needs of the city's homeless citizens, as anyone who has recently visited Vancouver's Downtown Eastside knows. Science-fiction writer William Gibson has been there and noticed.
The Vancouver-based author shares his reaction in a recent New Yorker profile by Joshua Rothman: "Instead of fantasizing about virtual worlds, Gibson inspected the real one. Storefronts in some Vancouver neighbourhoods were strangely empty — the drawback before the tsunami of global capital, as though the city itself anticipated the future. 'Have you been to Vancouver's Downtown Eastside?' he asked me. 'It's one of the poorest per-capita postal codes in the entire country, and it is absolutely brutal — well, brutal, Canadian style. Addiction, prostitution, street crime…"
Gibson's larger point was that we accept this type of thing here in Vancouver and, in slightly different forms, in other global cities. We accept situations that would have been unthinkable only 30 or 40 years ago. We accept it because, again in Gibson's words, the "Fucked up Quotient," or F.Q., has steadily risen here and elsewhere until we've become inured to the chaos around us.
Gibson suggests that the "future" as we once knew it no longer exists. Why? Because the present is too unstable a base from which to securely posit the existence of a different future in the way we once could. The F.Q. of the present is so high, and rising, that present and future mix into what would be an otherwise interesting hallucination were it not reality itself.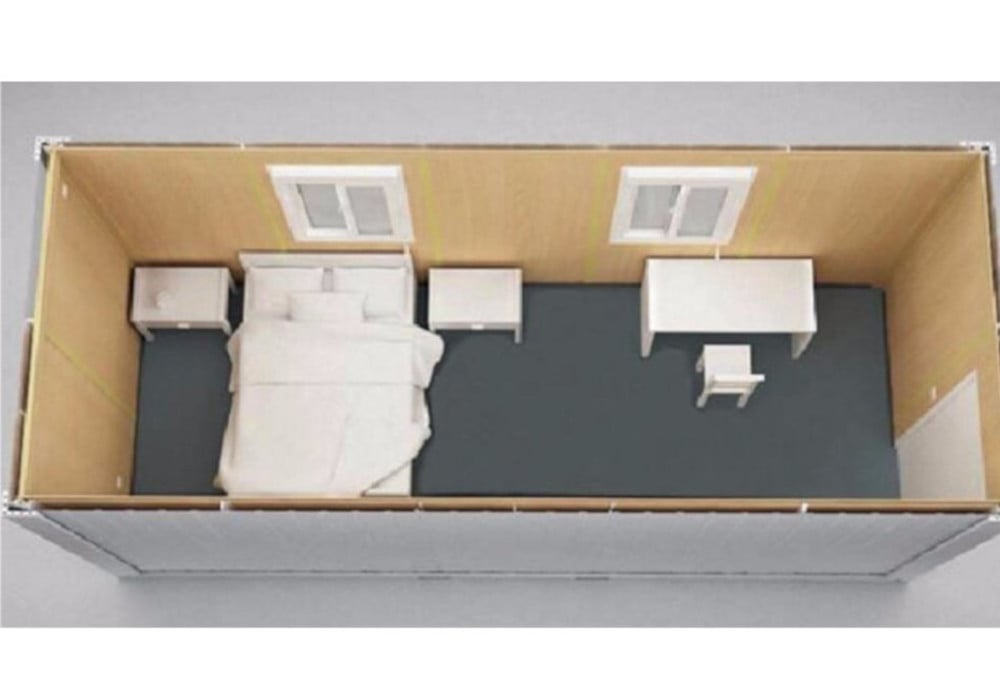 In Vancouver, we now spend hundreds of thousands of dollars per marginalized person on addiction responses, hospital care, safe injection services, meal services, shelters, and police management of this chaos. The budget grows each year. But we don't do the one thing that would make the biggest difference for these struggling souls. We won't put a roof over their heads. Gibson might note this as visible evidence of Vancouver's high F.Q.
One Weizhengheng Prefabricated Modular Container House costs less than a three-day hospital stay. Sure it's not pretty, but at least your stuff is safe. And if public art is your thing, hire 100 artists to work with the residents to personalize the minimalist roofs over their heads. Fight for beauty! Fight to lower Vancouver's F.Q.!
Happy holidays, readers! Our comment threads will be closed until Jan. 2 to give our moderators a break. See you in 2020.

Toronto real estate and COVID-19: Predictions and housing trends for 2021 | Urbanized – Daily Hive
Ah, Toronto real estate.
As the COVID-19 pandemic continues, the housing market in Toronto has managed to remain robust during an unprecedented, and therefore, unpredictable time.
For first-time home-buyers, it can be difficult to decide when is the right time to buy a property given the uncertainty.
But, despite property prices continuing to increase, buying during a pandemic might not be such a daunting idea.
According to the President and CEO of Royal LePage, Phil Soper, the current environment has allowed for the lowest interest rates on properties, causing intense interest in the market.
Soper told Daily Hive why property prices remain high, the key housing trends, and what first-time buyers should look for.
Prices continue to soar in the pandemic
"It's interesting because now there is higher unemployment and more uncertainty, yet we have a high level of demand for purchasing a home. Towards the end of 2019 and early 2020, the demand in the first quarter of 2020 was crazy busy. But then the pandemic came, and everything grinds to a halt," Soper said.
"It lasted into the important spring market, and during that time, the Bank of Canada reacted to sure-up the economy, and [as the] housing market [is the] biggest single driver of the Canadian economy, interest rates went to historic lows."
But, it created an unusual situation where money was cheaper than it had ever been, the competition was low, and within six to eight weeks, home prices backed up – which hadn't happened since 2012, Soper pointed out.
Because of this, first-time home-buyers were interested in the market. And when it came to virtual viewings, that wasn't a problem for the younger demographic.
Another more subtle reason Soper mentioned was when looking at age, sellers are typically older, and as a result of the pandemic, had more concerns about interacting with people in person making them reluctant to sell during this time. This dynamic then created a situation where there were more buyers than sellers in the market.
Demand in urban centres remains high, despite movement to suburbs
Soper said that there has been a housing shortage in Canada's biggest cities stretching back a decade. When looking at the millennial population cohort, which is the largest population size (mid-20s to late 30s), this is the first-time home-buyer group.
"The research shows their preference is to own a condo in the city. Now, this changes as they get older, and they want walkout properties, which tends to be farther away from the city core," he said.
"Millennials are still looking for their first property to rent or buy. That's a big group of people, which continues to put pressure on a supply of buyers for condos and entry-level housing in the city itself."
The Royal LePage President also said that with immigration, new Canadians tend to rent in big cities for the first three years of their time in Canada, preferring condominiums. This is a trend that will remain in place.
Advice for home-buyers on when to purchase
Soper emphasized that houses aren't the same as stocks, meaning it's not something that can be timed.
"The time you should change your housing is when it makes sense for you and your family and when you can afford it."
But in a growing country like Canada, it gets more expensive over time. While there can be "short-term blips" like the pandemic, which negatively affected the market for a few months, these tend to even out in a relatively short period of time.
"People don't tend to bounce around housing. They tend to stick around," Soper said. For first-time home-buyers, that's usually five to seven years, and then longer as you get older for subsequent purchases.
"Make the move for when it makes sense for you. You won't be wrong over any period of time. Right now, the reason there is so much interest is because mortgage rates are so low, so it's not a bad time to purchase a home."
Soper also advised to think long-term and not in reaction to the pandemic. The notion that there is a mass migration to the suburbs is "overblown," and when the pandemic is over in the near future people will prefer the vibrancy and pace of urban living, with a subset wanting the slower pace of suburban living.
"It's really important that people look at their neighbourhoods with a post-pandemic eye. Don't look at it with the health emergency. Look ahead a few months and the type of community you want to live in post-pandemic. It's a longer-term decision than the health crisis."
Housing market trends
For Soper, there are a few trends to keep in mind.
One is a home-style projection, which will see the idea of open concept, which has been a strong movement for the last 25 years, lessen as more people work from home and want more private space. Due to this shift, there will also be the move to "smart homes" with the introduction of the 5G network, with people wanted higher and greater access to faster internet.
As well, in the next 10 to 15 years, the demand for housing will continue to grow without a matching level of supply, creating even more in-balance than seen today.
"That will put uncomfortable upward pressure on house prices which will come in waves… we'll struggle over the next decade or so to make enough housing for our growing population," he said.
Lastly, Canada's continued rise on the international stage has made it a desirable place to live. This is a trend Soper sees strengthening over time, especially as immigration continues to grow.
Even during a turbulent time with the pandemic, Toronto's housing market remains an active area with more first-time home-buyers entering the space.
Canadian Commercial Real Estate Industry Offers Support to National Vaccination Efforts – Canada NewsWire
TORONTO, Jan. 20, 2021 /CNW/ – REALPAC and its member organizations are pleased to announce an industry initiative to support the national vaccination rollout, through providing governments and health networks across Canada with the free use of vacant commercial space (such as retail space in malls, big box space, conference centres, hotels, industrial units, parking lots and office buildings) for use as vaccination sites.
"We see every day how hospitals are facing increasingly fragile scenarios, with provision of vital services being put on hold to divert resources to the COVID-19 response effort," said Michael Brooks, CEO, REALPAC. "We also understand from governments that for Canada to successfully vaccinate its population by the intended September 2021 target, a very regimented approach will need to be taken."
REALPAC, in partnership with its member organizations, has undertaken an initiative to identify unused commercial real estate space across Canada, to make available for free to governments and health networks to assist with the logistical rollout of COVID-19 vaccines. The goal is to provide an easily scalable portfolio of real estate assets that can form part of Canada's distribution network to support the country's vaccine mobilization effort. As reported by the BBC, a similar process is seeing success in the U.K., where the government is repurposing spaces such as convention centers and halls to serve as vaccination clinics.
REALPAC has secured the support of numerous CEOs, CFOs and COOs in its membership to participate in this initiative. These real estate owners are large, national operators with considerable real estate assets from coast to coast to coast, and are willing and eager to loan free space to government.
Participating members confirmed at this time include:
"Activating vacant real estate space as clinics for either vaccination or other medical services could reduce the logistical burden on hospitals and healthcare settings," added Brooks. "REALPAC members are keen to work with the government to repurpose their unused spaces to function as vaccination sites, or storage spaces for vaccines, essential equipment, and medical supplies, which could greatly assist the vaccination rollout effort."
REALPAC welcomes the opportunity to discuss this initiative with governments, policy makers, public health officials and healthcare networks, and direct inquiries to our participating members.
The commercial real estate industry remains committed to working with governments and healthcare networks to identify areas where space is needed and meet their needs to the best of our abilities. The industry would also like to sincerely thank governments, healthcare providers and front-line workers for their continued efforts to support Canadians during this pandemic.
About REALPAC
Founded in 1970, REALPAC is the national leadership association dedicated to advancing the long-term vitality of Canada's real property sector. Our members include publicly-traded real estate companies, real estate investment trusts (REITs), pension funds, private companies, fund managers, asset managers, developers, government real estate agencies, lenders, investment dealers, brokerages, consultants/data providers, large general contractors, and international members. Our members represent all asset classes in Canada – office, retail, industrial, apartment, hotel, seniors residential – from coast, to coast, to coast.
SOURCE REALPAC
For further information: on this initiative, please contact: Michael Brooks, CEO, [email protected], 416.642.2700 x225, www.realpac.ca
Related Links
Planon acquires a majority stake in real estate software company Reasult BV – Canada NewsWire
NIJMEGEN, Netherlands, Jan. 20, 2021 /CNW/ — The Planon Group and Reasult today announced that Planon has acquired a majority share in Reasult B.V., founded in 2000 and headquartered in Ede (the Netherlands). Reasult is a software company that optimizes the financial performance of real estate portfolios and projects. Reasult's leading software solutions are used by real estate developers, asset managers and housing corporations in the Dutch- and German-speaking markets. Example customers are Amvest, a.s.r. real estate, VolkerWessels and HANSAINVEST.
The Reasult software suite includes solutions for real estate development, asset- and portfolio- management, valuation management and financial planning. Planon will combine the Reasult applications with its own solutions for asset management and tenant management and engagement, into one software suite. By doing so, Planon aims to support real estate owners and investors in optimizing the performance of their property portfolio from a financial, building operations and tenant engagement perspective.
"This acquisition is one of the first steps in Planon's ambitious goals to accelerate its future growth. Planon firmly believes in the strength of Reasult's solutions and its organization, both from a technical perspective and due to its extensive market knowledge and experience. It is therefore Planon's plan to continue to expand the Reasult software suite, as it has done with previously acquired solutions such as SamFM and conjectFM. I am very excited about this acquisition and the possibilities it will offer to customers of both organizations to further develop their current solutions into an end-to-end property portfolio management solution," said Pierre Guelen, CEO and founder of the Planon Group.
"As co-founder of Reasult 20 years ago, I am very excited about becoming part of a fast-growing global specialist in the field of building operations and service digitalization. With this move, Reasult will be able to further fulfil its strategy of offering a leading platform for optimizing real estate in the broadest sense. As part of a market leading organization, our customers and employees will benefit from this strategic step. The Planon and Reasult solutions are complementary which drives synergy and innovation. This collaboration will allow us to serve our customers in the best way possible and deliver innovative products to help real estate companies be 'the best in class,'" said Aart Zandbergen, CEO at Reasult.
SOURCE Planon
For further information: Planon: Kayley Costa, [email protected], +31246413135; Reasult: Inge van Hal, [email protected], +31318672930, https://planonsoftware.com
Related Links