Invest in This Real Estate – TheTyee.ca
What if our governments — or maybe even a well-heeled developer — took a sum such as that spent on one spinning chandelier under the Granville Bridge, close to $5 million, and spent it on affordable portables? Not the ones that cost up to $300,000 each that we are producing in pathetic numbers now, but hundreds of pre-manufactured units, at a much lower price?
Here is just one example: Weizhengheng Prefabricated Modular Container House. You can have one of these ready to go for under $6,000 CDN, which means for $5 million you could buy more than 800. What if we placed five or six of these in various laneways, strung a wire for light bulbs, put a porta-potty at the end of the lane, and called it… some small step, at least.
Because we are stepping away and turning our backs from the needs of the city's homeless citizens, as anyone who has recently visited Vancouver's Downtown Eastside knows. Science-fiction writer William Gibson has been there and noticed.
The Vancouver-based author shares his reaction in a recent New Yorker profile by Joshua Rothman: "Instead of fantasizing about virtual worlds, Gibson inspected the real one. Storefronts in some Vancouver neighbourhoods were strangely empty — the drawback before the tsunami of global capital, as though the city itself anticipated the future. 'Have you been to Vancouver's Downtown Eastside?' he asked me. 'It's one of the poorest per-capita postal codes in the entire country, and it is absolutely brutal — well, brutal, Canadian style. Addiction, prostitution, street crime…"
Gibson's larger point was that we accept this type of thing here in Vancouver and, in slightly different forms, in other global cities. We accept situations that would have been unthinkable only 30 or 40 years ago. We accept it because, again in Gibson's words, the "Fucked up Quotient," or F.Q., has steadily risen here and elsewhere until we've become inured to the chaos around us.
Gibson suggests that the "future" as we once knew it no longer exists. Why? Because the present is too unstable a base from which to securely posit the existence of a different future in the way we once could. The F.Q. of the present is so high, and rising, that present and future mix into what would be an otherwise interesting hallucination were it not reality itself.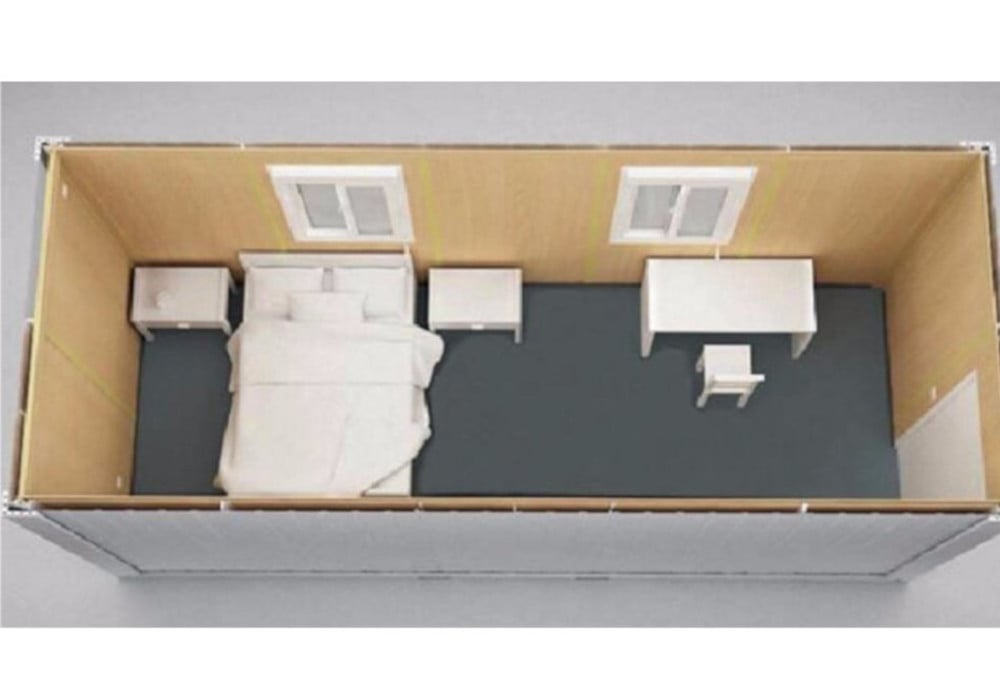 In Vancouver, we now spend hundreds of thousands of dollars per marginalized person on addiction responses, hospital care, safe injection services, meal services, shelters, and police management of this chaos. The budget grows each year. But we don't do the one thing that would make the biggest difference for these struggling souls. We won't put a roof over their heads. Gibson might note this as visible evidence of Vancouver's high F.Q.
One Weizhengheng Prefabricated Modular Container House costs less than a three-day hospital stay. Sure it's not pretty, but at least your stuff is safe. And if public art is your thing, hire 100 artists to work with the residents to personalize the minimalist roofs over their heads. Fight for beauty! Fight to lower Vancouver's F.Q.!
Happy holidays, readers! Our comment threads will be closed until Jan. 2 to give our moderators a break. See you in 2020.

What Is the Canada Mortgage and Housing Corporation (CMHC)
The Canada Mortgage and Housing Corporation (CMHC) is a Canadian Crown Corporation that serves as the national housing agency of Canada and provides mortgage loans to prospective buyers, particularly those in need.
Understanding the Canada Mortgage and Housing Corporation (CMHC)
The Canada Mortgage and Housing Corporation (CMHC) serves as the national housing agency of Canada. CMHC is a state-owned enterprise, or a Crown corporation, that provides a range of services for home buyers, the government, and the housing industry.
CMHC's stated mission is to "promote housing affordability and choice; to facilitate access to, and competition and efficiency in the provision of, housing finance; to protect the availability of adequate funding for housing, and generally to contribute to the well-being of the housing sector."1
A primary focus of CMHC is to provide federal funding for Canadian housing programs, particularly to buyers with demonstrated needs. CMHC, headquartered in Ottawa, provides many additional services to renters and home buyers, including mortgage insurance and financial assistance programs. CMHC acts as an information hub for consumers, providing information on renting, financial planning, home buying, and mortgage management.
CMHC also provides mortgage loan insurance for public and private housing organizations and facilitates affordable, accessible, and adaptable housing in Canada.2 Additionally, CMHC provides financial assistance and housing programs to First Nations and Indigenous communities in Canada.3
Professionals and Consumers
CMHC provides services to both professionals and consumers. For professionals, CMHC aims to work in collaboration with different groups to provide affordable housing. Services include project funding and mortgage financing, providing information to understand Canada's housing market, innovation and leadership networks to access funding and talent to spur housing innovation and increase supply, and providing speakers and hosting events for the industry.4
For consumers, CMHC seeks to provide all the tools an individual would need to either buy a home or rent a home and a variety of information and assistance for current homeowners, such as managing a mortgage, services for seniors to age in place, and financial hardship assistance.56
For financial hardship and mortgage assistance, CMHC provides tools that include payment deferrals, extending the repayment period, adding missed payments to the mortgage balance, moving from a variable-rate to a fixed-rate mortgage, and other special payment arrangements.7
Canada Mortgage and Housing Corporation (CMHC) and the National Housing Strategy
In November 2017, the Canadian government announced the National Housing Strategy.8 Rooted in the idea that housing is a human right, this 10-year, $70 billion project will largely be administered by CMHC, although some services and deliverables will be provided by third-party contractors and other Canadian federal agencies.9
Strategic initiatives of the National Housing Strategy include:
Building new affordable housing and renewing existing affordable housing stock
Providing technical assistance, tools, and resources to build capacity in the community housing sector and funds to support local organizations
Supporting research, capacity-building, excellence, and innovation in housing research

10
History of the Canada Mortgage and Housing Corporation (CMHC)
CMHC was established in 1946 as the Central Mortgage and Housing Corporation by the federal government in Canada with the primary mission of administering the National Housing Act and the Home Improvement Loans Guarantee Act and facilitating discounts to mortgage companies. Initially, CMHC began by providing housing to returning Canadian war veterans, and toward the end of the 1940s, CMHC began to administer a program providing low-income housing across Canada.11
In 1947, CMHC was responsible for opening Regent Park, a large low-income housing project, and Toronto's first urban renewal project. By the 1960s, CMHC introduced co-op housing and multi-unit apartment buildings throughout Canada.11
In 1979, the Central Mortgage and Housing Corporation changed its name to the Canada Mortgage and Housing Corporation
Canadian home price gains accelerate again in May
Canadian home prices accelerated again in May from the previous month, posting the largest monthly rise in the history of the Teranet-National Bank Composite House Price Index, data showed on Thursday.
The index, which tracks repeat sales of single-family homes in 11 major Canadian markets, rose 2.8% on the month in May, led by strong month-over-month gains in the Ottawa-Gatineau capital region, in Halifax, Nova Scotia, and in Hamilton, Ontario.
"It was a third consecutive month in which all 11 markets of the composite index were up from the month before," said Daren King, an economist at National Bank of Canada, in a note.
On an annual basis, the Teranet index was up 13.7% from a year earlier, the 10th consecutive acceleration and the strongest 12-month gain since July 2017.
Halifax led the year-over-year gains, up 29.9%, followed by Hamilton at 25.5% and Ottawa-Gatineau at 22.8%.
Housing price gains in smaller cities outside Toronto and its immediate suburbs again outpaced the major urban centers, with Barrie, Ontario leading the pack, up 31.4%.
On a month-over-month basis, prices rose 4.9% in Ottawa-Gatineau, 4.3% in Halifax and 3.7% in Hamilton.
The Teranet index measures price gains based on the change between the two most recent sales of properties that have been sold at least twice.
Canada's average home selling price, meanwhile, fell 1.1% in May from April, Canadian Real Estate Association data showed on Tuesday, but jumped 38.4% from May 2020.
(Reporting by Julie Gordon in Ottawa; Editing by Christopher Cushing)
Bank of Canada seeing signs of cooling in hot housing market
The Bank of Canada is starting to see signs that the country's red hot housing market is cooling down, although a return to a normality will take time, Governor Tiff Macklem said on Wednesday.
The sector surged in late 2020 and early 2021, with home prices escalating sharply amid investor activity and fear of missing out. The national average selling price fell 1.1% in May from April but was still up 38.4% from May 2020.
"You are starting to see some early signs of some slowing in the housing market. We are expecting supply to improve and demand to slow down, so we are expecting the housing market to come into better balance," Macklem said.
"But we do think it is going to take some time and it is something that we are watching closely," he told the Canadian Senate's banking committee.
Macklem reiterated that the central bank saw evidence people were buying houses with a view to selling them for a profit and said recent price jumps were not sustainable.
"Interest rates are unusually low, which means eventually there's more scope for them to go up," he said.
Last year, the central bank slashed its key interest rate to a record-low 0.25% and Macklem reiterated it would stay there at least until economic slack had been fully absorbed, which should be some time in the second half of 2022.
"The economic recovery is making good progress … (but) a complete recovery will still take some time. The third wave of the virus has been a setback," he said.
The bank has seen some choppiness in growth in the second quarter of 2021 following a sharp economic recovery from the COVID-19 pandemic at the start of the year, he added.
(Reporting by David Ljunggren and Julie Gordon; Editing by Peter Cooney and Richard Pullin)