Invest in This Real Estate – TheTyee.ca
What if our governments — or maybe even a well-heeled developer — took a sum such as that spent on one spinning chandelier under the Granville Bridge, close to $5 million, and spent it on affordable portables? Not the ones that cost up to $300,000 each that we are producing in pathetic numbers now, but hundreds of pre-manufactured units, at a much lower price?
Here is just one example: Weizhengheng Prefabricated Modular Container House. You can have one of these ready to go for under $6,000 CDN, which means for $5 million you could buy more than 800. What if we placed five or six of these in various laneways, strung a wire for light bulbs, put a porta-potty at the end of the lane, and called it… some small step, at least.
Because we are stepping away and turning our backs from the needs of the city's homeless citizens, as anyone who has recently visited Vancouver's Downtown Eastside knows. Science-fiction writer William Gibson has been there and noticed.
The Vancouver-based author shares his reaction in a recent New Yorker profile by Joshua Rothman: "Instead of fantasizing about virtual worlds, Gibson inspected the real one. Storefronts in some Vancouver neighbourhoods were strangely empty — the drawback before the tsunami of global capital, as though the city itself anticipated the future. 'Have you been to Vancouver's Downtown Eastside?' he asked me. 'It's one of the poorest per-capita postal codes in the entire country, and it is absolutely brutal — well, brutal, Canadian style. Addiction, prostitution, street crime…"
Gibson's larger point was that we accept this type of thing here in Vancouver and, in slightly different forms, in other global cities. We accept situations that would have been unthinkable only 30 or 40 years ago. We accept it because, again in Gibson's words, the "Fucked up Quotient," or F.Q., has steadily risen here and elsewhere until we've become inured to the chaos around us.
Gibson suggests that the "future" as we once knew it no longer exists. Why? Because the present is too unstable a base from which to securely posit the existence of a different future in the way we once could. The F.Q. of the present is so high, and rising, that present and future mix into what would be an otherwise interesting hallucination were it not reality itself.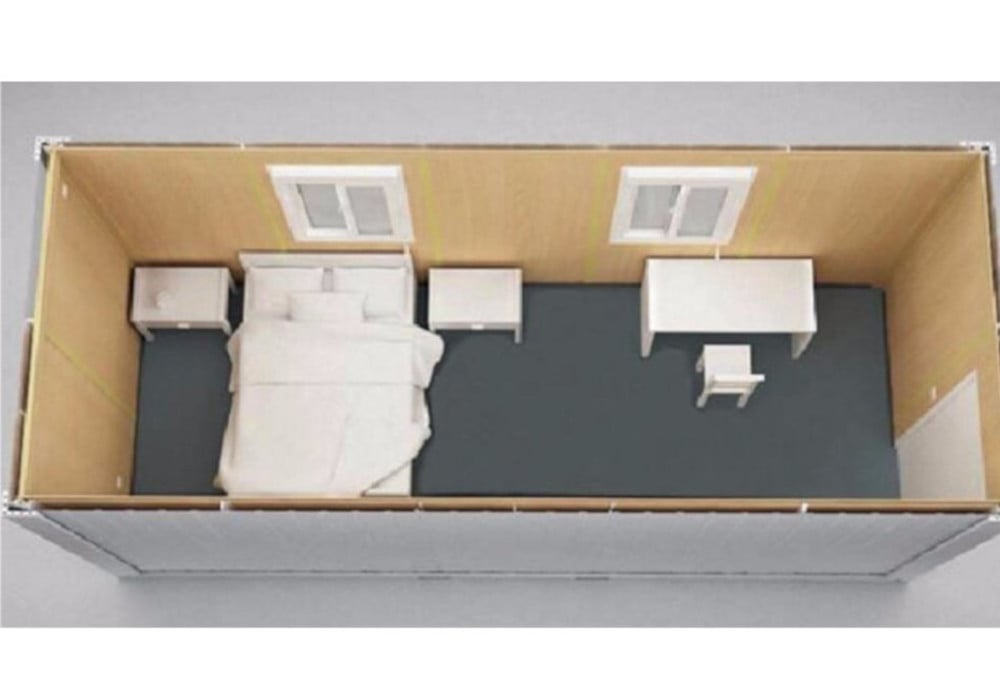 In Vancouver, we now spend hundreds of thousands of dollars per marginalized person on addiction responses, hospital care, safe injection services, meal services, shelters, and police management of this chaos. The budget grows each year. But we don't do the one thing that would make the biggest difference for these struggling souls. We won't put a roof over their heads. Gibson might note this as visible evidence of Vancouver's high F.Q.
One Weizhengheng Prefabricated Modular Container House costs less than a three-day hospital stay. Sure it's not pretty, but at least your stuff is safe. And if public art is your thing, hire 100 artists to work with the residents to personalize the minimalist roofs over their heads. Fight for beauty! Fight to lower Vancouver's F.Q.!
Happy holidays, readers! Our comment threads will be closed until Jan. 2 to give our moderators a break. See you in 2020.

Adventures in real estate: How the pandemic is changing the way we live now – Toronto Life
Upsize, downsize, flee to the country, live on a boat, buy an RV, get a farm, shack up with the in-laws, and other life-altering changes Torontonians are making in these crazy times
The smart money this pandemic year was on manufacturers of trampolines, pools and, yep, top-loading washers. Wherever you looked, the answer was sold out, check back later. Some enterprising types tried scalping above-ground pool kits. Stuck indoors in our sweatpants, we craved a jump, a dip and in-home laundry. Most of all, we craved space.
Despite the unemployed chefs and empty theatres and ghost-town corporate core, despite the iffy assurances that it's okay to send your kids back to school, despite the seemingly permanent undercurrent of volatility making our daily lives so queasy—despite everything—home prices and sales just kept climbing. Weirdest of all, after a few soft months during the pandemic's earliest stages, sales spiked. In August, there was a 20.1 per cent increase in the average house price compared to August of last year, and a 40.3 per cent jump in sales. Even the price of condos—you know, those super-dense glass towers where residents freak out about sharing elevators—won't quit. By August, condo prices had climbed 9.5 per cent. So much for the theory that the only buyers were Airbnb speculators.
What's going on? We offer a few theories. First is that our (fingers and toes crossed) success at flattening the curve and reopening parts of the economy means we're good and ready to buy again. Then there's the likelihood that we've all got calamity survivor syndrome, leaping into major life changes (getting married, getting pregnant, signing a mortgage) as a kind of promise ring for a brighter future.
The simplest answer: in a world where we measure personal safety in two-metre increments and spend our evenings sewing masks, a safe haven is our most valuable commodity. We've all become ruthless cost-benefit analysts of personal space. If you live in an apartment, this is the year to score a place with another bedroom to use as a home office. Or maybe you decided to buy—according to a survey this summer by Mortgage Professionals Canada, twice as many renters as in 2019 planned to purchase in the next year. If you live in a house, you want a bigger yard (for those trampolines and pools) or another storey so you can hide from the kids. Or maybe you're feeling the urgency to give up on the city, sell your place in a bidding war (still happening!) and live out your fantasy of tending crops on an organic farm where your only neighbours are emus whose wool you weave into your own sack dresses (a July Ontario Real Estate Association survey found that 61 per cent of respondents wanted to move to the suburbs or countryside).
At the moment (but hopefully not for long), so much of what we take for granted about city living now falls into the category of unnecessary risk—belting out show tunes at karaoke, ditching work for Hanlan's Point, navigating bustling sidewalks. No wonder everyone wants an escape, whether in an RV, a starter yacht or a cottage. (Prices increased in Muskoka by 15 per cent year over year between January and the end of May, and sales were up 73 per cent for the month of June.)
In the linked stories above, you'll meet people who decided this was the year to take a leap and spring for that RV, buy that farm or put a down payment on that downtown condo. We might not have a vaccine (digits crossed on that one, too), but at least we've learned how to shelter in place in the best ways possible.
---
Adventures in Real Estate: "I left Toronto, found the love of my life and bought 14 goats" – Toronto Life
Adventures in Real Estate: "I left Toronto, found the love of my life and bought 14 goats"
Marli Seheult, 31
Operations coordinator at a downtown spa, now living in Arthur
In February, I met a guy online named Jeff who lives on a 72-acre hobby farm in Arthur, about 40 kilometres north of Guelph, with his parents. At the time, I was living in a two-bedroom apartment at Church and Adelaide with a roommate and my three dogs.
Jeff and I were talking a lot, and I could tell he was very family oriented, especially from the way he talked about his four-year-old son. I lived on a farm in Stratford as a young kid, and we bonded over our shared love of rural life.
I wanted to go and meet him, but I was really busy with work. Plus, I have three dogs, so how would I bring them up to Arthur for a date? Then Covid happened. I told Jeff I'd put myself in a two-week quarantine and then go visit him in Arthur.
He's got his own space there, a suite attached to the main house, so we had privacy. After three days of hanging out together, we both knew it was love. Three days turned into a month, which turned into two months. I was able to work remotely, and it felt irresponsible to be going back and forth to Toronto anyway. I kept saying, "Okay, I'll go home next week," but we kept pushing it back. Then, at the end of July, we drove to Toronto, packed up my stuff and I moved to the farm for good.
Jeff and his parents only recently got Internet (he didn't know what Netflix was, which I found cute), so I've been showing them all about it. Jeff's mom loves Kijiji—we just went crazy and bought 14 goats online.
I'm breeding for other breeders, not for meat, so my males will be sold for a high price—roughly $400 each.
We're living in the in-law suite, and it's nice and private. I've gotten to know Jeff's four-year-old son, so in addition to becoming a goat breeder, I have a four-year-old best friend, too.
I call my partner's parents my in-laws.
It was a pretty sudden transition, but I'm spontaneous by nature. There was some shock from some friends and family, but then they saw how in love we are and how excited I was about starting something with him.
I think we're just at that age where we're ready to settle down. Ours is a family farm, so eventually, when his parents get older, we'll take over all the chores and duties. What started as a three-day date has turned into the rest of my life.
The Winnipeg Real Estate Market Continues to Grow – RE/MAX News
Could Winnipeg attract homebuyers from other major Canadian cities? Winnipeg has always been on the cusp of a major economic breakout. With the recent economic diversification initiatives of the past few years, the city has witnessed growth, but the path has been slow and long. Could the post-coronavirus economy speed up the momentum for this prairie city?
The Manitoba Real Estate Association (MREA) was blunt in its assessment that Winnipeg and the broader province have seen the housing market blossom in the aftermath of the COVID-19 public health crisis. MREA president Glen Tosh called it an "extraordinary rebound," particularly after it seemed like residential sales would plummet for a lot longer than just the March-to-April period.
Although the city appears to be playing catch-up, the Winnipeg real estate market has generally had a good 2020. In fact, despite the pandemic, this year is shaping up to be better than in 2019.
"Overall, 2019 was a good year for residential sales in Manitoba, and considering the ongoing challenges of COVID-19, catching up to and surpassing last year's totals at this time is quite an achievement," said Tosh in a statement. "While there are more challenges to come in fighting the global pandemic, we believe owning a home in Manitoba can offer a safe haven in an uncertain world."
So, what do the numbers say?
The Winnipeg Real Estate Market Continues to Grow
According to the Canadian Real Estate Association's (CREA) Winnipeg REALTORS, Winnipeg recently enjoyed its best month on record. In August, sales surged 28 per cent from the same time a year ago and above the five-year average.
New listings failed to keep up with rising sales. Last month, 2,374 new listings were added to the Winnipeg real estate market, which is down one per cent from the same time a year ago. It is also down nine per cent from July. Overall, the present supply stands at 4,232 listings, down 30 per cent from last August, and the number of sales that account for the current inventory is 44 per cent.
Put simply, demand is ballooning, but there is a shortage of listings to match buyers. This has created a situation of bidding wars and multiple offers.
What may surprise some market observers is that there has been an incredible increase in the move-up market as Winnipeg households seek more space. In fact, the highest sale price ever occurred in August: $3.9 million.
"A work from home trend is changing the way one thinks about the kind and extent of space and has definitely garnered more thought and attention," said Catherine Schellenberg, RE/MAX Professionals, president of WinnipegREALTORS®, in a news release. "This coupled with historically low mortgage rates are motivating factors for a number of sellers and buyers to make a change during this pandemic."
Since there is plenty of uncertainty in the broader economy with the cold and flu season on the horizon, homebuyers and sellers are wondering if Winnipeg can maintain the upward trajectory in housing. The consensus appears to be a resounding "yes".
Can Winnipeg Sustain the Momentum in the Fall?
The Canadian real estate market is expected to benefit from ultra-low borrowing costs. Rates are at historical lows, and they could remain this way for several more years. The Bank of Canada (BoC) has all but confirmed that low interest rates are here to stay for a few more years. As part of the central bank's efforts to cushion the economic blow from the virus outbreak, rates across-the-board will remain lower for longer. The five-year benchmark mortgage rate, for example, was lowered to below five per cent.
When borrowing is this low, it allows homebuyers to consider other options, like relocating to another city or upgrading their residences. Winnipeg could see an inflow of capital over the next couple of years, particularly as more people become concerned over hyperdense urban centres. The same trend is playing out in other Canadian urban markets like Halifax, which is in the beginning stages of a population boom and a capital influx.
Winnipeg is still recovering from the coronavirus-induced economic downturn, and its housing sector will play a role in its recovery. As pent-up demand and low inventory levels impact the real estate market, you can anticipate that prices will sustain their upward trajectory. According to the RE/MAX Winnipeg Housing Market Outlook (Fall 2020), real estate prices are forecast to rise two per cent for all property types for the remainder of 2020.
What better way to emerge from an unprecedented public heath crisis than seeing housing valuations climb! The future looks promising for this dynamic prairie city.