iPhone 11 and 11 Pro drop test: The most durable smartphone glass ever? – CNET
Read our iPhone 11 review and iPhone 11 Pro and 11 Pro Max review.
Spoiler alert: We weren't able to crack these phones, but we did manage to break the cameras. What will it take to crack the glass on the iPhone 11 and iPhone 11 Pro? That's the question I'm asking myself after putting these phones through eight different drop tests, each time onto hard concrete. Try as I might, the glass on these phones just wouldn't crack. But that doesn't mean the phones were damage-free.
At Apple's September event, Kaiann Drance, Apple's senior director of product marketing, said the iPhone 11 glass is the "toughest ever in a smartphone, on the front and back." We know that glass is custom-made for the iPhone by Corning, the company behind Gorilla Glass.
It's not the first time Apple has made such claims. Last year, marketing chief Phil Schiller said the iPhone XS had "the most durable glass ever built into a smartphone." We dropped the phone four times onto the sidewalk and the screen didn't crack.
Read more: Best cases for the iPhone 11, 11 Pro and 11 Pro Max
The iPhone XR, however, wasn't so lucky. On the fourth drop, the screen cracked.
We decided to change things up with this year's drop test. Our test zone was a concrete floor and to make the drops as consistent as possible, CNET Managing Producer Chris Parker built a system that helped each phone fall directly on the screen or on the back. While the drop machine didn't guarantee the phones would land in the desired position every time, it did help us test in a controlled way.
Of course, these tests were not scientific, but they do give us an idea of how the iPhone 11 and 11 Pro fare when dropped without a case.
After each drop, I checked:
The screen for scratches or cracks
The back and camera for scratches or cracks
If the screen still worked
If the camera still worked
Here's what happened.
Drop 1: 3 feet on the screen and the back
For the first drop I positioned the iPhone 11 to land screen side down. Falling from 3 feet (1 meter), which is about hip (or pocket) height, the phone was not damaged at all when it landed on the screen.
The iPhone 11 Pro gave the same result. There was no visible damage and everything still worked as expected.
I repeated the drop with both phones, except this time they fell on their backs. Same as when they fell screen-side down, there was no damage to report.
Drop 2: 6 feet on the screen and the back
For the next round of drops we took the machine to 6 feet and repeated the same drops.
The iPhone 11 had no damage at all when dropped on the screen or the back.
But the results were a little different for the iPhone 11 Pro. After it fell screen down on the first drop, I could see a small area of discolored or damaged pixels towards the bottom of the screen. There were no cracks on the glass itself, however, and the screen still worked as normal.
Drop 3: 8 feet on the screen and back
I wanted to take these phones even higher, so we set our machine to its limit: 8 feet, 7 inches.
Dropping the iPhone 11 on its screen, the glass again did not crack. But when dropping it on its back, it sustained some damage: a minor scuff on the aluminum bumper and a cosmetic scratch on the top lens housing. The camera itself still worked.
The iPhone 11 Pro fell on its screen first and added a few more small damaged pixels, this time higher up on the screen. Like the iPhone 11, it had some minor cosmetic damage to the camera housing.
While it's unlikely that you would drop your phone any higher than this, we took it to the next level — these phones were still usable and the glass didn't show any signs of cracking.
Final drop: 11 feet
For the final round, we dismantled the machine and reassembled it as high as we could take it: 11 feet.
I only dropped the phones once from this height, screen-side down. The iPhone 11 fell first on a corner, flipped, then landed screen side down. The iPhone 11 Pro fell first on its side, flipped and landed on its back.
Again, the glass did not break on either of the two phones — on the front or back. The iPhone 11's rear camera stopped working altogether and just showed a black screen when I opened the Camera app, although the TrueDepth camera was fine. I restarted the phone just to double-check and the camera still showed a black screen.
The iPhone 11 Pro's SIM card tray popped out when it landed but I was able to push it back in. Then, I ran my finger around the edge of the phone and felt a small bulge where the screen did not sit perfectly flush with the stainless steel frame. There was also an area of discoloration at the back of the phone (click to enlarge the photo below).
The breakdown
Does that mean the glass on the iPhone 11 and iPhone 11 Pro is stronger than on previous iPhones? That's a tough call to make given that our previous tests were not conducted in the same way. But it does show that this year's phones can withstand a lot more drops onto concrete than we were expecting.
While neither of the phones cracked like we've seen in previous years, they didn't emerge totally unscathed: The iPhone 11 Pro had some damaged pixels and the iPhone 11's rear camera stopped working after our final drop.
I reached out to Apple for more information and the company provided the following statement: "iPhone 11 and iPhone 11 Pro both are made from the toughest glass ever shipped in the smartphone industry on the front and back. iPhone 11 features an aerospace-grade aluminum band and iPhone 11 Pro features a stainless steel structural band. All go through rigorous real-world testing and are designed to be durable, but not indestructible. If anyone is concerned about dropping their iPhone and damaging it, we suggest using one of the many beautiful cases available to protect iPhone."
I wasn't the only one who tested out the iPhone 11 Pro and found the glass didn't break when dropped from extreme heights. EverythingApplePro got similar results when dropping the phones from 10 feet. However, the glass did break on the final drop, likely because one phone landed on top of the other.
For the ultimate peace of mind, we still recommend putting a case on your phone, as getting it repaired if the glass does crack can be expensive: up to $329 for the screen or $599 for the back if you don't have AppleCare Plus coverage.
Originally published in September.
How to calculate your risk of catching COVID-19 indoors – CGTN
COVID-19 can travel 2 meters in a matter of seconds, meaning social distancing measures alone are not enough to stop the spread of the virus. /CFP/
COVID-19 can travel 2 meters in a matter of seconds, meaning social distancing measures alone are not enough to stop the spread of the virus. /CFP/
Have you ever walked into a supermarket and thought "how many people can safely pack into this building?"
The answer to that question depends on some key factors, such as the number of people in the room and the ventilation, according to researchers from the University of Cambridge and Imperial College London.
They used mathematical models and the characteristics of COVID-19 to create a calculator to estimate the risk an individual has of contracting the virus after being in a room for certain periods of time with another infected person.

By looking at the decay rate of the virus and viral load of a person with COVID-19, they also found that talking is more likely to spread COVID-19 than a short cough in an enclosed space.
This is because people exhale small droplets, or aerosols, when they speak, which are larger than droplets formed when people cough.
The larger droplets will likely fall on a surface and the aerosols will remain in the air. The ventilation of the room will then determine how long the aerosols will remain circulating – potentially infecting other people.
However, wearing a mask filters out some of the droplets and slows down the speed of a person's breath, mitigating some of this risk.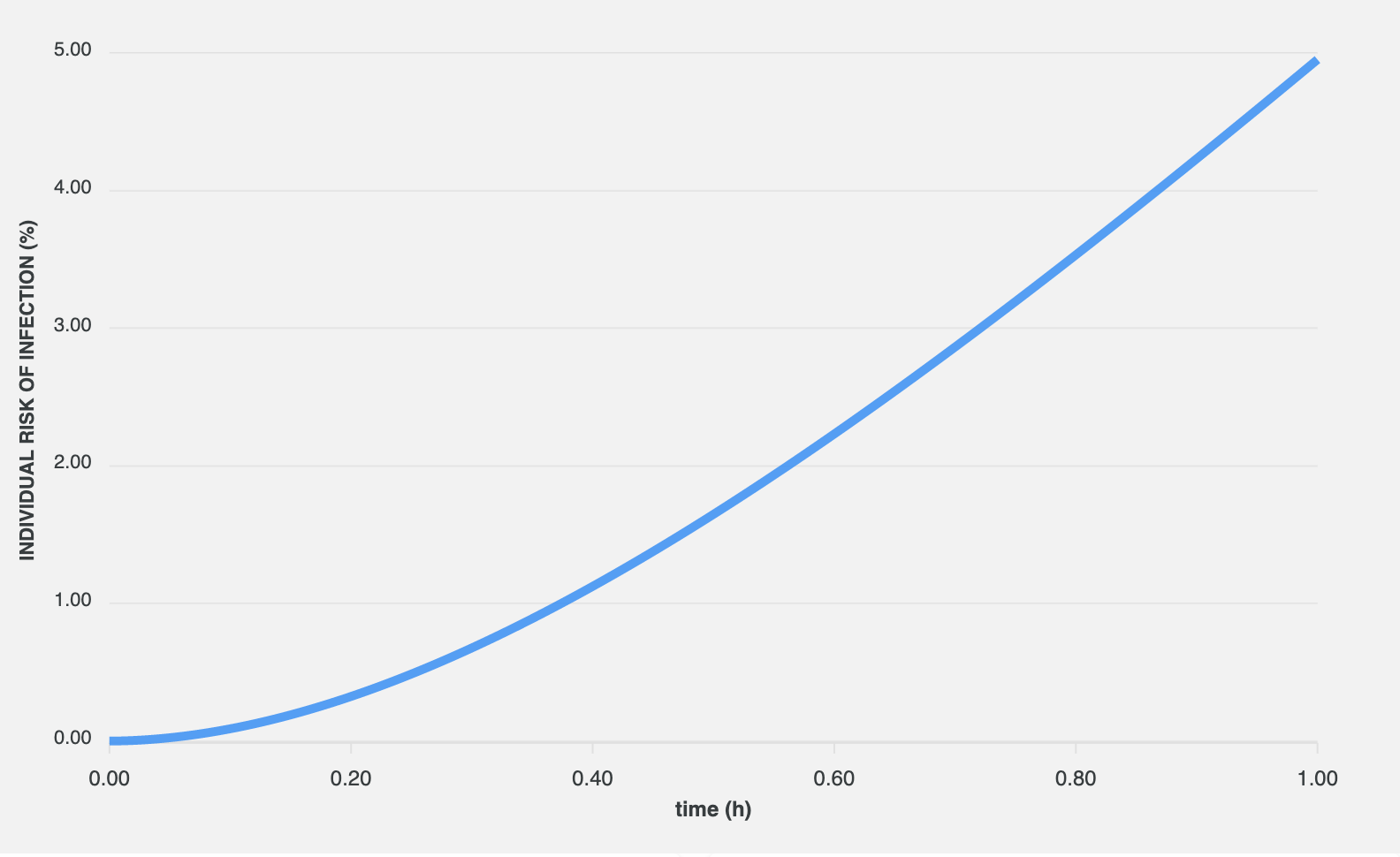 The app shows risk against exposure time, depending on factors such as the size of room, ventilation and type of mask being worn. The designers say estimated risk percentage should be treated with great caution. /airborne.cam
The app shows risk against exposure time, depending on factors such as the size of room, ventilation and type of mask being worn. The designers say estimated risk percentage should be treated with great caution. /airborne.cam
The researcher's calculator is now available online and is used by the University of Cambridge for risk assessments.
According to the online tool, a person in a room that's 100 square meters with 50 other people not wearing masks has a 10 percent chance of being exposed to COVID-19 after an hour and 40 minutes.
That number increases to 50 percent after around seven hours, or slightly less than one working day.
If the people in the room are wearing surgical masks, a person's risk only reaches 10 percent after around three hours. And they only have a 25 percent chance of contracting it after seven hours.
Taking breaks and airing the room can decrease the percentage for short periods of time. But there are limitations to this model.
"The estimated risk percentage should be treated with great caution! Many of the model inputs are very uncertain," the researchers stated on their website.
"Thus, the user should see how risk of infection decreases or increases by using face masks, by improving ventilation, etc…
"It is assumed that hands are washed and that individuals are far apart from each other – that is, the risk of short-range transmission by droplets/aerosol is not included and might be significant."
Snapdragon 870 versus Dimensity 1200, flagship killer chipset battle – gizmochina
Just this week and we already have three new powerful processors that will appear inside some of the smartphones launching this year. They are the Snapdragon 870 5G processor from Qualcomm and the Dimensity 1200 and Dimensity 1100 from MediaTek.
For this edition of Chip Battle, we are pitting the Snapdragon 870 5G against MediaTek's Dimensity 1200 processor. Both chipsets are expected to be the SoC for phones that fall under the flagship killer category, so it makes sense to see how they compare against each other. The table below shows a spec-by-spec comparison:
Processor
Snapdragon 870 5G
Dimensity 1200
Node size
7nm
6nm
CPU
1 x ARM Cortex-A77 at 3.2GHz
3 x ARM Cortex-A77 at 2.42GHz
4 x ARM Cortex-A55 at 1.8GHz
1 x ARM Cortex-A78 at 3.0 GHz
3 x ARM Cortex-A78 at 2.6GHz
4 x ARM Cortex-A55 at 2.0GHz
GPU
Adreno 650
ARM Mali-G77 MC9 (9 cores, Boosted)
ISP
Spectra 480

Supports up to 200MP
Supports 4K video capture
Supports 8K video capture

MediaTek Imagiq Camera
(five-core) HDR-ISP

Supports up to 200MP
Supports 4K HDR video capture

AI Engine
Hexagon 698

(15 TOPS)

MediaTek APU 3.0 (six cores)
Max On-Device Display and Refresh Rate
QHD+ at 144Hz
4K at 60Hz
QHD+ at 90Hz
FHD+ (2520 x 1080) at 168Hz
Modem
Snapdragon X55

Supports mmWave and sub-6GHz spectrums

Multi-SIM features: Global 5G multi-SIM

5G Uplink Speed: Up to 3 Gbps
5G Downlink Speed: Up to 7.5 Gbps

Supports all spectrums

Multi-SIM features: True Dual 5G SIM (5G SA + 5G SA)

5G Uplink Speed: Up to 2.5 Gbps
5G Downlink Speed: Up to 4.7 Gbps

Connectivity
Wi-Fi 6
Bluetooth 5.2
GPS, GLONASS, NavIC, Galileo, Beidou, QZSS
Wi-Fi 6
Bluetooth 5.2 with LC3 encoding
Dual Frequency GPS, GLONASS, NavIC, Galileo, Beidou, QZSS
Gaming
Snapdragon Elite Gaming

Qualcomm Game Color Plus v2.0
Qualcomm Game Smoother 

True HDR game rendering
10-bit color depth
2020 color gamut
Updateable GPU drivers

HyperEngine 3.0

Networking Engine 3.0
Rapid Response Engine 3.0
PQ Engine 3.0 (Ray Tracing in Mobile Games and AR)
Resource Management Engine 3.0
Node Size
The Snapdragon 870 5G is a 7nm chipset just like its siblings – the Snapdragon 865 and Snapdragon 865 Plus. MediaTek, on the other hand, has switched to the smaller 6nm process.
A smaller node is known to bring an increase in performance and power efficiency, and as you can see the Dimensity 1200 is the chipset with the smaller node size, so it wins this round.
CPU
The two chipsets have eight cores each and they use the same 1+3+4 arrangement but where they differ is in the cores themselves.
The Snapdragon 870 is practically an overclocked Snapdragon 865 and Snapdragon 865 Plus chipset, so you get the same cores but at a higher clock speed. It has a prime Cortex-A77 core that has the highest clock speed of a mobile CPU core at 3.2GHz. Its performance cores are also the same Cortex-A77 clocked at 2.42GHz while the efficiency cores are Cortex-A55 cores clocked at 1.8GHz.
The Dimensity 1200 has the more powerful Cortex-A78 cores as its prime core and performance cores. ARM says that the Cortex-A78 boasts a 20% increase in performance over the Cortex-A77. There are four Cortex-A78 cores inside the Dimensity 1200 which gives it a significant advantage over the Snapdragon 870 which has the older Cortex-A77 cores.
On top of that is the fact thatsave for the prime core, all of the cores of the Dimensity 1200 chipset including the A55 efficiency cores are clocked higher than those of the Snapdragon 870 5G.
At the moment, there are no benchmark results to back up the claim but the Dimensity 1200 should have the upper hand as it has the more powerful CPU cores and also has a smaller node size.
GPU
The Adreno 650 is the GPU inside the Snapdragon 870 5G, the same one inside the Snapdragon 865 duo. Qualcomm didn't say that it has increased the clock speed for the Snapdragon 870 5G, so we will assume the GPU performance is unchanged from that of the Snapdragon 865 Plus.
The Dimensity 1200 has a Mali-G77 MC9 (9 cores) GPU. This is not ARM's most powerful GPU, the Mali-G78, which is found inside the Kirin 9000, Exynos 2100, and Exynos 1080 chipsets. MediaTek says that the GPU has gotten a performance increase of 13% compared to that of the Dimensty 1000+.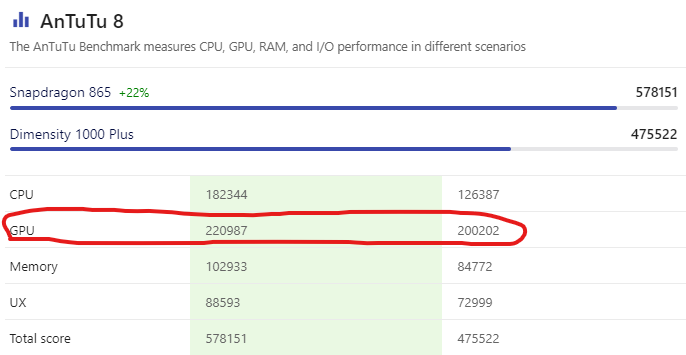 The Adreno 650 is a powerful GPU and benchmark results have shown that the Snapdragon 865 has a better GPU score than the Dimensity 1000+ which has a Mali-G77 MC9 GPU too. However, since MediaTek claims that the GPU in the Dimensity 1200 boasts a 13% increase in performance over that of the Dimensity 1000+, then the GPU performance gap between the Snapdragon 870 5G and Dimensity 1200 should be smaller or even erased. We will have to wait for benchmark results and real device reviews to know which processor is better.
To know how the standard Mali-G77 MC9 performs, you should check out our review of the iQOO Z1 which has a Dimensity 1000+ processor.
One area where the Adreno 650 has the upper hand is in having support for updateable GPU drivers. MediaTek is yet to offer that feature for its own chipsets.
The Snapdragon 875 also supports QHD+ displays at a refresh rate of 144Hz and 4K displays at a 60Hz refresh rate. The Dimensity 1200 supports QHD+ displays at a maximum refresh rate of 90Hz which goes all the way up to 168Hz for 1080p screens.
EDITOR'S PICK: Qualcomm's CPUs are about to get even more powerful as it plans to acquire NUVIA

ISP
The Spectra 480 ISP inside the Snapdragon 870 5G is known to be pretty impressive based on reviews and comparisons of phones powered by the Snapdragon 865/865 Plus. It has support for 200MP cameras, 8K video recording, and HEIF video capture.
MediaTek's Imaqiq Camera HDR-ISP also has few tricks up its sleeve. The five-core ISP brings support for 200MP photos, staggered 4K HDR video recording that boasts a 40% greater dynamic range and real-time 3-exposure fusion. MediaTek also says that it has support for bokeh video, multi-person AI-segmentation, and AI-Panorama Night Shot. Night Shots are also now 20% faster. Unfortunately, there is still no support for 8K video recording
AI
The Hexagon 698 boasts 15 TOPS but MediaTek doesn't say the value of its own APU 3.0 AI engine. However, AI Benchmark ranks the APU 3.0 AI engine inside the Dimensity 1000+ over the Hexagon 698 inside the Snapdragon 865 Plus processor. Since these are the same AI Engines inside the Dimensity 1200 and Snapdragon 870 respectively, we will give this round to MediaTek.
Connectivity
The Snapdragon X55 has support for mmWave and sub 6GHz spectrums as well as SA and NSA networks. The modem also brings 5G multi-SIM support but according to Qualcomm's explanation, it doesn't seem to mean you can use 5G on both SIM slots at the same time.
Qualcomm's modem also boasts faster downlink and uplink speeds. There is also Wi-Fi 6, Bluetooth 5.2, and support for various positioning systems including GPS, NavIC, Beidou, and GLONASS.
MediaTek says that the modem inside the Dimensity 1200 supports all spectrums with 5G-CA (carrier aggregation) across TDD/FDD. It also supports true dual 5G SIM (5G SA + 5G SA), has a special Elevator Mode and 5G HSR mode that ensures a reliable 5G experience across networks. As shown in the table, the downlink and uplink speeds are slower than that of the Snapdragon 870.
The Dimensity 1200 also has support for Dual-band for GNSS, GPS, Beidou, Galileo, and QZSS. It also has support for NavIC. There is Wi-Fi 6 but no Wi-Fi 6E and its Bluetooth 5.2 has support for LC3 encoding.
Gaming
Gaming is another important area where these two chipsets show their strengths.
Qualcomm's chipset has Snapdragon Elite Gaming which brings features such as Game Color Plus v2.0 and Game Smoother. It also has True HDR game rendering, 10-bit color depth, and desktop forward rendering.
MediaTek's HyperEngine 3.0 Gaming Technology enhances connectivity, responsiveness, image quality, and power efficiency with features like 5G call and data concurrency, multi-touch boost, ultra-low latency true wireless stereo audio, high FPS power saving, and super hotspot power saving. However, the game-changing feature it has is support for Ray Tracing in mobile games and AR.
Conclusion
The Snapdragon 870 5G builds upon the success of the Snapdragon 865 Plus with an even more powerful CPU. Its GPU, though unchanged, will handle any game you throw at it. The Snapdragon X55 modem also offers blazing uplink and downlink speeds and its ISP is one of the best in its class.
The Dimensity 1200 is also a beast with its four Cortex-A78 cores, one of which has the highest clock speed in a processor. MediaTek says it has upped the GPU performance, and it has also added some very useful features to the ISP such as a faster night shot mode. Its modem brings true dual 5G SIM support and its game engine brings ray tracing to mobile games.
We expect any phone powered by either of these two chipsets to offer incredible performance at a much affordable price tag than more premium smartphones. If you want a flagship killer phone that doesn't put a hole in your pocket, you should look for phones powered by these chipsets.
ALWAYS BE THE FIRST TO KNOW – FOLLOW US!
Caviar celebrates the year of the ox by putting a golden ox head on a Galaxy S21 Ultra – GSMArena.com news – GSMArena.com
Caviar is celebrating the Lunar New Year with specially-adorned Samsung Galaxy S21 Ultra phones. It's the year of the Ox, which sets the theme for one design that can't be contained in two dimensions. The other versions have (in Caviar's own words) a more "restrained design".









Samsung Galaxy S21 Ultra Ox by Caviar
The Galaxy S21 Ultra Gold Ox has a three dimensional bas-relief of an ox head mounted on the back. A 24 carat gold ring runs through its nose and it can pivot freely (so you can use it as the world's most expensive phone grip). As if that wasn't enough, two natural diamonds are embedded in the eyes of the ox (3mm in diameter, 3-3 clarity).
Only 21 units will be made of this version, each of them costing just over $20,000.
As for the more restrained versions, the Golden Line has a gold-plated back with a delicate engraving to create an eye-catching texture.










Samsung Galaxy S21 Ultra Golden Line by Caviar









Samsung Galaxy S21 Ultra Carbon by Caviar
Alternatively, you can get one with automotive carbon fiber or alligator leather (available in black and white). These three versions cost around $6,000, 99 units will be made of each.










Samsung Galaxy S21 Ultra White Alligator by Caviar









Samsung Galaxy S21 Ultra Black Alligator by Caviar
And finally, the Golden 21, whose back panel is made out of 18-carat gold. This panel has been engraved with the number 21, celebrating both the year and the Galaxy S21 Ultra itself. Only one such phone will be crafted, so you better sit down before we tell you the price.
No, it's not $21,000 – it's actually $77,230.










Samsung Galaxy S21 Ultra Golden 21 by Caviar
You can have a look at the Caviar website for more on these gilded S21 Ultras.
[embedded content]