iPhone 12 didn't get USB-C, and I'm starting to accept that it'll never happen – CNET
This story is part of Apple Event, our full coverage of the latest news from Apple headquarters.
I had high hopes that the iPhone 12 would move to a universal port that's already everywhere. Instead, it's traded one proprietary format for another. The iPhone 12 didn't get USB-C at Apple's event last week. (Here's how to preorder and buy all four Apple 12 models.) Instead, it kept Lightning and added a new MagSafe connector instead.
I'm starting to accept that USB-C on the iPhone will never happen.
Lightning has been around since the iPhone 5 in 2012, when it debuted as a replacement for the old 30-pin charger that had been around since the iPod. Lightning had its advantages, way back last decade: It was small, and enabled faster data transfer. But we've been living in the era of USB-C for years now. Lightning feels old by comparison.
Apple's new MagSafe charge connection looks like an improvement to standard wireless Qi charging, adding a magnetic handshake similar to the way the Apple Watch charges. Charging could be more reliable. But also, you'll need a whole new charge cable, and the MagSafe-compatible iPhone cases to go with them.
But why is there still a Lightning port? Why not be brave and move to USB-C, too?
Apple's iPad lineup has already started to shift to USB-C: the iPad Pro first, now the iPad Air this year. MacBooks have all moved to USB-C/Thunderbolt 3. I can charge an iPad Pro, MacBook Pro, Nintendo Switch, Google Stadia controller and Oculus Quest 2 all from common charge cables. And then Lightning for the rest.
Lightning is a weird legacy port now, and it's even weirder that Apple packs a USB-C-to-Lightning charging cable in the iPhone 12 box. It makes you find or buy a charging brick that is USB-C, and that you'll plug your Lightning cable into. It's like a tease. Seriously, why not just move fully to USB-C?
And now that Apple isn't including a charging brick in the box, and that USB-C tipped cable won't fit into your older iPhone and iPad power adapters, what are the odds that a lot of people will just end up buying a MagSafe charger and a new case with their iPhone 12?
At the moment, there's a power strip on my home office desk studded with all the bricks and cords I need to charge up all my random devices. I see a ton of wearable-specific chargers, but for everything else, it's nearly all USB-C. Everything, that is, except for the iPhone, and the few other Apple devices that still use Lightning.
I hate dongles. And I dislike proprietary charge cables even more. At least one could have been eliminated on future iPhones. Instead, I might be adding another.
I don't think I need to explain why USB-C should be on the iPhone. Because all other phones use it. Because half of Apple's devices do, more or less? And also, it would allow a more seamless flow of accessories and dongles for the iPhone and iPad Pro and other products I use. Sure, I can do many of those things with Lightning and a dongle: I could output to a TV with HDMI, or use a microSD card to read camera data. But even so, USB-C would be so much nicer.
Sure, you may have all those Lightning accessories you may need to replace. Who cares? Unlike the 30-pin to Lightning evolution, which involved two waves of proprietary ports and accessories, USB-C skips all that. And, again, here's the great news: Apple has already made the move. Or, made the move partway.
So, iPhone 12 didn't get USB-C. Now, I'm wondering if it ever arrives at all. But seriously: Apple, don't skip it. Don't go portless, and fuse the whole thing into one port-free slab like everyone is anticipating, using MagSafe as the only charge method. No, please. If the iPhone is an everyday computer, it would be extremely helpful for it to get an everyday port, too — one small and already well-used and accepted one.
This is what you should buy on Amazon before Cyber Monday – Yahoo Canada Sports
CBC
For Gen Lalonde, part of the allure of cross-country running is the unexpected, which can't be said about the 3,000-metre steeplechase, her signature event. "I know there is going to be 35 barriers and some of them aren't going to have water," she said. "I generally know what the pace is going to be, but in cross-country I have no idea. It can be anyone's day." Lalonde, the two-time defending senior women's champion, was hoping Saturday would be her day for a third consecutive year at the Canadian championships but the event — scheduled for Clearbrook Park in Abbotsford, B.C. — was cancelled in August because of the coronavirus pandemic. However, she is planning her own version of cross-country this weekend — running a solo 10-kilometre time trial. It will be the Moncton, N.B., native's latest attempt to mimic a "normal" year since the Canadian record holder didn't enter a steeplechase race through the summer. "I did an 8K time trial a few weeks ago that would have coincided with the [B.C.] provincial championships," said Lalonde, who moved to Victoria from Guelph, Ont., in January and married elite Canadian triathlete John Rasmussen in September. "It gives me goals to [strive for] since I haven't raced since February and simulates the pre-race jitters [for] when I step on the line for real." WATCH | Gen Lalonde runs to steeplechase Pan Am gold: Lining up for a tough race in Abbotsford on Saturday and watching the distance running community come together to celebrate the sport is something she said she will miss. "The national cross-country championships is about running, having fun and trying your best," said the women's 10K champion at the 2020 Pan American Cross-Country Cup in Victoria. "You never know how the race is going to go, so part of the fun is being ready for anything." Looking back, the path to victory each of the past two years couldn't have been more different. 'Rewarding to come out with victory' "In Kingston [Ont.], my goal was to run with Natasha Wodak, as long as I could," Lalonde said of her 2018 race plan on the famed Fort Henry course. "I knew she had been dominant on the cross-country scene and is a gritty runner. She's really strong, consistent and knows her pacing, so I knew if I ran with her, I would have a good chance to medal. "I started to break from the [lead] group and knew I had gained the momentum and was having so much fun. Joel [Bourgeois], my coach [behind the scenes], was coaching [at] the University of Laval at the time and running around the course. "I remember him saying, 'Way to go' and I remember smiling and waving," continued the 2016 Olympian. "I knew I still had work to do — I think I had two kilometres to go — but I knew in that moment I had put in a lot of work and it was so rewarding to come out with a victory. "Last year in Abbotsford was very, very different. After only a month of training after I took time off after a long track season, I knew it was going to be hard, but I didn't know how hard a 10K could feel. It was consistent pounding and [eventual second-place finisher] Sarah Inglis was relentless. Maria [Bernard-Galea] was right behind us and it was back and forth. "All three of us were surging and with one kilometre to go, [my primary coach] Hilary [Stellingwerff, from the University of Victoria] looked at me and she was like, 'Just make it to the finish.' I didn't know if I would. I was able to [pull out] the win but it was definitely the hardest run I've ever done." Uncertain when and where her next race will happen, the 2019 Pan Am steeplechase gold medallist has tried to mix things up in her training recently — running trails and hurdle drills on the track and long, muddy hills — to keep things fun and prepare her for all race conditions. "My focus right now is on consistent base mileage," said Lalonde, adding if she was to compete indoors in January and February it wouldn't extend beyond one or two races. "In the coming months, I'll gradually transition from running more on the road and trails to the track. "The focus will be on there being an Olympics [next] summer and being ready, happy and healthy come then. Crossing the finish line in Tokyo is where we want to be."
The best Cyber Monday iPad deals 2020 – Tom's Guide
Trying to find the most affordable iPad? Cyber Monday iPad deals have emerged to cut costs on Apple's tablets — and that includes the brand new iPad Air (which is at its all-time low price right now).
You can also find deals on the more affordable entry-level iPad and super-pricey iPad Pro (which gets much more affordable). While searching for the best Cyber Monday deals, we've kept an eye out for ways to save on Apple's tablets.
Want a big screen and a lot of speed? You can save the most money on the 12.9-inch iPad Pro: 2018's still-great model is up to $350 off, while the newer 2020 model is $99 off at Amazon. And you can use that spare cash to buy yourself the Magic Keyboard, which is a must-have if you want the most out of your new purchase.
Make sure to check out our guide to Cyber Monday Chromebook deals for more savings.
Cyber Monday iPad deals — top 5 sales right now
Best Cyber Monday iPad deals and sales
10.2″ iPad (32GB/2020/LTE): was $459 now $259 @ Best Buy
Those who want the freedom of an LTE-enabled iPad can save $200 by going with Best Buy and Verizon. With a 2-year contract you cut 36% off the 2020 iPad's price, and you can get the same savings on the 128GB iPad too.View Deal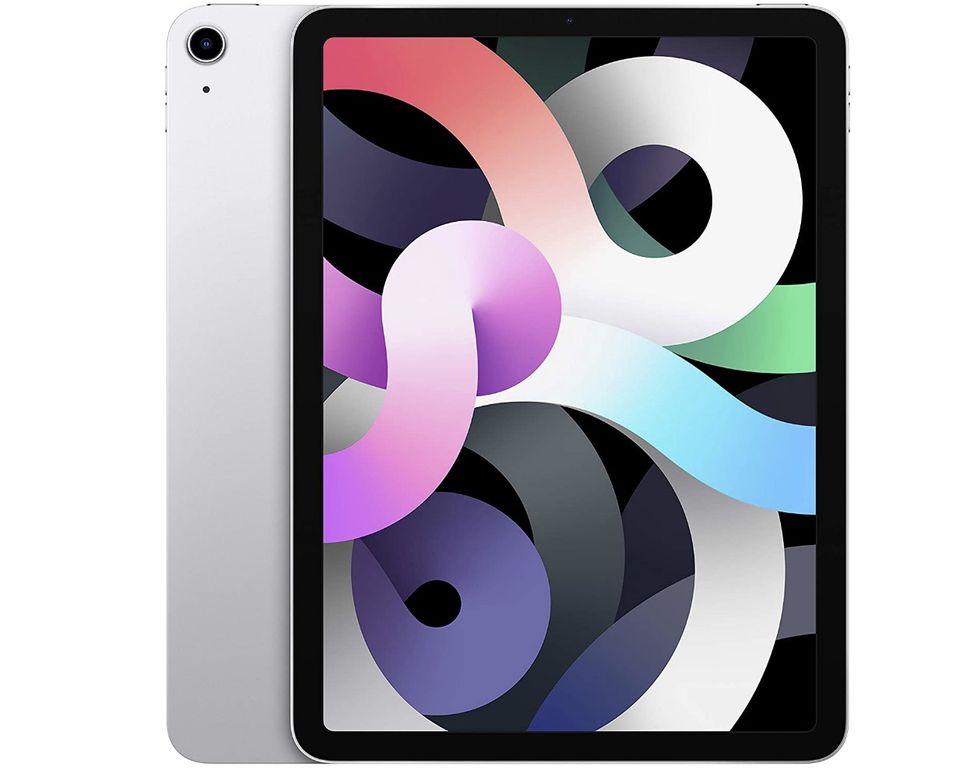 10.9″ iPad Air (2020): was $599 now $569 @ Amazon
The new iPad Air sports a larger 10.9-inch display, speedy A14 Bionic CPU, and support for USB-C charging. Plus, with Magic Keyboard support, it's as close to a laptop replacement as you can get. Best of all, it's now on sale, with the grey model at $30 off when it's in stock at Amazon. View Deal
11″ iPad Pro (128GB/2020): was $799 now $729 @ Amazon
Those who push their iPad to the limit will want to save with the 2020 iPad Pro. Not only does it tear through work with Apple's insanely fast A12Z Bionic CPU, but its edge-to-edge Liquid Retina display (which features 120Hz Pro Motion technology) offers super smooth visuals. You'll sometimes find this deal at Best Buy, but it comes in and out of stock.View Deal
10.5″ iPad Pro (64GB/2017): was $779 now $680 @ Amazon
Not to parrot Homer Simpson too closely, but "it's still good, it's still good!" Amazon's got $104 off the 2017 iPad Pro, which is still a great tablet. The Tom's Guide battery test took 13 hours and 55 minutes to drain this iPad Pro of a full charge, making it one of the longest lasting slates ever — plus, it's got a 120Hz ProMotion display, giving you smooth refresh rates. The iPhone 12 and the iPad Air 2020 don't even have that.View Deal
12.9″ iPad Pro (64GB/LTE/2018): was $1,149 now $799 @ B&H Photo
Most people wouldn't really find the extra value in buying the 2020 iPad Pro (which is mostly great for its extra rear camera and slightly faster processor), which is why any deals on the 2018 iPad Pro are attention-worthy. This deal takes $350 off Apple's speedy and sleek 12.9-inch iPad, which works with the fantastic Magic Keyboard. B&H also has a $350 off sale on the 256GB version.View Deal
10.2″ iPad (128GB/2020): was $459 now $409 @ B&H Photo
Available to order (but on back order): Apple's just upgraded the processor on its entry-level iPad, and B&H is giving you $30 off the 128GB model. The 2020 iPad (8th Generation) features Apple's A12 Bionic CPU, a more-than-welcome upgrade that gives the iPad the speed boost that iPadOS' multitasking tricks deserve.View Deal
12.9″ iPad Pro (128GB/2020): was $999 now $899 @ Best Buy
Those who want the latest and greatest can still save. Amazon's knocked $99 off the 2020 iPad Pro, which packs the fastest processor (Apple's A12Z Bionic CPU) in any tablet today, as well as dual 12MP/10MP rear cameras and a 7MP front-facing camera for when it's time to take a FaceTime or Zoom call. This is one of the best Cyber Monday iPad deals we've seen on Apple's premium tablet. View Deal
iPad mini (Wi-Fi, 256GB, 2019): was $549 now $479 @ Amazon
A 64GB version of the iPad mini had been available at $65 discount, but it's out of stock. You can still get the 256GB model on Apple's smallest iPad. Its handheld size makes it ideal for reading and you've got a lot more storage on this version.View Deal
Cyber Monday iPad deals — which iPad should I buy?
Apple's iPad family is now bigger than ever. Currently, these are the models that Apple offers:
The 10.2-inch iPad is the most popular iPad for a reason. It's Apple's mainstream model that's both its most affordable, while offering good bang for your buck. The tablet uses Apple's A12 Bionic processor, giving faster performance that makes the tablet more capable for iPadOS 14's multitasking tricks. It's also going to make your next round in Apple Arcade a bit smoother.
The new 10.2-inch iPad can be used for sketching and drawing, thanks to its Apple Pencil (1st gen) support. For the first time, you can also pair the 10.2-inch iPad with Apple's Smart Keyboard.
Our iPad Air (2020) review explains why that tablet is the best iPad for most people. It's a lot like the iPad Pro, but its starting price is $200 less. Those perks start with thin bezels and the flat-edge design, but it's also got the support for the top Apple accessories — the 2nd Gen Apple Pencil that's much easier to charge and the Magic Keyboard which is an actual delight to use.
Apple's iPad mini is the smallest tablet in Apple's lineup (as its name implies). It's not light on power, though, as Apple's A12 Bionic chip makes it as fast as the normal iPad. Beloved by many, its portable size makes it ideal for reading, as well as writing emails and browsing social media. And don't worry, its screen is still great enough to watch an episode of one of the best Netflix shows.
Power users, though, will want the iPad Pro. It's available in both 11-inch and 12.9-inch sizes and you'll find better deals on the 2018 model, which is pretty similar to the 2020 edition. The newer iPad Pro does feature slight performance gains found in Apple's octo-core A12Z CPU. Even though its pricey, it's still been the subject of holiday sales. Other cheap iPad deals are available as well, so keep your eyes open for optimal savings.
Black Friday & Cyber Monday 4K TV Deals (2020): Samsung, LG, Sharp, Sony & More TV Deals Listed by Consumer Walk – Business Wire
BOSTON–(BUSINESS WIRE)–Compare the best 4K TV deals for Black Friday & Cyber Monday 2020, together with all the best 55-inch, 65-inch and more 4K TV savings. Check out the latest deals using the links below.
Best 4K TV Deals:
Best TV Deals:
Searching for more deals? Click here to compare the full range of deals at Walmart's Black Friday & Cyber Monday sale and click here to see Amazon's current Black Friday & Cyber Monday deals. Consumer Walk earns commissions from purchases made using the links provided.
About Consumer Walk: Consumer Walk reports the latest online retail news. As an Amazon Associate and affiliate Consumer Walk earns from qualifying purchases.