Is this quarter-billion deal the priciest residential real estate deal in Ottawa history? – Ottawa Business Journal
A three-building rental apartment complex in Westboro has sold for $267-million in what is likely the largest residential real estate transaction in Ottawa history.
Homestead Land Holdings purchased Island Park Towers at 185, 195 and 200 Clearview Ave., just west of Island Park Drive, in a deal that closed last week. CBRE, which helped broker the sale, said the previous owner was a private developer from Montreal that had owned the buildings for more than a decade.
According to LinkedIn, the previous property manager was Montreal-based Acmon Inc.
Nico Zentil, senior vice-president of capital markets at CBRE's Ottawa office, said a residential transaction of that size in the city is unprecedented.
"It's extremely rare you would see something of this scale and quality ever surface in a market like Ottawa, which is pretty tightly controlled," he told OBJ.
The buildings contain 642 suites and two commercial units. According to Homestead's website, the apartments are being upgraded with new cabinetry and stone countertops as well as new appliances, lighting and flooring.
The Kingston-based company already owns and manages two dozen properties in the National Capital Region and recently filed an application to construct a 25-storey apartment tower with 235 units near Baseline and Greenbank roads.
Homestead did not immediately respond to requests for comment on Wednesday.
Zentil said CBRE's Ottawa, Toronto and Montreal offices started marketing Island Park Towers in May. He said the properties were "hotly pursued" and attracted multiple bidders, calling the price "a testament to the strength of the Ottawa residential market right now."
While Ottawa's rental vacancy rate more than doubled to 3.9 per cent last year as a flood of new units came online at the same time as the city's population of students and new immigrants – groups that typically rent rather than buy – plummeted in the wake of the pandemic, Zentil predicts the market will bounce back quickly.
"The appetite for large Ottawa multi-res deals seems to be pretty consistent," he said, adding that institutional investors tend to view the city as a "safe haven" for capital due to its steady economy and comparatively large student population.
Zentil said the volume of commercial deals in the capital is also starting to pick up as confidence in the economy slowly rebuilds.
"We've had a bit of a sleeper year," Zentil said. "I think that by the end of 2021, we're all going to be pleasantly surprised at the level of investment volume that we'll see in this city."
Enforce Your Rights, or Lose Them #542 – British Columbia Real Estate Association – BCREA
Anyone who has been involved in a transaction for a property under construction is likely familiar with the potential for delays of completion. While developers don't often fail to deliver, it can happen. What happens when significant delays do occur? Can a developer be in default under the contract? What about the innocent party in a transaction: can they fail to deliver on their obligations after the other party has already defaulted? While the answer isn't always simple, it comes down to enforcing your rights, or losing them.
A recent decision out of the Ontario Court of Appeal has confirmed that an innocent party to a real estate transaction must enforce their rights when the defaulting party repudiates a real estate contract, otherwise they can lose their right to terminate the contract or seek other remedies.
Repudiation of a contract occurs when a party defaults on their obligation(s) under a contract and demonstrates "an intimation of an intention to abandon and altogether refuse performance of a contract"[i]. Some examples of repudiation in real estate contracts are as follows:
failure of the buyer to pay the deposit when due and payable;
failure of a buyer to complete a purchase on the completion date;
failure of a seller to transfer a property to a buyer on the completion date; or
the buyer (or its representative) communicating to the seller that they cannot, or will not, complete the purchase of the property.
Once a contract has been repudiated, the innocent party has two options:
accept the repudiation, and seek remedies against the defaulting party; or
elect not to terminate, and the contract remains in force.
Under the second option both parties are obligated to continue performing their obligations under the contract.
In Ching v. Pier 27 Toronto Inc.[ii] the Ontario Court of Appeal denied the buyer's request for the return of their deposit, even though the seller was in default under the contract. The reason the court denied their request was because the buyers had failed to accept the repudiation by the seller and then the buyer ultimately failed to perform their obligations under the contract. The facts of the case are as follows:
The buyers, Mr. and Ms. Ching, entered into a presale contract in 2008 to purchase a condo that was under construction
The Ching's paid deposits totalling $214,238.85
The original completion date was set to occur in 2010
The developer extended the completion date eight times between 2010 and 2014
The presale contract only allowed the developer to extend the completion date by 24 months from the original completion date, meaning the developer was in default.
The buyers never actively enforced their rights with respect to the contract every time the developer extended the completion date, meaning they acted is if the contract was still in effect
In August of 2014 the buyers finally requested the termination of the contract due to the developer's numerous unpermitted extensions
The developer stated they did not have the right to terminate the contract
The buyers did not close the transaction nor take possession of the property at closing because their mortgage approval had expired and they believed they should be entitled to the return of their deposit due to the developer's ongoing default in extending the completion date.
The trial judge in this case decided that while in fact the developer was in default under the contract, the Ching's had failed to "'clearly and unequivocally' accept the repudiation to terminate the Agreement"[iii] when the developer was in default, and they were therefore bound to also perform their obligation under the contract to complete the purchase.
The trial judge treated the presale contract as subsisting because after each event of default by the developer (ie. each unpermitted extension), the buyers acted in a way that affirmed the contract was subsisting, these actions included requesting the ability to assign the contract and doing "nothing for too long"[i]. Based on this, the trial judge denied the return of the buyer's deposit. The Court of Appeal upheld the trial judge's decision and refused the Ching's request for the appeal of the original judgement and to have their deposit returned.
Conclusion
It is important for Realtors to advise clients to seek independent legal advice if one party to a contract is in default. This advice should be sought as soon as they become aware of the default as simple actions may be inferred that the innocent party elected not to terminate the contract or seek other remedies.
---
[i] Freeth v. Burr, (1874) 9 L.R.C.P 208, from Donald M McRae, Repudiation of Contracts in Canadian Law, 1978 56-2 Canadian Bar Review 233, 1978 CanLIIDocs 22
[ii]Ching v. Pier 27 Toronto Inc., 2021 ONCA 551 (CanLII)
[iii] See paragraph 27 of Ching v. Pier 27 Toronto Inc., 2021 ONCA 551 (CanLII)
[iiii] See paragraph 49 of Ching v. Pier 27 Toronto Inc., 2021 ONCA 551 (CanLII)
To subscribe to receive BCREA publications such as this one, or to update your email address or current subscriptions, click here.
Credit 'Zombies' on the Rise as Real Estate Firms Lead Charge – BNN
(Bloomberg) — The walking dead of the corporate world are multiplying — and the property industry sustains the most.
A new study on companies that have dodged default for years, even though they don't have enough money to pay interest, comes just as markets from Hong Kong to New York are roiled by real-estate giant China Evergrande Group's showdown with its creditors.
Consultancy firm Kearney found their numbers have expanded by 9% globally in the past decade, in part because loose monetary policy has allowed them to keep rolling over debts.
While "zombies" have been on the rise since the last financial crisis, the pandemic looks likely to bolster their ranks, with more companies seeking waivers after taking on unsustainable piles of debt when economies were shuttered.
The OECD defines zombie companies as those that have been trading for more than 10 years and have been unable to cover their interest burden from their operating revenues for three consecutive years.
Kearney studied records of 67,000 listed companies from 152 countries. It found:
7.4% of real-estate firms were zombies
5.9% of healthcare
5.5% of telecommunications and media
5.1% of travel and tourism
Within retail, online retail had a slightly bigger share of zombies than brick-and-mortar counterparts, potentially due to the low profitability of online players, according to the report.
Europe
At least 5 issuers are offering debt on European markets on Thursday, with new issuance volumes of at least EU2.25 billion-equivalent.
Bank of England voted to keep bond-buying target and interest rate benchmark unchanged at a record-low 0.1%
Ashmore Group Plc's Jan Dehn is set to leave the firm, ending a 16-year stint at the emerging market-focused money manager
SMCP's majority shareholder, European TopSoho's, failed to redeem at maturity EU250 million 4.0% bonds exchangeable into SMCP shares
Asia
Financial regulators in Beijing issued a broad set of instructions to China Evergrande Group, telling the embattled developer to focus on completing unfinished properties and repaying individual investors while avoiding a near-term default on dollar bonds.
Global investors will focus on China Evergrande Group's $83.5 million interest payment due Thursday on a five-year dollar note
The People's Bank of China pumped in 110 billion yuan ($17 billion) of cash with seven- and 14-day reverse repurchase agreements.
Four Chinese firms were offering dollar bonds Thursday, ending a three-day lull in the Asian credit market amid holidays and concern about contagion from the distressed property giant Evergrande
U.S.
Federal Reserve Chair Jerome Powell said there is little direct U.S. exposure to debt of the Chinese company Evergrande but said it could impact global financial conditions
Powell said the Fed could begin scaling back asset purchases as soon as November and complete the process by mid-2022
The takeover of medical supply company Medline Industries Inc. is being funded by the largest leveraged buyout loan in three years
A gauge of volatility in the $4 trillion market for state and local-government debt has tumbled to just shy of a record low set in early January
©2021 Bloomberg L.P.
Record-breaking real estate: North Saanich property sells for nearly $23M – CHEK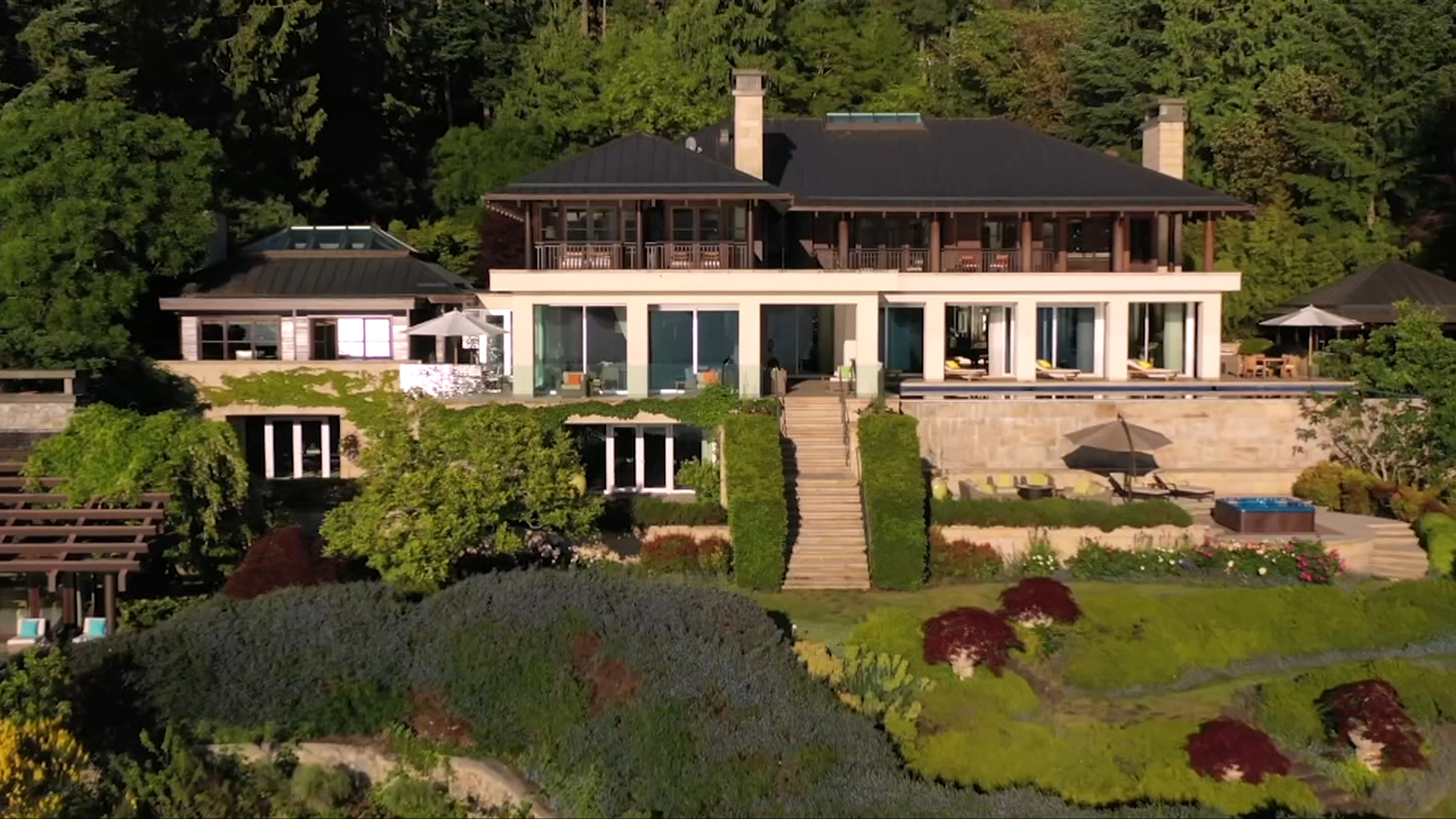 The sale of a multi-million dollar listing in North Saanich is shattering any previous record for highest house price on Vancouver Island.
For $22.75 million, the Lawrence Road property includes a 13,000-square-foot home with eight bathrooms, six bedrooms, a two-storey study, a detached yoga studio, an infinity pool, tennis court, gym — even an underground wine cellar.
The president of the Victoria Real Estate Board, David Langlois, said the property is unique.
"You are looking at a very high-end, very interesting property that is going to offer features that you simply can't find anywhere else," he said.
It also comes with its own detached two-bedroom guest cottage.
"It's significant in that it's certainly the largest recorded sale that we've seen in our marketplace," Langlois said.
"We do have a lot of really valuable real estate throughout the Greater Victoria area. We've got lots of private islands, and lots of estate-like settings. It's not surprising."
In June, a property in Metchosin sold for $12 million. It sits on 67 acres and a stream runs under parts of the 10,000-square-foot home.
WATCH: Luxury home with stream running through it sets real estate record in Greater Victoria
At the time, it was the highest price ever paid through the Victoria Real Estate Board listings.
Tina Ireland, a regional assessor with BC Assessment, said there are fewer homes in the luxury market available right now.
"The luxury home market is more unique though of course, because the properties are more unique."
With demand up for properties worth $4 million and more, so are prices.
"Last year's assessment, we had seen a 10 per cent increase," Ireland said. "This year I think we'll see at least that in our assessed values."
There have been 245 sales of homes in the $2 million category so far in 2021, compared with just 94 in the same period in 2020.