Israel starts reopening economy after two-month lockdown – The Tri-City News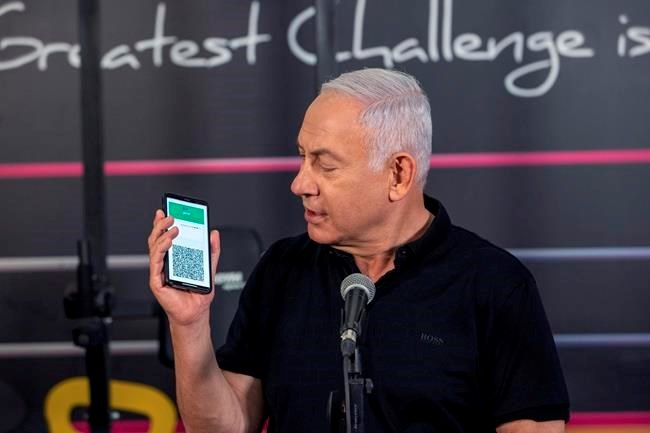 JERUSALEM — Israel lifted many of its coronavirus restrictions and started reopening its economy Sunday as the country's vaccination drive and third nationwide lockdown have started to bring down infections.
Most grade school and high school classes have reopened after a nearly two-month closure, along with museums, libraries, malls and markets. Some restrictions on the number of people in attendance remain in place. The entire education system is expected to return to normal operations early March.
Gyms, pools, cinemas and restaurants are opening back up for people who have received two doses of the coronavirus vaccine.
Israel unveiled its plan to allow the vaccinated to attend cultural events, fly abroad and patronize restaurants and health clubs by using a "green badge" app on Saturday ahead of the reopening of the economy. The rollout of the app has been fraught with technical difficulties.
After striking a deal with Pfizer to trade data for doses, Israel's vaccine campaign became the world's speediest in the past two months. Almost half its population of 9.3 million have received the first dose of the Pfizer/BioNTech vaccine. Nearly 3 million have gotten the second shot.
Israel has faced international criticism for largely excluding Palestinians in the West Bank and Gaza Strip from its highly successful vaccination campaign. The dispute highlights the Palestinians' reliance on Israel even as they struggle to combat the pandemic on their own. Last week, Israel facilitated the transfer of the first 2,000 doses of Russia's Sputnik V vaccine from the West Bank to the Gaza Strip.
The coronavirus is still spreading rapidly in Israel, however, and restrictions on movement and assembly have remained in place since the government imposed a countrywide lockdown in late December.
Israel has recorded at least 743,000 cases of COVID-19 and at least 5,521 deaths since the start of the pandemic last year. Its three lockdowns have paralyzed the economy and driven unemployment to over 20%
The Associated Press
U.S. Dollar dips on improved risk appetite, traders eye jobs data
By John McCrank
New York (Reuters) -The dollar dipped on Thursday, hitting its lowest point in three days, as global market risk appetite improved and traders looked forward to the April jobs report due on Friday for direction.
The number of Americans filing new claims for unemployment benefits fell below 500,000 last week for the first since the COVID-19 pandemic started more than a year ago, data showed, signalling the labor market recovery entered a new phase amid a booming economy.
The Dow Jones Industrial Average hit a record high, with financials and industrials rising following the jobless claims report.
While the U.S. economy has been gaining steam on the back of massive government stimulus and an improving health situation, Federal Reserve speakers on Wednesday downplayed the risks of higher inflation.
The U.S. dollar, which is regarded as a safehaven asset, declined against a basket of peer currencies and was last down 0.34% at 90.948.
"The outlook for the dollar by many right now that it's going to be in the house of pain for quite some time," because for the most part, the markets are convinced that the Fed has Treasury yields under control, said Edward Moya, senior market analyst at FX broker OANDA in New York.
Investors were looking forward to the closely watched non-farm payrolls report on Friday, with estimates of between 700,000 and more than 2 million jobs having been created in April.
If the number is north of 1.5 million, it could lead to a spike in Treasury yields that would provide some temporary support for the dollar, Moya said.
Elsewhere, the Bank of England said it would slow the pace of its bond-buying as it sharply increased its forecast for Britain's economic growth this year after its coronavirus slump, but it stressed it was not tightening monetary policy.
"They said they are going to reduce the weekly pace of purchases, but that's not a signal and so sterling has kind of gone up and down and done nothing at the end of the day," said Erik Bregar, director and head of FX strategy at the Exchange Bank of Canada.
The pound was last down 0.15% against the weaker dollar at $1.3890 .
The euro was up 0.44% versus the dollar at $1.2058, and up 0.54% against the pound, at 0.8678 pence per euro.
Investors were also paying attention to elections in Scotland that could herald a political showdown over a new independence referendum.
The Canadian dollar hit a three-and-a-half year high against the greenback, helped by oil price gains and the Bank of Canada's recent shift to more hawkish guidance.
"The Canadian dollar continues to have everything going for it fundamentally, technically, and if you look at intermarket correlations, so it's been a tough trend to step in the way of," said Bregar.
In cryptocurrencies, ether, the world's second largest crypto currency after Bitcoin, hit a record high of $3,610.04.
Bitcoin declined 1.03% to $56,919.50.
The meme-based virtual currency Dogecoin soared on Wednesday to an all-time high, extending its 2021 rally to become the fourth-biggest digital coin.
(Reporting by John McCrank in New York; editing by Alistair Bell and Bernadette Baum)
Canadian dollar seen consolidating gains as drumbeat builds for Fed taper
By Fergal Smith
TORONTO (Reuters) – The Canadian dollar is expected to give back some of its recent gains over the coming year as the Bank of Canada's more hawkish stance is offset by potential dialing back of the U.S. Federal Reserve's asset purchase program, a Reuters poll showed.
The median forecast of nearly 40 strategists in the May 3-5 poll was for the Canadian dollar to weaken 1% over the next three months to 1.24 per U.S. dollar, or 80.65 U.S. cents. It is then expected to trade at that same level in one year, compared to 1.23 seen in April's poll.
"We think a lot of good news is in the price of the CAD, so we look for a little bit of tactical softening," said Mazen Issa, senior FX strategist at TD Securities in New York.
The loonie has climbed 3.7% since the start of the year, the biggest gain among G10 currencies. On Wednesday, it touched its strongest intraday level since February 2018 at 1.2252.
The currency has been bolstered by higher prices for commodities such as oil, one of Canada's major exports, and an improved outlook for the domestic economy as the rollout of the COVID-19 vaccine gathers pace.
In addition, the Bank of Canada last month changed its guidance to show it could start raising its benchmark interest rate from a record low of 0.25% in late 2022. It also tapered its bond purchases, becoming the first major central bank to cut back on pandemic-era money-printing stimulus programs.
Analysts say the Federal Reserve could follow the BoC's lead.
"We think that the odds are increasing that the Fed will have to acknowledge the strength in the U.S. economy and hint at a taper in late summer/early fall," said George Davis, chief technical strategist at RBC Capital Markets.
"This would lead to a re-pricing in U.S. interest rate expectations that would be expected to boost the USD as the timing for U.S. rate hikes is brought forward."
The U.S. central bank's current guidance is to leave interest rates on hold until at least 2024.
Money markets expect two Bank of Canada rate hikes in 2022, as opposed to one from the Fed, reflecting the Canadian central bank's more hawkish guidance, but past tightening cycles show that faster liftoff for the BoC may not be sustained.
"Things are not moving in isolation," Issa said. "At the end of the day, FX is a relative game."
(For other stories from the May Reuters foreign exchange poll:)
(Reporting by Fergal Smith; Polling by Sujith Pai and Nagamani L; Editing by Toby Chopra)
Bank of England line up to taper emergency stimulus
The Bank of England's decision on Thursday to slow the pace of its bond-buying makes it the second central bank from a G7 economy to begin the slow exit from pandemic-era money-printing stimulus schemes.
The big three of central banking – the U.S. Federal Reserve, European Central Bank and the Bank of Japan – won't officially pare stimulus for a while.
Yet there are growing signs that policymakers have their eyes on the exit as vaccine rollouts pick up and growth bounces back. The Bank of Canada's C$1 billion ($806 million) cut to its weekly bond-buying programme last month highlights the next phase is about slowing hefty asset purchases.
Bank of America estimates central bank asset purchases in the United States, Japan, the euro zone and Britain will slide to about $3.4 trillion this year from almost $9 trillion in 2020. For 2022, it predicts purchases of just $400 billion.
Here's a look at who is tapering, who may raise interest rates and who might be the last to call time on pandemic-era monetary stimulus.
1/ NORWAY
Norges Bank is at the vanguard in terms of signalling a retreat, and said on Thursday it is on track to hike interest rates in the second half of 2021.
That has made the crown this year's best performing G10 currency. The central bank doesn't intervene in bond markets, so the taper debate is not applicable.
2/ CANADA
Having announced tapering, Canada has signalled that its key interest rate could rise from 0.25% late in 2022.
3/ BRITAIN
Flagging a stronger economic rebound, the BoE will slow bond-buying to 3.4 billion pounds ($4.7 billion) a week, from the 4.4 billion-pound current weekly pace.
However, it kept the total size of the bond-buying programme unchanged at 895 billion pounds and Governor Andrew Bailey said the move did not amount to tapering.
"Since the Bank has already purchased 70 billion pounds out of the 150 billion pounds in gilts to be purchased by the end of 2021, purchases were already set to naturally slow," Ambrose Crofton, global market strategist at JPMorgan Asset Management, said.
For a graphic on British bond markets stable as BoE slows weekly bond buys:
https://fingfx.thomsonreuters.com/gfx/mkt/jbyvryljzpe/GB0605.png
4/ UNITED STATES
The Fed plans to keep borrowing costs near 0% and maintain monthly asset purchases worth $120 billion until it sees "substantial further progress" towards full employment and its 2% flexible inflation target.
But with the economy expected to grow by more than 6% this year and inflation to be a "little higher" – according to Fed boss Jerome Powell – markets are pricing in a rate rise in 2023. Many analysts expect tapering to start this year.
The Fed faces a delicate balancing act, ensuring that tapering at a time of massive U.S. government borrowing does not boost Treasury yields too much.
Pictet Wealth senior economist Thomas Costerg expects tapering to start by early 2022 and proceed at a monthly pace of $10 billion. That process would last about a year – "enough to keep expectations for the first rate hike well in the distance", he added.
For a graphic on Central bank holdings of government bonds:
https://fingfx.thomsonreuters.com/gfx/mkt/yxmvjdwyevr/CBANKS2704.PNG
5/ SWEDEN
Swedish inflation is approaching the Riksbank's 2% target but it has said interest rates would stay at 0% for years. However, its 700 billion crowns ($84 billion) asset purchase programme will wind down this year as planned.
6/ EURO ZONE
Anaemic long-term inflationary pressures mean euro area rates are unlikely to rise for years. But tapering may come sooner, especially within the European Central Bank's 1.85 trillion euro ($2.2 trillion) pandemic emergency purchase programme (PEPP).
Technically, this runs until March 2022 but some officials are already advocating reducing bond purchases as growth rebounds.
Danske Bank analysts reckon the ECB will end up using only 1.65 trillion euros of the total PEPP stimulus package.
For a graphic on ECB weekly PEPP purchases:
https://fingfx.thomsonreuters.com/gfx/mkt/jznpnrbeopl/ECB0605.PNG
7/ AUSTRALIA
Australia's economic rebound has surpassed expectations but the Reserve Bank of Australia, which has underscored its dovish credentials by adopting yield curve control, could be among the last to tighten policy.
It wants unemployment slashed and inflation within its 2% to 3% target before shifting tack, and doesn't see either happening until 2024. Economists expect rates to stay on hold until then.
The RBA's A$100 billion ($77.45 billion) QE programme ends in September and it will consider in July whether to extend it.
8/ NEW ZEALAND
New Zealand's strong recovery and red-hot property markets have raised speculation a rate rise may come sooner than expected.
While its key interest rate is expected to stay at 0.25% this year, some analysts predict a rise in the second half of 2022. The central bank meanwhile appears to be in no hurry to taper its NZ$100 billion ($72 billion) QE programme.
9/ JAPAN
The BOJ pledged last week to maintain stimulus using yield target control and via bonds and equity purchases.
It has been accused of "stealth tapering" because its bond-buying has slowed since yield curve control (YCC) was adopted in 2016, though purchases have picked up slightly in the past year.
In March, they were about 22.2 trillion yen ($204 billion)above levels a year ago. But that's still a quarter of the 81.96 trillion yen year-on-year increase in August 2016, just before YCC came in.
For a graphic on BOJ steadily 'stealth' tapering its JGB buying:
https://graphics.reuters.com/GLOBAL-CENTRALBANKS/TAPER/bdwpkbmllvm/chart.png
10/ SWITZERLAND
The Swiss National Bank does not intervene in domestic bond markets, instead capping the Swiss franc through interventions which came to nearly 110 billion francs ($120 billion) in 2020. The proceeds are used to purchase foreign bonds and equities.
The SNB shows no signs of departing from its interventionist policy; its chairman Thomas Jordan said last week that negative rates and a readiness to intervene in currency markets remain "essential".
(Reporting by Sujata Rao, Tommy Wilkes, Saikat Chatterjee and Dhara Ranasinghe in London and Leika Kihara and Daniel Leussink in Tokyo; Editing by Toby Chopra)